Turn decorative jars into concrete tea light candle holders with this easy DIY.
These decorative votives are perfect for adding a little sparkle to your home.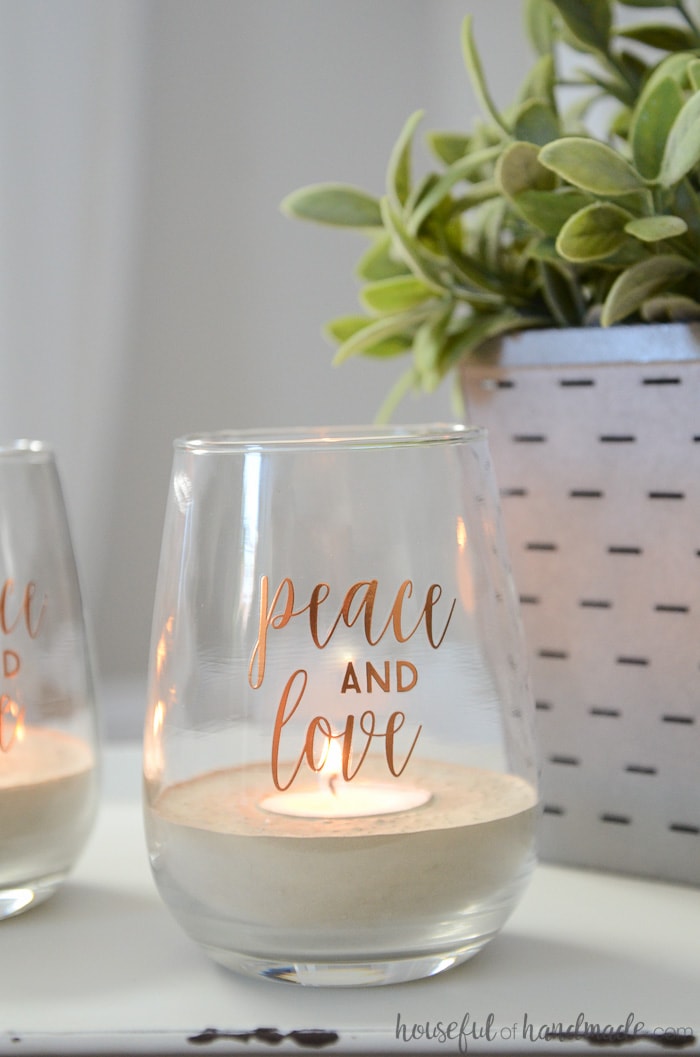 If you love candles you are going to love these concrete tea light candle holders!
They are the perfect way to add even more sparkling candlelight to your home. And you can use this easy tutorial to turn any pretty jars you have lying around into beautiful concrete candle holders.
They also make easy DIY gift ideas.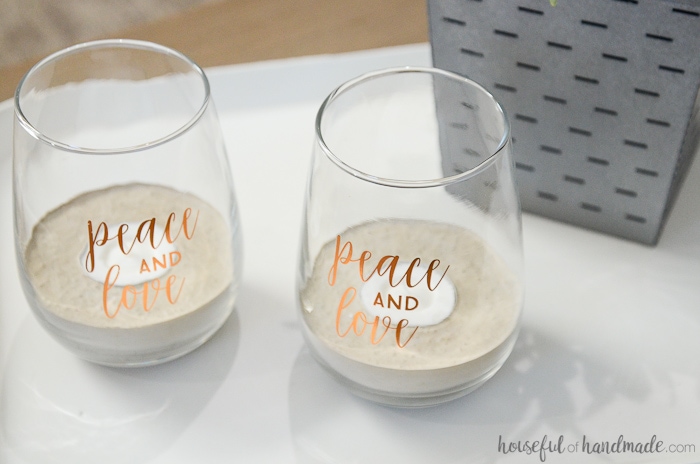 I was so happy with how the easy copper candle holders I made last month turned out, when I saw these cute stemless wine glasses in the Target Dollar Spot I knew exactly what I wanted to do with them.
Why not turn the glasses into beautiful tea light candle holders too? And of course, I reached for the concrete again.
I am a huge fan of concrete lately. The rustic gray tone is so pretty.
It is perfect for farmhouse decor, or rustic decor, or industrial decor, or even modern decor. I just can't get enough.
Maybe it's because I am so happy that we finally got our concrete patio poured that concrete is giving me all the happy thoughts 😉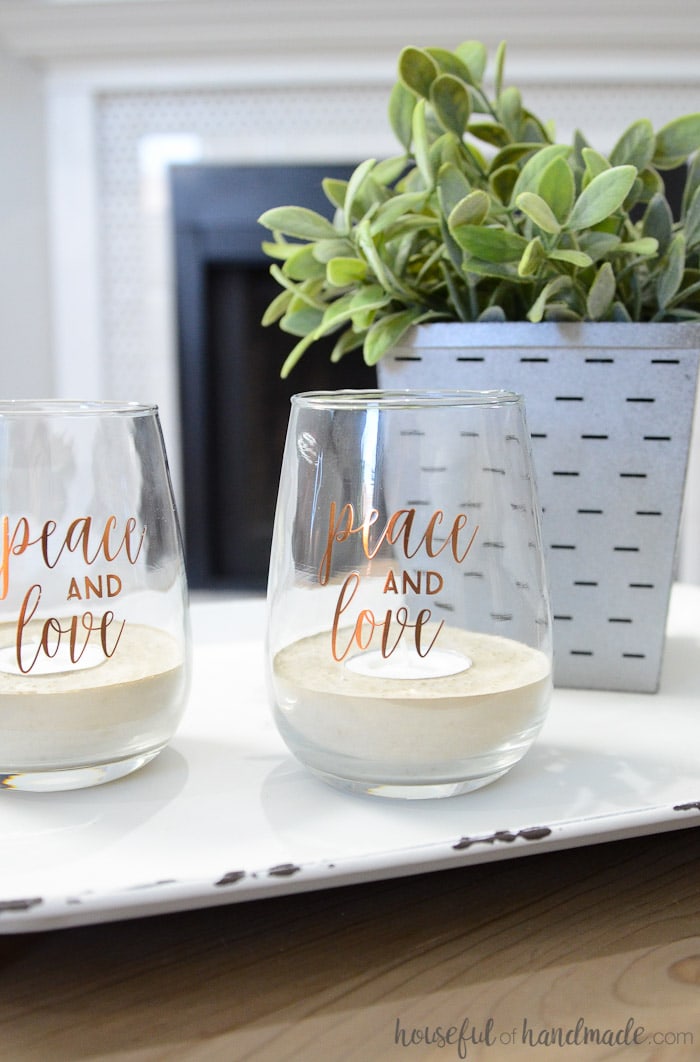 If you love the concrete trend you have been seeing in home decor, but have been afraid to try it out. This is perfect for you.
This fun concrete project is so easy to make.
Seriously! Sooooo easy.
And the concrete is mostly fool proof because you are putting it in a container. So if your concrete isn't mixed to the perfect consistency, your candles will still work. Yay!!!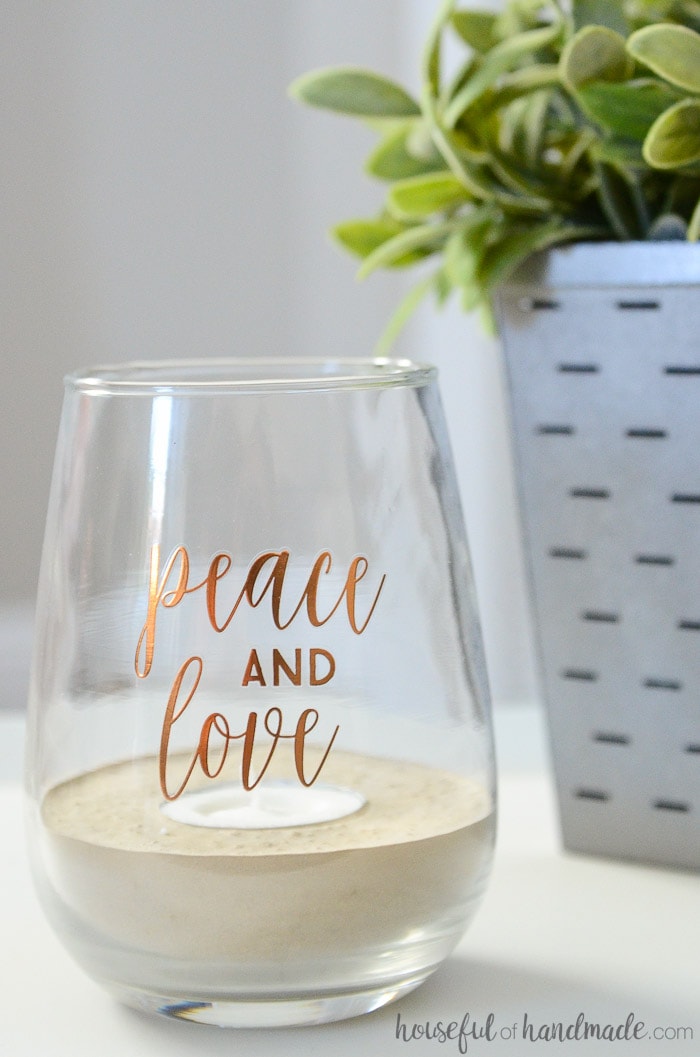 These tea light candle holders turned out so good, I ran to Target to grab another set of stemless glasses to make more!
I am thinking I will use them on my mantel, or maybe for DIY gifts this Christmas. Maybe I should run back and grab a few more… they were only $3 per set.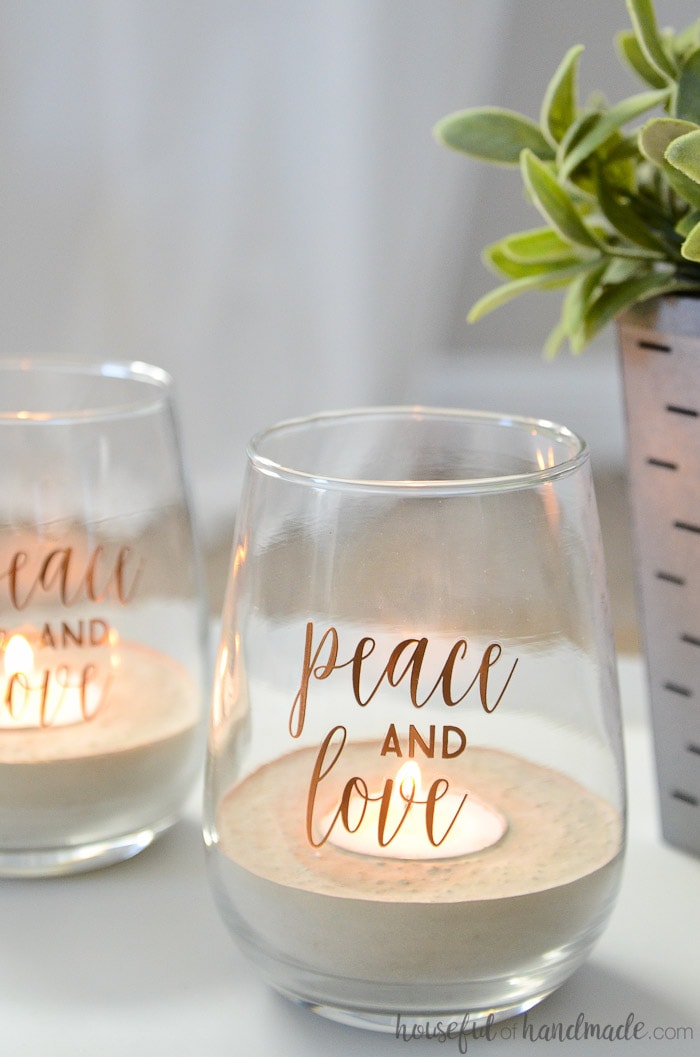 I am really loving how cute these tea light candle holders look in my fall decor, but I am super excited to use them for Christmas too!
Nothing like a little flickering light to make all your Christmas decorations really sparkle!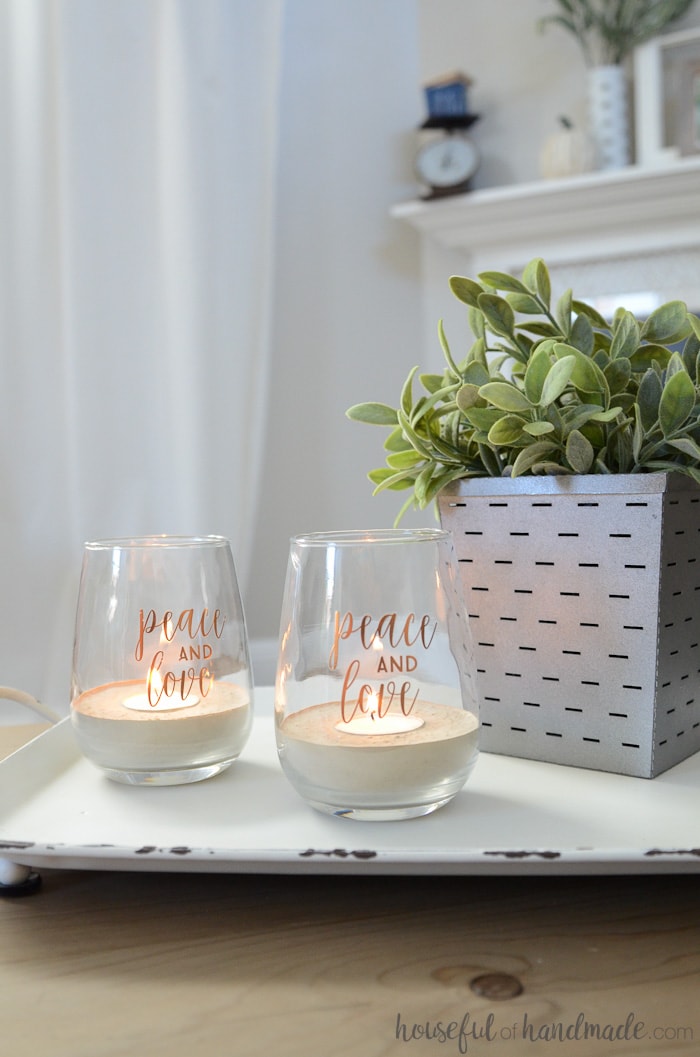 If you want to see how easy it is to make your own concrete tea light candle holders, read below for the full tutorial. And don't forget to check out the rest of my DIY craft tutorials.
How to Make Concrete Tea Light Candle Holders
Supplies:
Stemless wine glasses or other decorative glasses
Maker's Mix

You could use regular concrete, but I like that the Maker's Mix is light weight.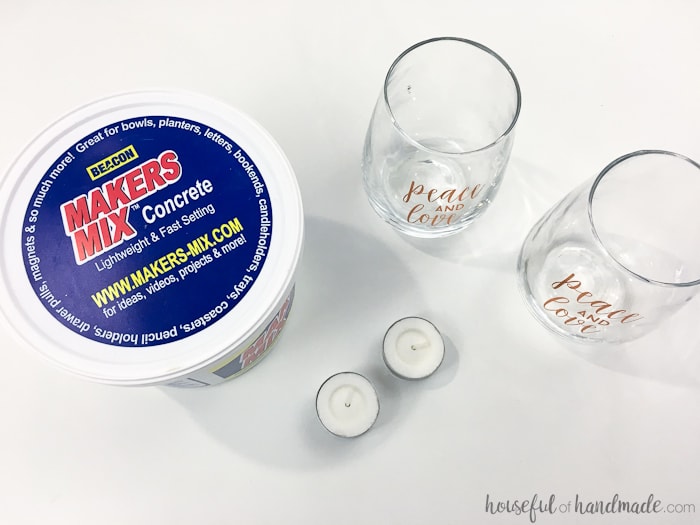 Mix together enough concrete to fill the base of your glasses.
You want it to be the consistency of natural peanut butter. I used 1 cup of Maker's Mix and 4 Tbsp of water for my 2 glasses.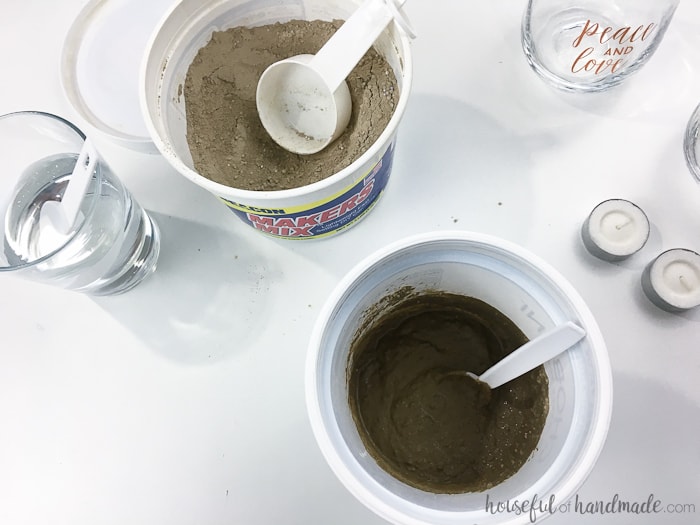 Scoop the mixed concrete into your glasses. If you get any on the sides of the glasses, wipe it off immediately with a damp paper towel.
Tap the glasses a few times on the table to smooth out the surface and release any air pockets.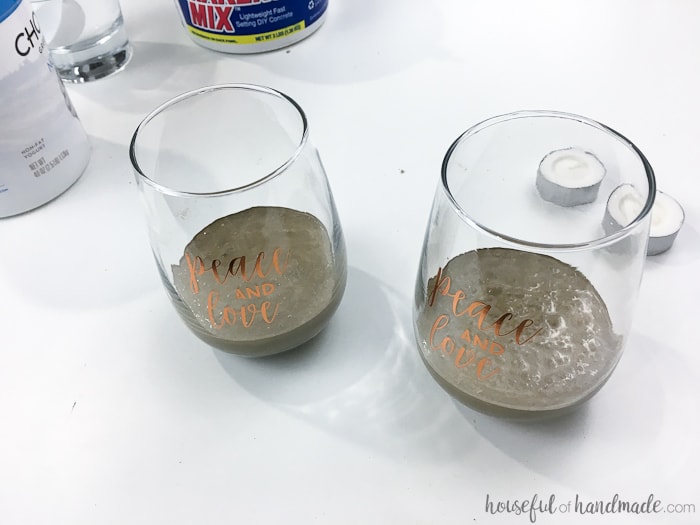 Then lower your tea light into the center of the wet concrete. Press it into the concrete until the top of the metal cup is flush with the top of the concrete without any concrete getting into the cup.
Since the stemless wine glasses are narrow at the top, I used the back of a pencil to gently push the tea light down.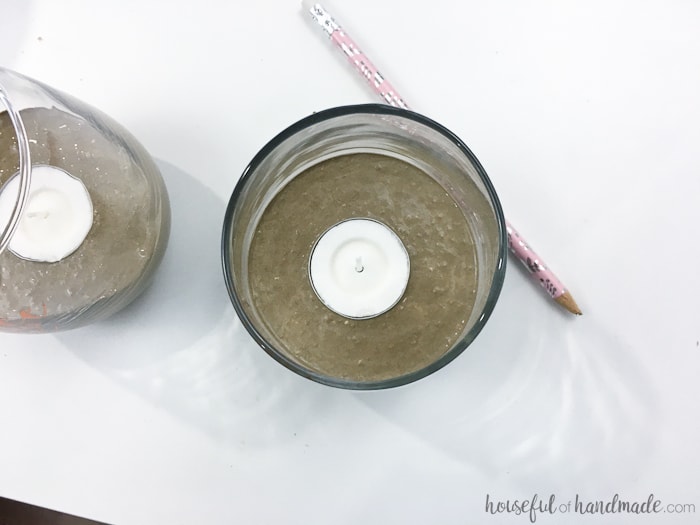 Now all that is left is to wait for your concrete to cure. The Maker's Mix doesn't take too long.
Mine were hard to the touch in about an hour. But the longer you wait, the lighter the concrete will become. I love the light gray look of the concrete in the base of the glass.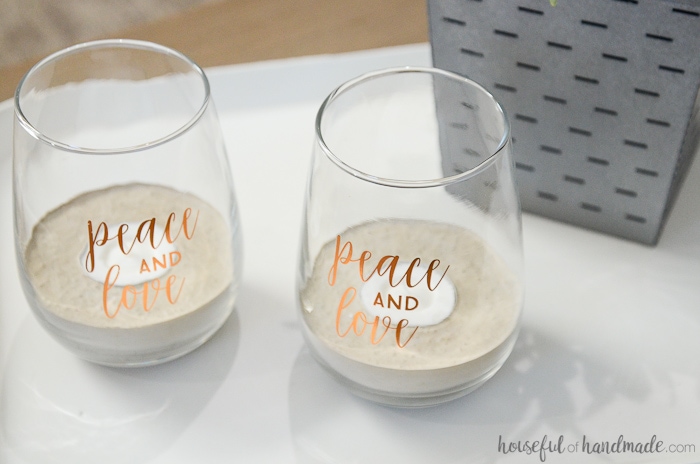 Once your concrete is cured, you can light up the candle in your new tea light candle holders and enjoy the soft flicker of the flame.
And now I am ready to start decorating for Christmas. Bring on all things Merry & Bright!