Create beautiful tropical wall art in just a few easy steps to turn your home or patio into a tropical oasis.
This tropical art is inspired by Hawaiian quilting techniques.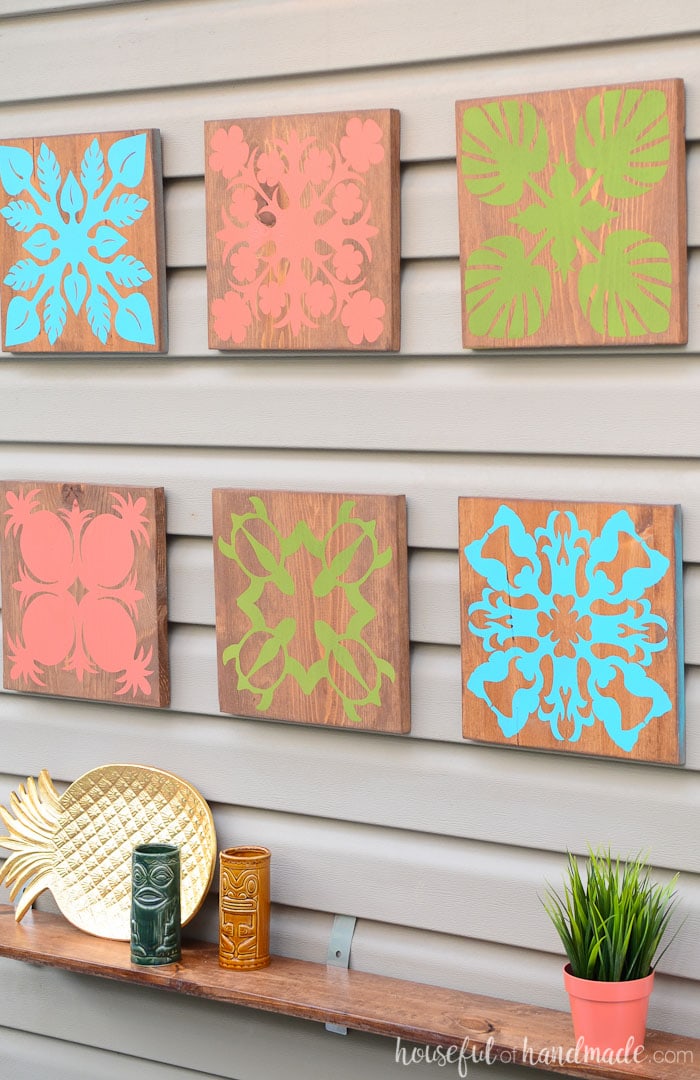 Turn a 6′ 1×10 board into tropical wall art that will take to you the islands. This easy wall art is the perfect way to add a tropical vibe to any room.
Bright, bold colors on a warm wood background are the perfect way to create a tropical feel to any space. And the Hawaiian quilt block designs add in all your favorite tropical elements.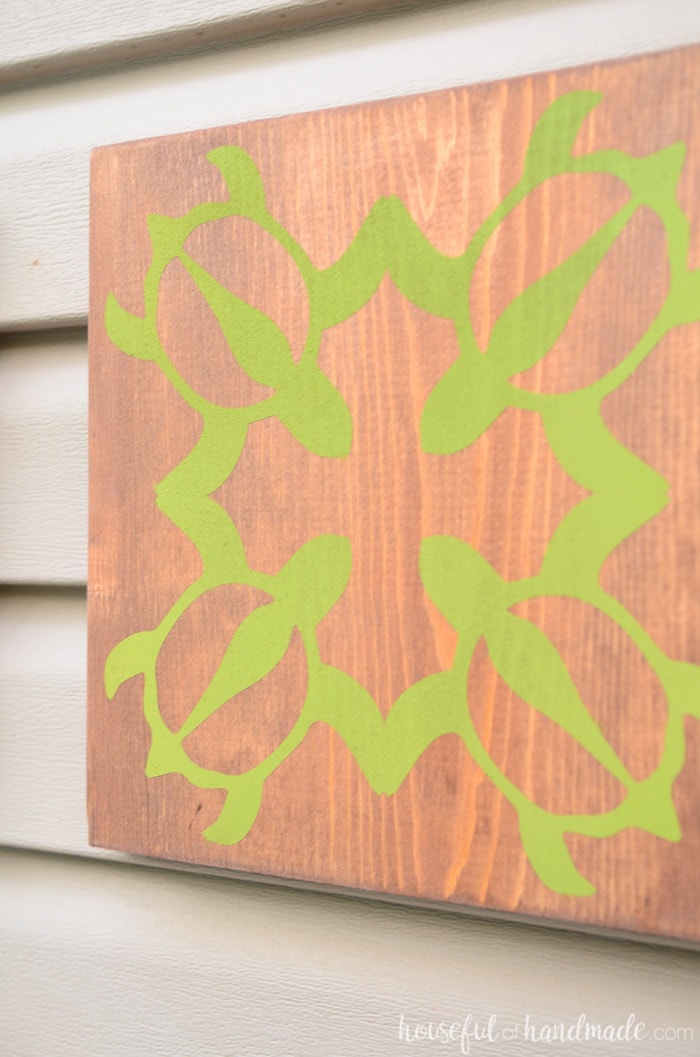 I know I should be posting all things fall, but when you are transforming your unused side yard into a tropical oasis the last thing you need are pumpkins.
I have enough real fall leaves to remind me we are not sitting on the lanai enjoying our dinner. So it was time to add more tropical elements to our patio pergola area to help us think of the ocean instead.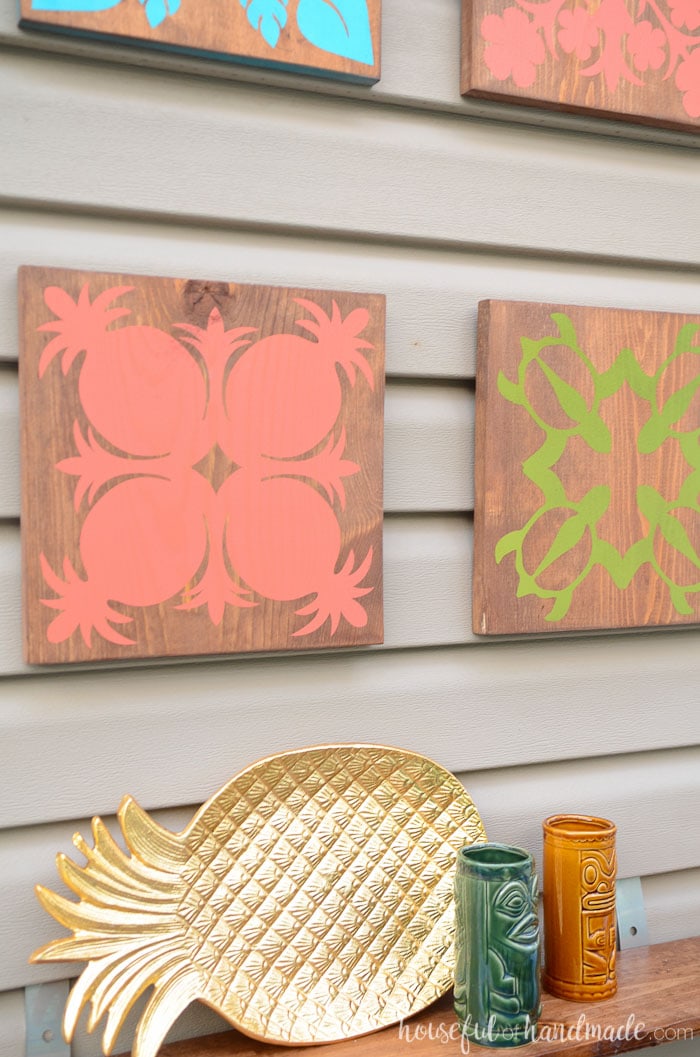 The first time I visited Hawaii, we visited most of the Hawaiian fabric and quilt stores on Kona. My mother, sister and I spent hours perusing the beautiful island batiks, tropical quilts, and my favorite: traditional Hawaiian quilts.
The Hawaiian quilts are created like you would create paper snowflakes as a child. You fold a paper into 8ths and draw a tropical themed design. Then when you unfold it, you have a kaleidoscope of island fun!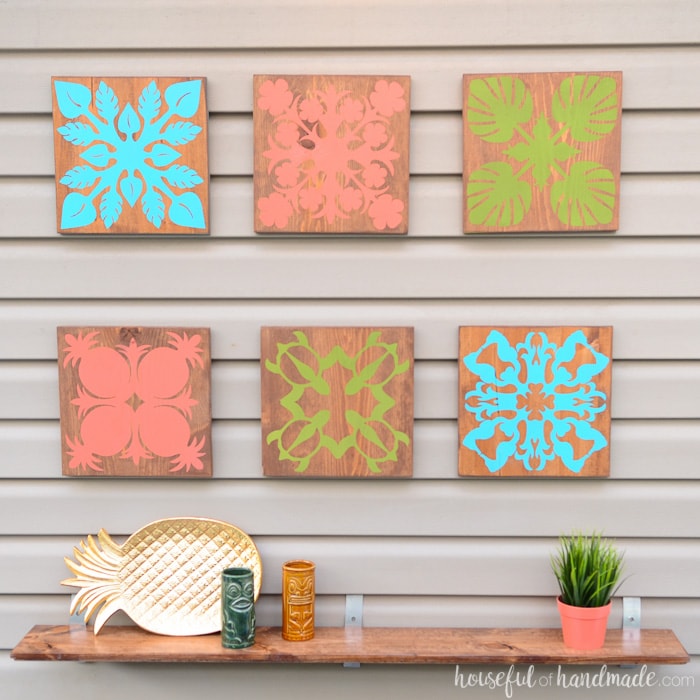 My favorite Hawaiian quilts blocks had seahorses, pineapples, turtles, and big bold leaves. These are all the things that mean the islands to me.
Since I know I will probably never get around to making my own Hawaiian quilt (even though I bought a book to teach me how), I decided to use them for inspiration in creating the perfect tropical wall art for our patio oasis.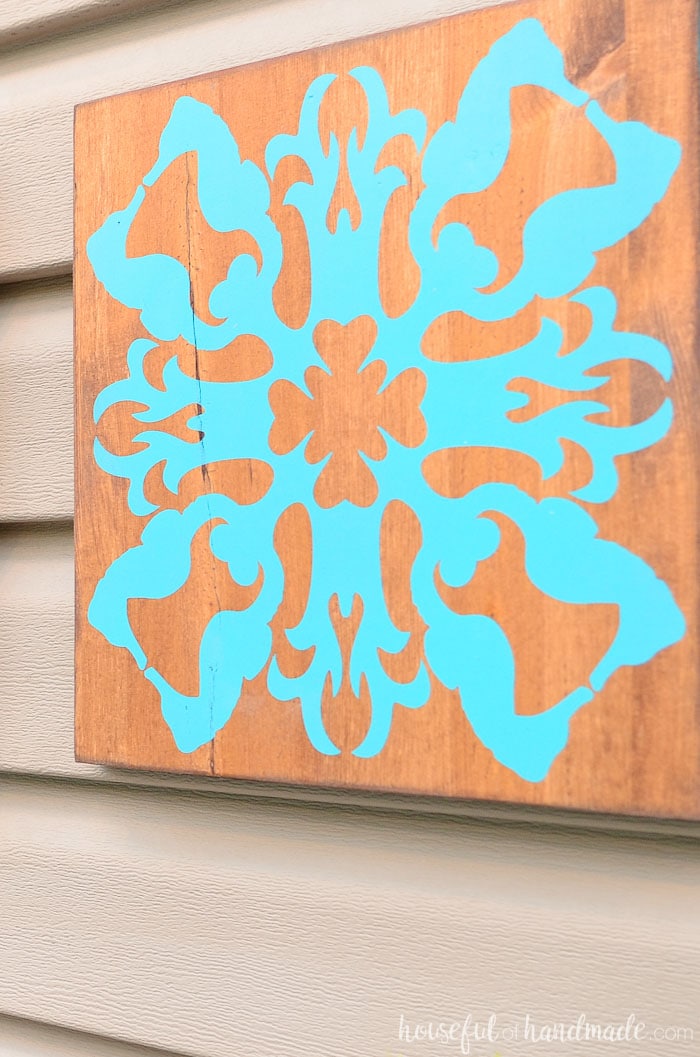 When decorating indoors, I always think about how to decorate the walls. But when I decorate outside, it is usually the last thing I think of.
Well, not this time!
I was pretty proud of myself for thinking about the large wall of vinyl siding in our patio area. I knew I needed to do something with it to help make the space part of the outdoor kitchen and dining area instead of just the outside wall of our home.
And instead of 1 large picture, I decided to go for 6 of my Hawaiian quilt blocks to fill up the space.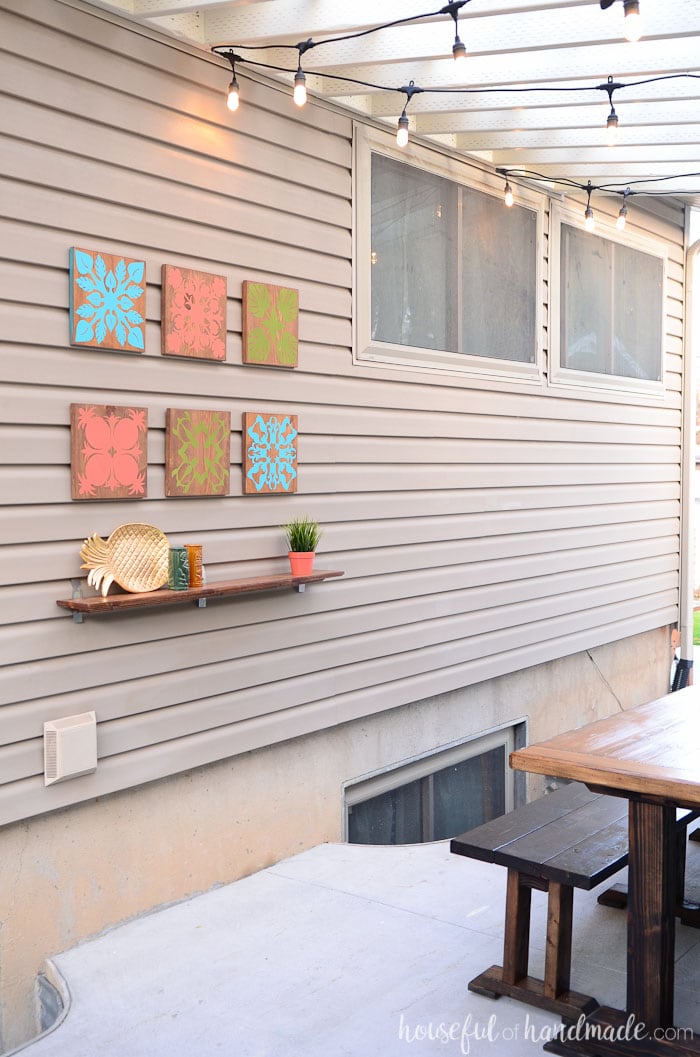 And don't miss out on the rest of the DIYs we used to create the perfect tropical oasis:
How to Make Tropical Wall Art
Supplies:
6′ 1×10 board
Hawaiian quilt block designs

I am sharing the cut files for the tropical wall art in my subscriber library. Click here to subscribe to my weekly newsletter and gain access to all the freebies. If you already have your password, click here to download them.

Saw

You can use a table saw or circular saw to cut the boards down. Or you can have the lumber store cut the boards down for you.

Sand paper
Stain

I used Minwax Early American.

Silhouette Cameo and vinyl

I created stencils of the designs from my Silhouette cutting machine and vinyl for my Hawaiian patterns. You can also use paper and fold them in eighths and cut the design by hand. Then you can secure the paper to the boards with temporary spray adhesive.

Painters tape
Spray paint
Sawtooth picture hangers
Vinyl hooks (for hanging your tropical wall art on vinyl siding)
Cut your 1×10 board into 6 square pieces. Typically a 1×10 board is actually 11 1/4″ in width (double check this before cutting), so I used my table saw to cut the board into 6 11 1/4″ pieces.
If you do not have a table saw, you can easily do this with a hand-held circular saw, just clamp a straight edge for you to follow when you cut.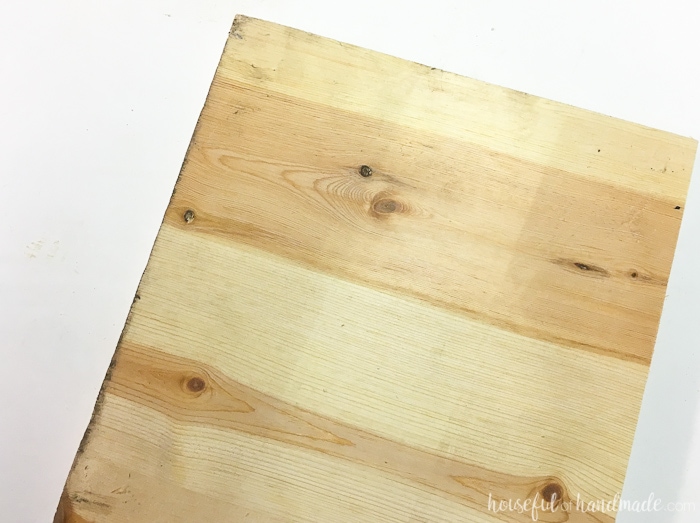 Sand all the pieces of wood. Then stain them with your desired stain. I used Minwax Early American for my boards to create a warm wood look.
Cut out your Hawaiian quilt designs. I cut them out of vinyl with my Silhouette Cameo, but if you do not have a cutting machine you can also cut them out of paper. Attach the stencils to the boards.
For the vinyl stencils, use transfer tape to transfer the vinyl to the wood. For the paper stencils, spray the back with a temporary spray adhesive and press firmly on the wood.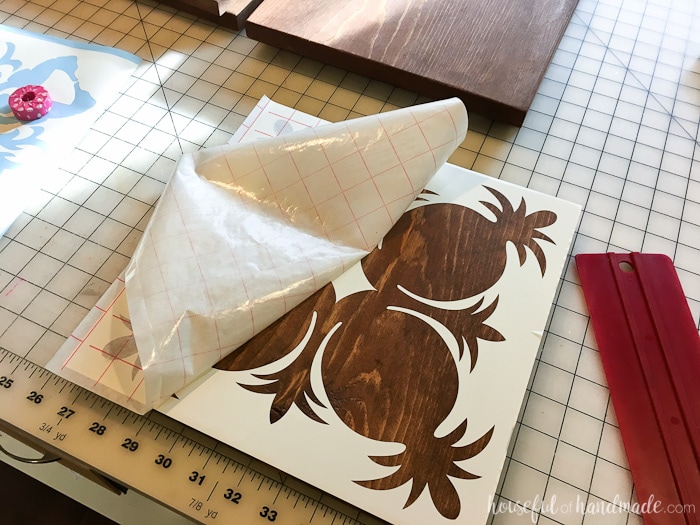 Cover the edges of the boards with painter's tape. I didn't do this on the first one and the edges of the boards are now blue.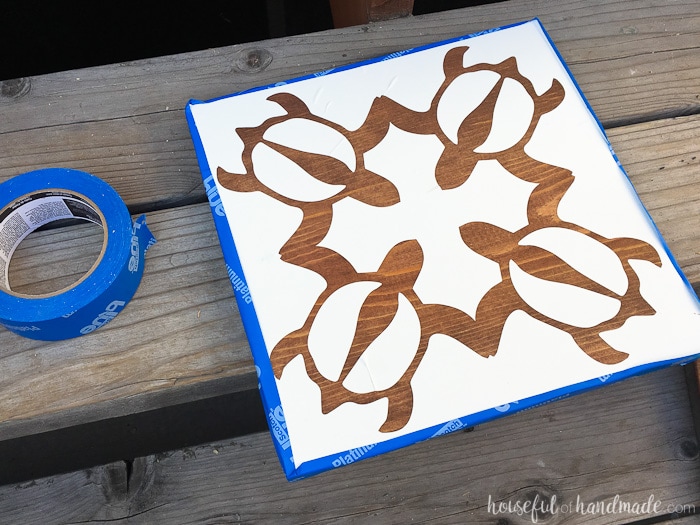 Spray paint the front of the boards. You will need to do a couple coats to get even coverage.
After the paint is dry to the touch, remove the stencil from the wood. I do not like to wait more than 20-30 minutes after spray painting because the paint can peel off at the edges with the stencil if it gets too dry.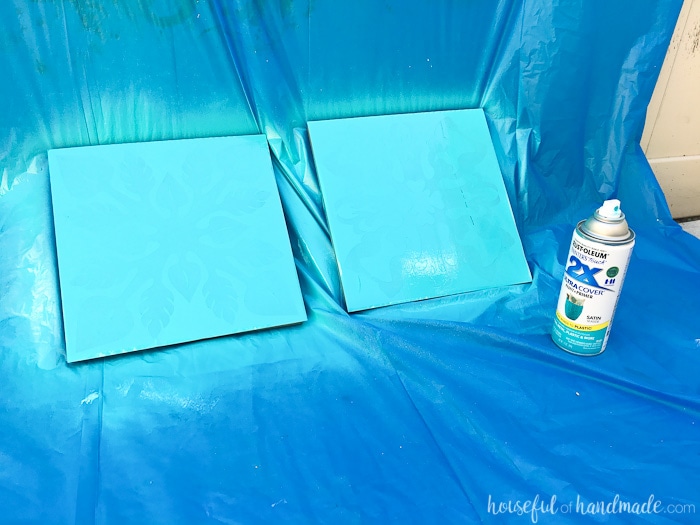 Add the picture hangers on the back of the tropical wall art and hang up. To hang on the vinyl siding, I found the vinyl hooks worked very nicely.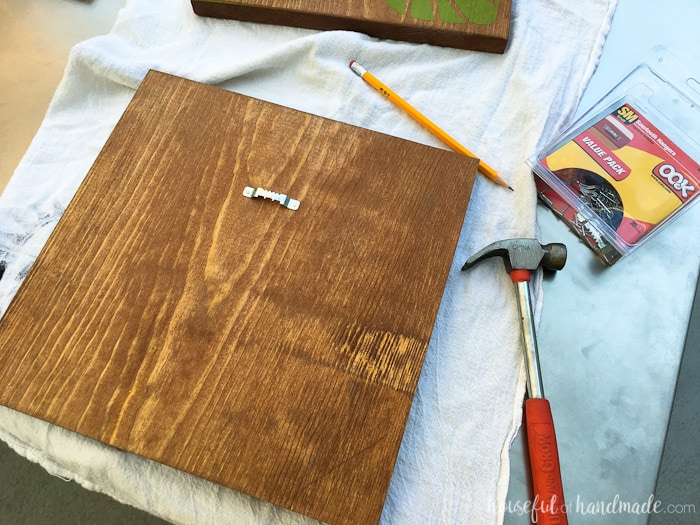 Now garb a daiquiri and imagine you are on a tropical island! The new art work is definitely helping to create the perfect backyard oasis.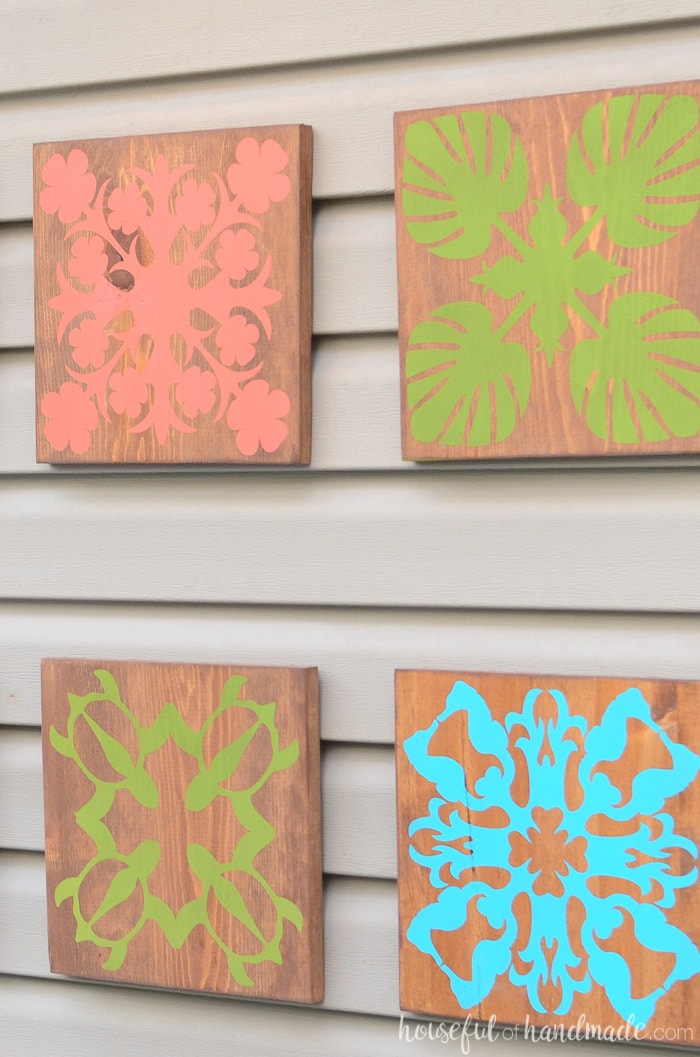 The patio area is almost finished and I cannot wait to start entertaining in it!