This is one of those things I never dreamed I would actually DIY. Seriously, deodorant! I am too vain to mess with things like personal hygiene. But I really want to eliminate as many crazy chemicals as possible in our home.
I tried the store bought "natural" deodorant and after 2 days I felt like I was radiating B.O. YUCK!
But instead of grabbing the aluminum-laced antiperspirant, I decided to give homemade deodorant a try. I couldn't believe that it worked!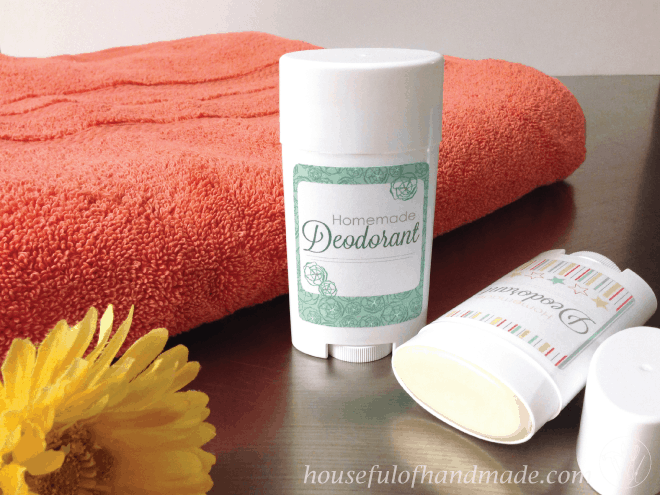 The first recipe I tried was a soft deodorant that you applied with your fingers, it was a little weird to get use to that, but worked beautifully. But I did miss my stick of deodorant that I could apply quickly and get on with my day.
The recipe I used had only coconut oil as the base. Which melts when it gets the slightest bit warm. In my lotion making adventures, I discovered that Shea butter is pretty solid and with a little beeswax, it would be nice and firm, even in the summer.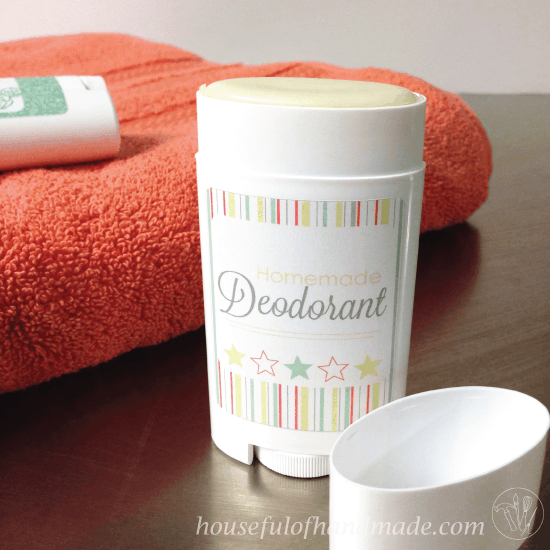 So I started messing with some measurements and came up with this recipe. My husband and I love it!
And we have put it to the test, 4 days camping in southern Utah, hiking in the sun, deodorant worked! Hammering stakes into the ground in the greenhouse on a 75 degree afternoon, deodorant worked!
I am sure I will be able to give many more examples this summer 🙂
The one thing I will point out, this is not antiperspirant. It is a deodorant. Your body is made to sweat, so that is a good thing. Smelling like sweat, not a good thing! So it did take a bit to get use to sweating, I kept thinking, it's not working. But I was fresh, just sweating.
Making deodorant is super fast too, just measure out 3/4 oz beeswax, 2 oz coconut oil, and 3/4 oz shea butter into a glass 2 cup measuring cup. I like to weigh my ingredients because it's more precise than measuring ingredients that are solid.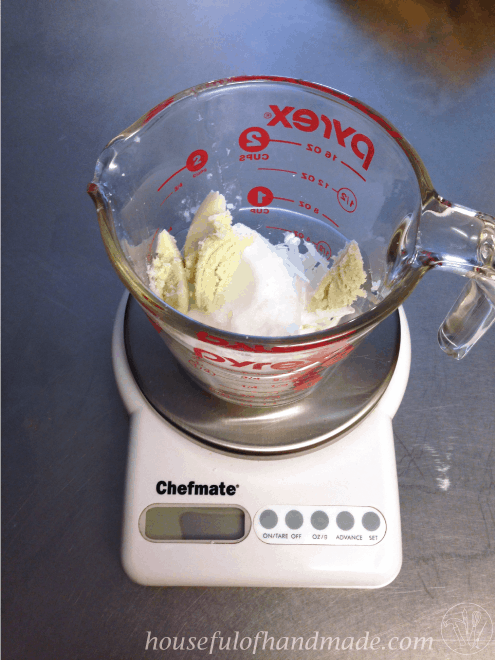 Put your measuring cup in a small saucepan with a couple inches of water and simmer on low until your oils are totally melted.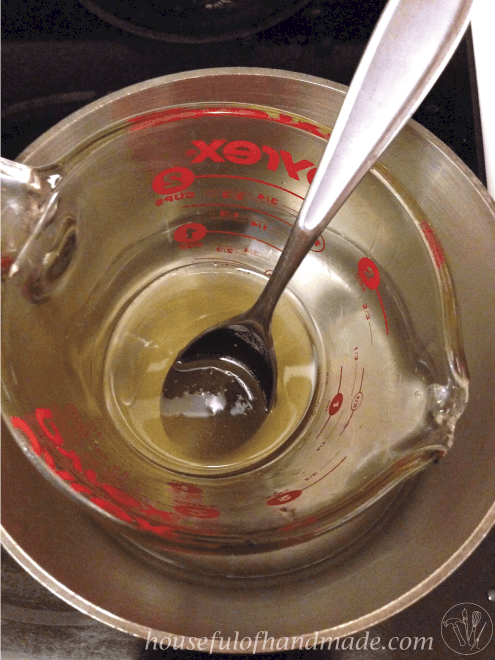 Then remove it from the water and add in 2 Tbsp baking soda, 2 Tbsp corn starch and 1/4 cup arrowroot powder.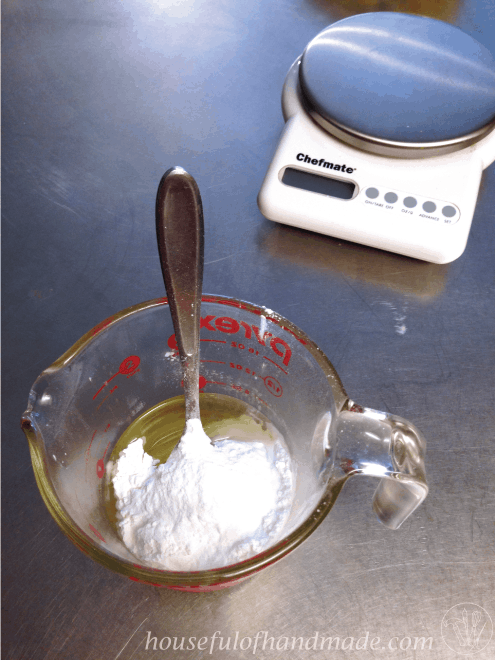 Stir until totally mixed together and smooth. Add in the Tea Tree oil and stir.
Then pour into your deodorant containers. I bought mine on Amazon, they can be washed and reused so my set of 5 will last forever 🙂
If you pour slowly, the sides will start to harden and you will get a cut little rounded top! I don't know why, but I really like that. This recipe makes exactly 2 containers worth. One for me, one for the hubby.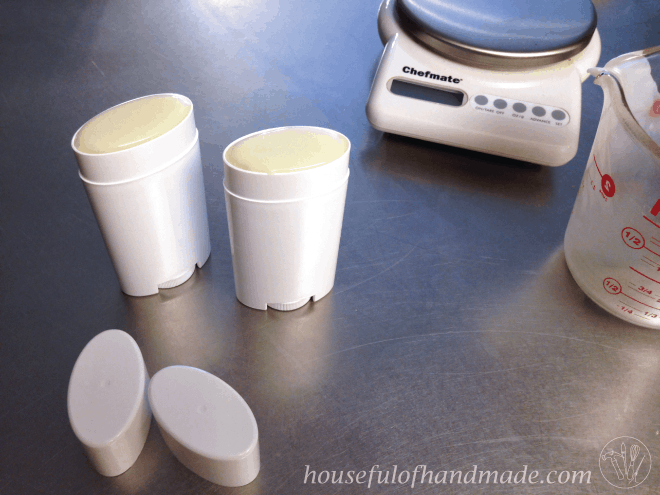 Now your deodorant is all done, you just have to let it harden. If you need it fast, you can refrigerate it.
This homemade deodorant stick will stay solid at normal room temperatures, but if you go camping in the heat, keep it in the cooler or it will get too soft. Learned that the hard way!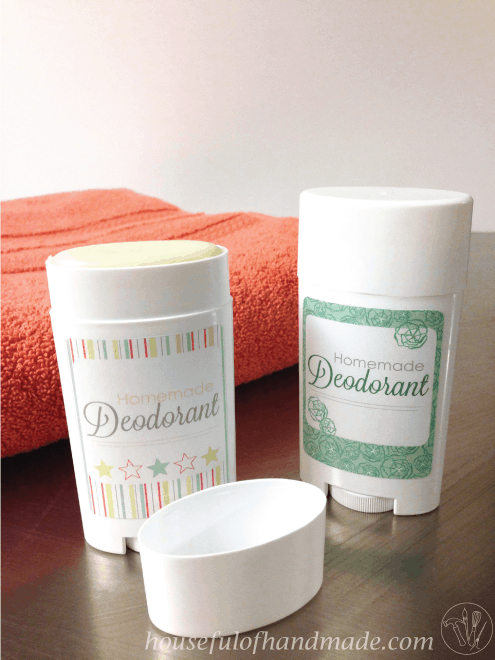 Have you tried out homemade deodorant yet? Are you ready to?
Homemade Deodorant Stick
Additional Time:
10 minutes
A fast & easy solid homemade deodorant stick that really works! You can make 2 sticks in 10 minutes with all natural ingredients you can feel good about.
Ingredients
3/4 oz beeswax
2 oz coconut oil
3/4 oz shea butter
2 Tbsp baking soda
2 Tbsp cornstarch
1/4 cup arrowroot powder
10-20 drops tea tree oil (or other essential oil)
Instructions
Weigh the beeswax, coconut oil and shea butter into a glass measuring cup.
Place in a small saucepan with a couple inches of water and simmer until the oils are completely melted.
Remove from heat and stir in baking soda, cornstarch and arrowroot powder. Then stir in tea tree oil.
Pour into 2 empty deodorant containers.
Allow to harden before use.