Get ready for Halloween with these easy to assemble printable Halloween book covers. There are three different covers available and can be scaled to fit any book.
Instantly add Halloween decorations to your home with these printable Halloween book covers. Three fun printable book covers are based on classic Halloween movies.
The covers can be folded around any book or Mod Podged to an old thrifted book.
Ha ha, I know it's barely September! But I am ready to start with Halloween.
I have lots of other projects in the works. Like these console table build plans I have been working on for the last couple months (okay the table is actually done and in use, but I am working on the finishing touches and illustrating the plans).
And a little girl's birthday party at the end of the month. But I took a couple days break from all that to indulge myself in some Halloween fun!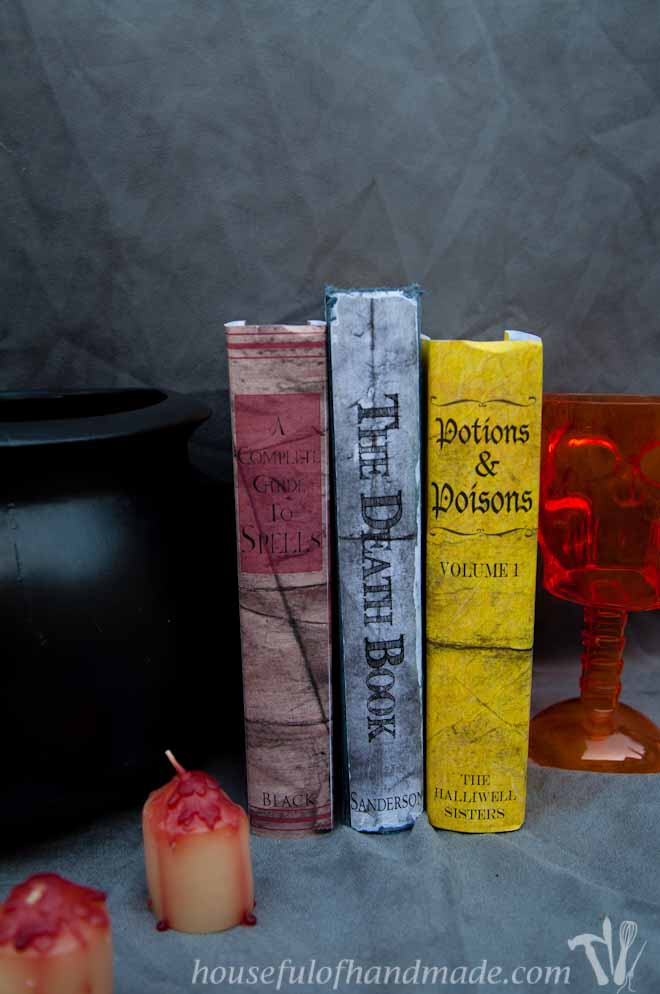 In case you didn't notice… I am a huge fan of Halloween. And especially Halloween decorations.
I love to transform my house into a fun, creepy, spooky house. I have boxes of Halloween decor and I get giddy when it's time to pull them out. Who's with me? Cause if you are, let's start decorating for Halloween.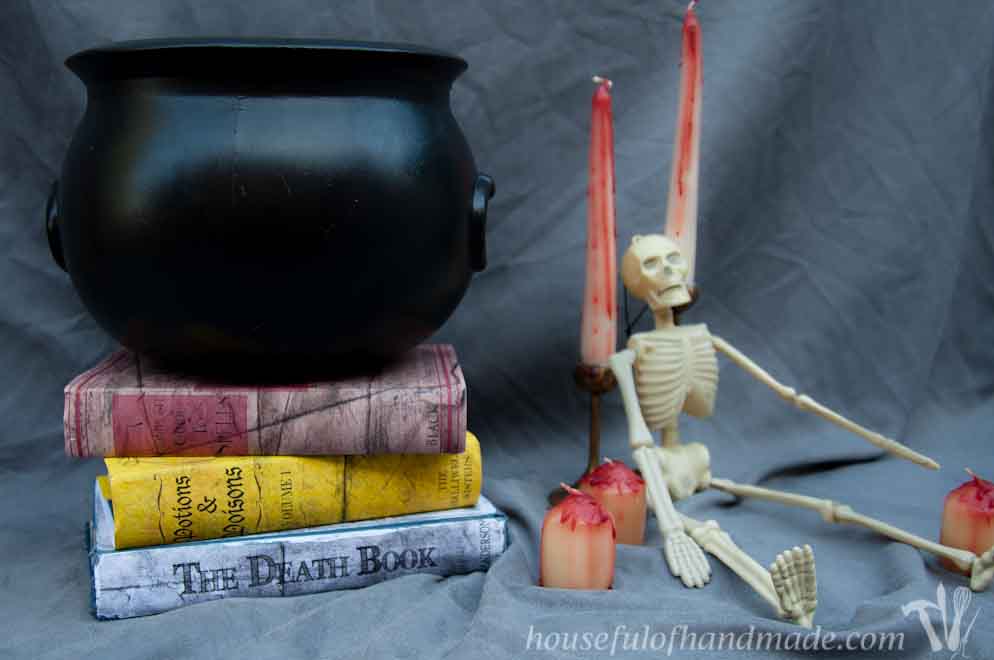 Now this craft is nothing new. I'm sure you've seen it all over Pinterest.
I bought some books last year at the thrift store to make some book covers… but never did. So this year, it is was at the top of my list to complete this project.
And with my new found love of Illustrator, I knew I had to design my own creepy Halloween book covers.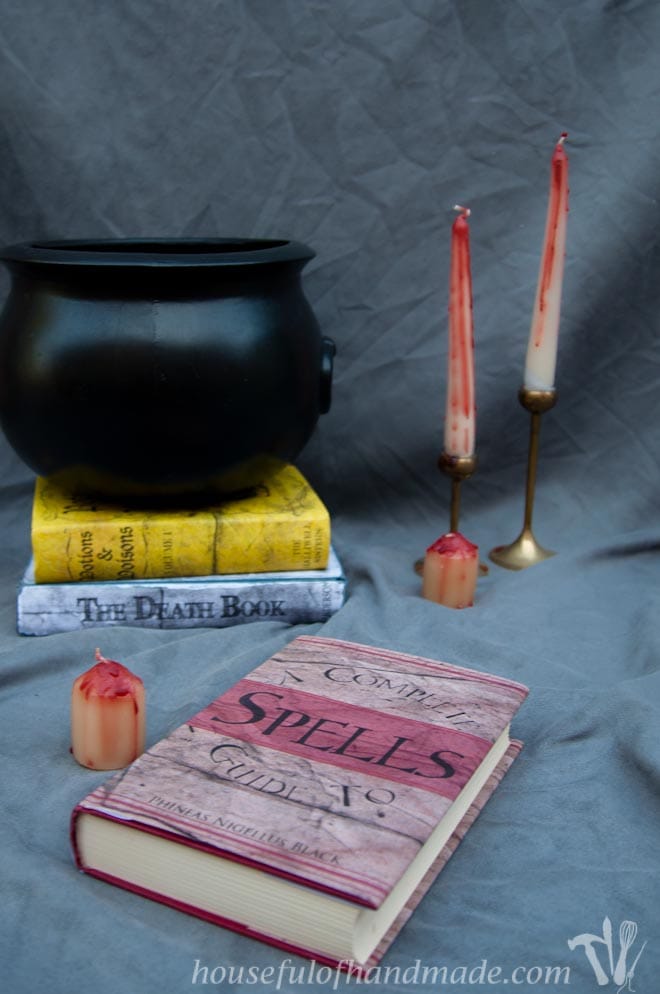 I think I had too much fun designing the covers. I knew I needed lots of skulls, and of course a spell book and a potions book.
I wanted the covers to look old and worn too. I used movies and tv shows to inspire my books. I just finished watching the complete series of Charmed on Netflix, so naturally I made the potions book from the Halliwell sisters 🙂
And when you think of witches, you can't not include Harry Potter, so I made the spell book with a little Potter inspiration! How about a school text book, A Complete Guide to Spells.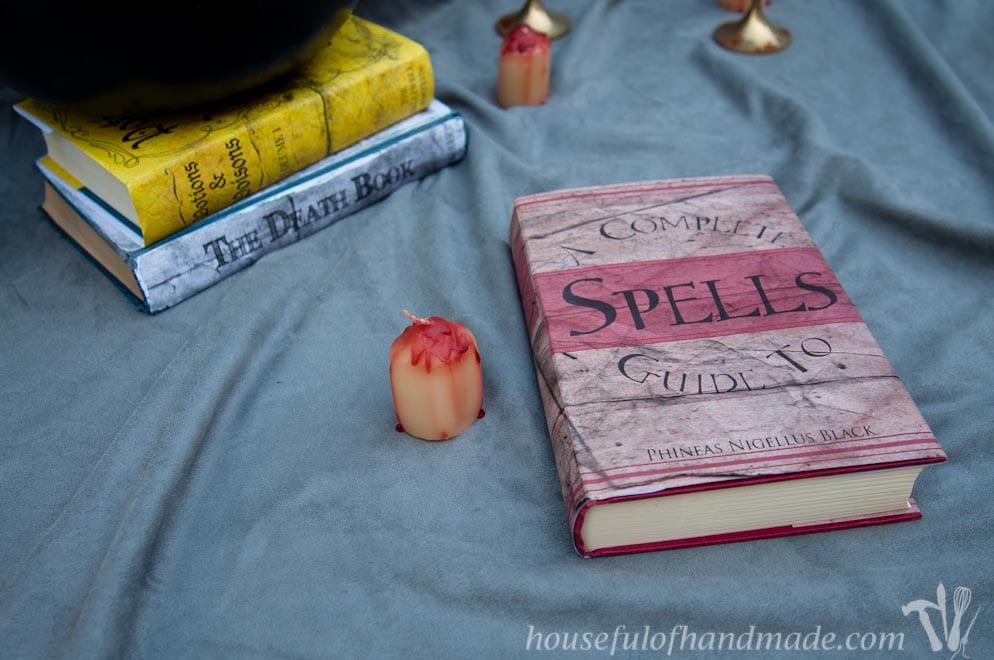 For the last book, I wanted something really dark. So I decided on the Death Book, what witch doesn't need a book listing all the ways you can die?
And when I think Halloween movies, you can't skip over Hocus Pocus, it's a classic. So with the evil sister's help, I created the my scariest book.
So all the books were done and ready to print and create. These are so simple to put together you will be ready for Halloween in no time.
And don't forget to check out all the rest of my Halloween tutorials for more fun Halloween decor.
How to Make Halloween Book Covers
Supplies:
Old books

Check out the thrift store for inexpensive books to use

Printable book covers
Rotary cutter and ruler or scissors
Glue
I made the file for these Halloween book covers a little different than normal so they will be easier to scale to fit your book.
Each book is made up of clipart files (PNG) instead of PDF files. There are 5 files for each cover: a front flap, front cover, spine, back cover, and back flap.
You can scale them to the size you need, then put as many as you can right next to each other on the page. For the smaller book, I got it all to fit on 2 pages, for the bigger one had to split it between 3 pages.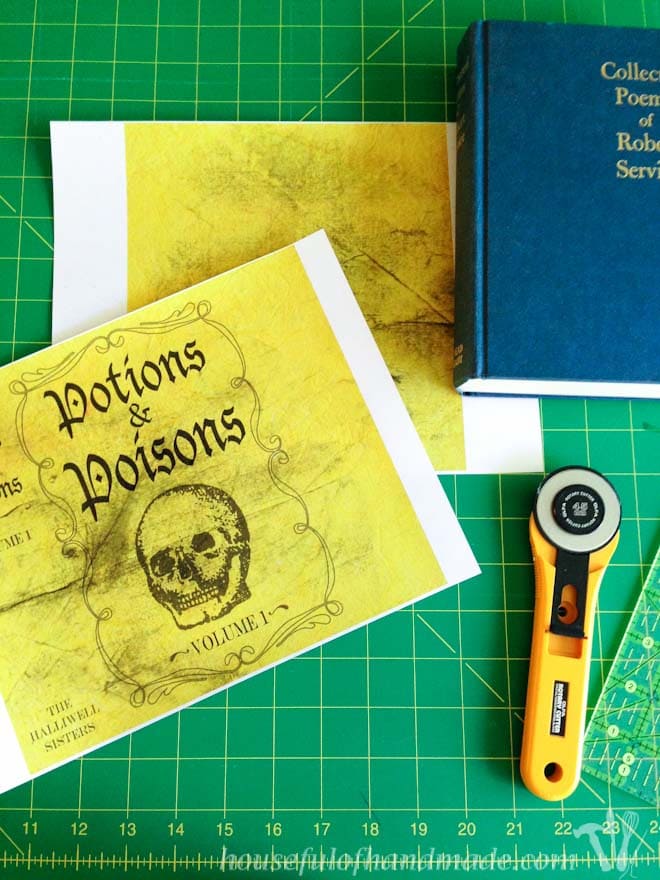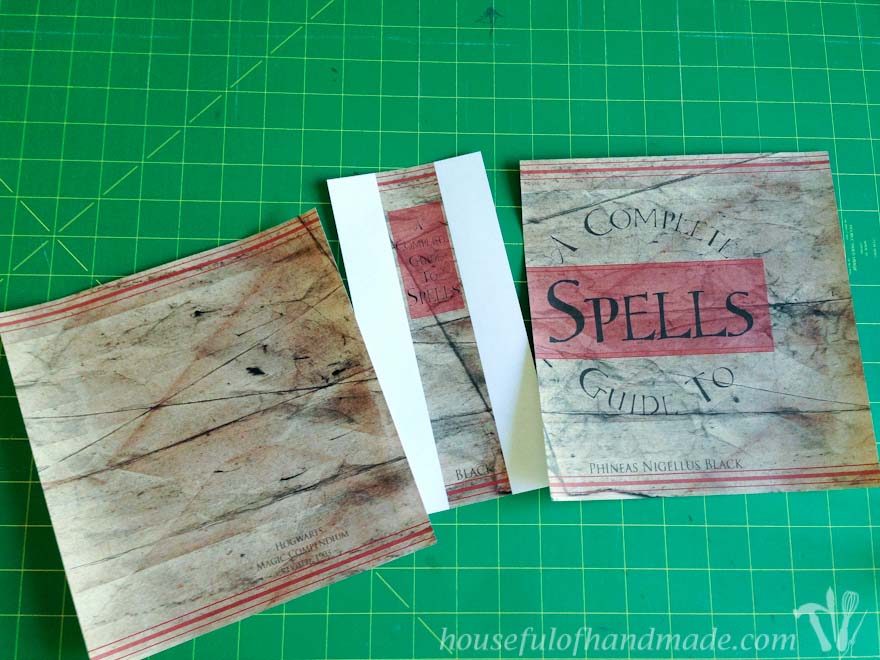 To put them together, cut the covers out leaving a strip of excess paper where you need to glue them together to make one continuous piece.
Make sure to assemble it together backwards so the front cover will end up on the front when assembled. The front will be on the right side, and the back on the left. I put mine together with a healthy dose of classic school glue.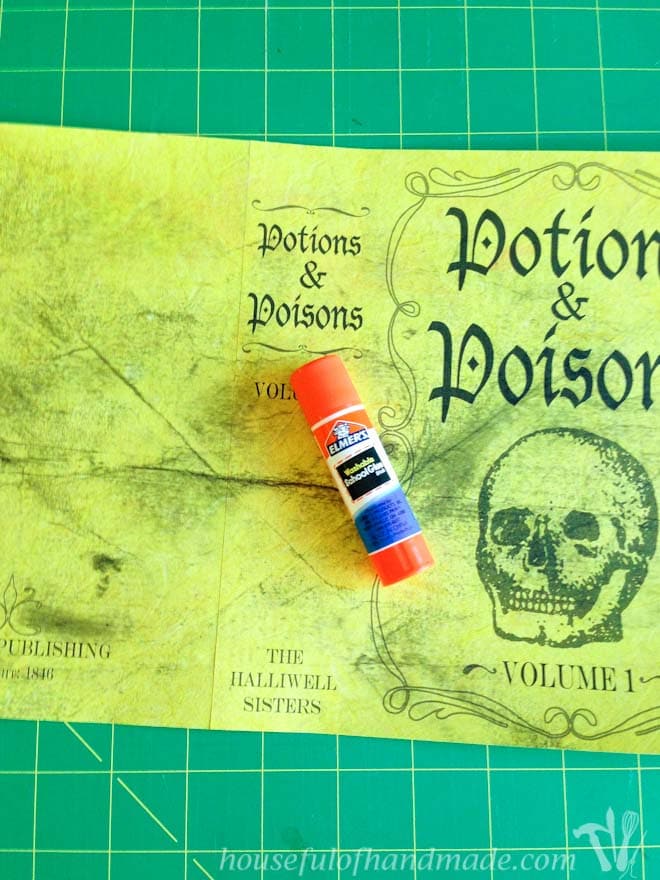 Let them dry completely. I got a little excited and found that the glue doesn't hold that well if they aren't allowed to completely dry. So use heavier glue if you are impatient like me 🙂
Then fold the covers around the book. I put it on the book to get my creases in the correct spot, then pulled it off to give the creases a little more oomph!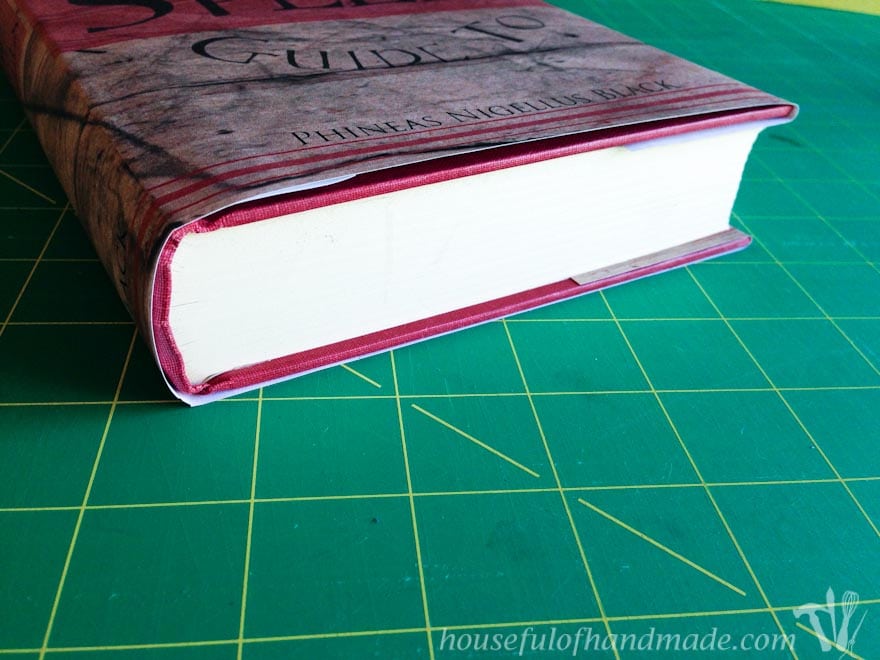 Now you are all done and ready to decorate. So easy! And you can put these on any book, not just old beat up ones you find at the thrift store because the covers are removable.
For the last book, I used this idea from Craftaholics Anonymous. Using some Mod Podge, glue the cover to the front, spine and back of the book.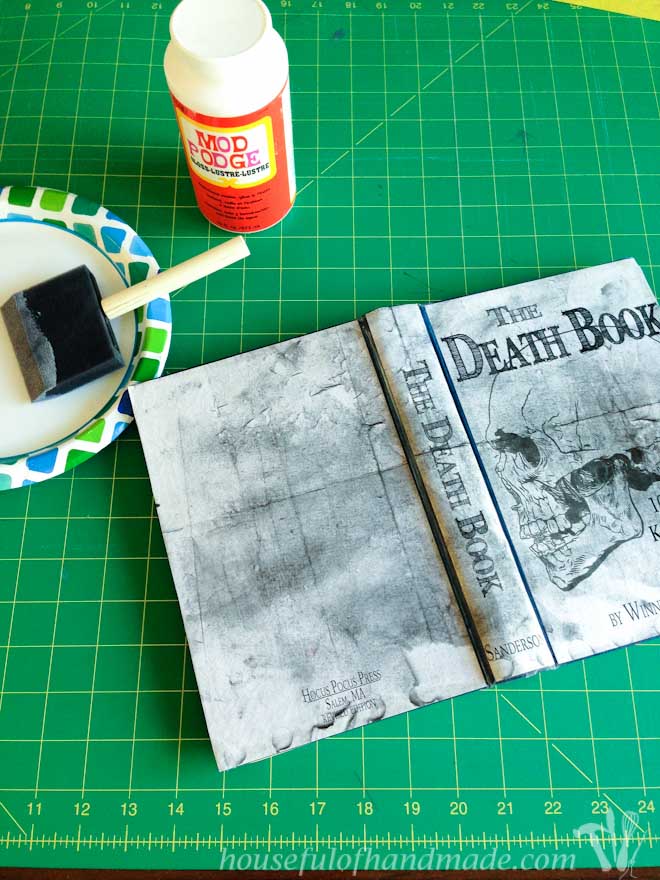 Then use some medium grit sand paper to rough up the corners and edges a bit.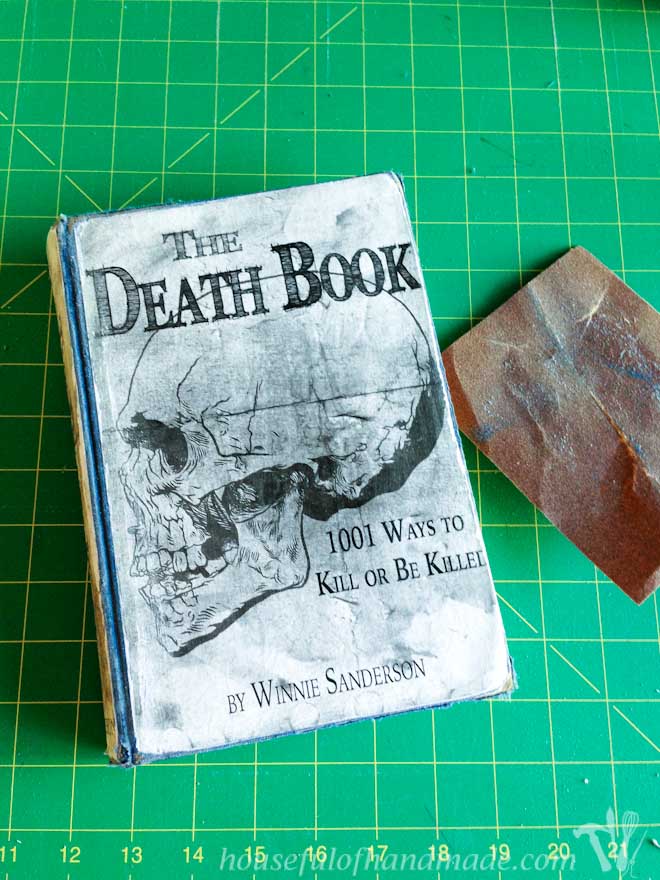 Now it is ready to decorate with.
I'm so excited I now have three spooky books for my Halloween decor. I am thinking I will set up a witch's lab vignette on my dining room console table. Oh man, I can't wait to decorate the whole house!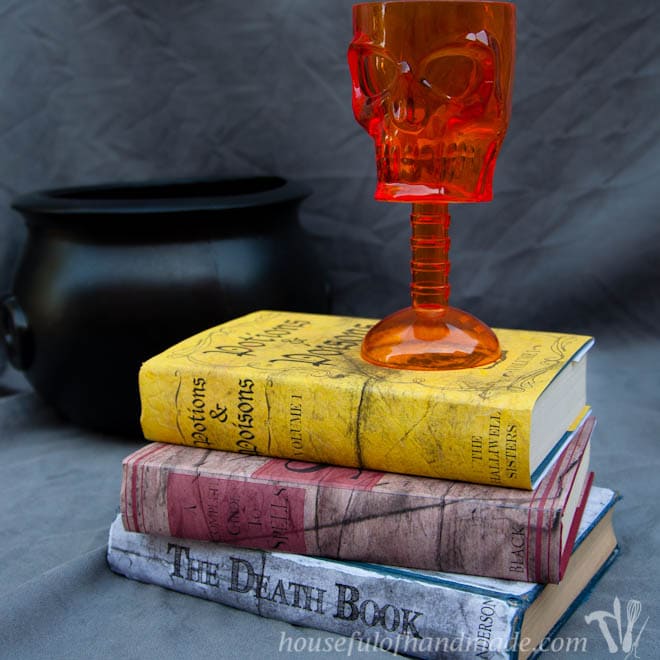 And my adorable son is so fascinated by the books, he keeps reading them! I keep telling him that the insides are not really what the covers say, I didn't go through all the trouble of changing all the pages. But he still insists on reading them. Maybe he will learn something awesome 🙂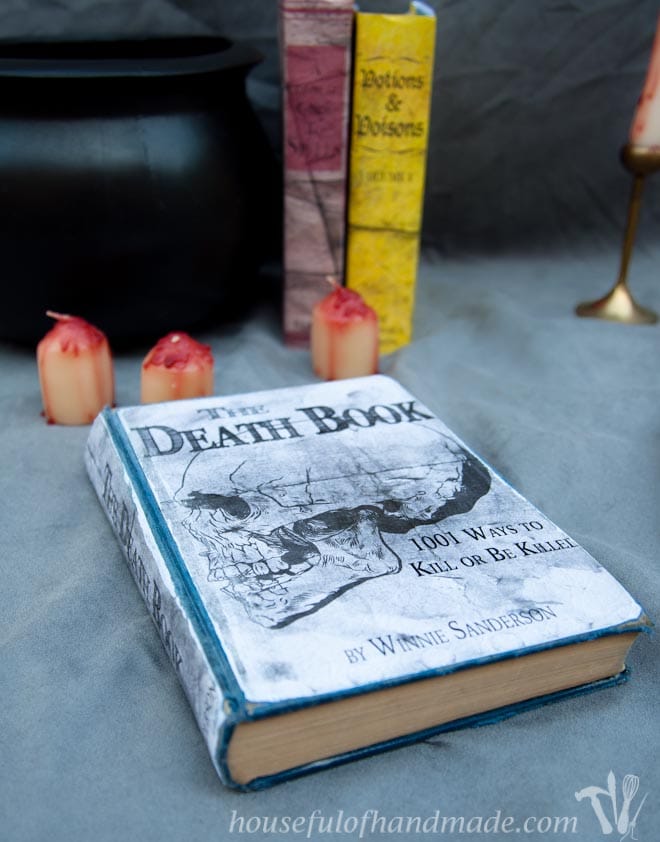 We are loving our new Halloween book covers. Don't forget to check out all the rest of my Halloween tutorials for more fun Halloween decor.