Use extra pears and enjoy fall flavors with these easy cinnamon pear muffins.
I was working my way through jars and jars of pumpkin puree this month, I was committed to putting pumpkin in everything and only sharing pumpkin recipes, but then my mom dropped off a 5 gallon bucket of ripe pears from her tree.
Usually when I am handed a large bucket of fruit, I pull out my canner and preserve it. But I still have plenty of pear sauce, pear butter, and canned pears from last year so I didn't want to can anymore.
Instead, I started baking. And these cinnamon pear muffins are the perfect way to use up extra pears. Plus the crumb topping is always delicious on fruity baked goods.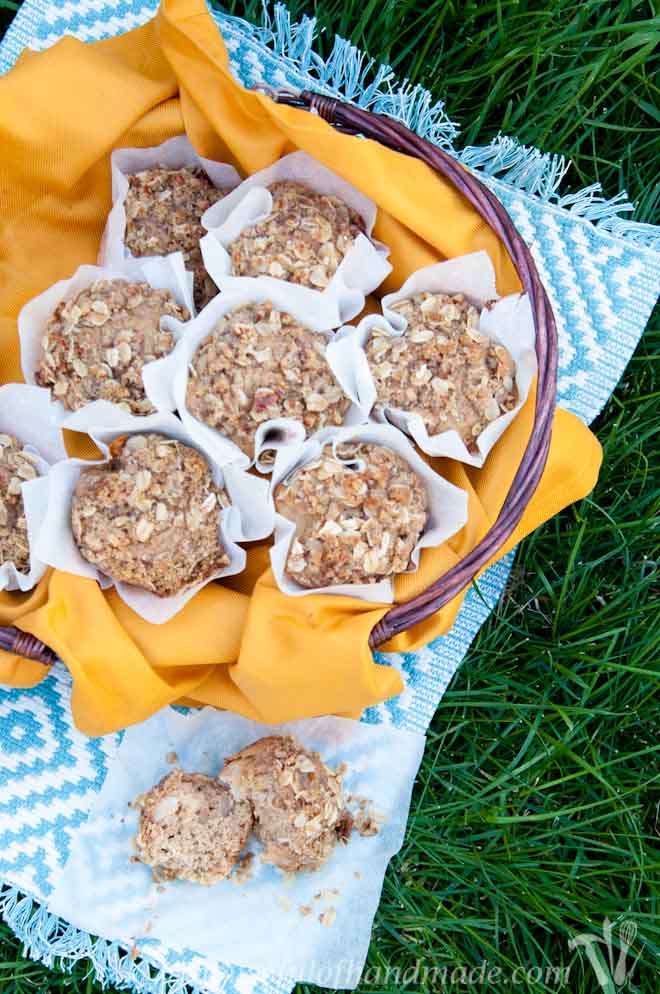 I came across a recipe for pear coffee cake, and I wanted to try it, but I am too impatient to wait 40-50 minutes in the morning for my breakfast to be ready.
So instead I decided to make some pear muffins to help use up some of the amazing fresh pears I had. Now I can have a delicious, hot breakfast in only 20 minutes.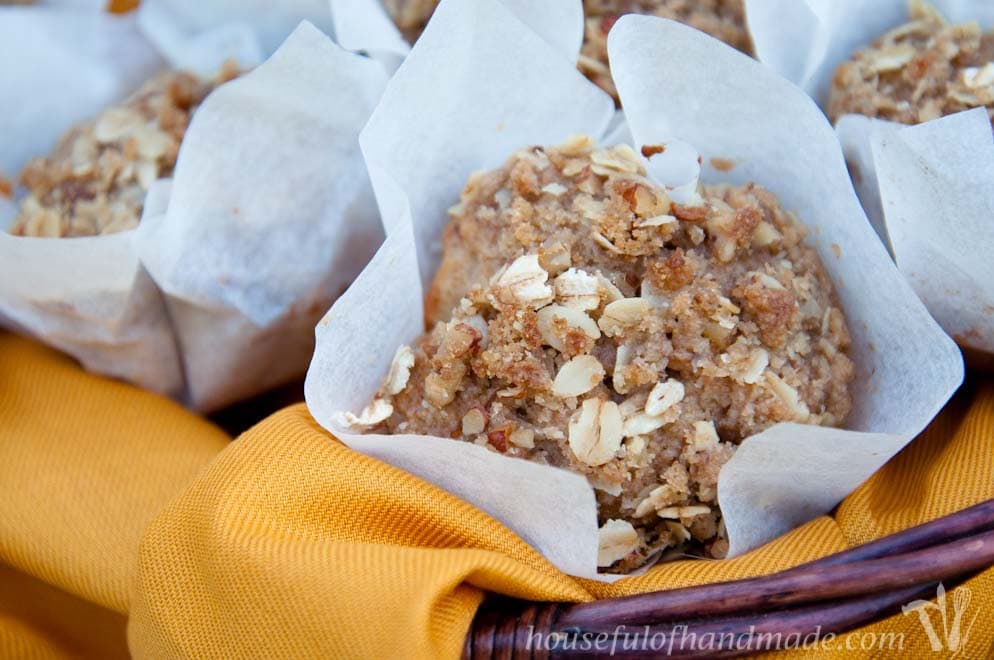 Oh my goodness, these muffins turned out so good! They are so moist and full of flavor. Seriously, my husband was drooling over the pictures as I am putting them in my post here!
He is trying to encourage me to make a 3rd batch this week, I guess it's a good way to use up more pears.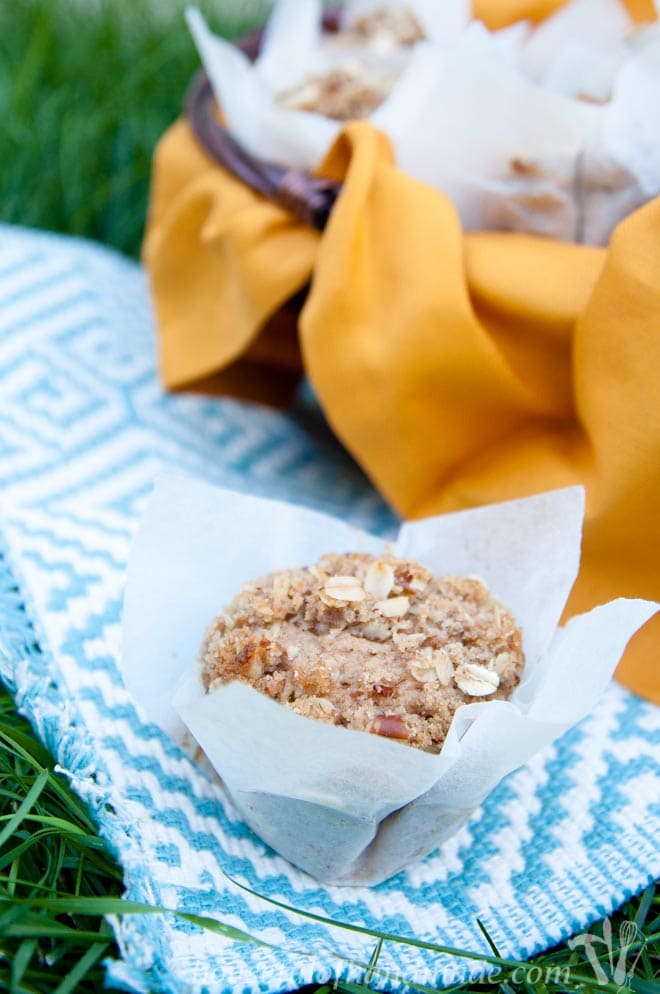 Extra Moist Pear Muffins
To really incorporate the pear flavor and use up lots of ripe pears, I used pear sauce in these muffins along with a couple diced up pears. The pear sauce is what makes these muffins so moist and flavorful.
I used a bunch of the pears that were getting too ripe, cored them, and then put them in the crockpot to slowly cook until they could be mashed up.
I didn't even take the skins off, they have lots of nutrients and flavor so I always leave them on when I make apple or pear sauce. You can remove them if you want but that takes so much time.
If you don't want to make pear sauce, you can sub in applesauce and they will still taste like fall!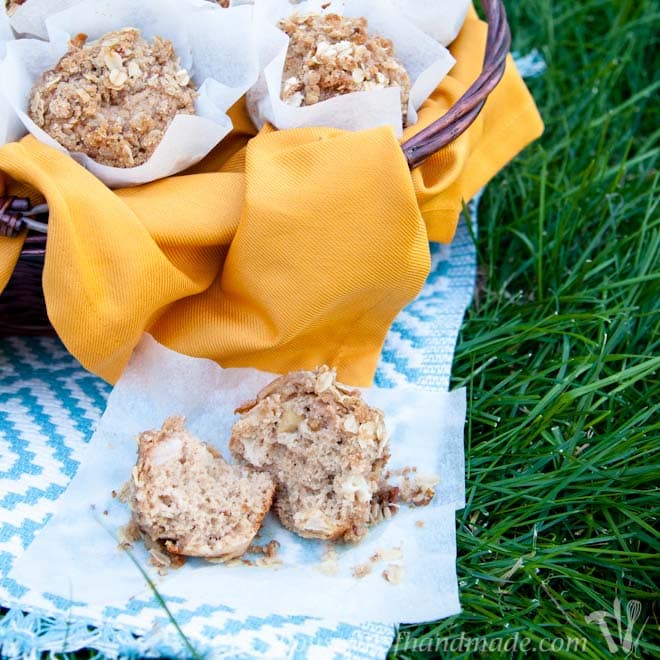 If you're ready to make some of the most delicious pear muffins, it's so easy! Start by whisking together 1 cup whole wheat flour, 1 cup all purpose flour, 1/2 cup brown sugar, 2 tsp baking powder, 1/2 tsp salt, and 1 tsp cinnamon.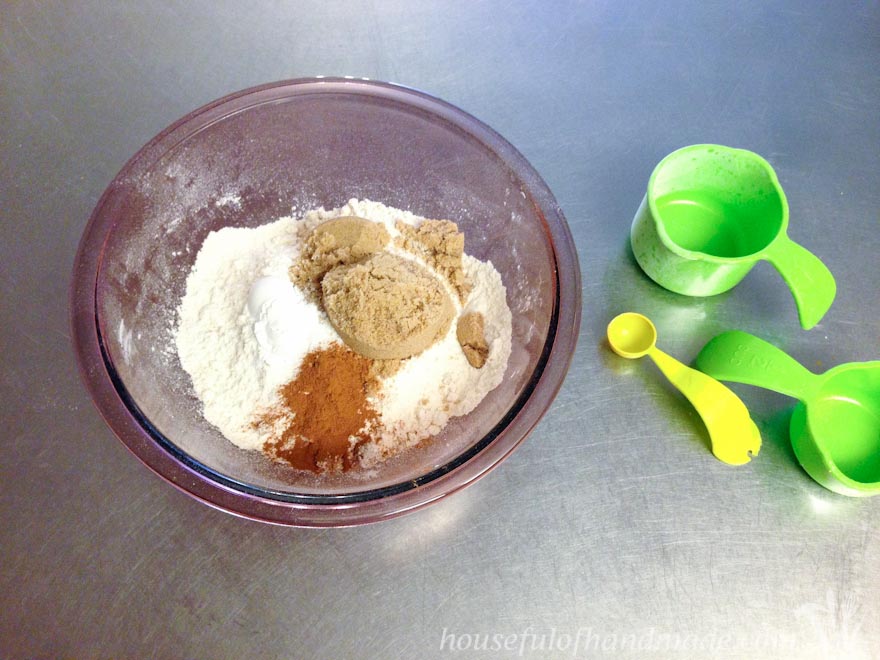 Then dice up a couple pears, and toss them into the dry ingredients. Give them a little stir to incorporate them into the dry ingredients.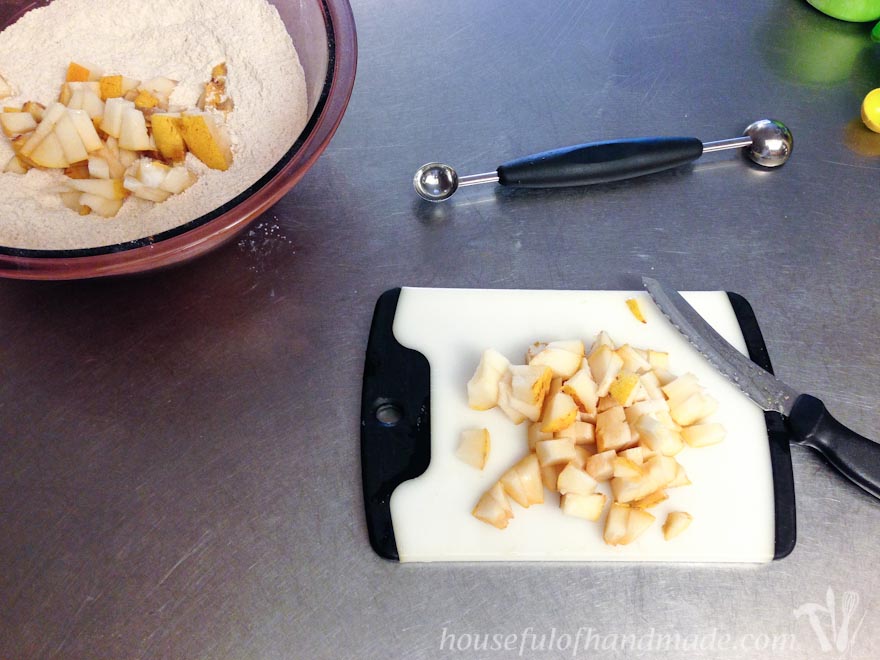 In a small bowl, whisk together 1/4 cup melted butter, 1/4 cup milk, 3/4 cup pear sauce, 2 eggs, and 1 tsp vanilla extract.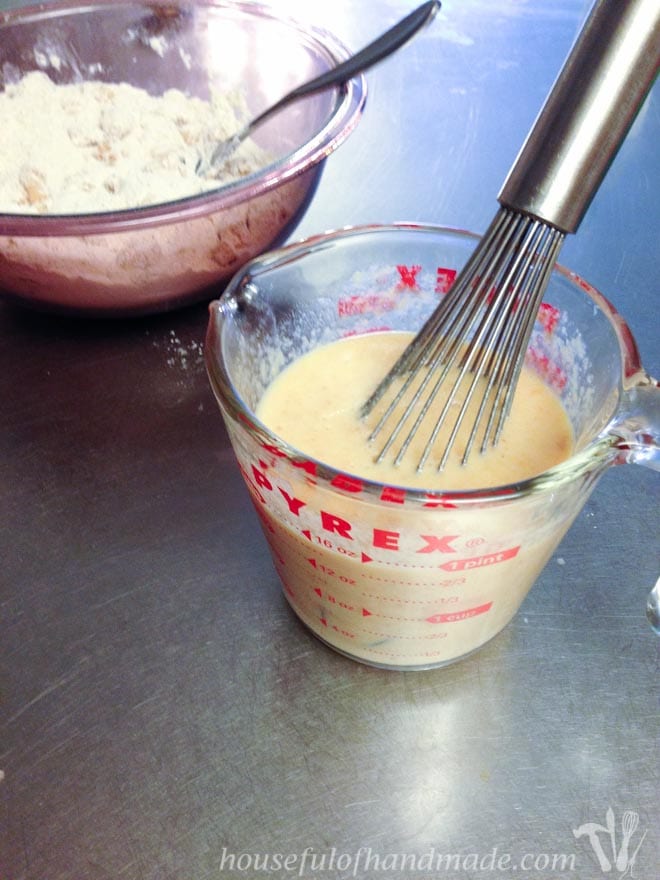 Pour the wet ingredients into the dry ingredients and stir just until combined.
Seriously, if there are still some dry spots, it's okay, you do not want to over mix. I always think of the Alton Brown episode where he talks about the muffin method when I make muffins, stir only 10 times, then walk away.
Scoop the batter into your muffin cups. Then it's time to make your oatmeal crumb topping.
I like to do this in a mini food processor. Put in 1/4 cup flour, 1/4 cup brown sugar, 1/4 cup pecans, and 1/4 cup cold butter. Spin it until the nuts are chopped and the butter is all crumbly in the dry ingredients. Then stir in 1/2 cup rolled oats.
Sprinkle the topping over the top of the muffin batter. I decided to use parchment paper muffin cups for these muffins since the parchment is much taller than normal muffin cup and holds the crumble topping in nicely.
How to Use Parchment Paper as Muffin Cups
To make the parchment paper muffin cups, cut a sheet of parchment paper into 6 pieces. I buy parchment paper in 12×16 inch precut sheets to fit a cookie sheet cause they are so convenient.
Cut the 12×16 sheet in half long ways, then each section into 3rds. This will leave you with six pieces approximately 6″ x 5 1/3″.
If you have a roll of parchment paper, cut it into approximately 6×6 inch squares.
Press the center of each piece of parchment into a muffin pan. Scoop in your batter and then sprinkle the crumb topping on top and you are ready to bake!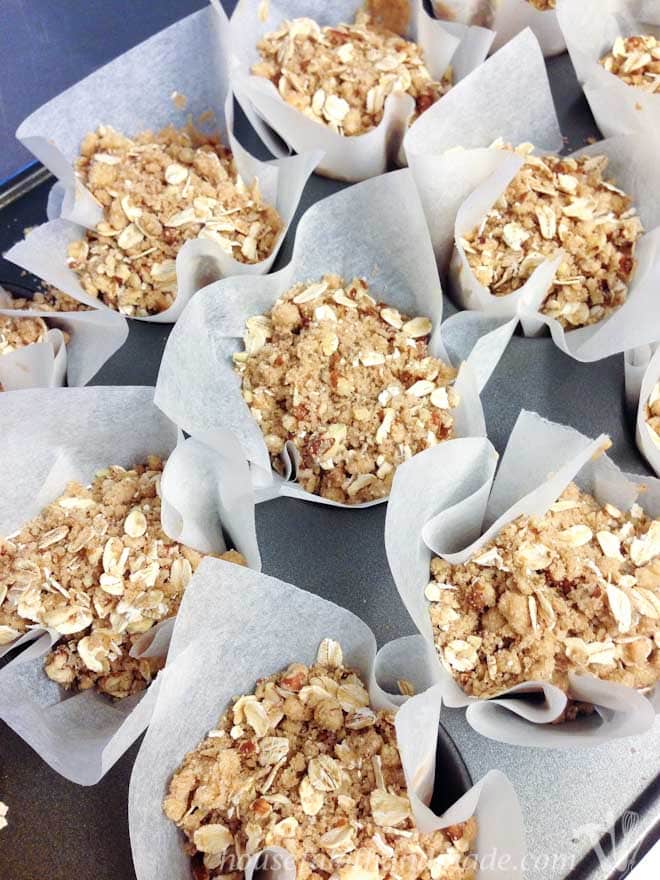 Bake at 375 degrees for 16-18 minutes.
Then enjoy your hot cinnamon pear muffin with a delicious cup of coffee with pumpkin syrup and you will be having a little fall party in your mouth.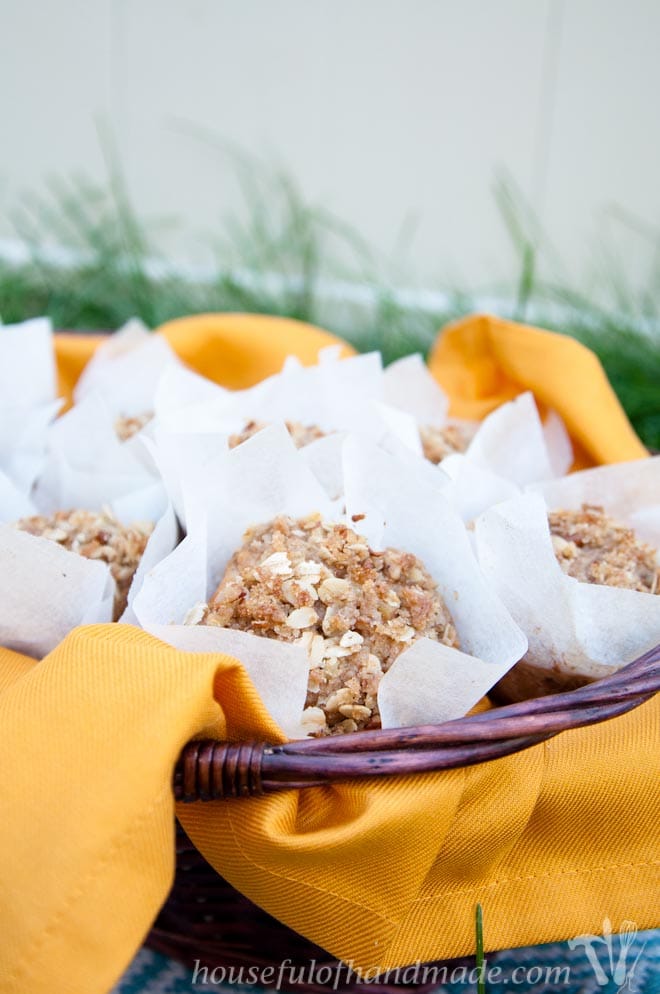 I can't wait for the cool weather to come back and so I can enjoy more hot breakfasts like this 🙂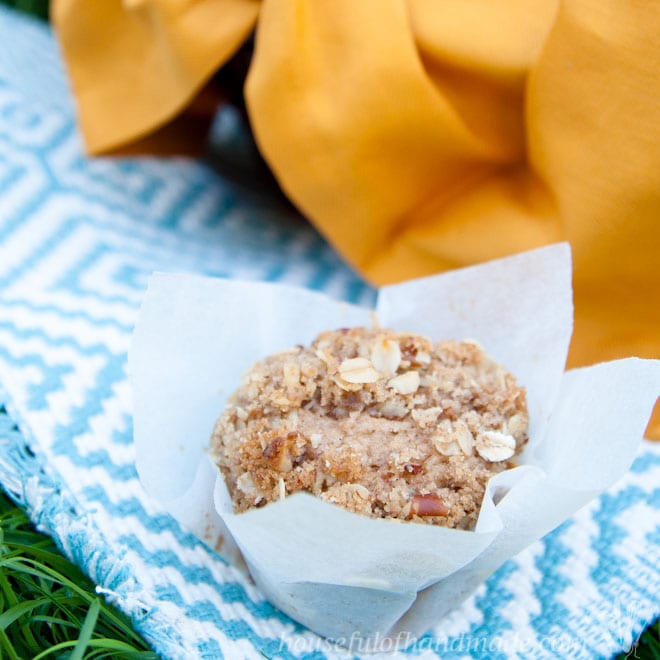 Yum!
Cinnamon Pear Muffins with Oatmeal Crumble
These pear muffins are amazing! They are like a little bit of fall in your mouth. Delicious cinnamon and pear topped with an oatmeal crumble. Recipe on Houseful of Handmade.
Ingredients
1 cup whole wheat flour
1 cup all-purpose flour
1/2 cup brown sugar
2 tsp baking powder
1 tsp cinnamon
1/2 tsp salt
2 pears, diced
1/4 cup butter, melted and cooled
1/4 cup milk
3/4 cup pear sauce
2 eggs
1 tsp vanilla extract
For the crumble topping
1/4 cup brown sugar
1/4 cup flour
1/4 cup pecans
1/4 cup cold butter
1/2 cup rolled oats
Instructions
Preheat oven to 375 degrees F.
Whisk together flour, brown sugar, baking powder, cinnamon and salt in a large bowl. Stir in diced pears.
In a separate bowl, whisk together melted butter, milk, pear sauce, eggs and vanilla extract.
Pour wet ingredients into dry ingredients and stir just until combined. Do not over mix.
Scoop into muffin cups, filling them 2/3 full.
For crumb topping
In a mini food processor, combine brown sugar, flour, pecans, and cold butter. Process until nuts are chopped and butter is all crumbly. Stir in oats, then sprinkle over muffin batter.
Bake for 16-18 minutes, until a toothpick inserted into the center comes out clean.
Enjoy!