Celebrate your favorite mermaid with a fun mermaid tea party birthday!
It took us a minute to come up with a party theme that both me and my baby could agree on. She wanted a princess theme again, we did that for her 3rd birthday, and she really loves princesses. However, I really wanted to encourage her to do something new.
She had so much fun at her bros Carnival themed birthday party in the Spring and told me that's what she wanted for a month.
So I pulled out all my best tricks and told her all the amazing things we could do if we did a mermaid themed party.
To really make it amazing (and cause I really love tea parties) we decided to make it a mermaid tea party. And it was perfection!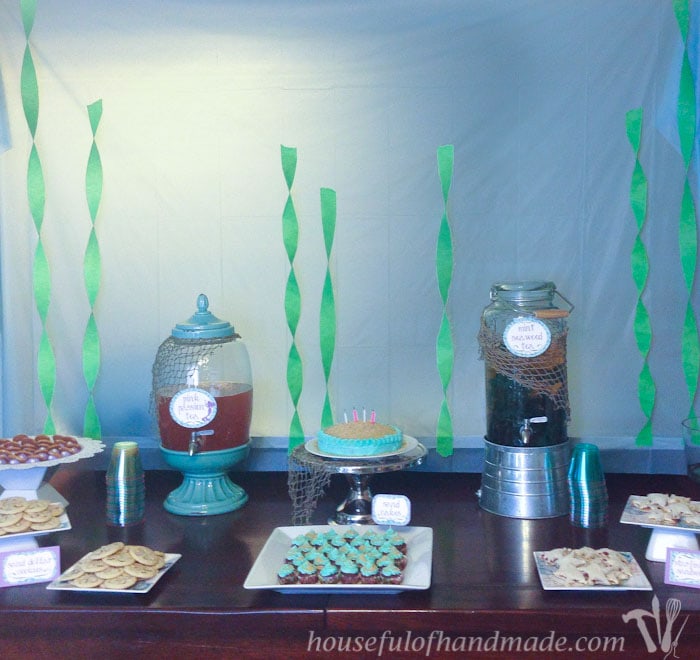 Sometimes I think that I love making these fun girl themed parties so I can live vicariously through my daughter. Now my mom did amazing birthday parties, we always had such fun things.
She was super creative before the internet was around. But when I get to be in charge of the party, I get to do everything that I could ever want (in my budget).
Lilie was so happy with her party, she told me "Thank you for my awesome party" multiple times today. Love this little mermaid!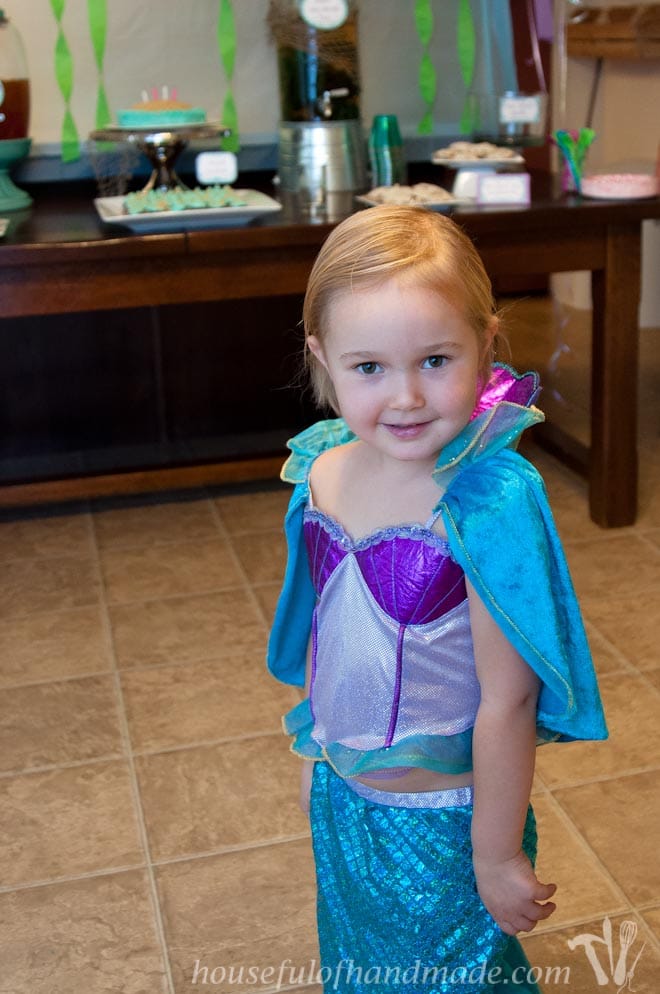 Tea parties are one of my favorite things to do. You get to make lots of delicious and beautiful little finger foods and treats, then sit around sipping tea and eating those treats! Who wouldn't love that?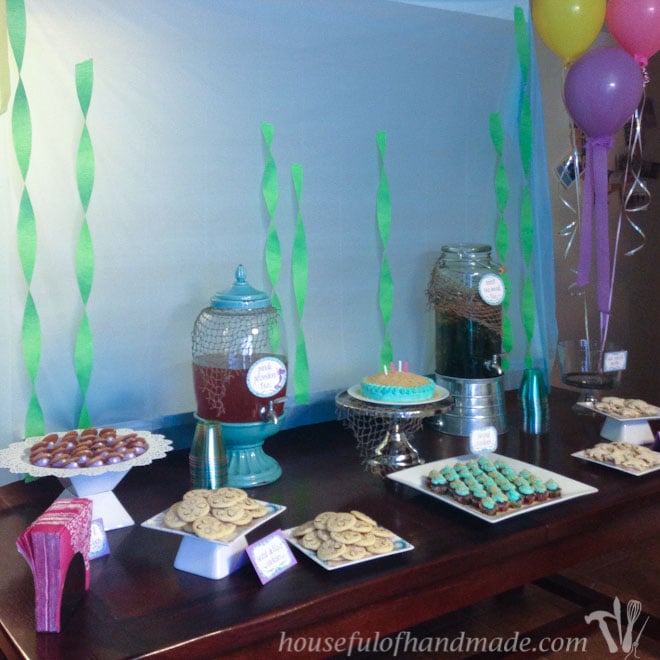 To start the party off with the theme, we needed invitations that screamed mermaid. So I made a simple scales pattern with some beautiful blues, turquoises and grays. Then added accents of purple and a mermaid silhouette.
I love how it turned out so much, I made a blank one you can use for your own mermaid tea party. Or you can use the mermaid scales digital paper and mermaid clipart to make your own invitation.
They are available in my shop.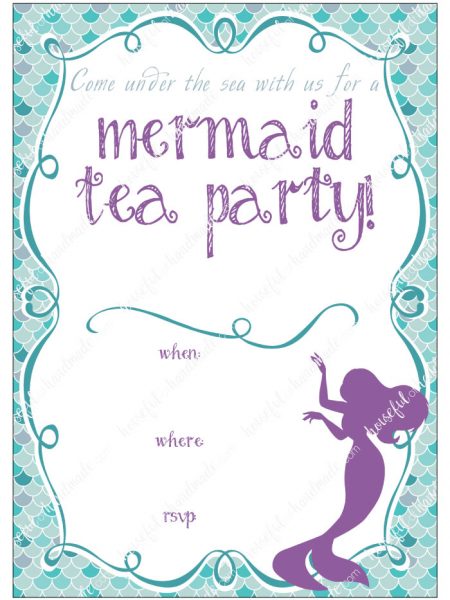 Mermaid Tea Party Food Ideas
Tea party serving dishes:
For our mermaid tea party, I started with the food. The food is my favorite part of a tea party.
Because it's still been so hot, and we're dealing with little kids, I opted for 2 iced teas: mint and an herbal tea that was supposed to be passion fruit but my sister accidentally gave me a citrus one.
It was still delicious, but not the beautiful pink it was supposed to be.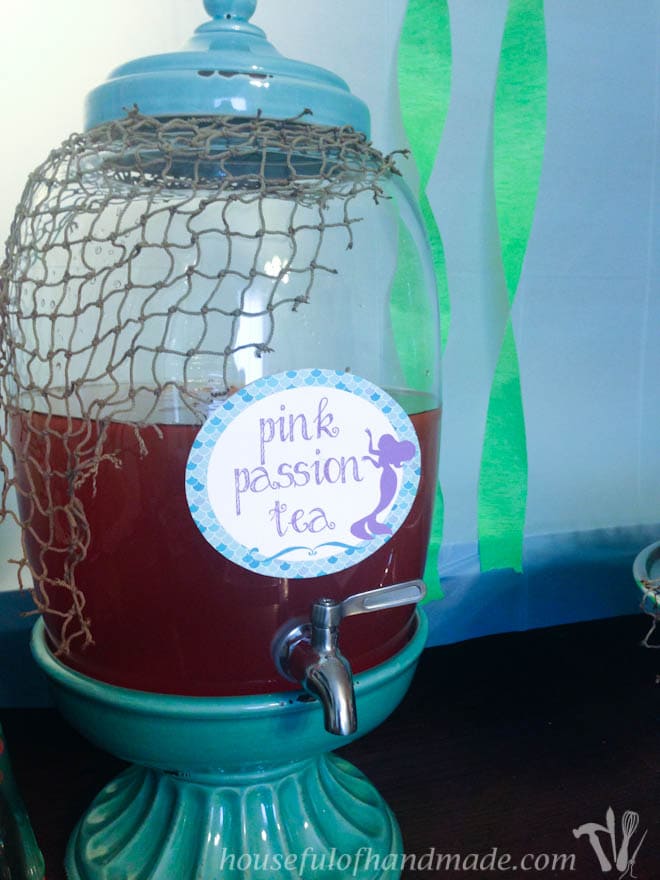 For the mint tea, I used a couple tea bags and then added lots of fresh mint. I left the mint on the stems so it looked like seaweed.
And we called it mint seaweed tea! The kids were worried that I was actually feeding them tea made of seaweed 🙂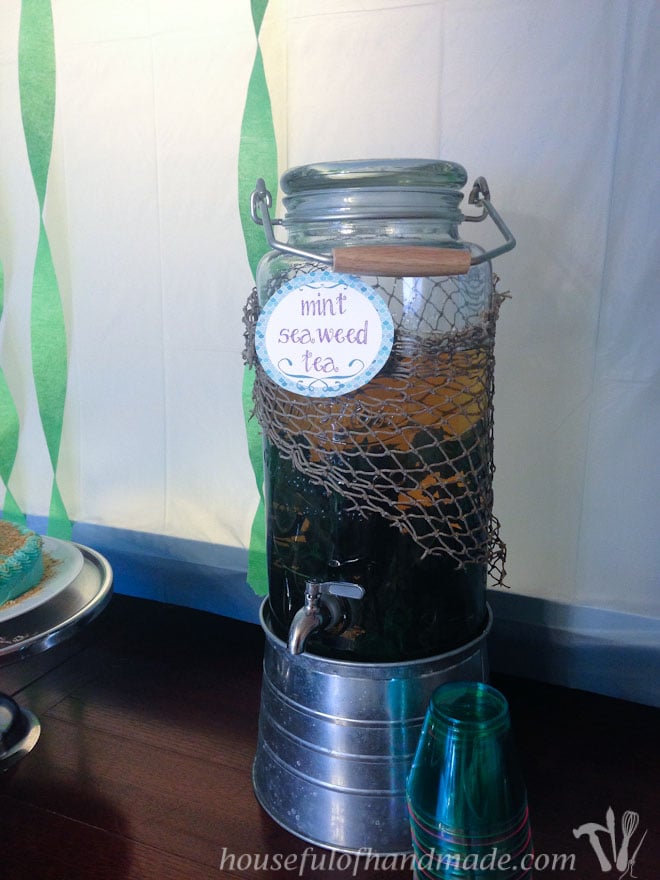 The cake was my favorite part, not because it's amazing, but because it's so easy to make a cake when you have an ocean/beach theme because you can just top it off with graham crackers crumbs.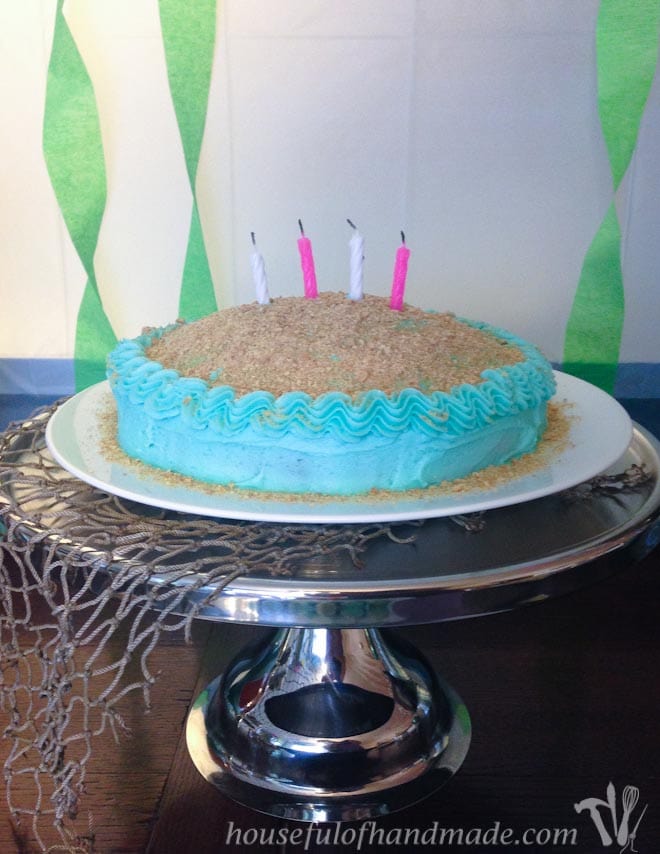 I started off just planning to make mini cupcakes because I wanted everything small for the tea party, but then I baked 2 trays of mini cupcakes (for 48 total) and still had a ton of batter.
I didn't really want to make 100+ mini cupcakes that I would then have to frost and figure out how to plate, so I dumped the rest of the batter in a round cake pan and then just went with it.
I'm so glad I did, because then I could have a cake with candles for Lilie to blow out. And it turned out pretty adorable.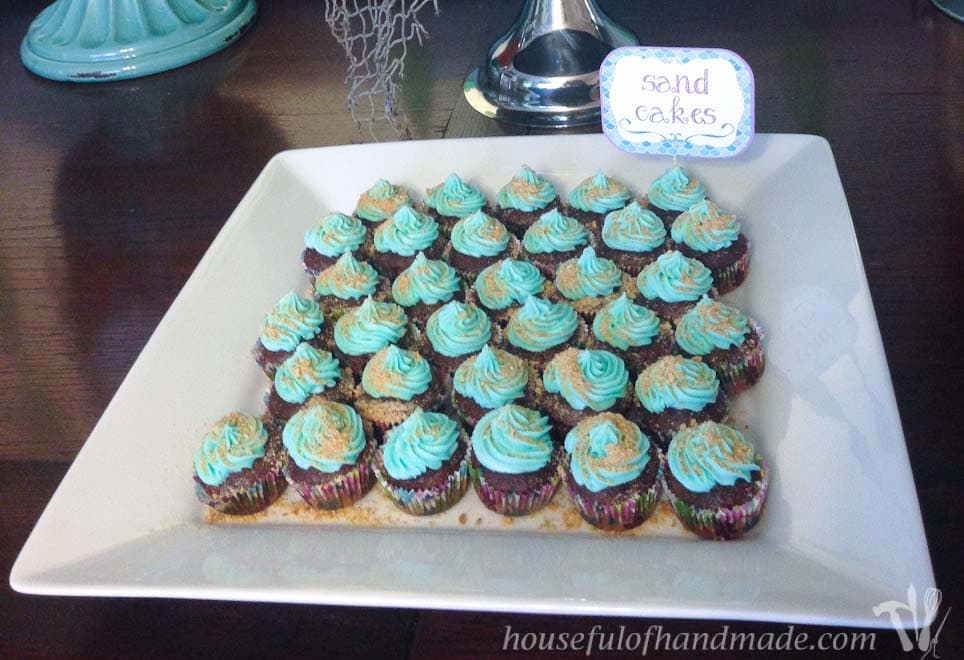 For more fun food, we had sand dollar cookies. I used a basic soft sugar cookie recipe, then pressed 5 pieces of sliced almonds into the top before baking so they looked like sand dollars.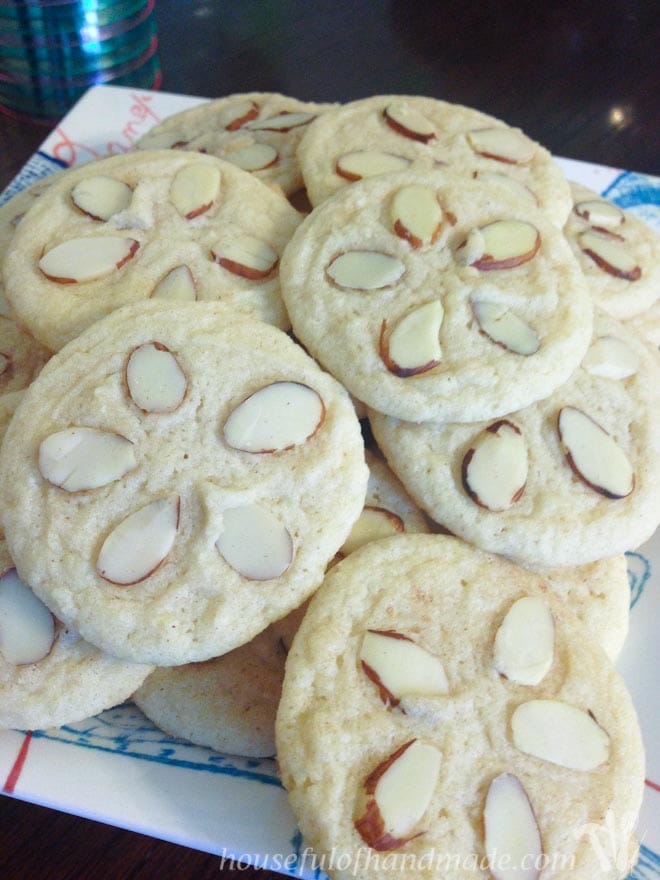 I also made little clam and pearl cookies. I used Nilla wafers and piped some frosting on top of one, placed the second one on it at an angle and put a candy pearl in the middle. These were the kids favorite cookies. They ate them all super fast and were asking for more. And who could blame them? They're adorable.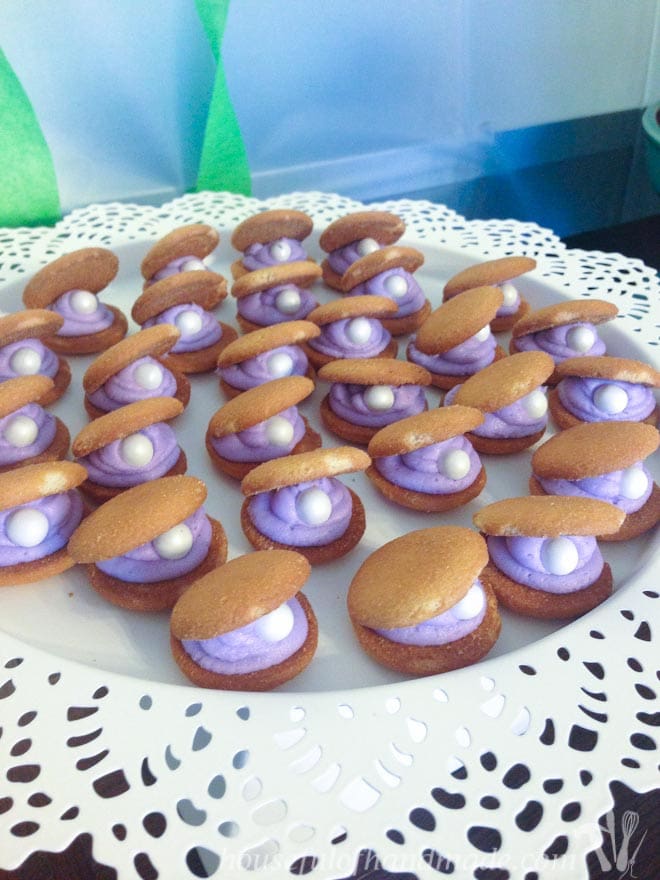 To add a little savory to our tea party, we made some peanut butter and jelly sandwiches and cut them with a star cookie cutter (sorry no picture, not sure why).
And made a seashell pasta salad. My kids love pesto, and it is delicious cold without the need to be refrigerated, so it was perfect for our little buffet style party.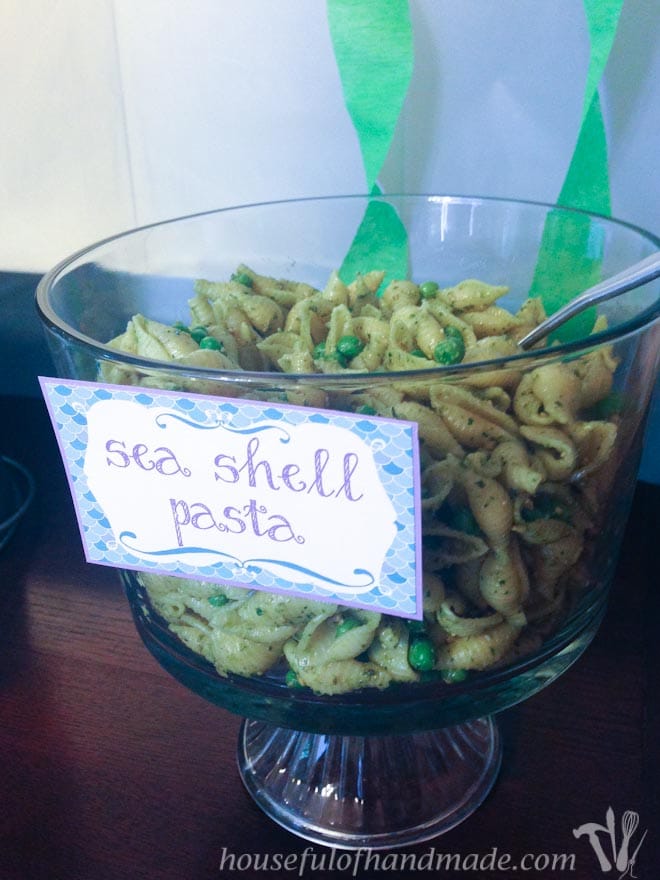 For decorations, I hung a blue plastic table cloth behind the food table (and it helped hide the mess in my kitchen since the table was in front of my kitchen island). Then used a little bit of green crepe paper to make seaweed streamers up it.
Super easy, but effective. And I got the blue table cloth and crepe paper for $1 each. I used some decorative fish net to drape over the tea jugs and cake stand, that I bought at Michaels with a 40% off coupon.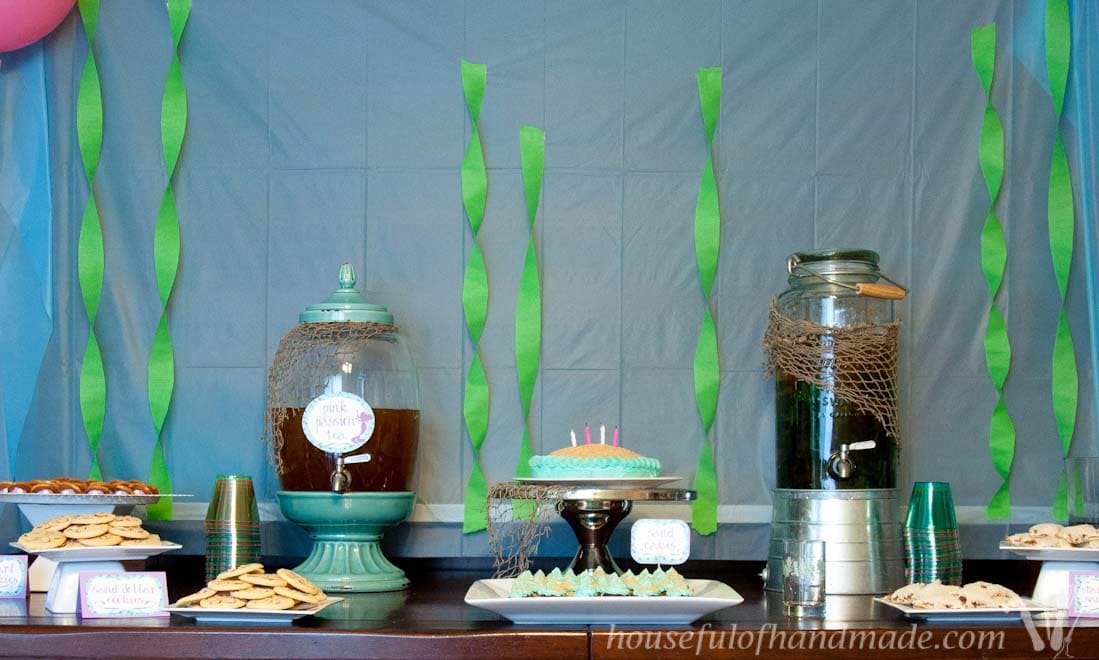 I made some cute little food signs with the mermaid scales pattern. If you want to use them for your own mermaid tea party, the files are available in my shop.
This includes the signs I made for Pink Passion Tea, Mint Seaweed Tea, Sand Cakes, Sand Dollar Cookies, Pearl Cookies, Starfish Tea Sandwiches, Sea Shell Salad, and blank labels too!
Mermaid Tea Party Decorations
Supplies:
I had this brilliant idea to make helium balloons look like jelly fish instead of using paper lanterns like I saw on Pinterest. This was a great idea in theory, but didn't work out exactly how I wanted.
The problem was, I waited until the day of the party to buy the balloons so they would be floating great for the party, so then I didn't have a plan B, or time to improvise.
I had to make it work, and kids love balloons no matter what, so it worked out. But I learned that the helium balloons cannot hold a lot of weight before they start to fall.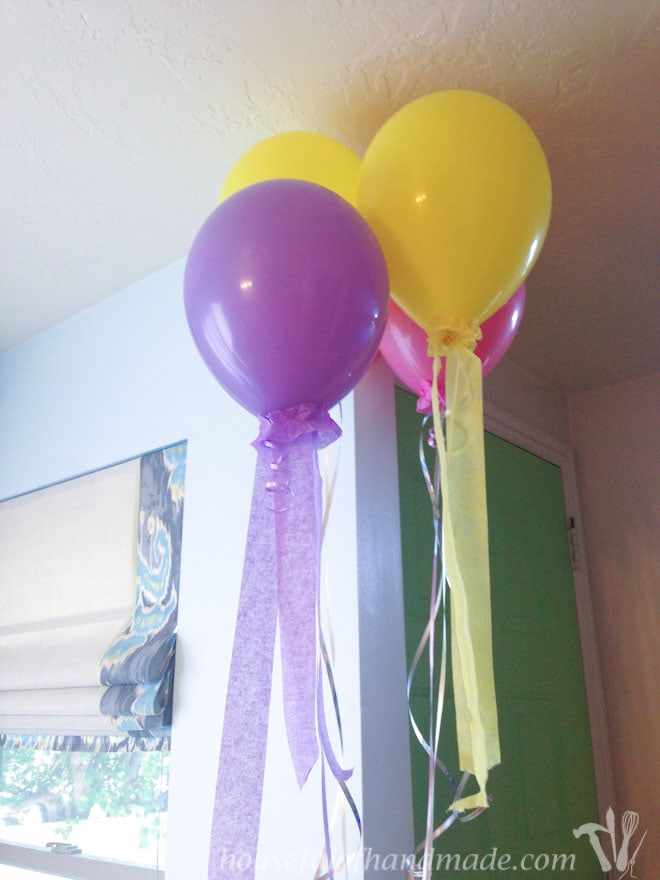 I had planned on adding a few different ribbons and strips of crepe paper on the bottom with a little ruffle. My first one started to sag really bad. I shortened the crepe paper streamers and it was better. So I had to choose between the crepe paper or ribbons instead of both.
For the rest of the decorations, I let the games be decor as you will see below.
Mermaid Tea Party Games
Supplies:
Paper grocery bag
Sand
Balloons
Candy and small toys
For the games we started by making necklaces with fake pearls and some sea shells that my sister was getting rid of. I was able to easily drill a hole in the sea shells so the kids could thread them onto a necklace.
Next we played pin the pearl on the clam. To make the game, I used a picture of a clam and printed it out. Then printed out some pearls for the kids.
I made a bed of sand for the clam to rest in by cutting a paper grocery bag open, then covering the inside with sand.
I used spray glue at first to secure the sand to the paper bag, but it didn't hold very much sand so I got out the Elmer's glue and spread it all over then sprinkled the sand on top of that.
This wasn't the cleanest project I have ever done, it made a huge mess, but was very pretty.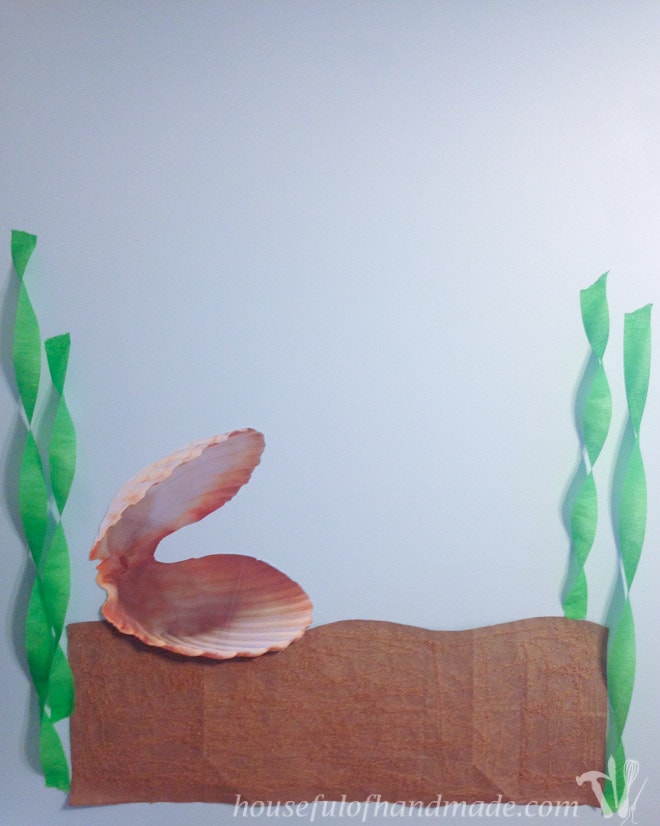 Then for the final game, I created what I called a mermaid piñata. We filled "bubbles" (blue, turquoise and white balloons).
I filled them with candies and sticky hands. At the time, there weren't a lot of things that I could easily fit into the balloons.
We blew them up and secured them to the ceiling in a net. I found this particular string net at the Dollar Tree in the Halloween section.
When it was time for the piñata, I dropped the corners of the net and the balloons tumbled over the kids, then they had to pop the "bubbles" to get to their prizes.
The mermaid piñata was a huge hit! The kids weren't afraid to pop the balloons after they saw there were treats inside.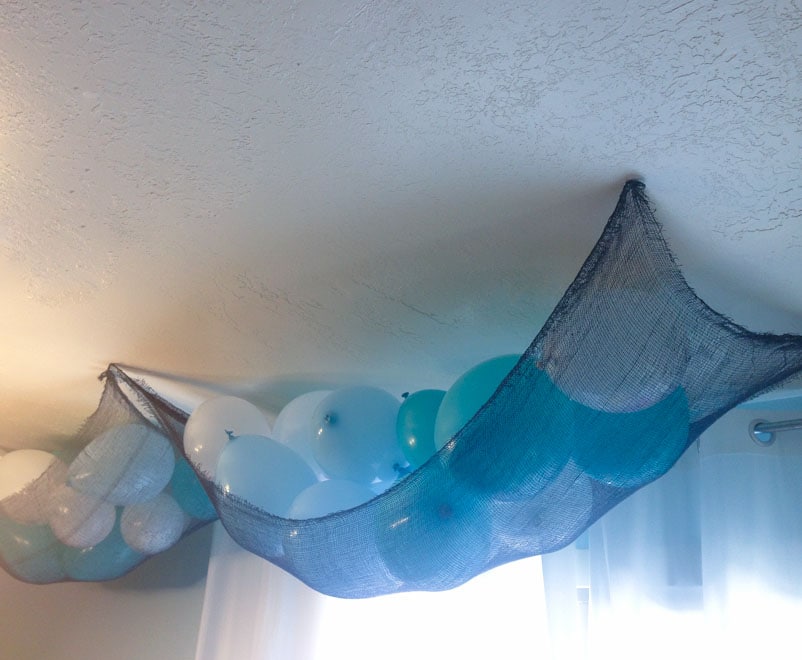 And we were done! The kids were running around screaming and laughing and having fun, so apparently it was a successful party 🙂
Now I am tired. I just got the house put back together but don't have energy to do much more, so I'm going to binge watch some Netflix and relax for a day!
All the printables you need to throw your own Mermaid Tea Party were available until 9/27/2018 in the Subscriber Library. They are now available for purchase in the shop. Make sure to subscribe so you never miss out on new freebies.