Add flowers to your Day of the Dead decor with these easy DIY sugar skull planters.
We are going strong with our Day of the Dead theme this year. And that means lots of sugar skulls! So to add some greenery to our porch, I made these easy DIY sugar skull planters from inexpensive plastic skulls.
So far we have added a beautiful Halloween layered doormat to our decor. Next was making these fun Halloween planters to add some greenery to our entry.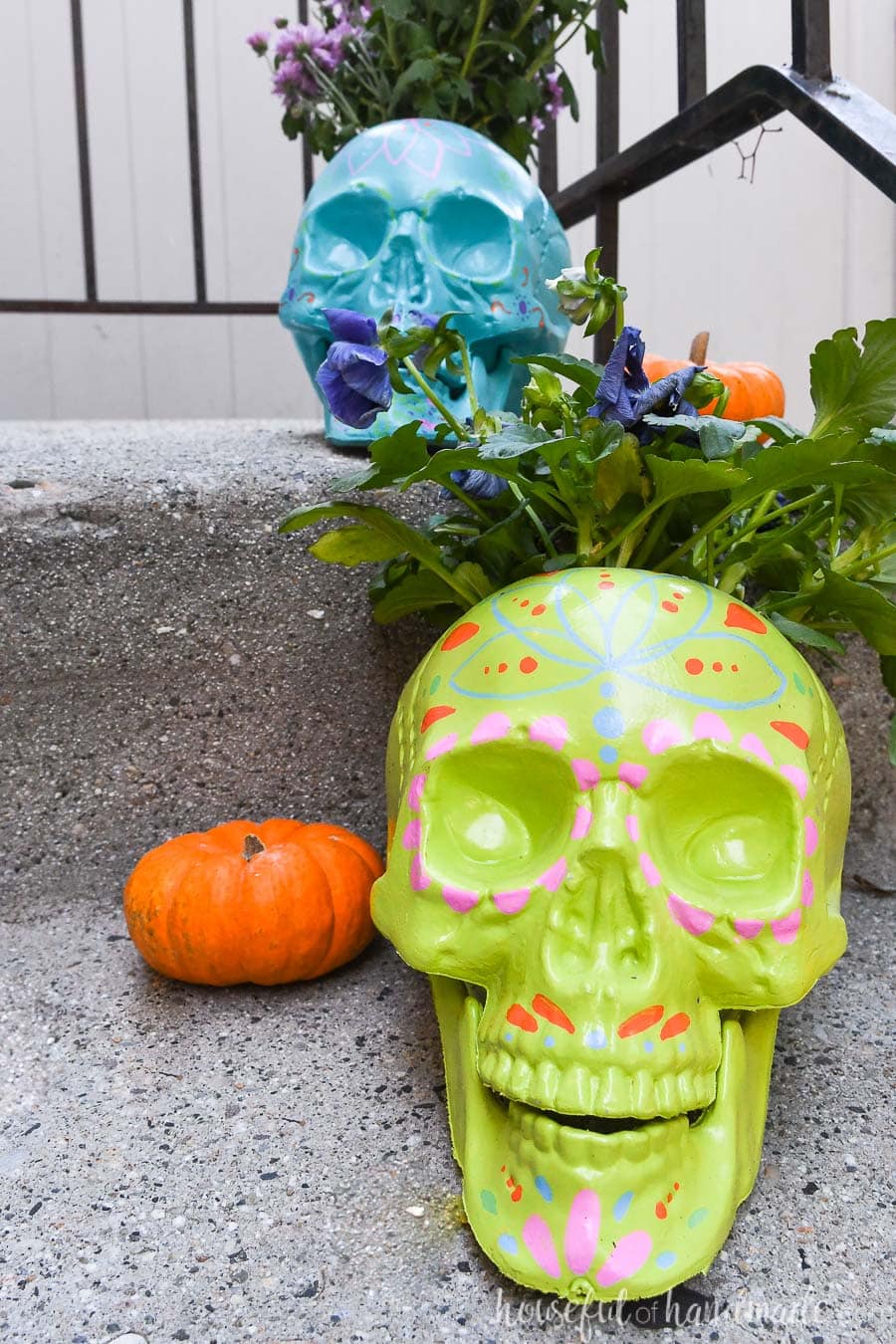 Even with fall around the corner, a few more flowers on the porch is always a good idea. Also, did you know flowers are a big part of the Day of the Dead? They are said to guide the dead to their altars.
To make our Sugar skull planters, I used this inexpensive 3 pack of skulls. The skulls are big enough to hold a small to medium sized flower from the garden center.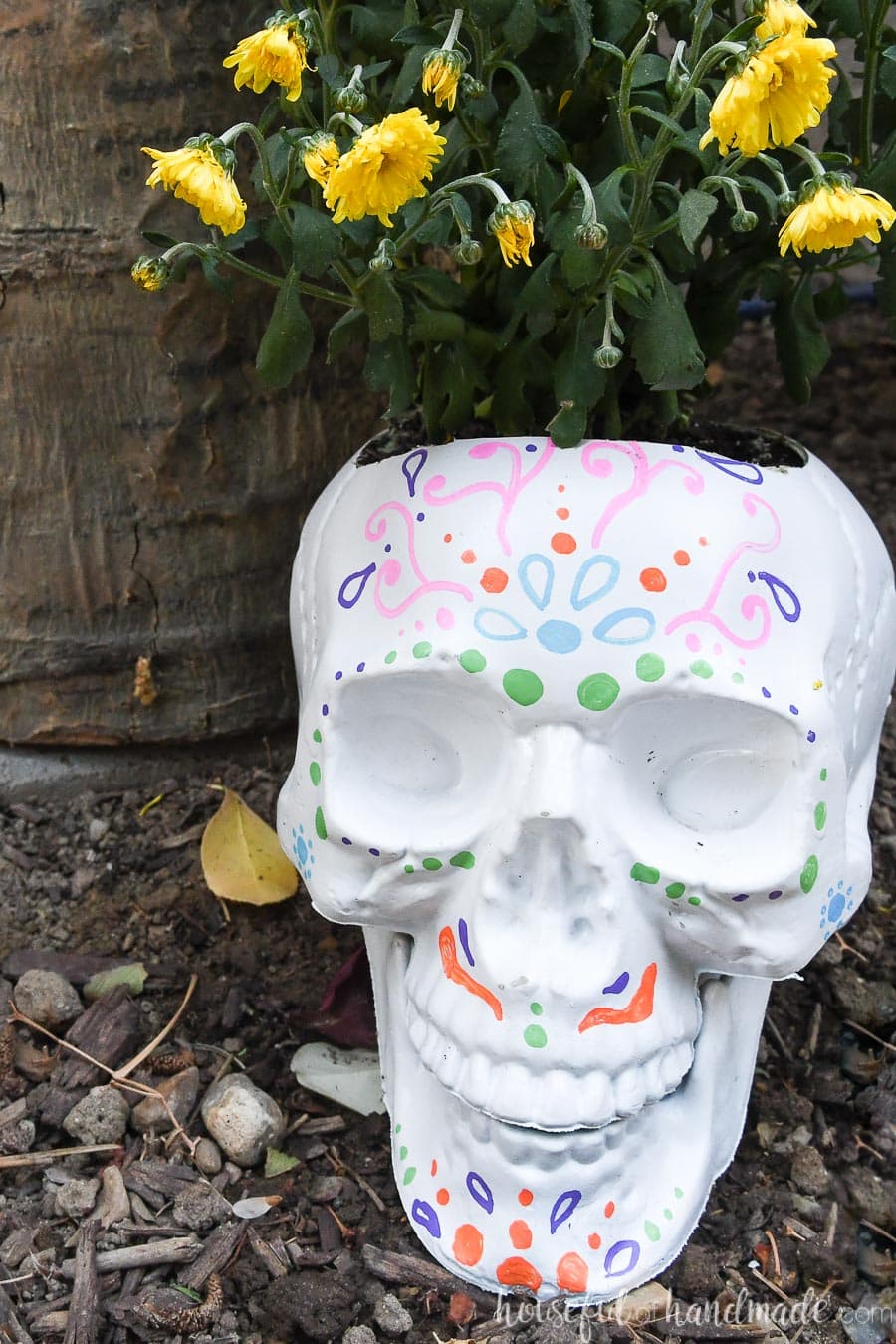 My favorite part of these DIY sugar skull planters is how easy they are to make!
Anyone can do it, and you can decorate them however you want. I just sat down with my paint pens and had fun creating different sugar skull designs with lots and lots of colors.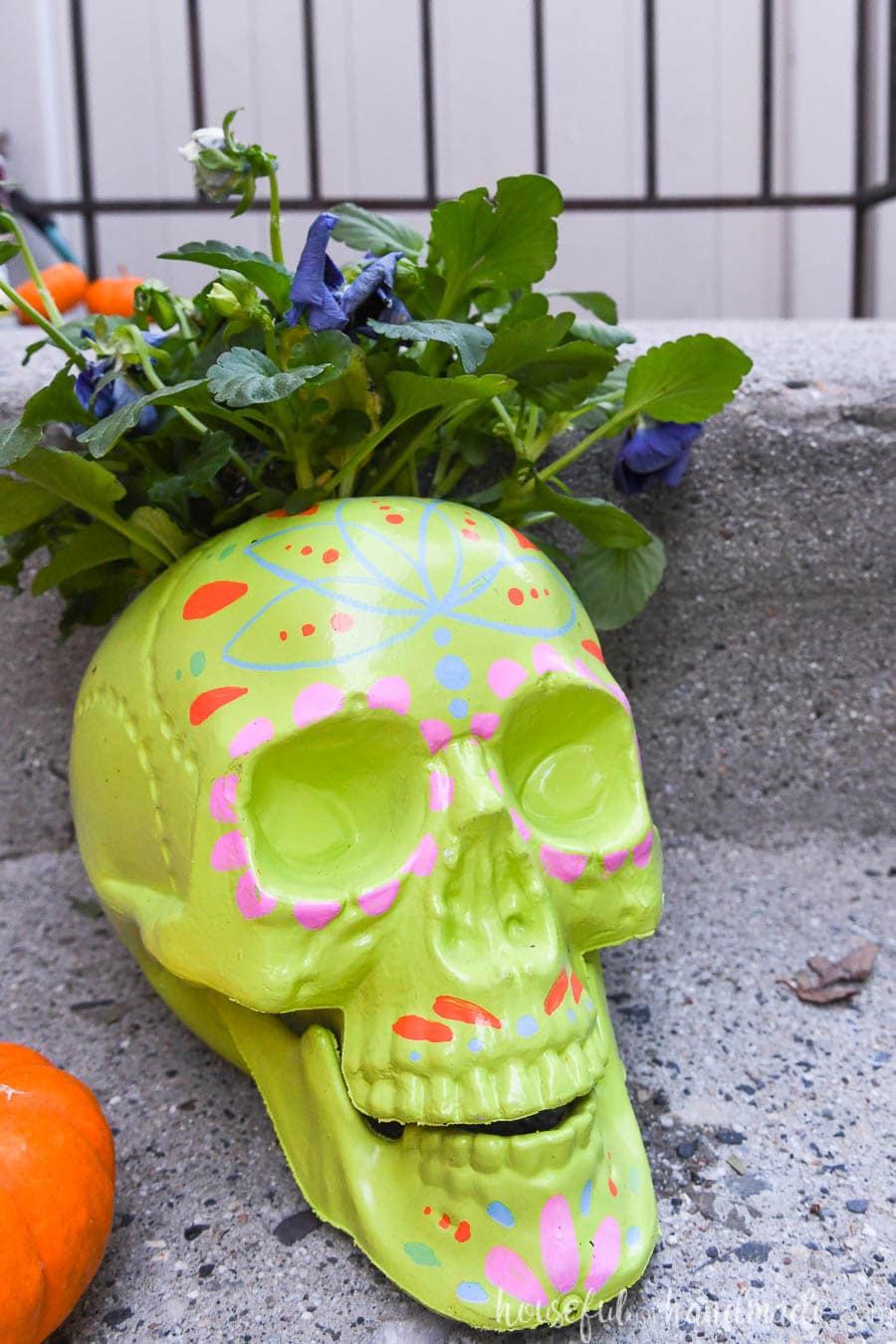 How to Make Sugar Skull Planters
Supplies:
Hollow plastic skulls

I used this 3 pack of skulls.

Sharpie paint pens
Drill

You will need a small drill bit for adding drainage holes and a larger hole saw (3- 4″) to make a hole in the top for planting.

Optional: If you do not have a large hole saw you can use scissors or a knife for cutting the large hole
Painting the Sugar Skulls
Sugar skulls are a plethora off bright colors or a more standard white with colored decorations. Pick whatever colors you want (but I would suggest steering away from yellow for the skull because it looked sickly).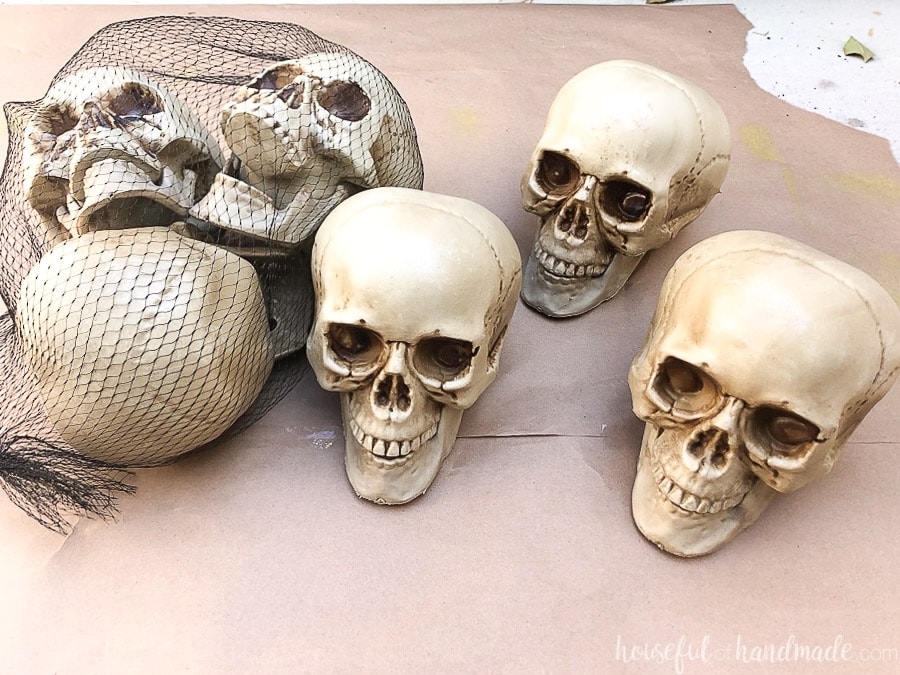 Start by spray painting the skulls with a couple lighter coats of spray paint to get a good coverage.
Let the paint dry throughly. I would suggest overnight.
Mine dried in the sun for 3-4 hours. Most of the colors were fully dry at that point, but a couple colors were still slightly tacky. If they are tacky, the paint pens will not work properly.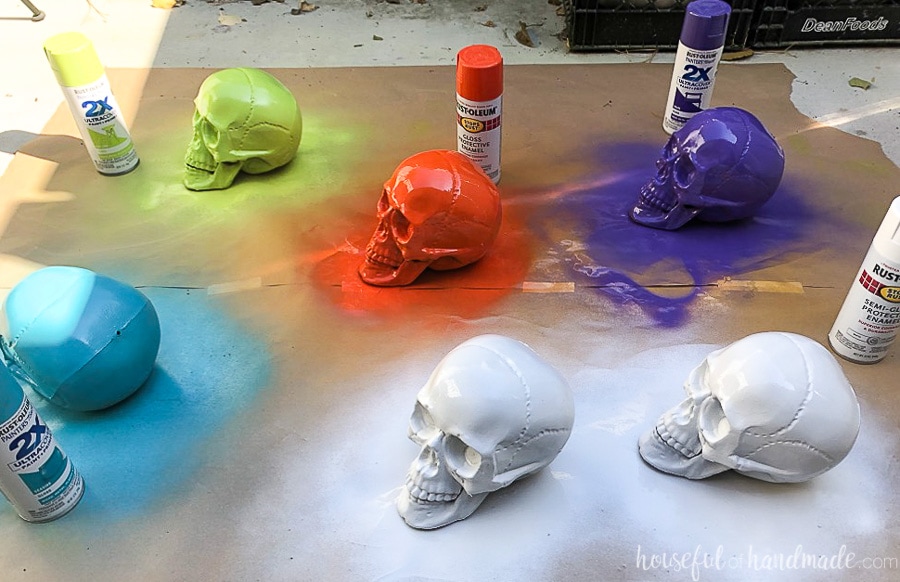 Use the paint pens to add sugar skull decorations. I used a variety of flowers, swirls, and geometric patterns to create my sugar skulls.
If your paint pens stop giving a steady flow of paint while you are decorating, use a scrap piece of cardboard to press the tip of the pens onto and hold until the paint starts flowing again.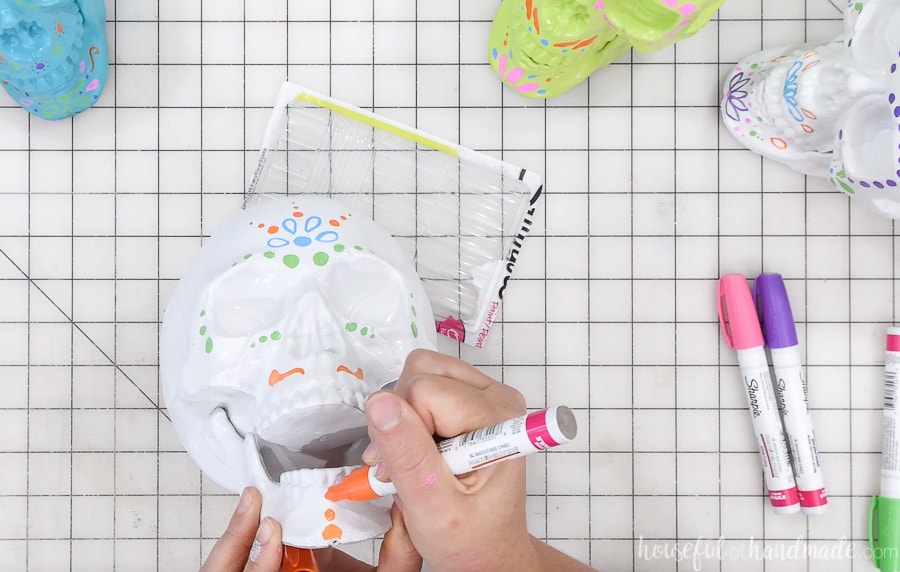 Let the paint dry.
Drilling the Holes in the Planters
Start by drilling a few drainage holes into the bottom of each skull.
I put three approximately 1/8″ holes in mine and it seems to be working great. Too many holes will let the soil escape too easily.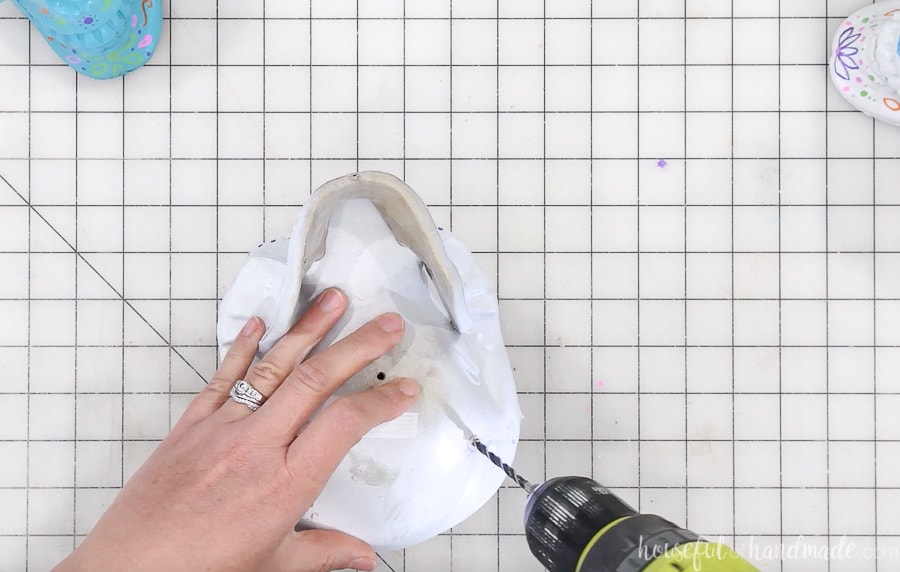 Add a large hole in the top of the skulls. Be careful to add the hole towards the top and not the back of the skull or else the flowers might lean backwards once planted. Also, the soil will spill out the back when watering. I had that problem on a couple planters.
If you are using the hole saw to drill the large hole, turn the torque on the drill down and go at the skull slowly.
If the drill is too fast, it can catch the skull when it bites into the plastic and toss it across the room. Instead, go slow and be careful!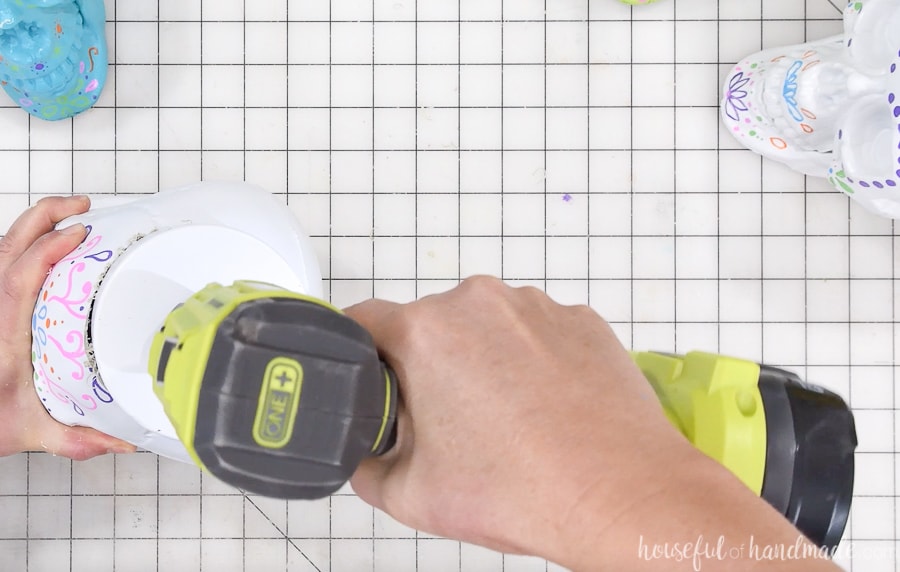 All that is left is to plant your favorite flowers in your new sugar skull planters.
Marigolds are the traditional Day of the Dead flower, but with the cooler fall weather, I went for mums and pansies so they can hold up to our cold mornings.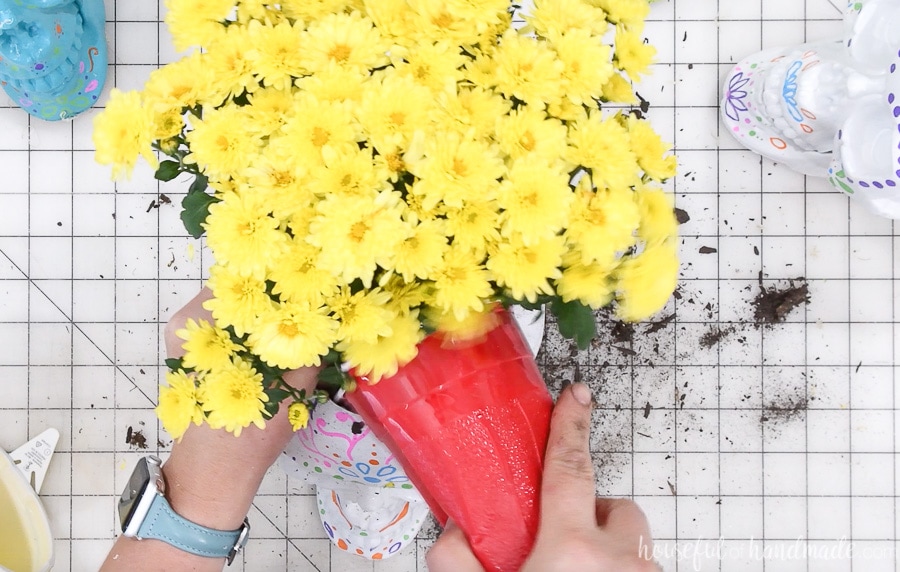 Now I just have to cross my fingers that my flowers don't freeze before Halloween!
But even if you do not want to add flowers, you can make these plastic sugar skulls and leave them without a hole. They make perfect decorations on the porch without flowers too.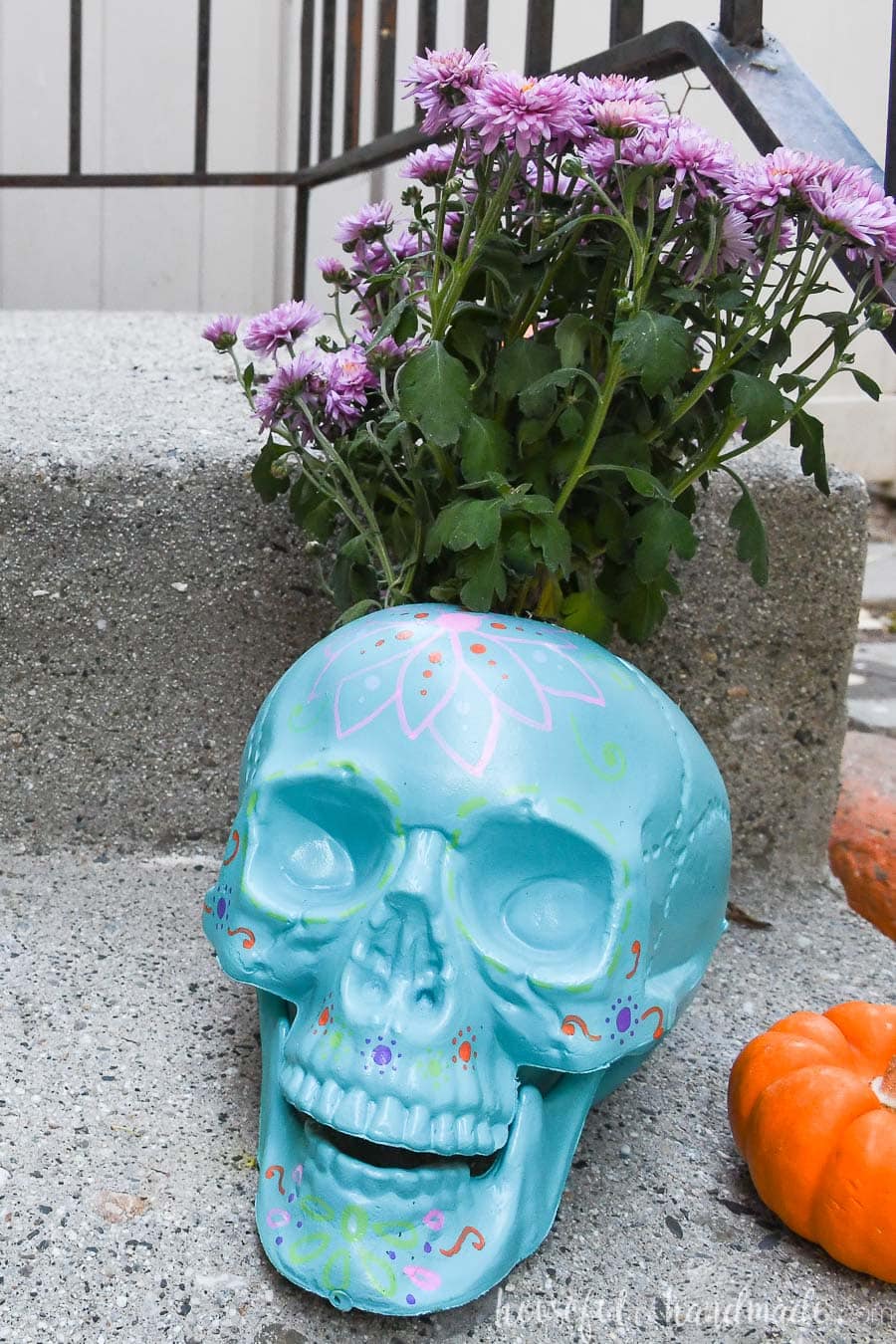 And now our porch is really starting to look ready for Halloween.
Stay tuned for the big reveal soon!