Create beautiful rustic fall decor with this easy DIY.
Reclaimed wood picture frames highlight watercolor leaf art for easy rustic fall decor you can be ready to decorate with in minutes.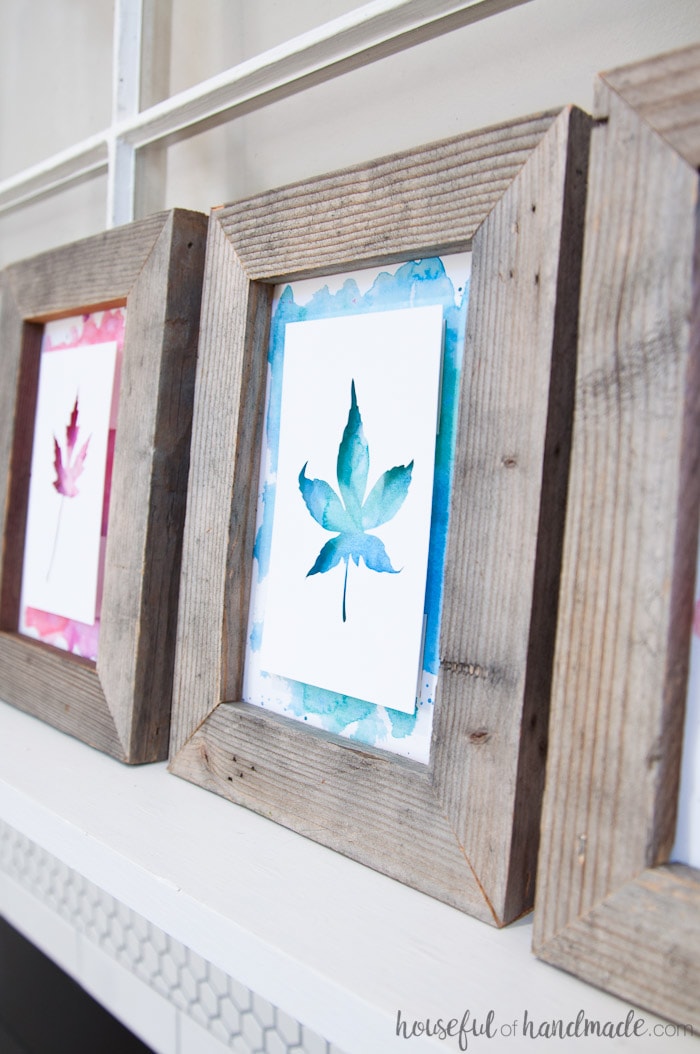 It's time to pull out the rustic fall decor and fill your home with all things warm and cozy! Creating the perfect rustic fall mantel doesn't have to be hard or expensive.
These printable watercolor backgrounds are decorated for fall with autumn leaves. They are perfect for non-traditional fall home decor.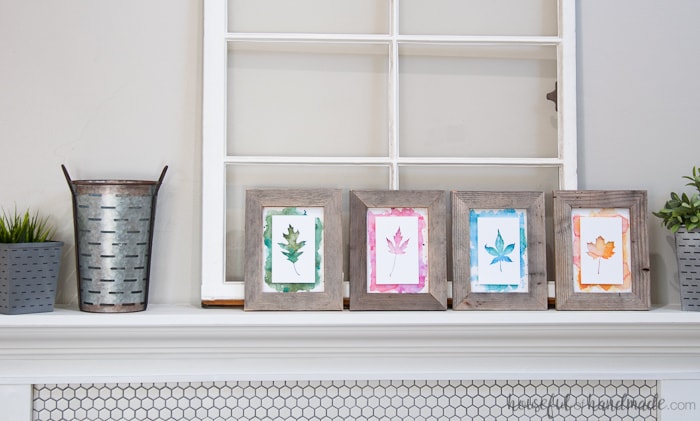 Every year I get so excited to decorate my house for fall. I pull out all the pumpkin and apple scented candles. Open the windows to let the crisp air into the house.
And then turn to all things rustic for our fall decorations. There is just something about fall that makes reclaimed wood and chippy paint fit perfectly in with the decor.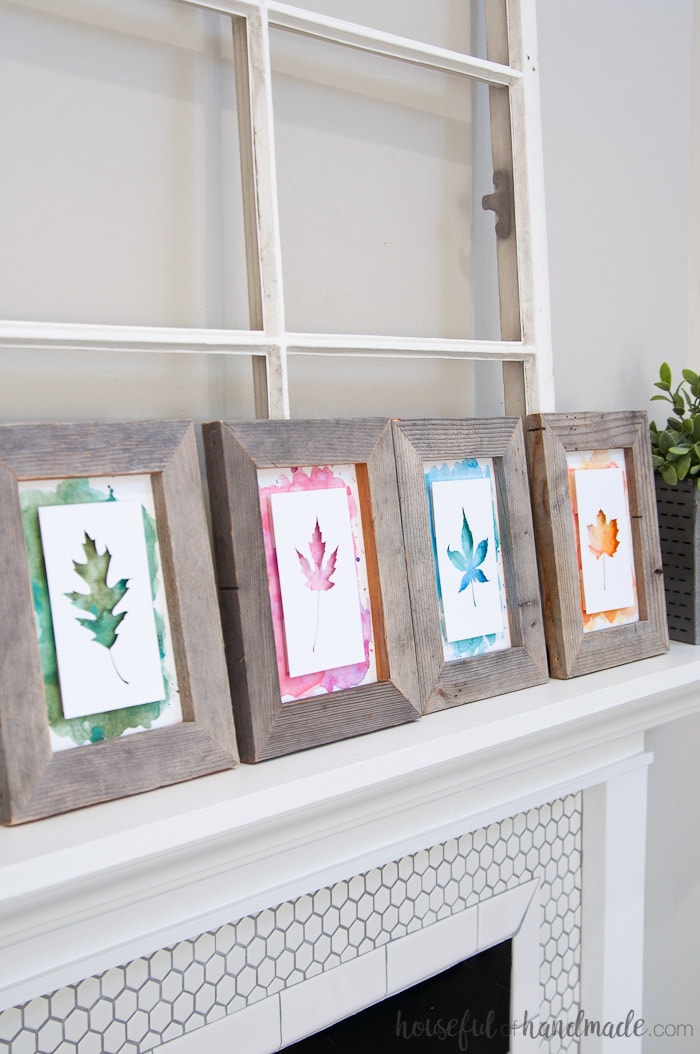 But this year I wanted to do something non-traditional for our rustic fall decor.
Now don't get me wrong, I love pumpkins and orange and everything fall. I really do, but sometimes I just want to try something different.
A couple years ago, I went for a Farmer's Market themed fall decor. The rustic Farmer's Market pallet sign was perfect with the printable fall apple sign. And I loved that it wasn't all pumpkins. So this year I decided to try another non-traditional fall theme.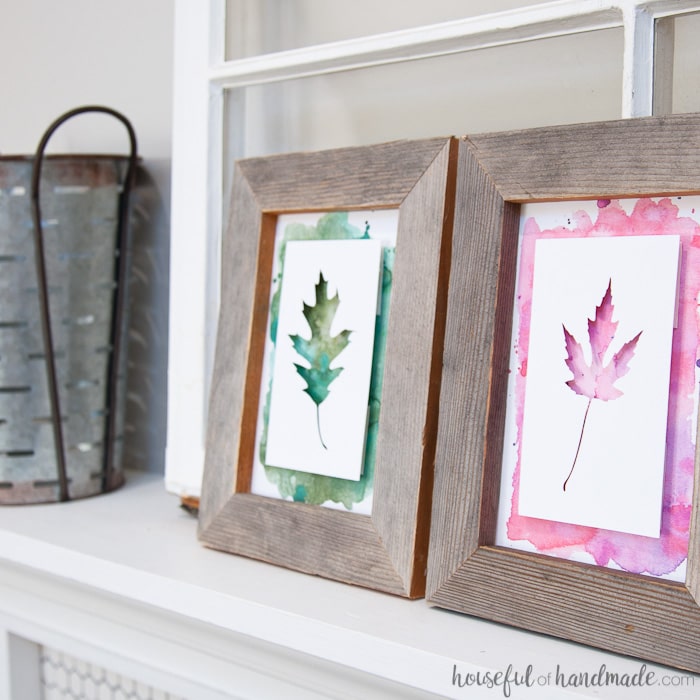 And what say's fall better than falling leaves?! Even though the leaves are not turning colors at our house just yet, I know soon the mountains will be a wash of colors.
So I decided to make our rustic fall decor a wash of colors too. No more just orange and tan, I used watercolors with reds, greens, blues, purples and yellows too!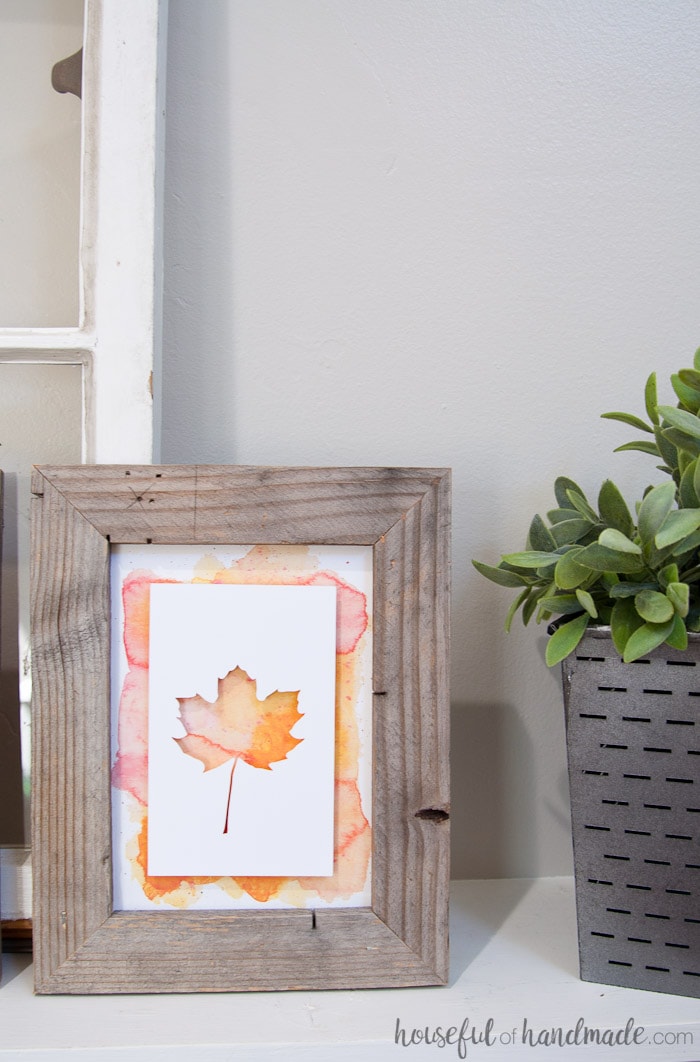 The watercolor leaves are the perfect art for our rustic fall mantel and I cannot wait to incorporate fall leaves into the rest of our rustic fall decor. I know a rustic fall leaves wreath is definitely in order.
And we'll also need to add fall leaves to the dining room centerpiece. Can you tell I am so ready for all things fall?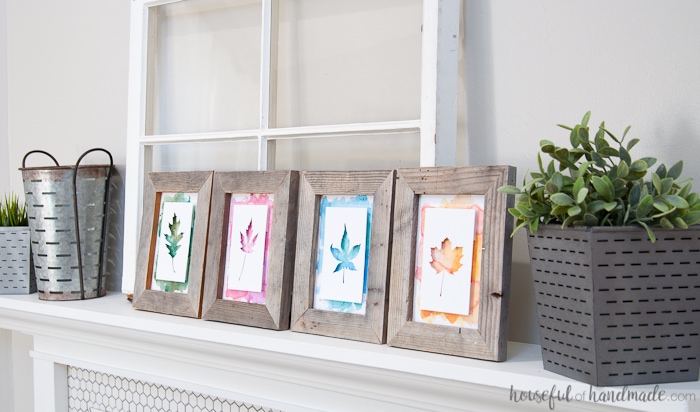 To create this easy rustic fall decor, I used reclaimed wood to make some 20 minute rustic picture frames.
The wood was a gift from a friend who was replacing their old garden fence and has a beautiful patina to it. And you can build picture frames quickly with just a couple tools.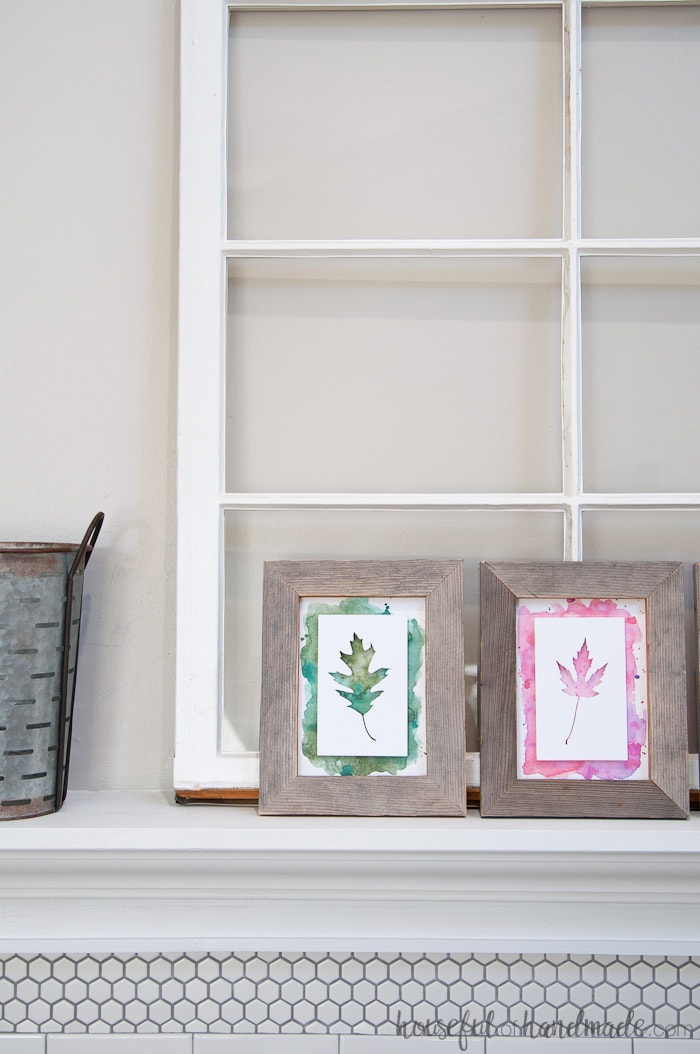 Then I float mounted leaf silhouettes over these watercolor backgrounds with my favorite cheater float mount method.
I love the bold colors of the watercolor backgrounds. They are less traditional than orange and red, but still make the leaves look perfect for fall decorating.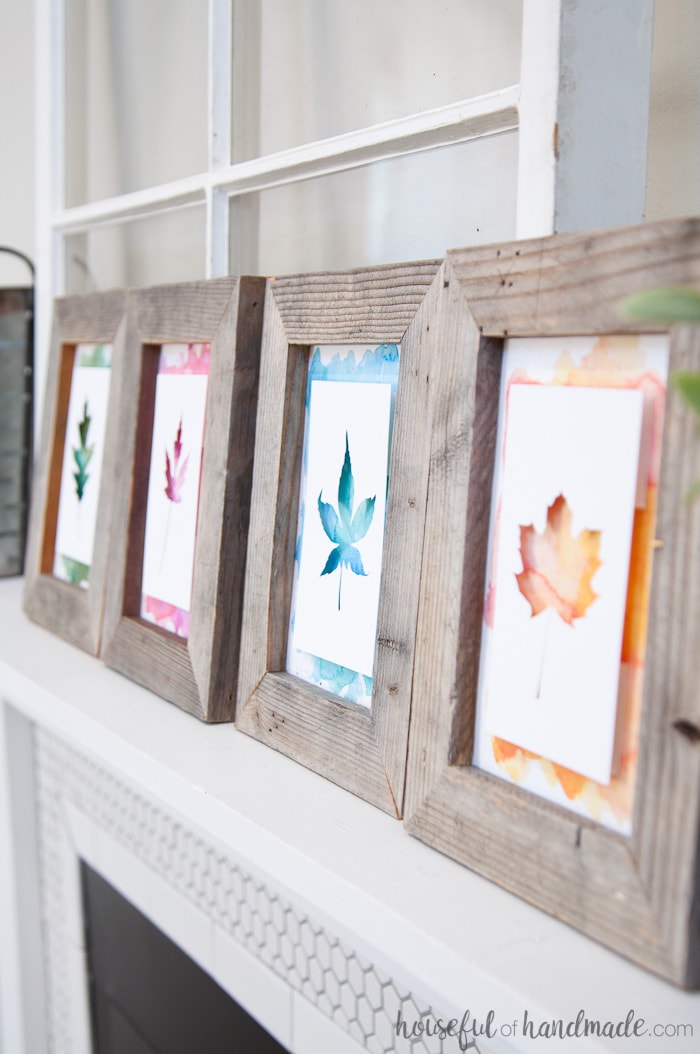 How to Make Rustic Fall Decor: Watercolor Leaf Art
Supplies:
Printable watercolor backgrounds and leaf silhouettes

I am sharing the cut files for the watercolor leaf art in my subscriber library. Click here to subscribe to my weekly newsletter and gain access to all the freebies. If you already have your password, click here to download them.

Rustic 5×7 picture frames
Scissors
Double sided tape or glue
Optional: Silhouette Cameo

You can cut the leaf silhouettes with the electronic cutting machine or by hand if you prefer.

Optional: watercolors and supplies to watercolor your own backgrounds
If you want to watercolor your own backgrounds, you can do that first. Create 5×7″ squares on your watercolor paper with painter's tape or masking tape and create color washes to match your own rustic home decor.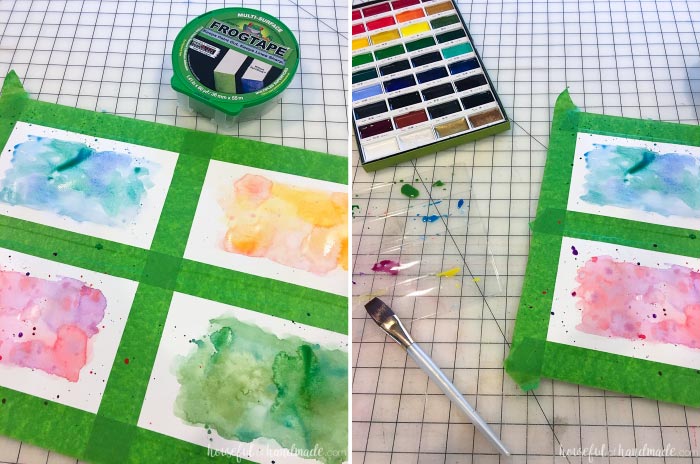 Remove the glass from your picture frames. And if you made your own frames, cut a piece of foam board to fit the back as well.
Print the watercolor backgrounds onto cardstock.
Trim the backgrounds to fit into the rustic picture frames. Then secure with the backing.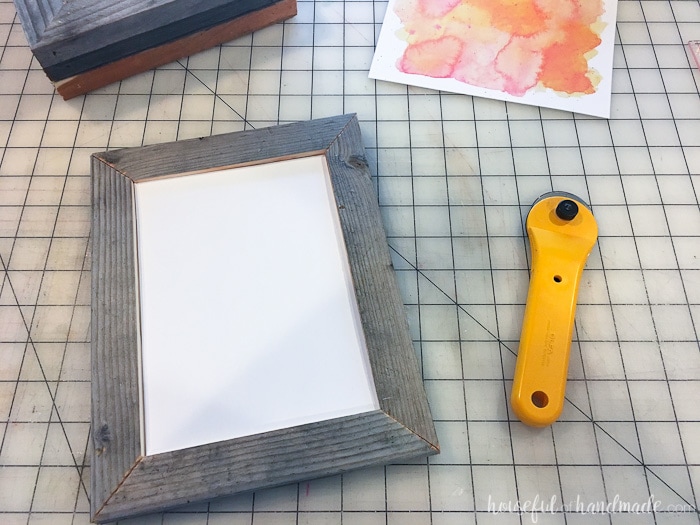 Cut the leaf silhouettes from cardstock with the Silhouette cutting machine (or by hand if you prefer).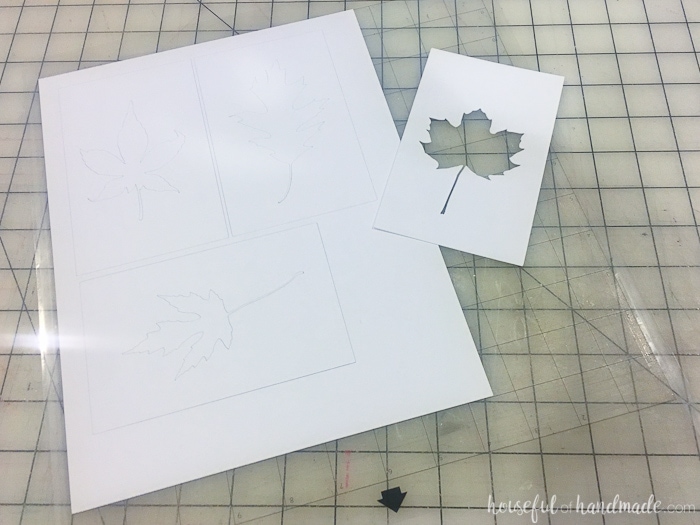 Cut small squares of foam board (about 3/4″ x 1 1/4″).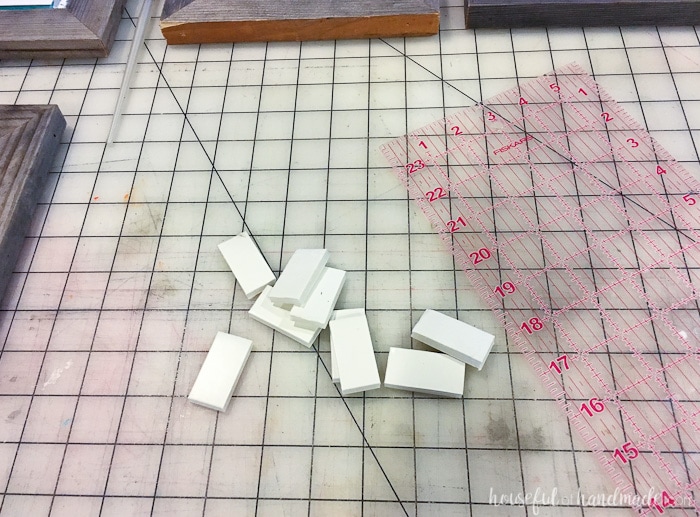 Using double sided tape, attach a small square of foam board to each corner of the back of the leaf silhouette square. If needed, cut the squares smaller so they do not show through the cut out leaf area.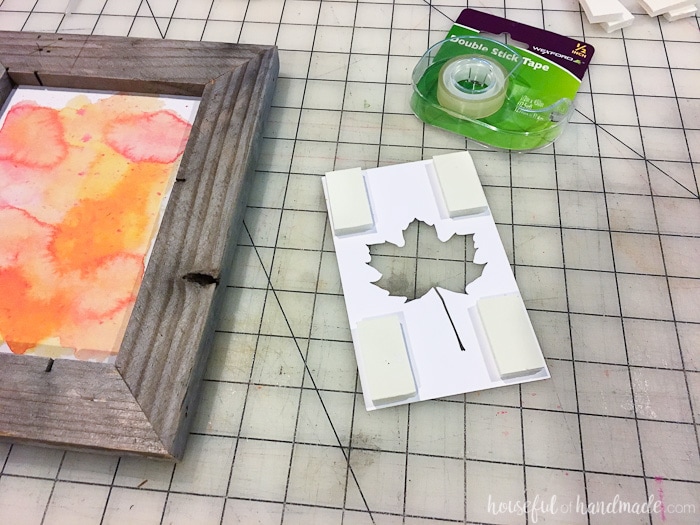 Add a second piece of tape to the back of each of the foam core squares and then attach it to the watercolor background. Make sure to center it on the background (I love the transparent rulers for this).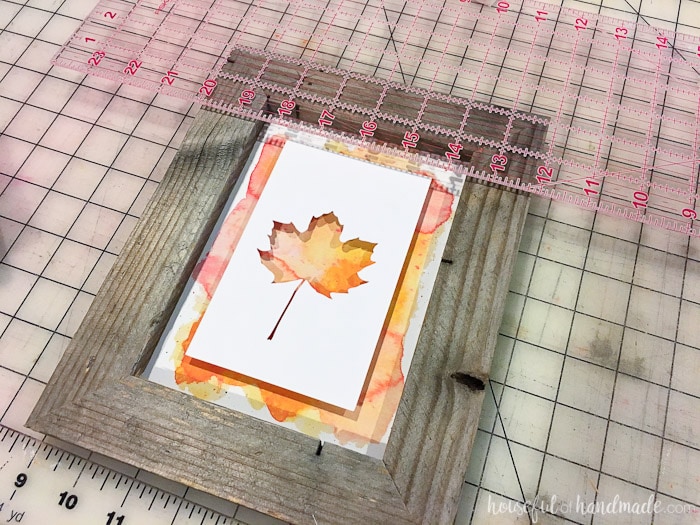 Aren't they the perfect rustic fall decor? I love how they look on our mantel. They are perfect for fall, without being all orange and pumpkin! The watercolor backgrounds are a little unexpected, but beautifully rustic.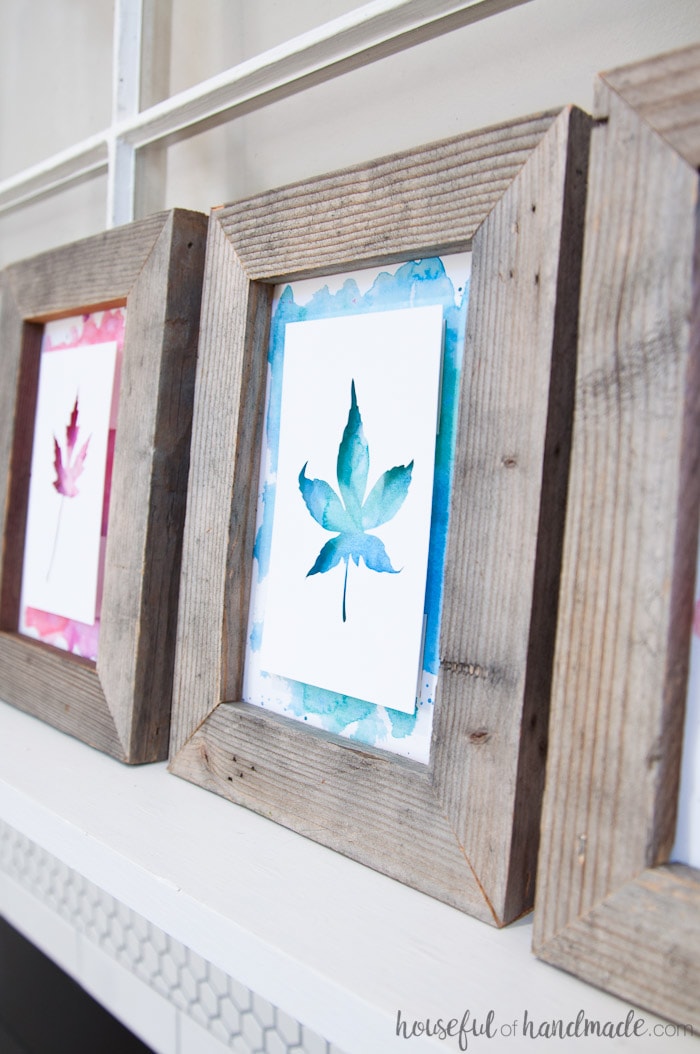 And I cannot wait to fill the rest of our home with rustic fall decor. No reclaimed wood is safe from our autumn decorations!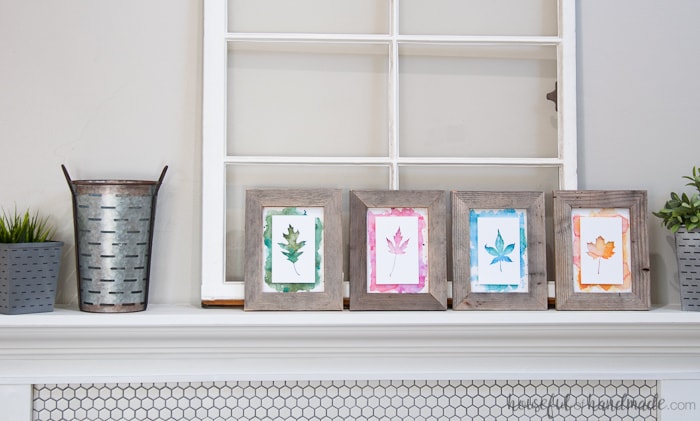 Get these and many more printables in my subscriber library. Not a member? No problem, sign up here!