Sharing easy ideas to help you celebrate the teachers for teacher appreciation week.
This school year my little man started Kindergarten! I didn't cry, but boldly let him run off to be taught by someone else. I did however, join the PTA so I could be involved at the school.
I jumped right in and helped out wherever I could, and then I got put in charge of Teacher Appreciation Week. The whole week!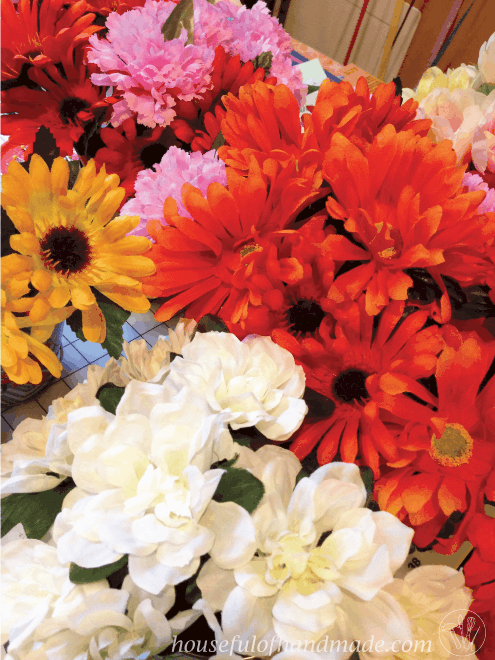 I was a little freaked out being in charge of the whole week my first time ever in the PTA, but I had experience organizing events, so I jumped right in. The theme came about because one of the other PTA moms had connections to a flower shop and said we could get flowers for the teachers for cost.
I know I love a little vase of fresh flowers myself so I went with it and the theme "Our Teachers Help Us Bloom & Grow" was born.
Now that I had a theme, I started looking for all kinds of fun ideas that revolved around flowers. I had a budget of $400 for 33 teachers and I wanted to do a little gift/food/treat every day of the week.
To help our budget go further, we received some coupons and gift cards from local stores to use for the teachers, it was perfect to help our budget go as far as possible and make our teachers feel very appreciated!
Bulletin & Door Decorations
The weekend before Teacher Appreciation Week, one of our amazing PTA members decorated the bulletin board so cute with the theme.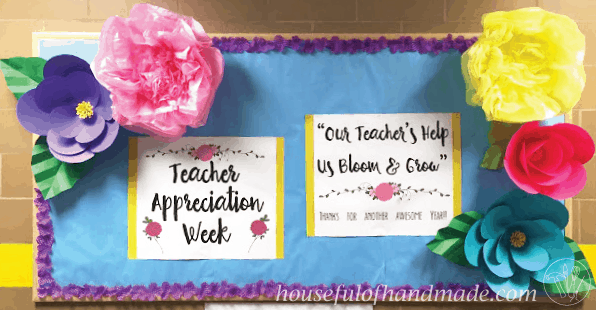 Then we decorated all the teachers doors with some simple flowers. I was not there to help with the decorating. Our PTA President, Camille, was there to decorate and shared pictures of the decorations on her blog.
Monday Surprise
On Monday, we delivered a vase of fresh flowers to each teacher. Because we were able to get the flowers at cost, we only used $100 of the budget to provide a vase of fresh flowers to each teacher.
It was great to deliver them on Monday because then they had flowers sitting on their desk for the rest of the week 🙂 Win-win!
I also created a little card to go along with the flowers. I found this great saying on The Crafting Chicks, but I couldn't get the download to work and the size was wrong for what we needed, so I used my Spring Blooms patterns to create a card with the saying.
You can download the card in my subscriber library. Click here to subscribe to my newsletter and gain access to all the freebies. If you already have your password, click here to go to the library download them.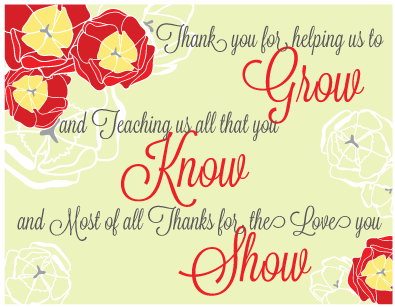 Tuesday Big Gift
For Tuesday, we presented the Teachers with a big gift. We bought them some fancy staplers they requested and bought one for each of the teacher prep rooms.
We presented them with their gift on the Morning News. The big gift took the most of our budget at $165.
Wednesday Breakfast & Small Gift
On Wednesday, we started the day with breakfast for the teachers in the faculty room.
I bought some muffins, english muffins, strawberries, bananas, and juices. Then brought in a couple homemade jams to go with it.
This simple spring breakfast cost me $15 for the muffins at Sam's Club and the rest of the items I bought with a gift card that was donated.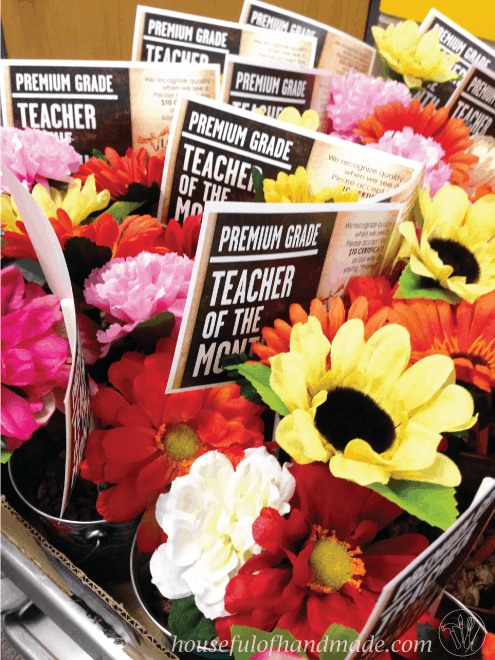 Then after breakfast we delivered an individual gift to each of the teachers. I found some cute metal buckets in the Target dollar spot, then picked up some fake flowers at the dollar store.
Using floral tape, I attached a flower to the end of pencils and pens.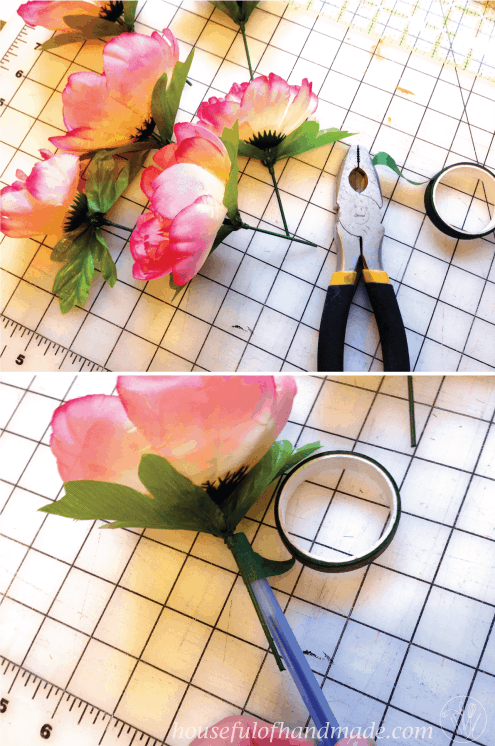 I filled the bucket 1/2 way with dry beans and put 2 pencils and 2 pens in each bucket. We had some coupons for the Teachers from a restaurant and I taped one to a straw and then out it in with the flower pens/pencils.
They turned out so cute and the teachers were excited to have pens and pencils that the kids couldn't run off with easily. I was able to put the gifts together for just under $25 because I got most of the items with donated gift cards (they only cost about $3 a piece if you have to buy all the items without gift cards).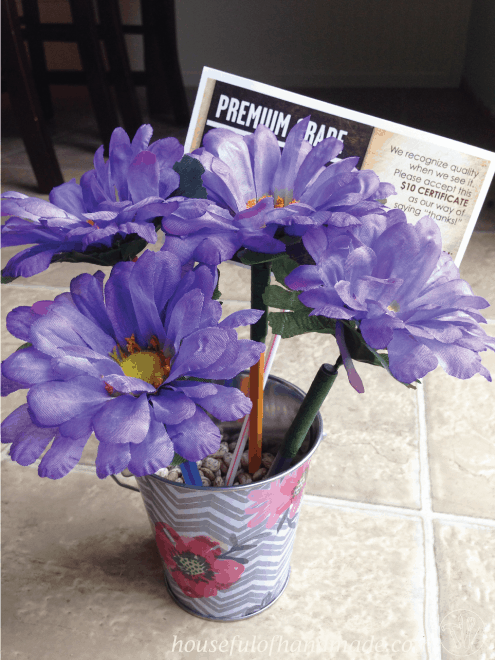 Thursday Surprise from the Students
The week before Teacher Appreciation Week we had the students fill out a note to their teacher during library rotation. On Thursday we delivered the notes to the teachers with a little bag of candy.
The candy was free because I bought it with the rest of the donated gift cards so Thursday actually cost $0.
You can download the note in my subscriber library. Click here to subscribe to my newsletter and gain access to all the freebies. If you already have your password, click here to go to the library download them.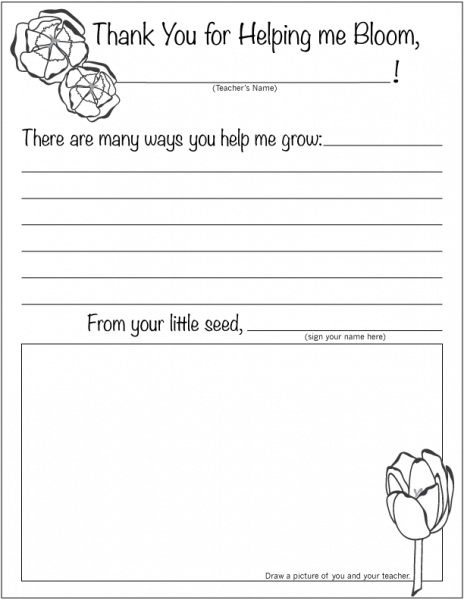 Friday Lunch
Friday we ended the week with lunch for the teachers.
To keep with the theme, we did a big salad bar. We bought a few containers of spring mix lettuce, some frozen grilled chicken strips, cubed ham, cherry tomatoes, cucumbers, carrots, peas, a variety of fun cheeses, croutons, and a few fancy salad dressings.
We budgeted $100 to supply lunch, then we had some PTA volunteers bring in desserts. Perfect end to the Teacher Appreciation Week!
Spirit Week Dress up for the Students
We also had the students participate in a Spirit Week. The kids always love a reason to dress up or wear something fun to school.
Here is what we planned for the kids for the week:
Monday: Step lightly down the garden path- Wear crazy shoes and socks.
Tuesday: Watering our garden to help it grow- Wear your beach clothes or rain gear.
Wednesday: The sun shines bright on our garden- Wear your sunglasses.
Thursday: There is a rainbow over our garden- Each grade wears a different color (K-Red, 1st– Orange, 2nd– Yellow, 3rd– Green, 4th– Blue, 5th– Purple)
Friday: Our garden is growing- Wear something with flowers or leaves on it.
We had a fun week and I survived my very first big PTA event. It was so fun to see the teachers each day and say "Thank You".
They really do so much for our kids and were so grateful for the little ways we were able to show our appreciation!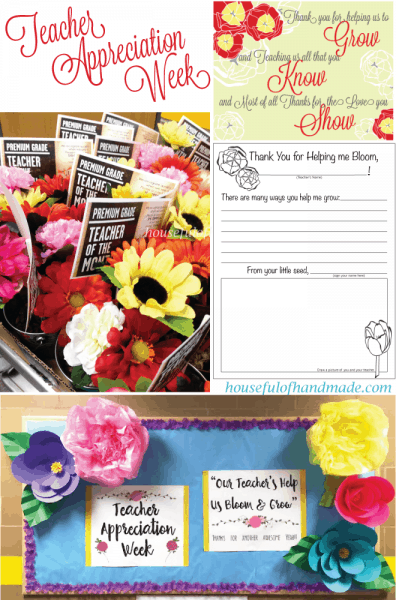 ** All designs, images and tutorials on Crafting my Home are protected by copyright. I am sharing them for your personal use, you may not reproduce, distribute or sell them in any way.
Please feel free to share them with others, however to do so, direct them to my website to access the files. Thanks! **