Caramel popcorn is a staple at our house! I make caramel popcorn more often then I make bread most weeks and have made so many different flavors like peanut butter caramel popcorn and gingerbread caramel popcorn. Seriously, we're addicted!
My 3 yr old daughter's favorite thing to do is "make caramel popcorn, watch a movie, and chillax!". But when we want to have a family movie night, we usually don't have a lot of time.
My husband runs to the RedBox for our movie while I whip up a big batch of the most delicious, soft & chewy caramel popcorn in only 10 minutes.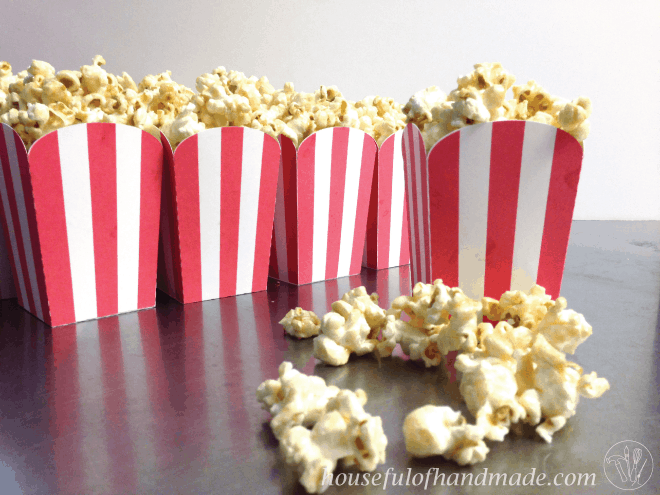 I like my popcorn a little less on the caramely side then some. Now don't get me wrong, I LOVE caramel, but I also LOVE popcorn. I think the marriage of the two is what makes caramel popcorn so perfect. If I wanted to eat caramel, I am not above taking a spoon to a jar of caramel sauce 🙂
Also, if I have more popcorn to caramel ratio, I can eat way more caramel popcorn for the same calories as if I had heavily carameled popcorn! Hey, a girl's gotta eat sweets wisely, *wink wink*.
To make the best soft & chewy caramel popcorn, add 1/2 cup butter, 3/4 cup packed brown sugar, and 3/4 cup corn syrup in a small sauce pan.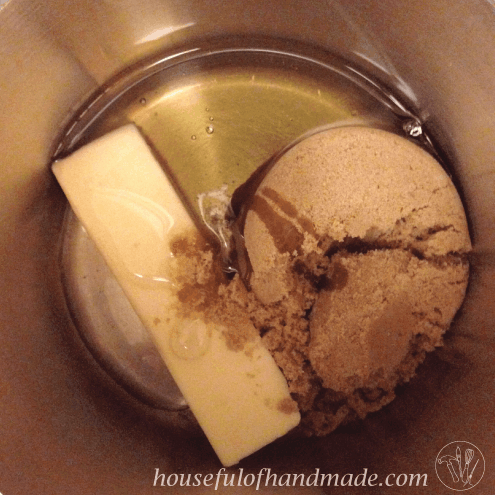 Heat over medium high heat until boiling. Stir occasionally while it's heating, but be careful not to scrape the sides of your sauce pan or you'll get grainy caramel.
Once you have a good rolling boil, set a timer and boil for 1-3 minutes.
My mom always boiled for 2 minutes because she likes her caramel super soft, but I like to boil for 3 minutes because I like a little firmer caramel.
But we live in Utah where we are at a high elevation. So if you are at sea level or close, boil for only 1 minute.
When you're done boiling, remover from heat and quickly add 1 tsp of vanilla extract (or for a super amazing vanilla popcorn add 2 tsp of vanilla bean paste, believe me, it's good). And stir.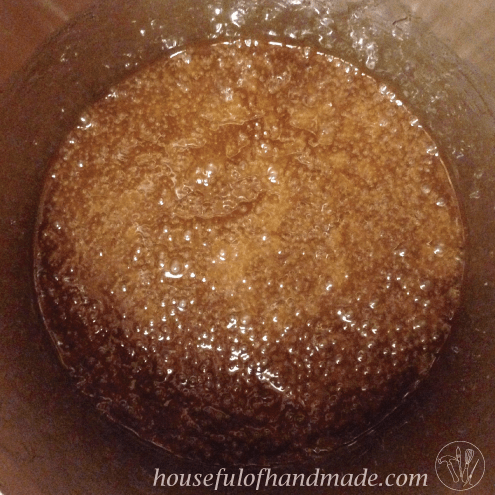 Then pour your delicious caramel over the top of your popped corn and stir.
I like to keep stirring until the caramel is cooled to the touch which will keep the caramel evenly distributed over the popcorn instead of allowing it to settle to the bottom.
If you do have settling, don't fret. The bottom of the popcorn bowl that is oozing with caramel is a delicious surprise to find. Just like surprise fries (you know the french fries you find at the bottom of your take-out bag that you didn't realize you had until the rest of the fries were already eaten, then surprise, more fries)!
Now you are ready to share a big bowl of caramel popcorn with your family while watching a movie and chillaxing!
And if you can keep yourself from eating the entire bowl, it tastes great the next day for breakfast *wink wink*.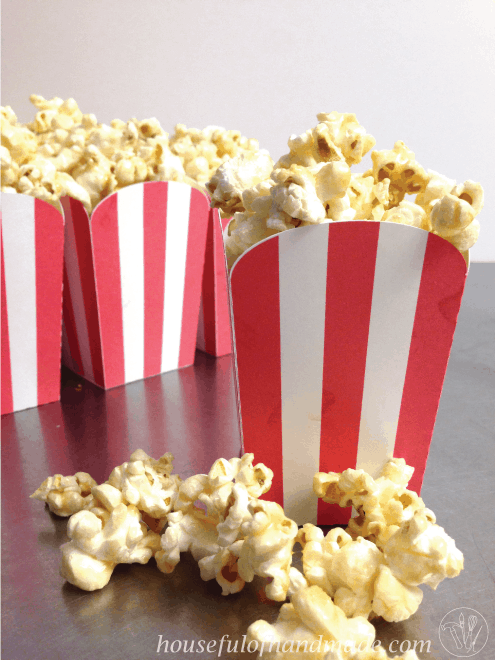 If you want to make the adorable popcorn cups for your delicious caramel popcorn (maybe for a party), check out my post about my son's carnival birthday party and you can download a PDF or a Silhouette print and cut file for them.
10 Minute Soft & Chewy Caramel Popcorn
The best 10 minute soft & chewy caramel popcorn. This caramel popcorn is so quick, you can whip up a batch before your husband is back from the RedBox with the movie!
Ingredients
1/2 cup (1 stick) butter
3/4 cup brown sugar, packed
3/4 cup corn syrup
1 tsp vanilla (or 2 tsp vanilla bean paste)
1 cup popcorn kernels, popped
Instructions
Heat butter, brown sugar, and corn syrup in a small saucepan over medium high heat.
Bring to a rolling boil and boil for 2-3 minutes. Stir while boiling but take care not to scrape the sides of the pan.
Remove from heat and stir in vanilla.
Pour over popped corn and stir until caramel is cooled.
Enjoy!