Do you love caramel popcorn? Sometimes I think our family is running around with caramel popcorn in our blood. We seriously make caramel popcorn after dinner about 2-3 times a week. But if it was up to my husband, we would eat it after dinner every night!
I am not one to be satisfied with the same thing day-after-day, so I like to get creative with our popcorn. I love creating different recipes to satisfy my cravings for the flavors of the season, so I created this chewy gingerbread caramel popcorn from my favorite 10 minute soft & chewy caramel popcorn recipe. And It is perfect for the Christmas season!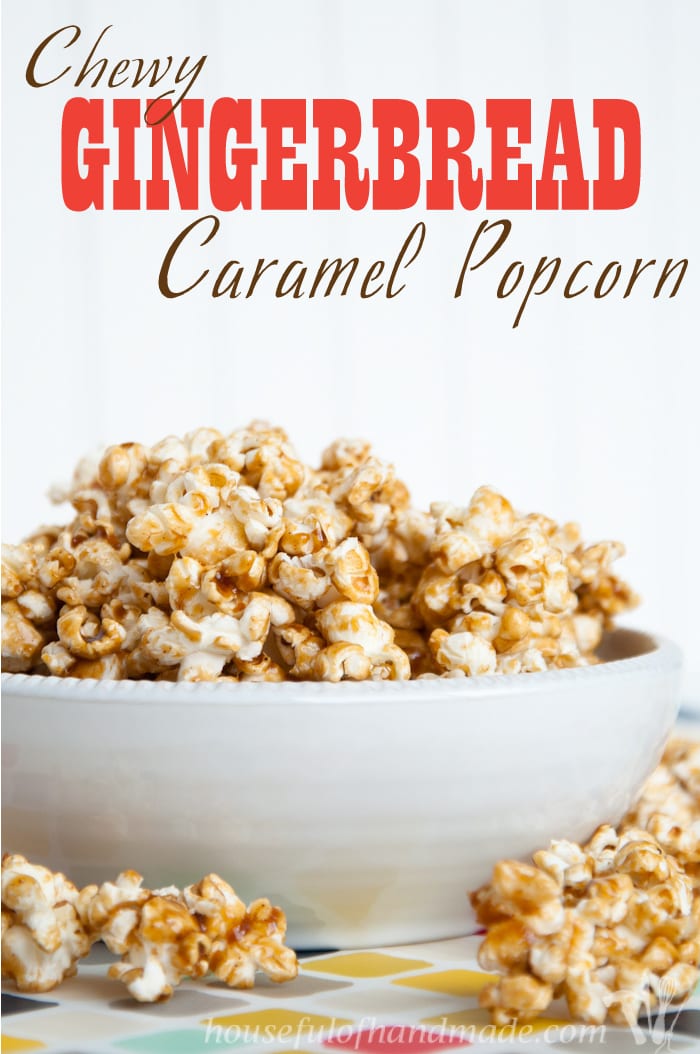 I learned this year that my kids LOVE gingerbread. They love the spicy, sweet ginger and cinnamon flavor. I am a huge fan of gingerbread and was so excited to find that everyone in my house loves it too.
So it just made sense to infuse these flavors into our caramel popcorn.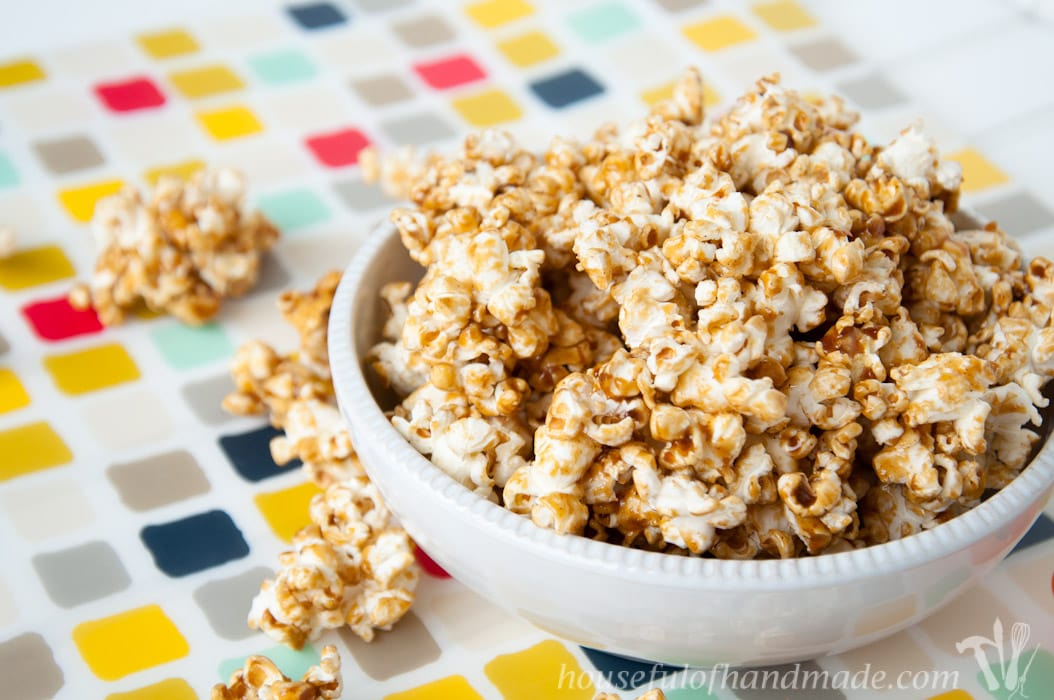 I started by using a bit of molasses in the base of the caramel. Gingerbread needs molasses to get that strong dark flavor. Then added in some ground ginger, cinnamon, and a bit of cloves. As it was boiling, the smell was amazing!
I just wanted to let it boil all day and fill the house with the smell of sweet, spicy gingerbread. However, this recipe is so quick and easy that it only takes 3 minutes of boiling to get the perfect bowl of Christmas corn for your treat.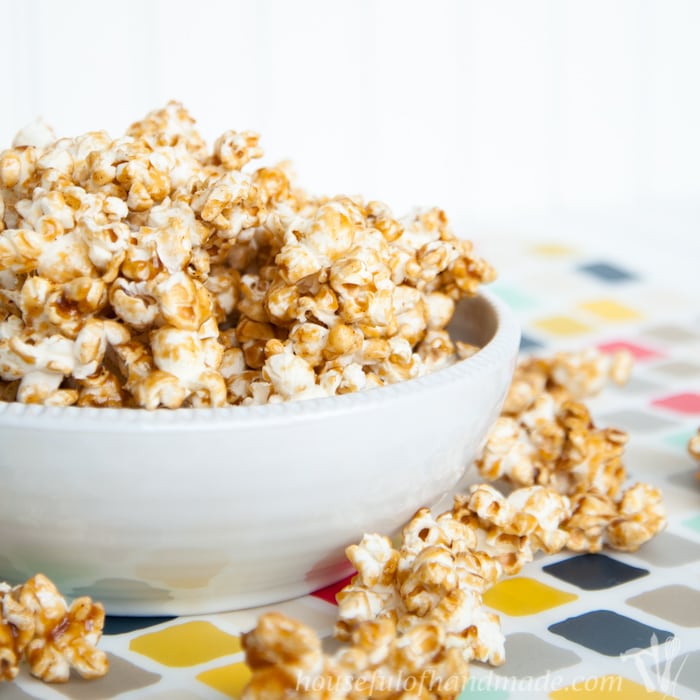 I love that this chewy gingerbread caramel popcorn is so quick to make. A few pantry staples and you can have a treat ready for your next Christmas party faster than you can decide what shoes you are going to wear.
Or you can whip up 3 or 4 batches in an afternoon to give to your favorite people. Quick and delicious is perfect for this crazy time of year!
If you love popcorn, I would highly recommend getting a hot air popper. They make quick work of popping a large bowl kernels.
They also make great gifts for popcorn lovers. A popcorn popper like this Presto Hot Air Popper with a few of your favorite popcorn recipes (don't forget this one) and a jar of kernels makes a fun gift that anyone would love.
Unless they are crazy and don't like popcorn, but that is unheard of, right?
A little tip for making the best caramel popcorn, or any candy for that matter. Once your sugar mixture starts boiling, be careful not to scrape the sides of your pan. The sugar crystals that settle on the sides of the pan as it boils will turn your whole mixture grainy if you scrape them off.
So scrape down the sides well as you stir everything together, but when it starts boiling keep stirring the bottom so it doesn't burn just leave the sides alone and you will have the perfect chewy, not grainy, caramel popcorn!
Here's to a sweet and delicious Christmas!
Chewy Gingerbread Caramel Popcorn
Celebrate Christmas with this delicious and chewy gingerbread caramel popcorn. You can whip up a batch in 10 minutes to take to your next party or for the perfect neighbor gifts.
Ingredients
1 cup popcorn kernels, popped
1/2 cup (1 stick) butter
3/4 cup brown sugar
1/2 cup light corn syrup
1/4 cup molasses
1 1/2 tsp ground ginger
1 tsp ground cinnamon
1/4 tsp ground cloves
1 tsp vanilla extract
Instructions
Place popped corn in a large bowl, leave room for stirring.
Combine butter, sugar, corn syrup, molasses, ginger, cinnamon and cloves in a small saucepan.
Bring to a rolling boil, stirring frequently. Be careful not to scrape the sides. Boil for 3 minutes.
Remove from heat, stir in vanilla extract.
Pour hot caramel over popcorn and stir well. Continue stirring until caramel cools on the popcorn (about 3 minutes) so it doesn't settle on the bottom of your bowl.
Enjoy!