Don't get frustrated with gingerbread houses that fall apart! Glue them together instead for the easiest way to assemble gingerbread houses.
Today we get to decorate gingerbread houses for our advent activity. I am so excited!
Decorating the little candy houses has always been a Christmas activity for our family. I did it every year with my parents, and now I get to do it every year with my kids.
But before we get to decorating, I want to share with you a little trick on how to easily assemble a gingerbread house.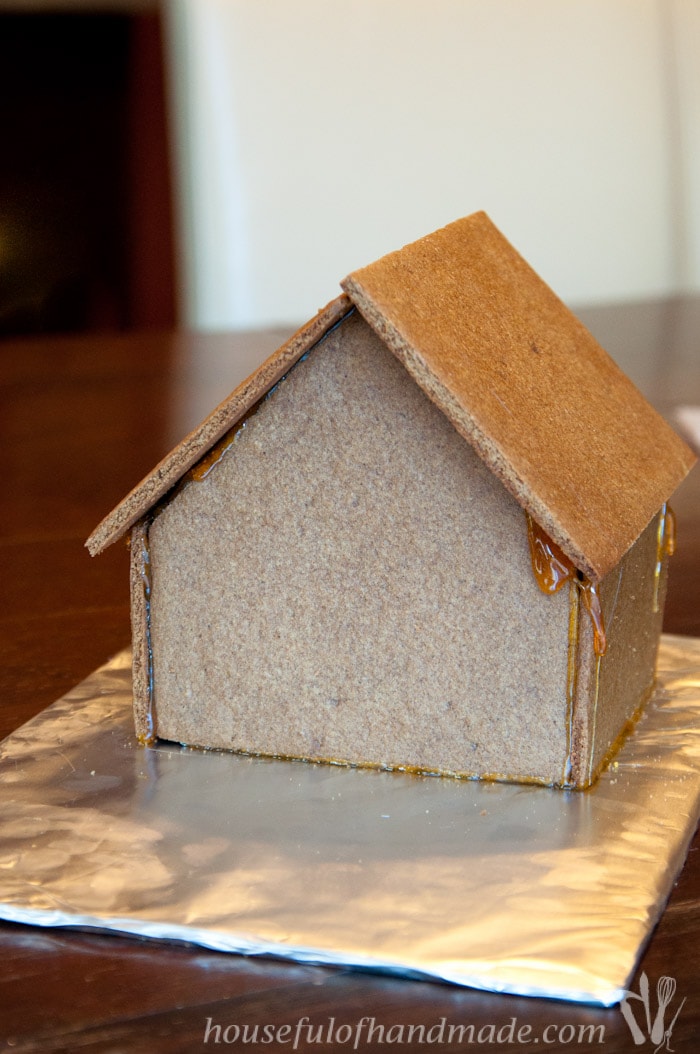 My mom taught me how to do this trick when I was just a kid. Have you ever heard of 4-H? I grew up in a teeny, tiny town in the middle of Utah and we spent our summers filled with 4-H activities.
We weren't real big on raising livestock, we were the only non-farmers in this tiny farm town. But we did all kinds of crafty, homemaker things. One of the things we did was presentations.
It was actually pretty awesome that 4-H trained me to stand up in front of strangers and not only talk, but teach a technique. I was only about 11 or 12 years old when we did our presentation we titled "Hot Glue & Gingerbread". Weren't we so cute? That's me and my sister (I'm the older one).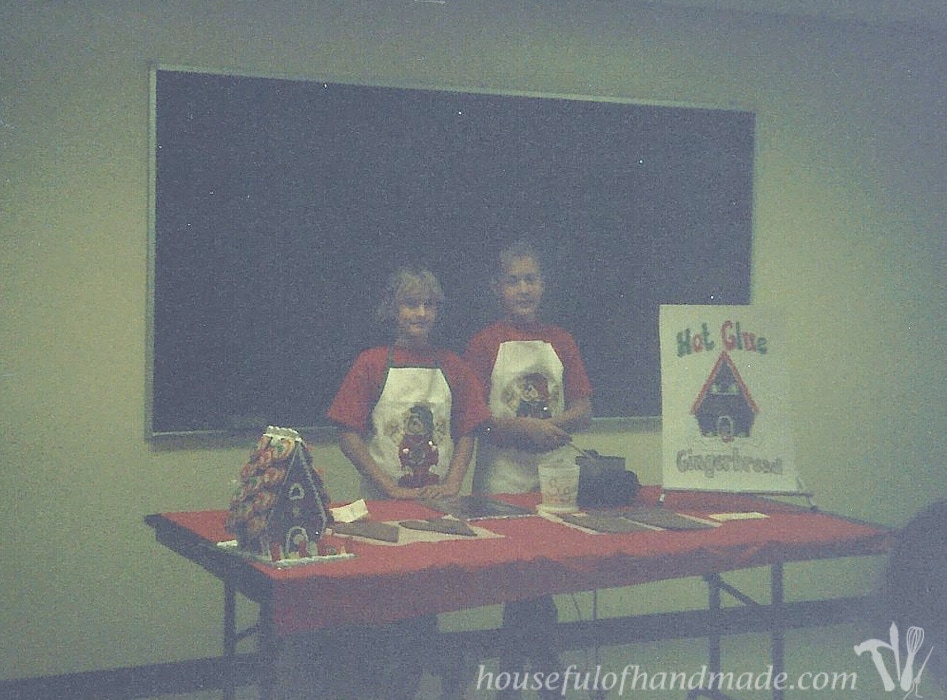 Putting gingerbread houses together with icing can be a little bit of a pain, especially when you don't have your icing just perfect and it won't harden right. Think bad infomercial where the icing is running all over and the gingerbread house collapses in a heap on the table. Ha ha!
I really have had that happen, a couple years ago I messed up the royal icing real bad and the candies just slid right off the roofs. But luckily our houses stayed together because I glued them together!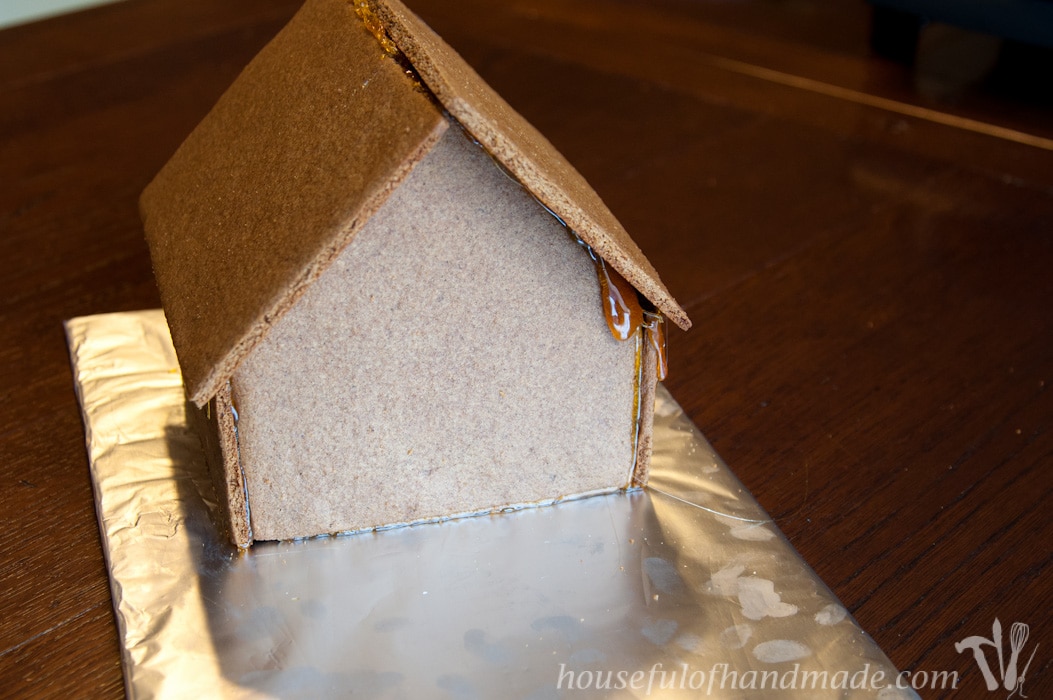 Make your Gingerbread House Shaped Cookies
To prepare the gingerbread for the houses, I used this recipe from Food Network. I doubled it and got 2 houses and 7 gingerbread men. I also use a gingerbread house cutter set. I bought it a couple years ago and it makes gingerbread houses so easy!
Mix up your dough, get it cut out and cooked up. One little trick, after you pull the baked cookies out of the oven, quickly place the cookie cutter over the cookies again and trim off any of the edges that spread out and are uneven or rounded.
You have to do this quickly before it cools, but it makes the cookies perfectly straight. Let your cookies cool, I like to cook mine up in the evening and then let them cool overnight.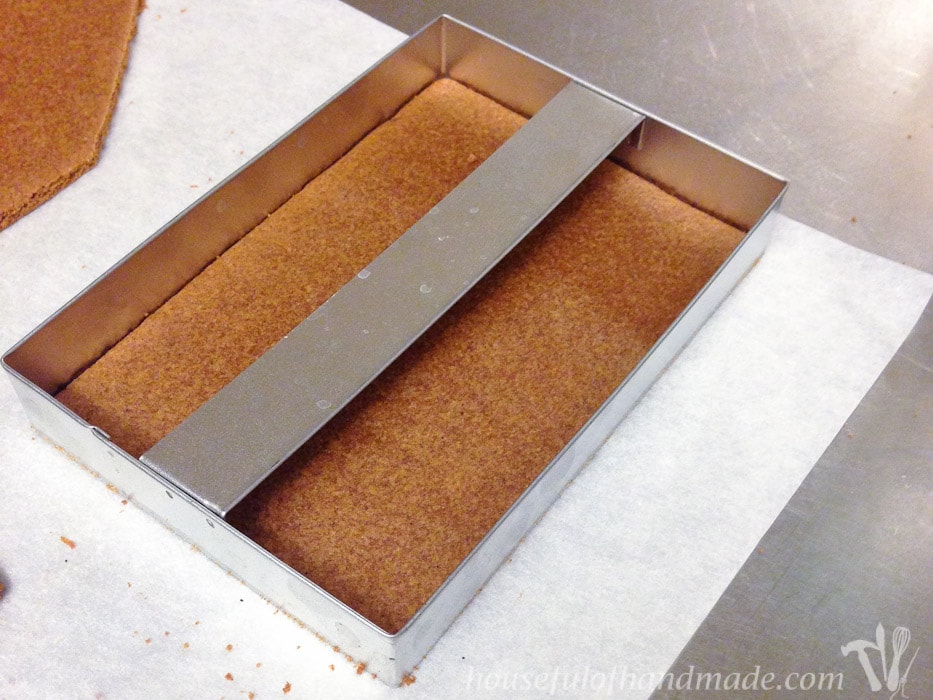 When you are ready to assemble, you will want a place to put your gingerbread house. I like to cover a piece of cardboard with aluminum foil and secure it with a couple pieces of tape on the bottom, then I have a beautiful and disposable place to put it.
Make Sugar Glue for Gingerbread Houses
Now it is time to make the "hot glue". All you need to do is melt some sugar in a large sauté pan on your stove. Go slow and keep it moving so it doesn't burn.
Since I don't really ever eat the gingerbread houses after they have been decorated and sitting around all December, if it burns a little it will still work to hold things together, but it may stink up your kitchen a bit.
I put about 1 cup of white sugar in the bottom of my large sauté pan (this one is my absolute favorite) and set my stove top to medium/medium-high. Stir it around and it will start to melt, and start to clump up, but keep going.
Those clumps will melt too. Once it all melts, you will need to keep it warm while you assemble it or it will solidify just like "hot glue" does when it cools.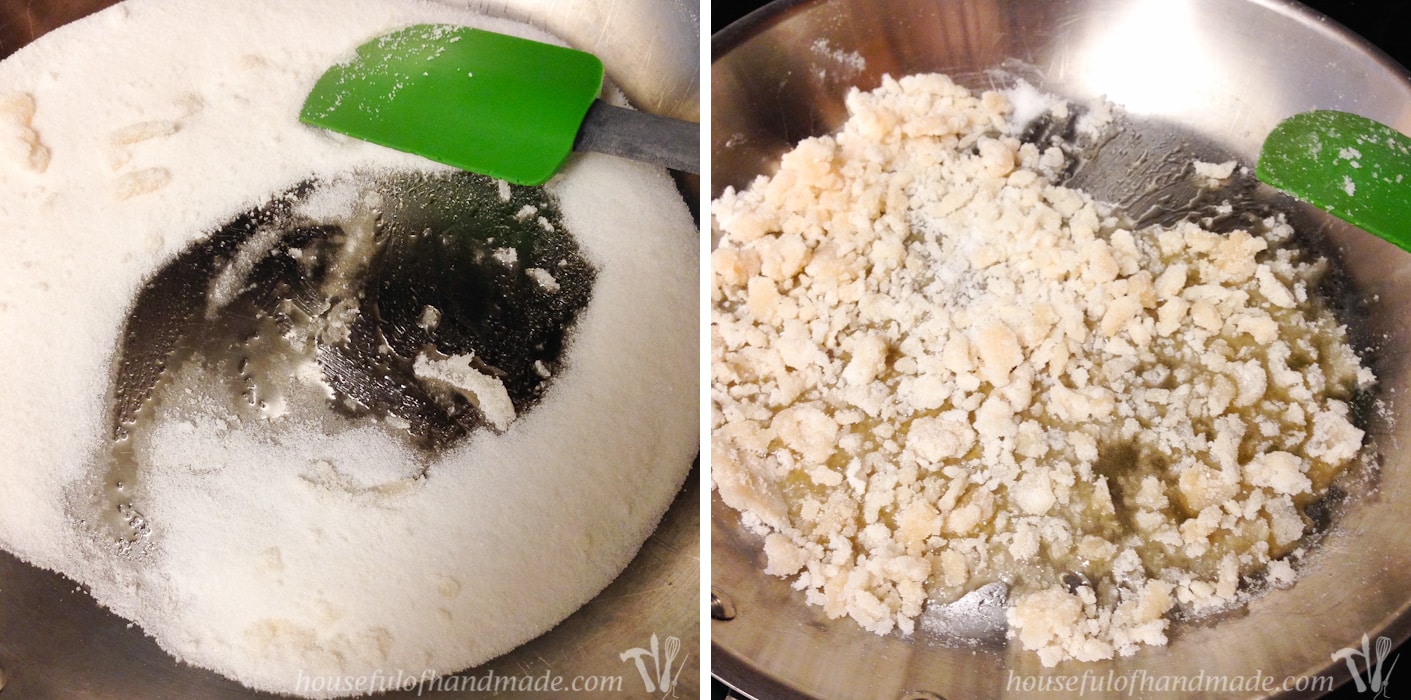 I thought I would be a good idea to put my sauté pan on my electric griddle set on a low setting, but learned it wasn't warm enough and things started to solidify too fast.
On the highest setting on my griddle it kept it liquid and didn't burn while I assembled 2 houses, if you keep it on the stove, you should be good to just turn your burner off and it will stay warm without burning.
How to Glue a Gingerbread House Together
To start assembling you houses, you will attach the sides to the front of the house. I dipped the one side of the front into the hot melted sugar and then pressed it against the side of the house.
Hold it for about 15 seconds while the sugar cools and hardens. Then dip the one side of back of the house and attach it to the side as well.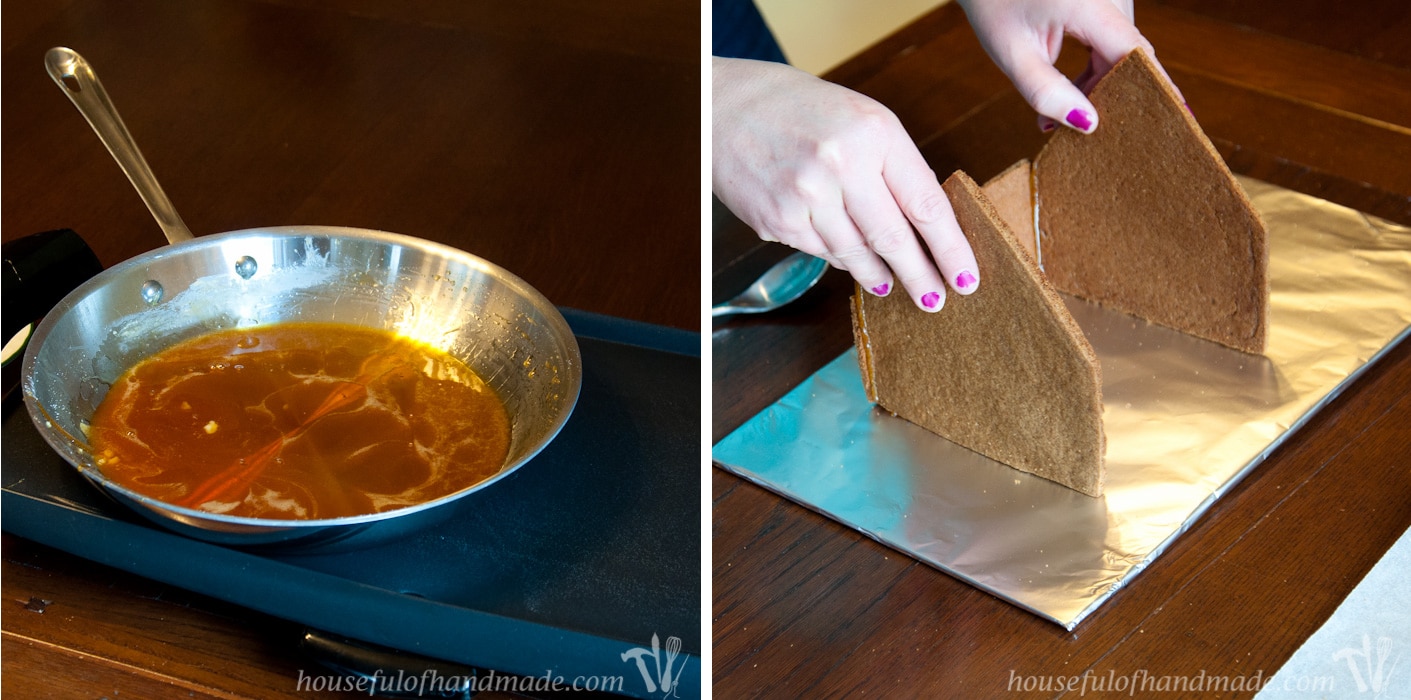 I like to hold the pieces together on my foil covered cardboard so that they sit flat on the bottom. Next you will add the other side piece. Use a spoon to drizzle a little glue to each edge of the piece and quickly press it up against the pieces already assembled.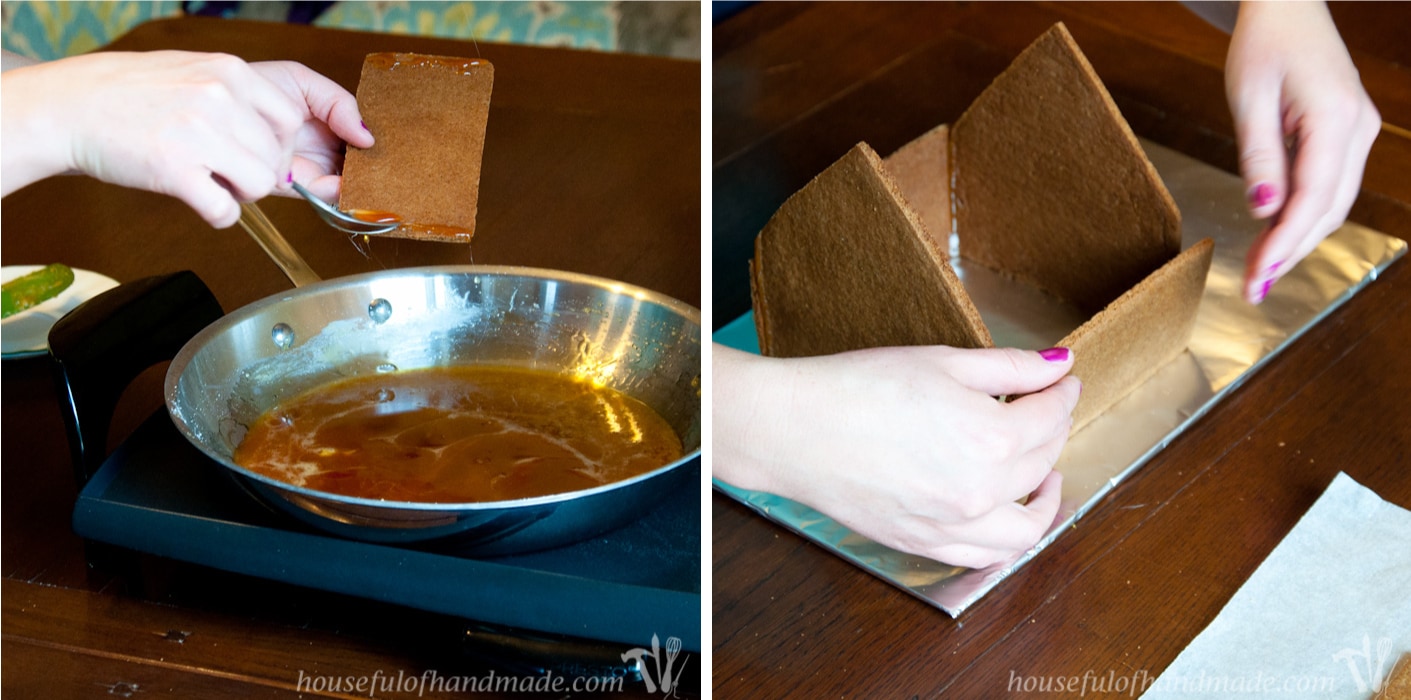 Now to keep everything secured to the base, I like to dip the whole house bottom into the sugar and then place it on my base where I want it. This is really helpful if you have kids helping with the decorating so they don't tip things over.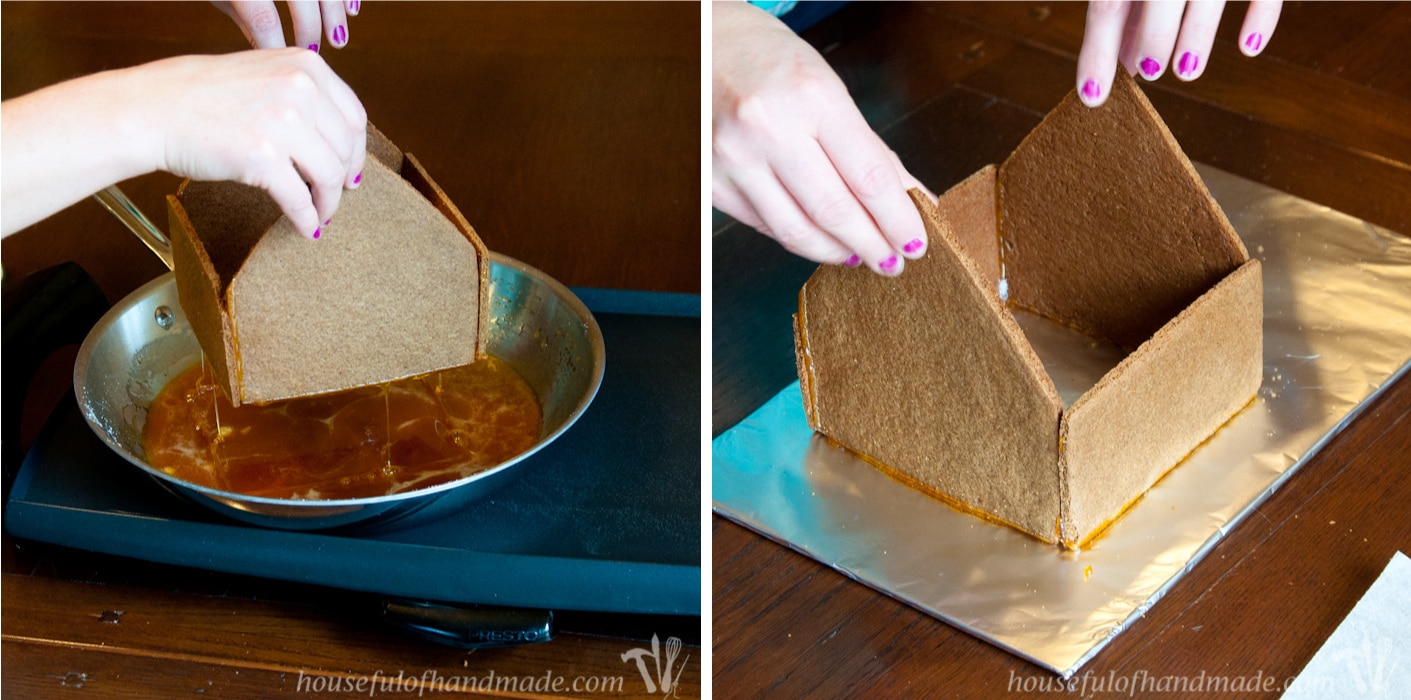 Now it's time to add the top. Start by drizzling sugar on the tops of one side of the roof peak and place the roof piece on it. Hold until it cools.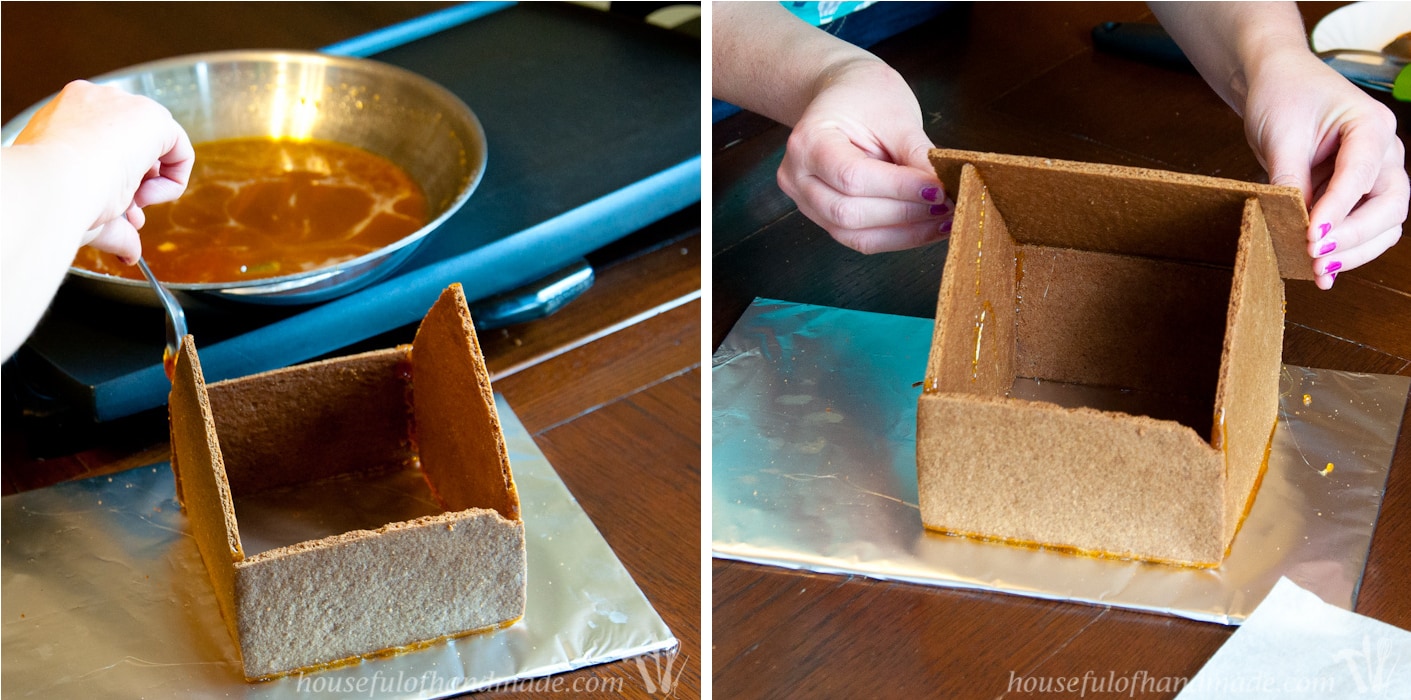 Then put sugar on the other sides of the roof peak and the very top ridge and add the second roof piece.
My first time putting this piece on, my sugar was too cooled off and the roof didn't stick. But I just increased my heat on the sauté pan a little and it melted back down then I tried again and it stuck perfectly!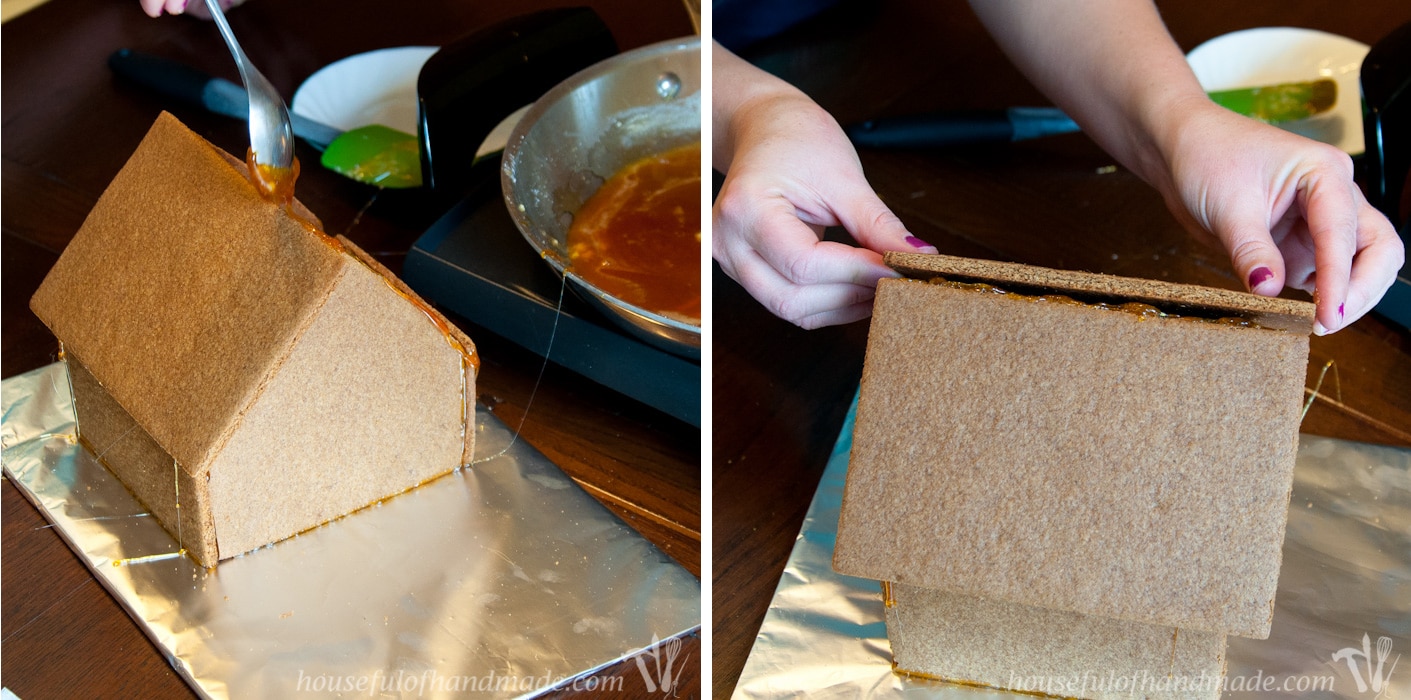 If you have doors, you can add these now too. I don't get that fancy with our houses. I might add a graham cracker door when we decorate it all up later.
Now it is all ready for the family time. We can cover our houses with sugar, and eat plenty of it too! And just have a ton of fun together creating the memories I will always remember from Christmases growing up.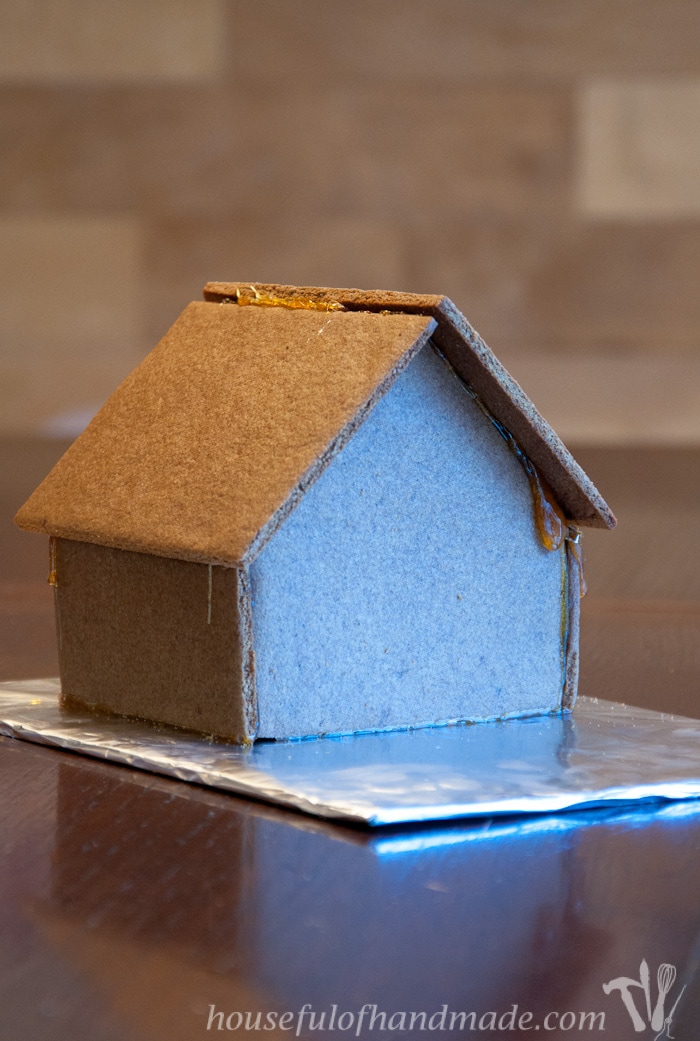 I took the kids to the store and we bought all kinds of fun candies: Dots, M&Ms, Mike & Ikes, Candy Canes, Peeps snowmen, sugar cones to decorate as Christmas trees. And throw in some graham crackers for roof shingles and a door, or some cereal from the pantry, and we will make the best (probably not picture perfect, but full of fun) gingerbread houses!
Let the fun begin!
"Hot Glue" & Gingerbread: How to Easily Assemble a Gingerbread House
Additional Time:
10 minutes
Want a strong gingerbread house? Use this simple to make sugar glue to assemble it and you will not have to worry about it falling apart while decorating!
Instructions
Place sugar in a bottom heavy saute pan over medium to medium-high heat.
Swirl it around while the sugar starts to melt.
Continue stirring until all the sugar and any clumps fully melt.
Turn the heat to low (on a gas cook top) or turn off (on an electric cook top) to keep the sugar from burning once melted. But you still need to keep it warm to keep the glue from hardening while you work.
Use the sugar on the seams of your gingerbread house by either dipping the edge of the pieces into the warm glue in the pan or spooning it onto the edges. Then place the pieces together and hold until the glue cools.
Be careful! The melted sugar is hot and will burn.
To clean out any unused sugar glue, fill your saute pan with hot water and let it soak until the glue is dissolved.