In our quest to eat whole foods, I have been making homemade bread every 5-7 days. I have been doing this for a least 2 years now and I've never looked back!
I do buy artisan breads on occasion even though I have found a few recipes that are great, but they have to be started the day before and I usually don't think about wanting it that much in advance.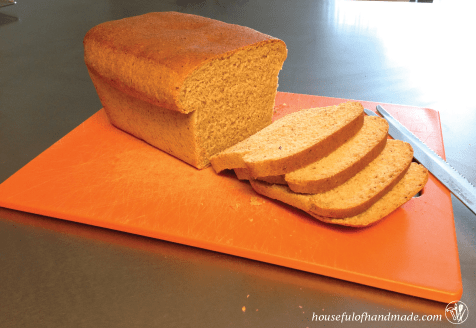 This bread is super easy to make and is quite quick for a yeasted bread.
I adapted this recipe from one I found on Deals to Meals. This recipe is smaller because my family only needs 2 loaves at a time. It also includes some additions for a little extra nutrition.
Gather all your ingredients
Since I have a wheat grinder, I use fresh ground whole wheat. But you do not need a wheat grinder to make it. Feel free to use any whole wheat flour you have on hand.
The bread was made with a 50/50 blend of hard white wheat and hard red wheat berries. I love the mix because it make my bread soft and still has the great nutty flavor of whole wheat.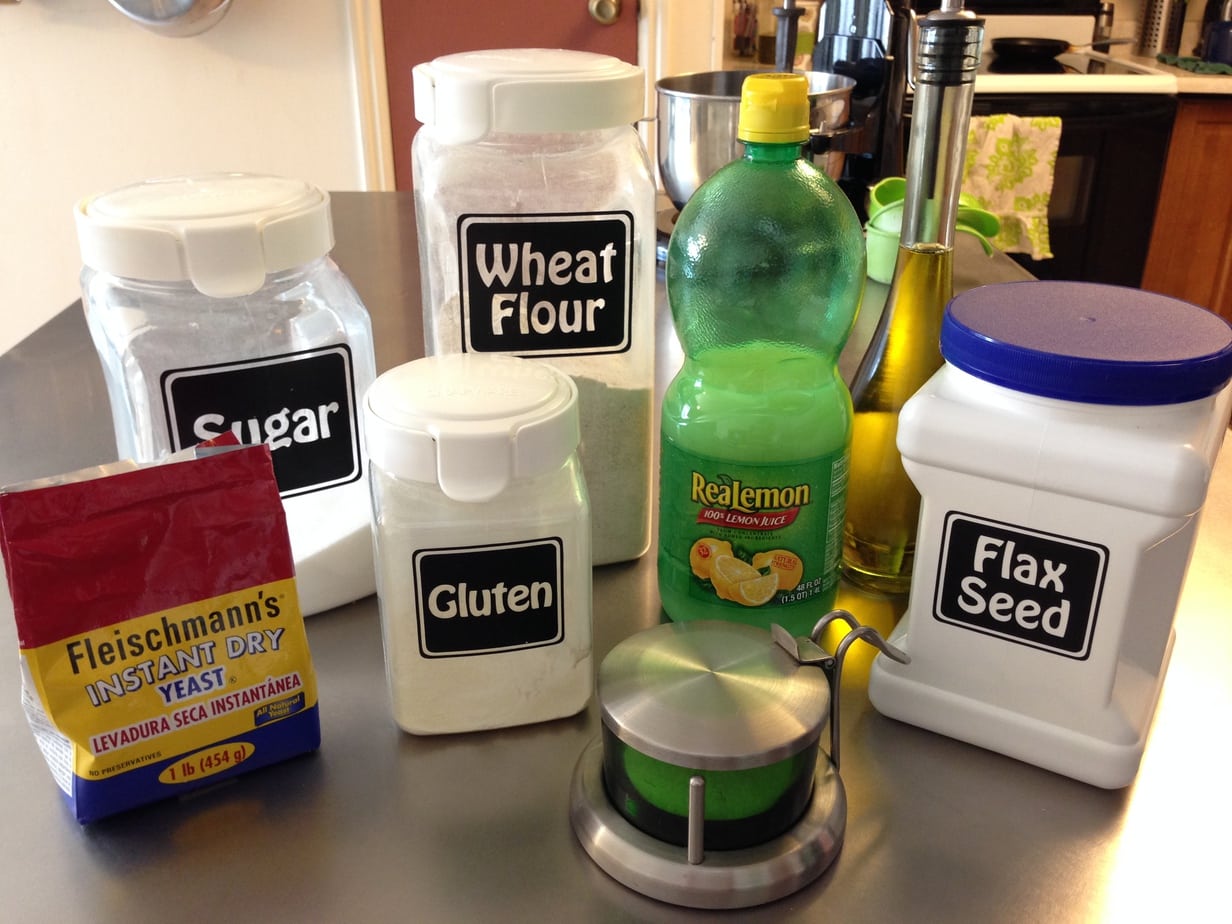 When grinding my wheat flour, I like to grind it a little smaller than normal whole wheat (my grinder has 5 grinding sizes and I use the middle one). I use this mix for all my cooking, I find it works almost perfectly to sub in whole wheat for all-purpose flour in most of my recipes.
To get the same benefits of the small grind from store bought flour, use whole wheat pastry flour. It is a smaller grind like I use.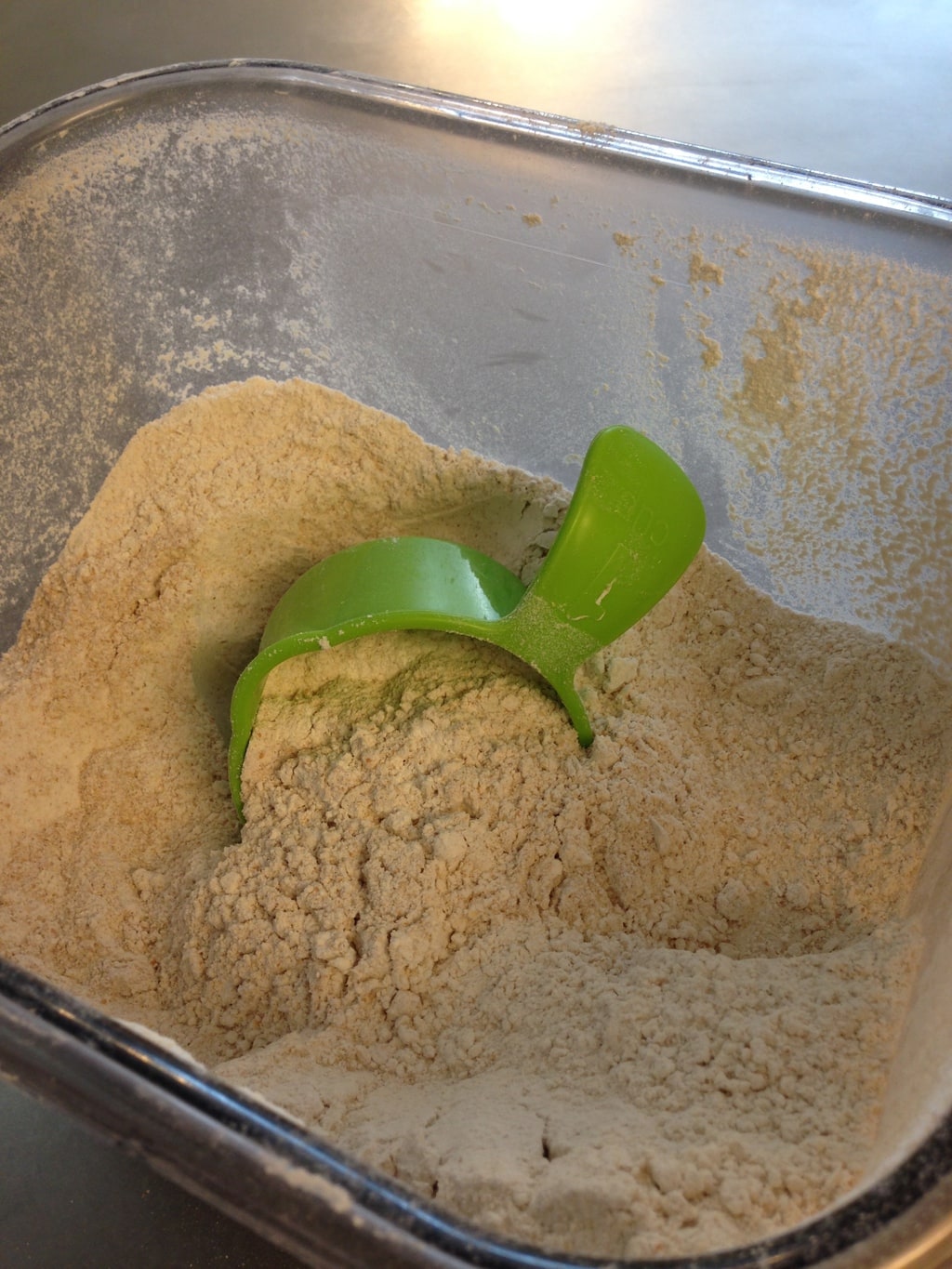 The only ingredient that you may have to go out to find is the Vital Wheat Gluten. This is the stuff that keeps your homemade bread soft after day 1. It makes the bread soft and delicious for 5 or more days (ours usually doesn't last longer than that)!
Time to get baking
I am including lots of pictures in this post, not because the bread is hard to make, but because when you know what you are looking for in your bread dough you will be able to make the bread without it getting too dry and hard.
After walking my sister through making a batch of bread, she is now a master bread maker so I am trying to do that for you!
1- Start by putting your paddle attachment on your mixer (you will switch to the dough hook later) and add in 3 1/2 cups whole wheat flour, 1/3 cup vital wheat gluten, and 1 1/4 Tbsp instant dry yeast. Turn your mixer on very low (or your flour will go everywhere) and just let these mix together.
2- Dump in 2 1/2 cups hot (about 120-130 degrees F) water. When I first started making this bread, I used my thermometer and checked my water temp every time. It is a good idea to do this until you know what the required temp feels like. If it's too hot it will kill your yeast, if it's too cold, things won't rise properly.
3- When the flour and water is all incorporated, turn your mixer to med-high and beat the dough for 1 full minute (I always set my timer so I make sure to beat it for the full minute). It will be wet and start to get really stringy.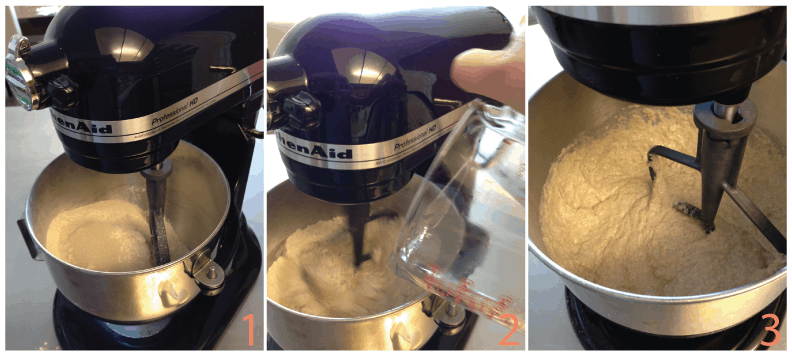 4- When you are done beating the dough, place a clean cloth over it and let it rest for at least 10 minutes. Sometimes I let it rest longer because I get busy doing something, I've let it go for about 30 minutes once and it was fine.
5- When it's done resting take a look at your dough, it should be rising and bubbly. If it's not, then it might mean your yeast is dead (your water could have been too hot or your yeast is bad). Do not continue if your dough isn't rising and bubbly. To test your yeast to make sure it's good just place a tsp in some luke warm water and let it sit for about 10 minutes. If the mixture is bubbly your yeast is good, if not, get some new yeast and try again.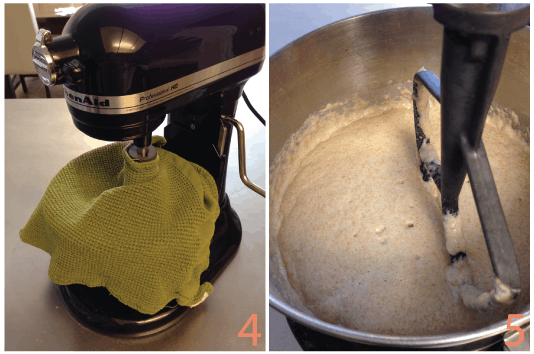 6- After the rest period, add in 1 Tbsp salt (I use kosher), 1/3 cup olive oil (you can use other oil but the flavor of olive oil is great in bread), 1/2 cup sugar, and 1 1/4 Tbsp bottled lemon juice. Turn mixer on to low until everything is incorporated, then turn to med-high and beat for 1 full minute.
7- Now's the time to put the dough hook on, I use a spatula to scrape the sticky dough off the beater and the sides of the bowl. Add in 1/4 cup flax meal and 1 cup whole wheat flour. Mix with the dough hook until incorporated.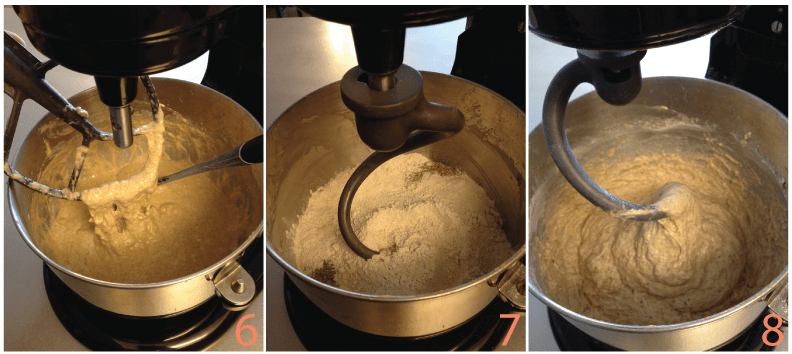 8- Scrape down the bowl again. The dough will be very sticky.
9- Now you are going to slowly add in the remaining flour. Don't just go dumping in the remaining 1 1/2 cups of flour in or you may end up with dry, tough dough and you want to end up with a sticky, soft dough. It's better to use less flour than too much. I know that since I am using fresh ground flour that it is very light and I usually have to use the full amount of flour. If your flour is more settled, you will be using a lot less.
10- Add flour in 1/4 cup to 1/2 cup at a time until your bread dough starts looking like picture #10. It'll just start to pull away from the bowl as you knead it. Sometimes I scrape down the bowl to get it to come together without adding in too much flour.
11- When you are done adding in flour you will knead it for a long time! Plan to knead it for at least 6-8 minutes. I knead it on medium and it starts to really come together like you see in picture #11.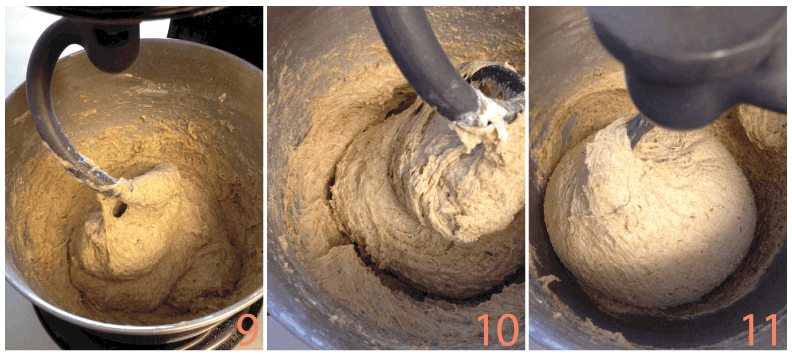 12- You know you have kneaded it long enough when you have a smooth ball of dough. It will also pull all the extra bits of dough away from the sides and bottom of the bowl like in picture #12.
13- At this point you can turn the mixer off. Make sure to oil your pans very well, and then oil the counter top as well. I use regular Pam spray to oil both. On Deals to Meals she says to only use Bakers Secret pans but I use my Pyrex loaf pans all the time and it works great.
14- Dump the dough out onto the oiled counter top. The dough will stick to the outside of the bowl after being left without kneading, but just scrape it out with your spatula.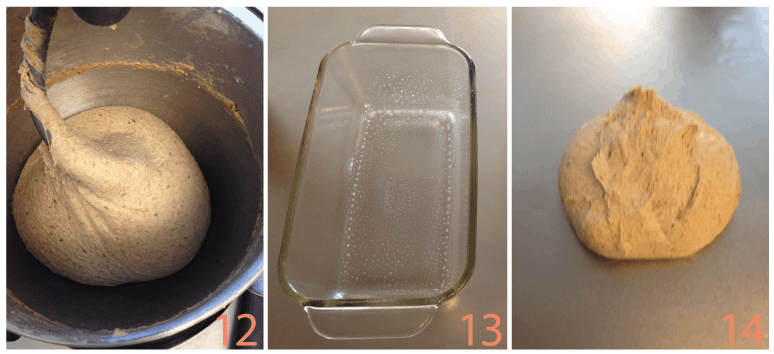 15- Before shaping the dough, its time to warm up your oven for a nice draft-free place for the loaves to rise. I do this by turning my oven on for only 1 minute, if its left too long it will get too hot and then you will start cooking your bread before it raises. Make sure to set a timer and only let it warm for 1 minute then turn the oven off. Back to the dough, roll the dough into a log on the oiled counter.
16- Then cut the log into two. I like to use my pastry scraper, but a butter knife also works well.
17- Roll each section of the dough into its own little log. Keep tucking the sides from the top until the top is smooth.
18- Place the dough into the oiled pan with the smooth part on top. Then smoosh down the dough so it squishes into the corners of the pan (this helps to make a more even loaf instead of a really high center).
19- Place the loaves in the warm oven and let them rise for 15-20 minutes. Let them rise only until the dough is at the top of the pan because they will rise a lot more in the next step. Leave the dough in the oven and turn it on to 350 degrees F. Set your timer for 30-35 minutes. My oven takes 17 minutes to heat up (yeah it takes like a long time) so I need to cook my bread for 35 full minutes.
20- When your bread is done cooking, immediately remove it from the pans and place them on a cooling rack or your crust will get soggy. Now comes the hardest part of the entire recipe, you have to wait until the bread is completely cooled before cutting into it! I know, it's gonna smell so good, and it's gonna be super warm and beautiful, but if you cut into the hot loaf, you will smoosh your beautiful bread. Believe me, it will still taste delicious when it is cooled.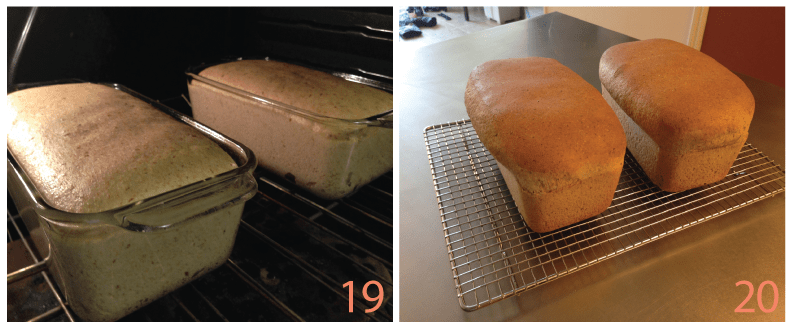 And you're all done! I like to cut one whole loaf so it'll be beautifully cut because I can't stand to have crooked bread slices and then it's ready to go for the best sandwiches ever.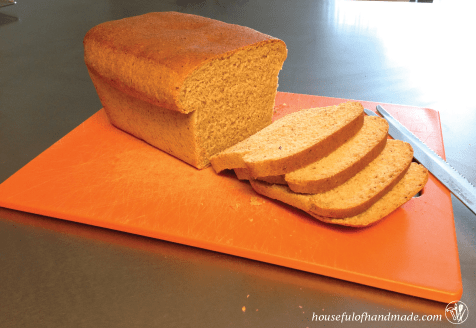 I hope you give this bread a chance. It really is the best homemade whole wheat bread ever!
The Best Homemade Whole Wheat Sandwich Bread
Yield:
2 loaves (32 slices)
Total Time:
1 hour
20 minutes
The best soft whole wheat sandwich bread ever! This bread is faster to make since it only has to rise for about 20 minutes and it will stay soft for at least 5 days.
Ingredients
3 1/2 cups whole wheat flour
1/3 cup vital wheat gluten
1 1/4 Tbsp instant dry yeast
2 1/2 cups hot water (120-130 F)
1 Tbsp salt
1/3 cup olive oil
1/2 cup sugar
1 1/4 Tbsp bottled lemon juice
1/4 cup flax meal (optional)
2 to 2 1/2 cups whole wheat flour
Instructions
1. Mix together 3 1/2 cups whole wheat flour, gluten and yeast in your stand mixer with a paddle attachment until combined. Add hot water and mix until combined then turn the mixer to medium speed and beat for 1 minute. Cover and let rest for at least 10 minutes.
2. After the rest, add salt, oil, sugar, and lemon juiceand mix until combined. Turn the mixer to medium and beat for 1 minute.
3. Switch to the dough hook attacment, then add the flax meal and 1 cup of the whole wheat flour. Mix until all flour is incorporated. Continue adding flour 1/2 cup at a time until the dough starts to pull away from the edge of the bowl. Dont add too much flour, the dough should be sticky.
4. Beat with the dough hook till the dough forms a ball and is smooth on top (6-8 min). The dough will be sticky.
5. Pre-heat over for 1 minute to luke warm then turn off.
6. Oil your counter top and turn the dough out onto it. Roll the dough into a long loaf and cut into 2. Shape each section into loaves by rolling and tucking in the outer edges.
7. Generously oil your bread pans and then place the shaped loaves into them. Smash down the dough so it reaches the corners of the pan.
8. Place pans in the warmed over for 15-18 minutes.
9. Leave the pans in the oven and turn it on to 350 F. Bake for 30-35 minutes.
10. Remove from pans immediately and place on a rack to cool. Allow to cool completely before cutting.
* adapted from Deals to Meals