Celebrate Christmas on a budget by using these DIY cookie boxes to deliver your homemade treats.
It's day 3 of our Paper Christmas Decor series. Today's post is more for entertaining and gift giving than decorating, but still wonderful place to save money this year! And for more ideas, I have 19 more Amazing Paper Christmas Decor Ideas here.
If you like to give the gift of homemade cookies, candies, or treats for Christmas, then this post is perfect for you! Make your own cookie packaging out of these easy DIY cookie box templates!
Day 3: Christmas Cookie Boxes
Nothing makes me happier than answering the door to a friend or neighbor holding a plate of their favorite treats. It's such a sweet way to say "I was thinking of you this holiday season".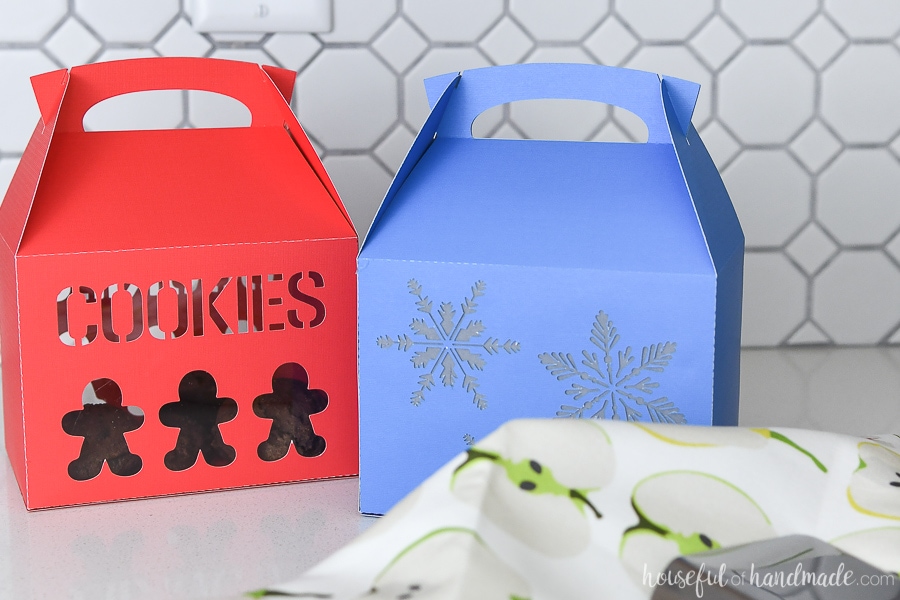 After spending a couple days in the kitchen preparing goodies to deliver to our loved ones, I always want a fun way to deliver them. Buying bags and boxes can add up to $5 per delivery. I don't have extra money for that, especially at Christmas time.
Instead, I can grab a 50 sheet pack of cardstock for $3 and make 25 of these gift boxes for cookies. Or to make things even cheaper, make a cookie box out of a paper grocery bag.
They are not as sturdy as the cardstock, but would work perfectly for lighter goodies (like my favorite peanut butter caramel popcorn, yum!).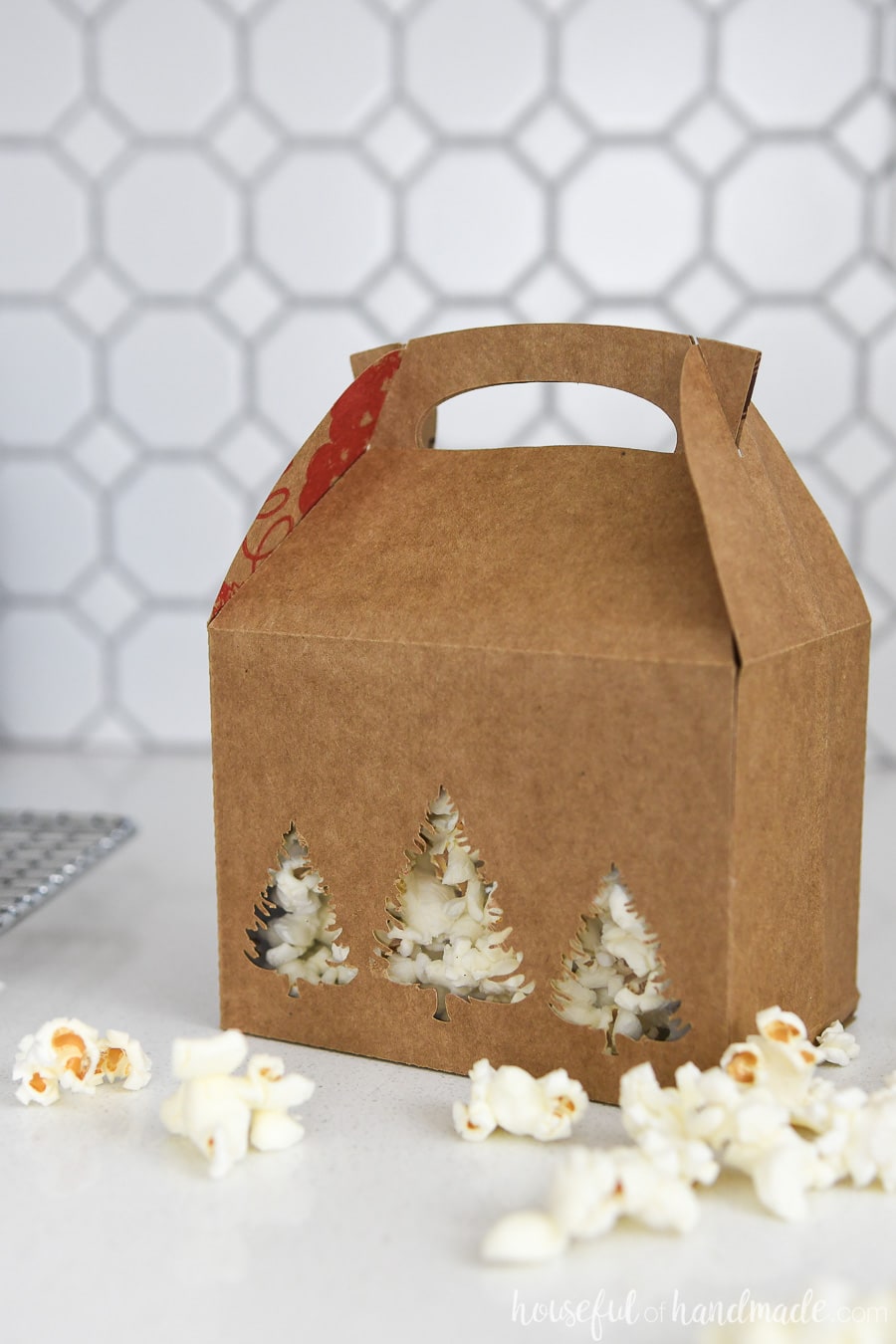 I think the best part of these Christmas cookie boxes is the handle. Once you package up your treats, the handle keeps them secured. And when it's time for delivery, it's easy to grab them and go!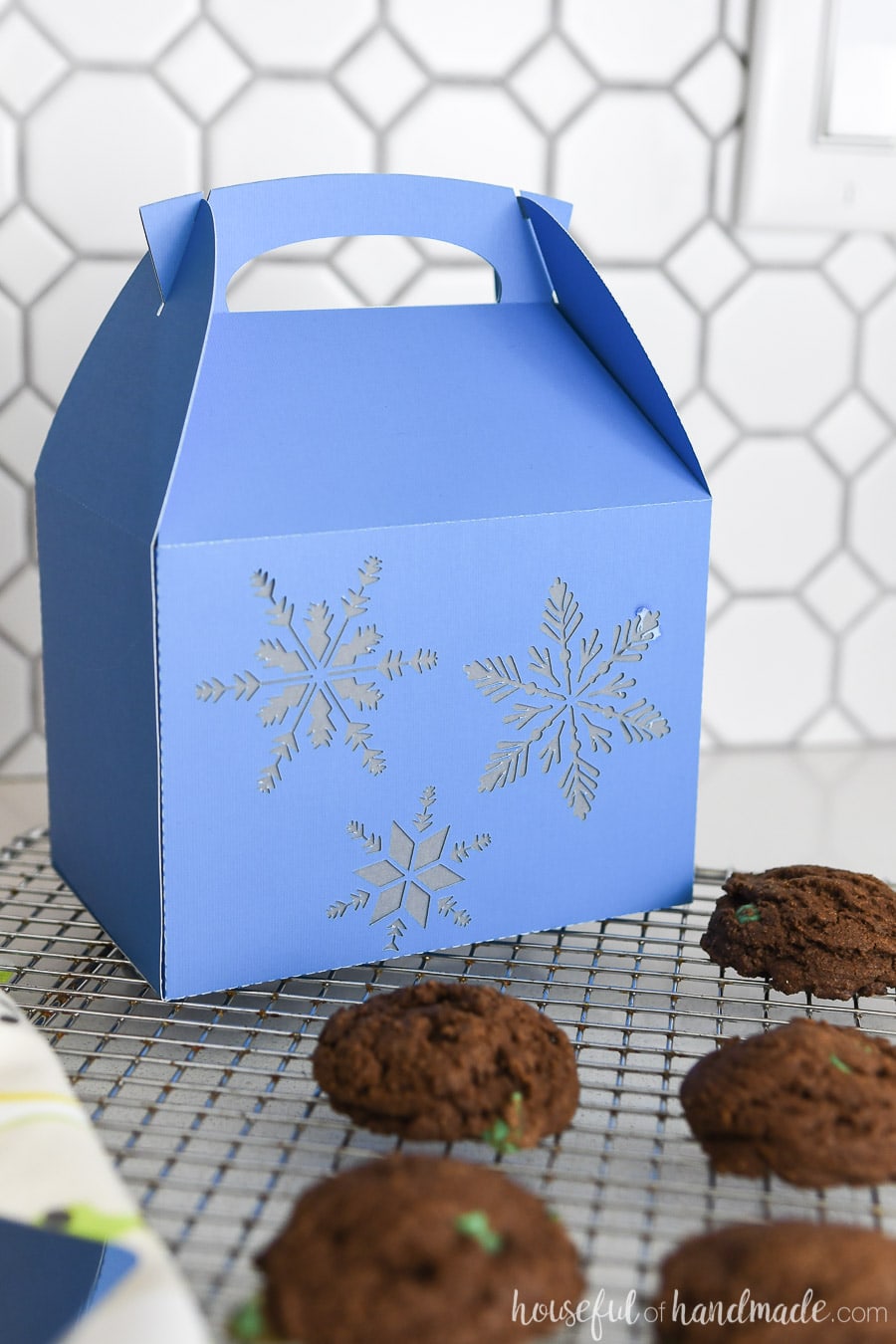 Homemade Treats to Gift in your Christmas Cookie Boxes
So get that mixer going and warm up the oven. You are going to be needing to make lots of cookies this Christmas season. And check out these other fun DIY cookie packaging for more options: Easy Cookie Gift Boxes DIY and Printable Cookie Boxes.
How to Make Gift Boxes for Cookies
Supplies:
Christmas Cookie boxes cut files
Cardstock or paper grocery bags

The grocery bags make a slightly less sturdy treat box, but I still filled it with a dozen small cookies and it worked.

Vellum or thin plastic sheets

This is used to close up the decorative opening in the front/back of the box.

Hot glue gun and glue sticks
Optional: Electronic cutting machine like a Silhouette Cameo or Cricut Maker
Cut 2 of the DIY cookie box templates out of matching paper for each box. Boxes made with the 12×12 template are 5 1/2″ wide x 3 1/2″ deep x 7″ tall. Boxes made with the 8 1/2×11 template are 4 1/2″ wide x 3″ deep x 6″ tall.
You can resize the cookie box template to fit your needs. Make sure to lock the aspect ratio so it resizes the width and height the same percent or things will not fold together correctly.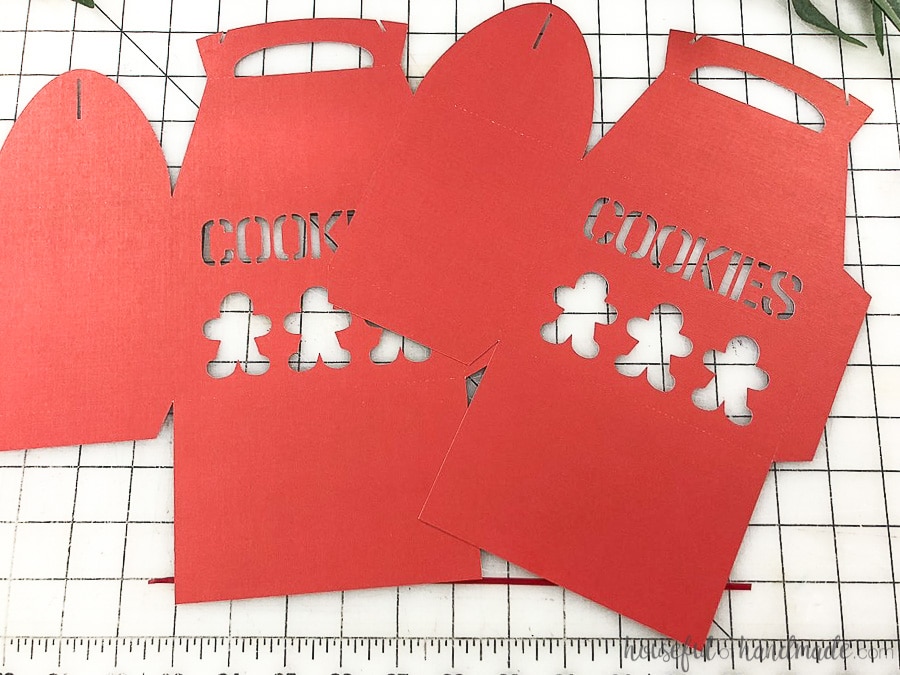 Cut a piece of thin plastic or vellum to cover the decorative opening in the treat boxes. Glue it over the decoration. I used hot glue for the thin plastic sheets and a regular glue stick for the vellum.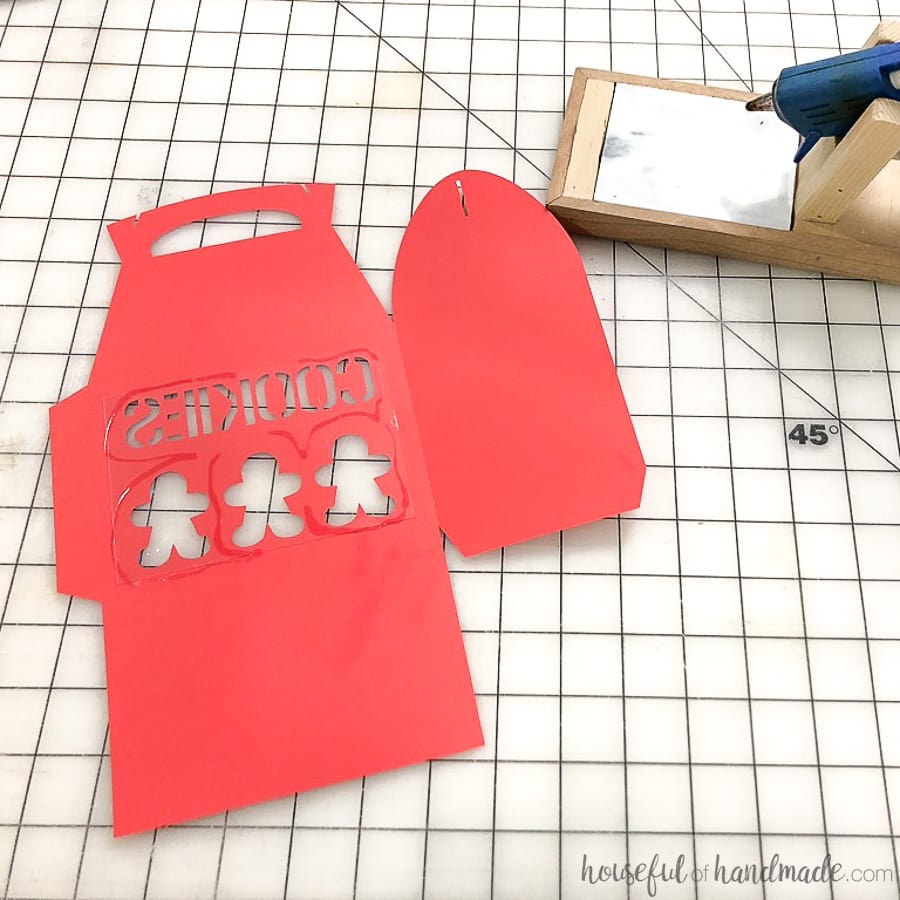 Fold along all the dotted lines.
Lay the box templates flat and glue the flap on one side. Then Flip it over and glue the other side.
Then glue down the flaps to one side of the bottom. Finish by glueing the second bottom flap to secure it and give your box extra strength.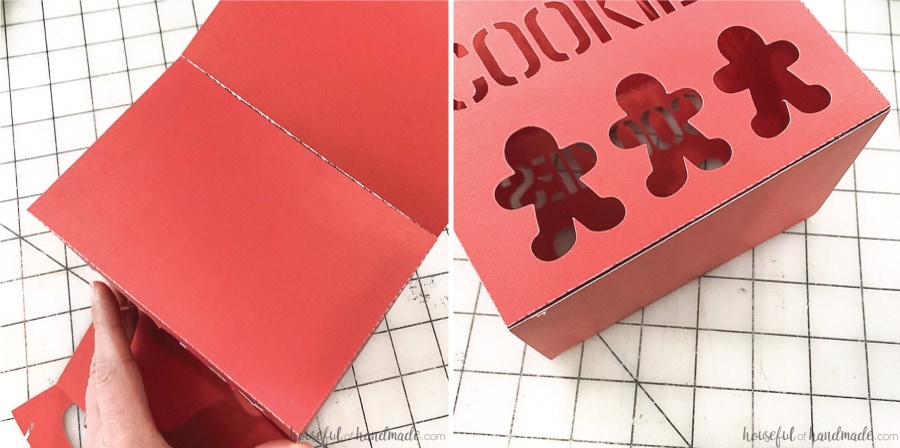 To close up the top, pinch the two handles together and slide the hole in the side flaps over the notches.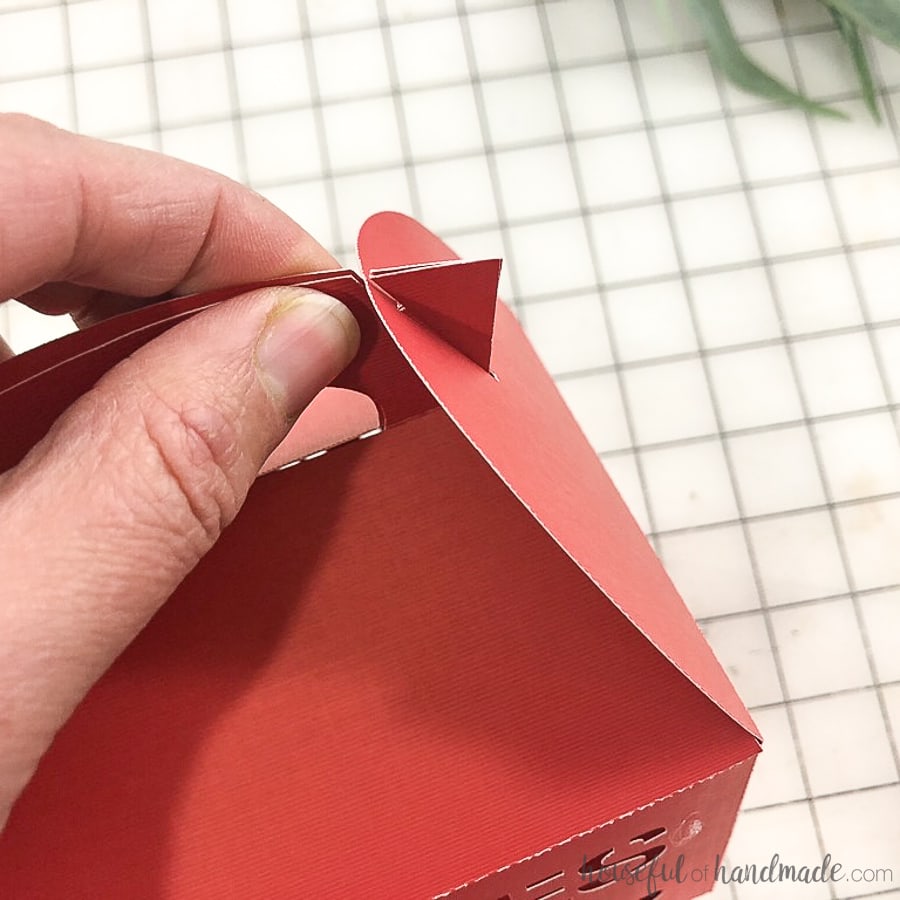 These DIY cookie packages are so quick to make, you can whip them up while the cookies bake! Then you are ready to package them up and spread Christmas cheer!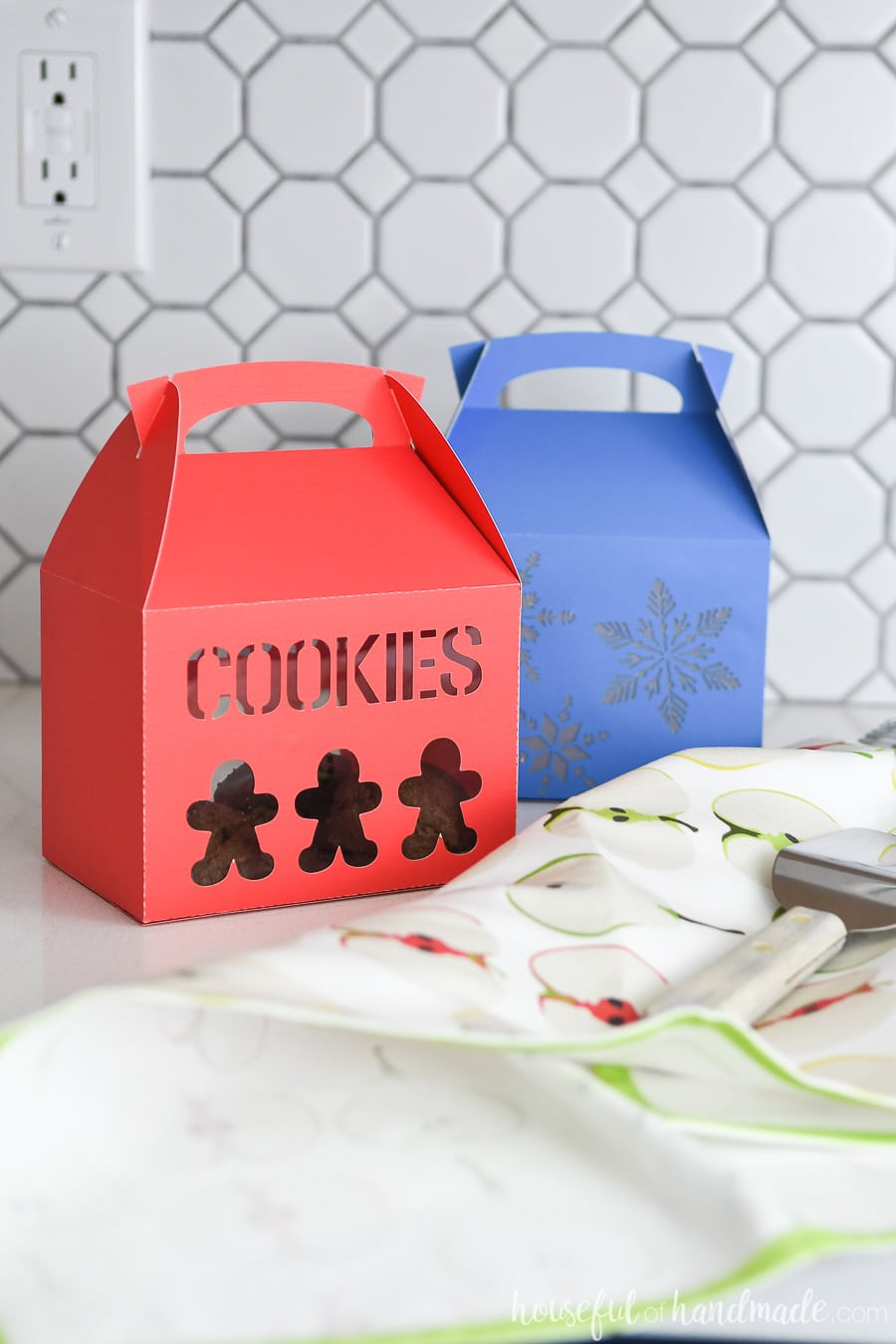 Don't forget to come back tomorrow for Day 4 of the 7 Days of Paper Christmas Decor. Here is the plan for the week. You won't want to miss out on anything!
And by the end of the week, you will have everything you need to decorate your home for the holidays without spending all your money!