So I looked at the calendar today and realized it's only 10 more days until Christmas. Time to cross some people off my list!
How about you? Are you done with all your Christmas gifts?
If not, I have the perfect easy, last-minute gift for you. These printable cookie boxes are super quick and you can fill them with a variety of cookies for the most delicious gift around.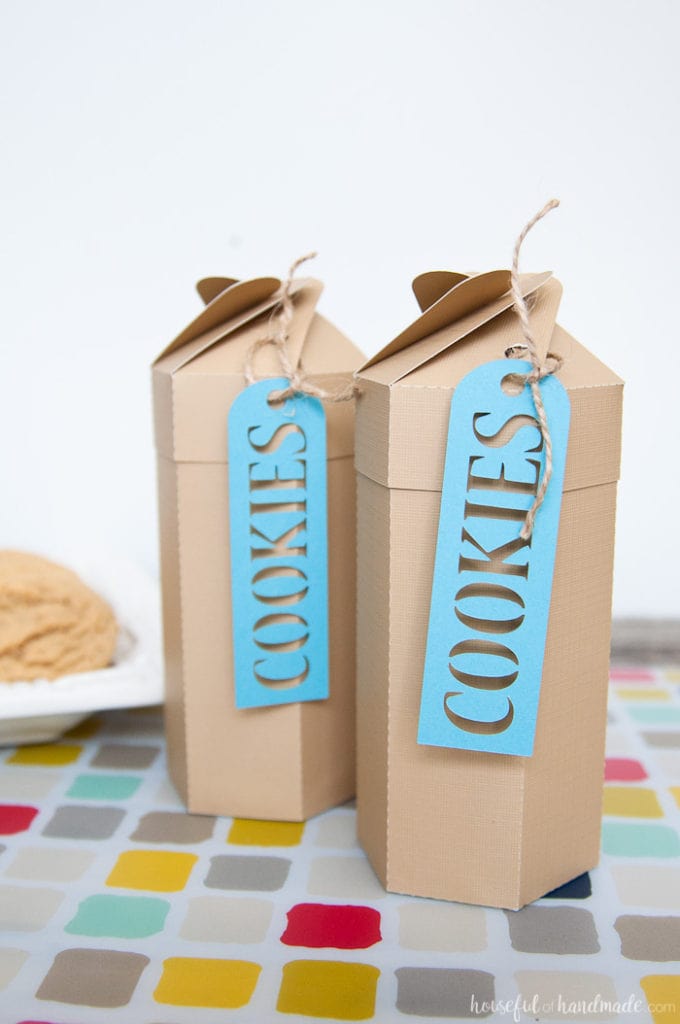 I am a huge fan of baking in the winter, mostly because it gives me a reason to keep the oven on and warm the house. But also because I grew up in a home full of baked goods.
My mom didn't like to cook dinner, but making treats was a whole different story. She taught me the art of baking and I hope I'm able to pass it on to my kids too.
Enjoying each other's company while making something delicious is one of my favorite memories.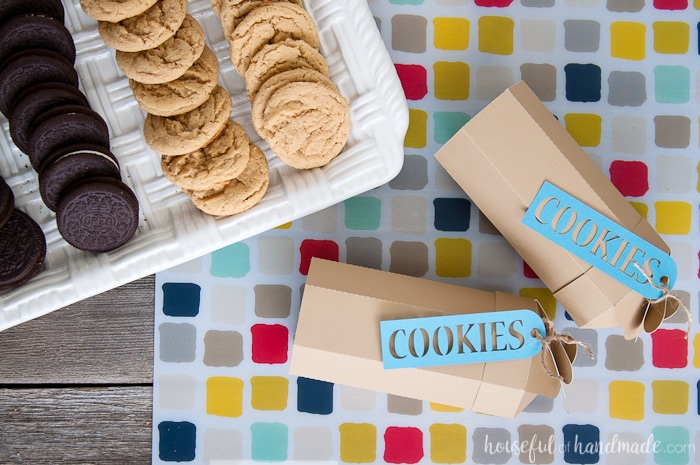 So it's no surprise that Christmas time was full of baking. We always gave gifts to neighbors and friends that were piles of homemade treats.
My family was not known for any specific treat, we liked to change it up every year. But we always included some kind of cookie.
Who doesn't love a cookie, right?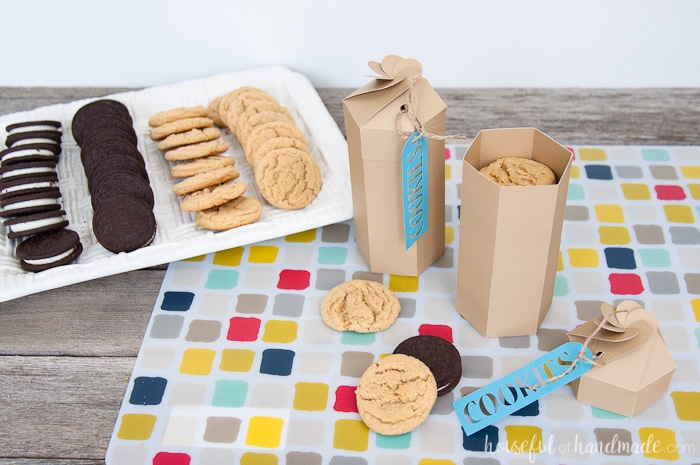 This year I decided I needed a better way to package up the Christmas cookies I was baking.
Instead of a plate or a bag, why not make these adorable printable cookie boxes to deliver your goodies?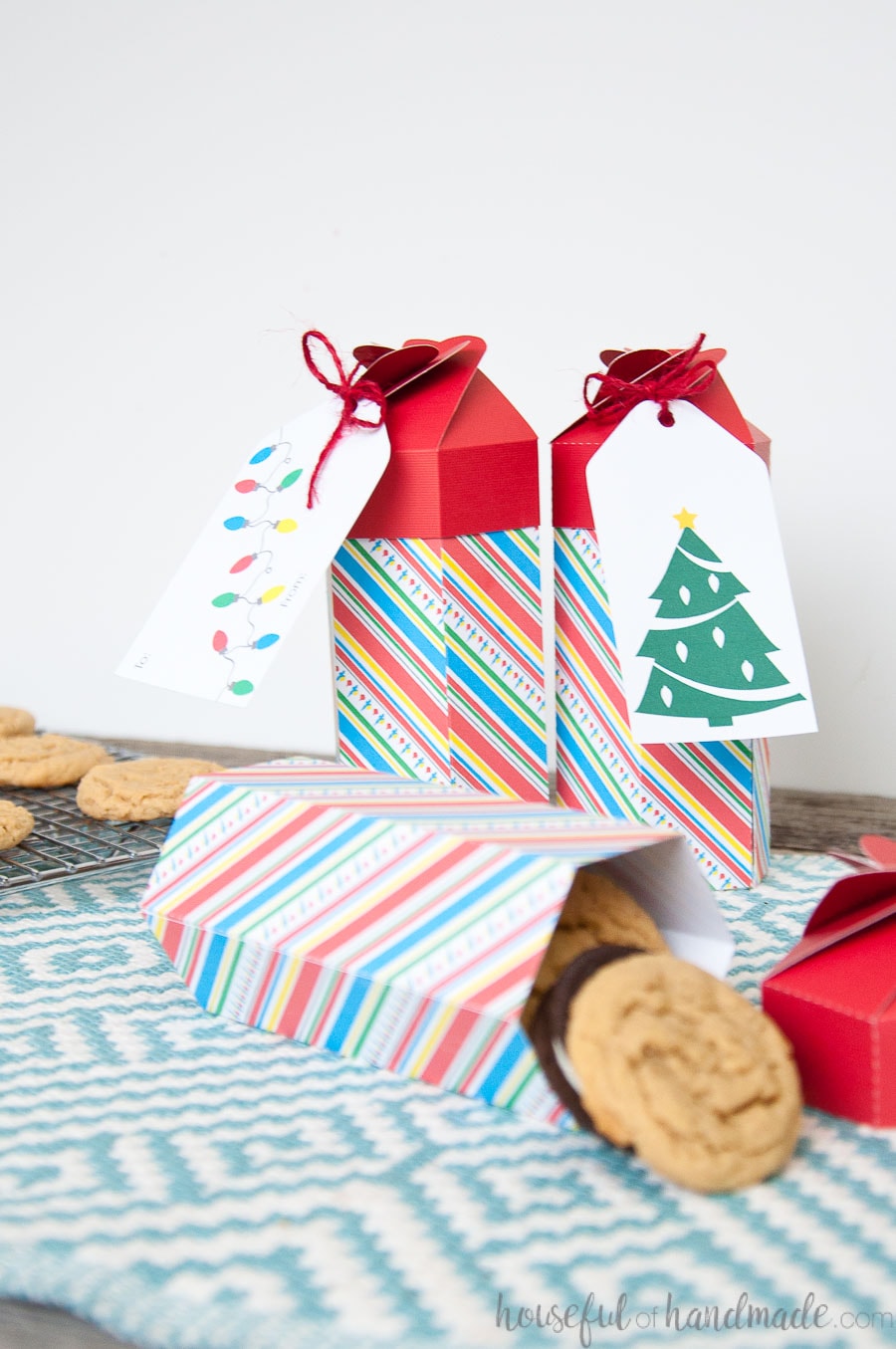 I promise, these boxes are super fast to put together! You can quickly assemble them while your cookies are in the oven.
A couple beads of glue and you are ready to fill your printable cookie boxes and cross a few more people off your Christmas list.
How to Make Cookie Boxes
Supplies:
Cookie box template

I am sharing the SVGs & PDFs in my subscriber library. Click here to subscribe to my newsletter and gain access to all the freebies. If you already have your password, click here to download them.

Printer
Cardstock
Hot glue gun & glue sticks
Twine or ribbon
Optional: Electronic cutting machine

I love using my Silhouette Cameo to quickly cut out paper decor projects, but you can also print the PDF template and use scissors and an x-acto knife to cut it out.
Cut out the pieces on two sheets of cardstock. Cut out the template on the solid lines and crease along all the dotted lines.
If you are using a using the PDF template with a patterned cardstock, print the pattern on the back (plain side) of the cardstock. Then when you cut and assemble the boxes you will have no visible lines.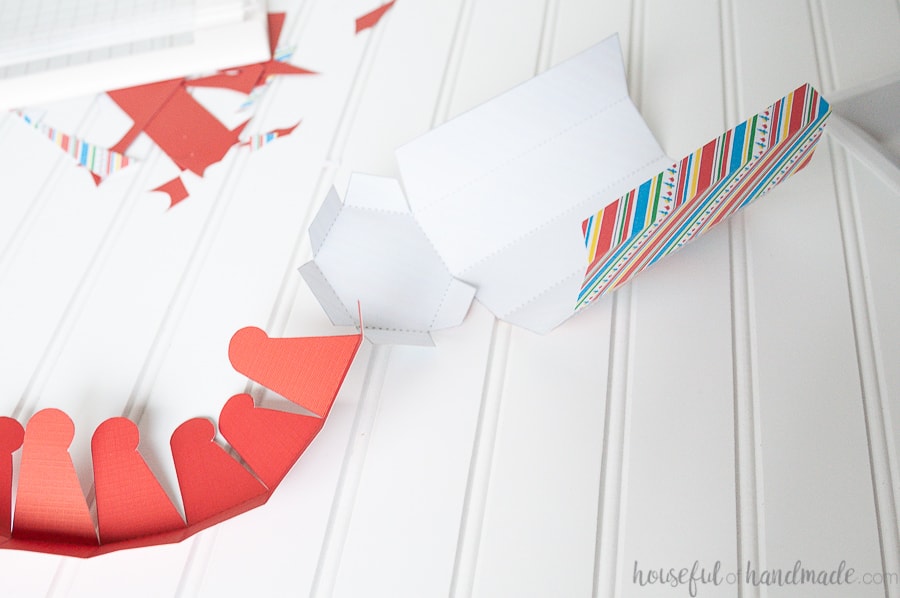 Assemble the base of the cookie box by first glueing the tabs on the bottom to the side tabs. Continue around in the circle until you get all the tabs on the bottom glued securely.
Finally glue the side flap to the backside of the side panel.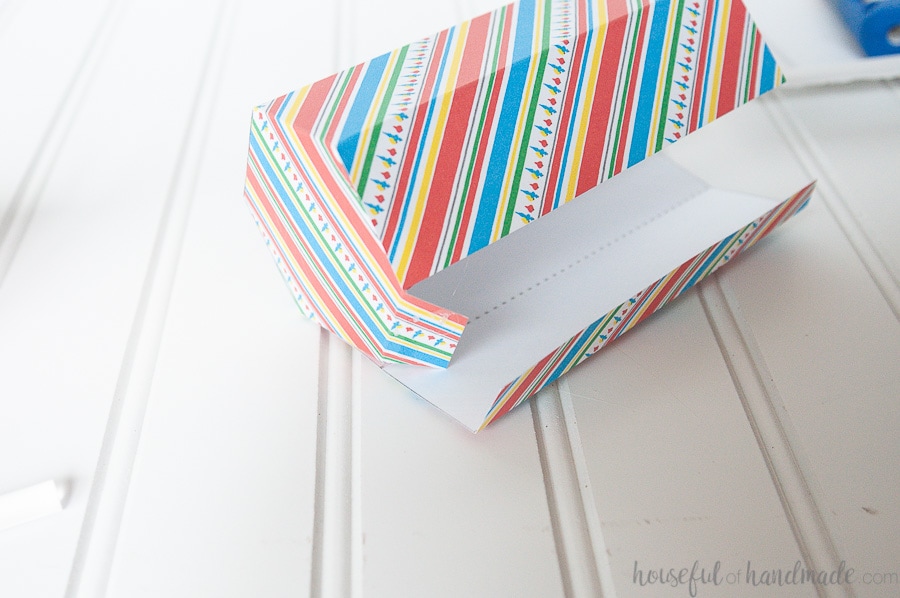 Assemble the lid for the DIY cookie box by glueing the side flap to the underside of the side panel.
Secure the top of the lid by interlocking the notches on the side of each flap.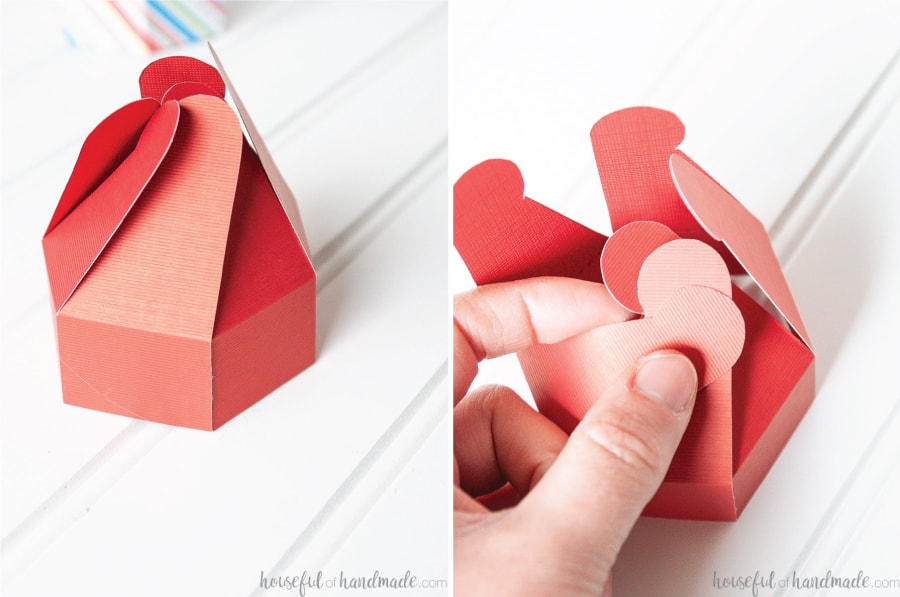 The flaps will fold under each other in a circle.
The last tab will need to be pressed under the other to connect. Once the last one is locked in the top will be secure.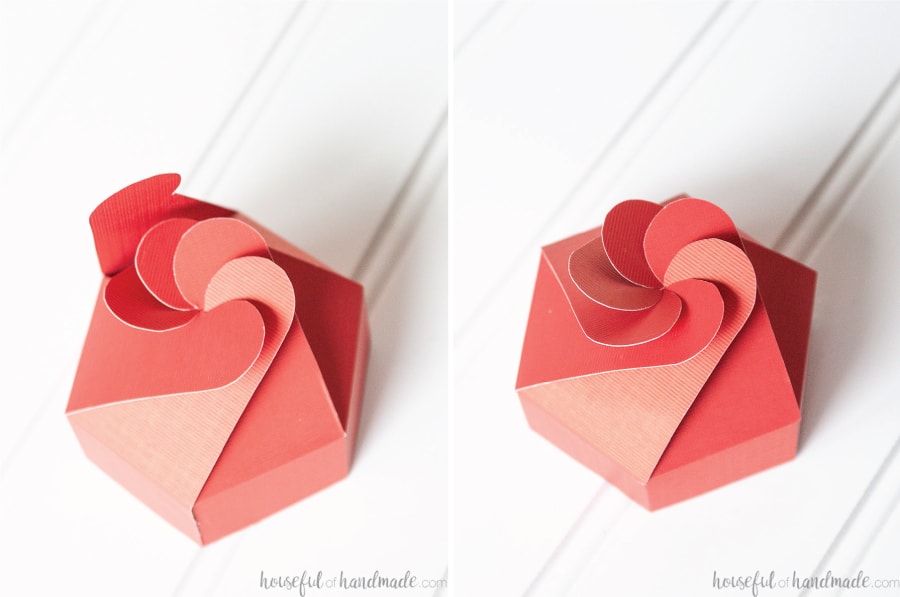 Now you can fill your box with cookies! Then slide the lid onto the top of the box to close it up.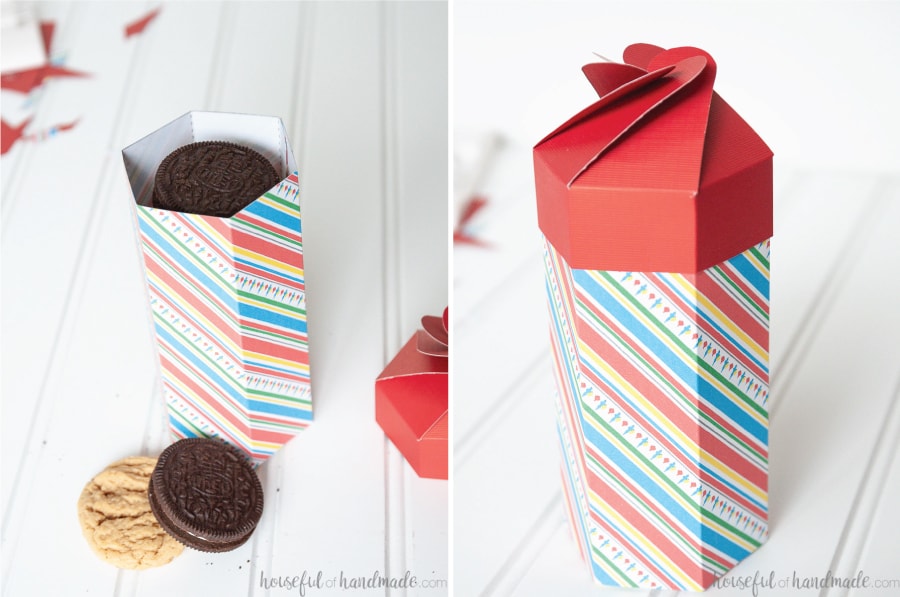 If you want to attach a tag, use a hole punch to punch a hole on one of the lid flaps. String a piece of twine or ribbon through it and tie on a tag. You can download the printable tags I used here.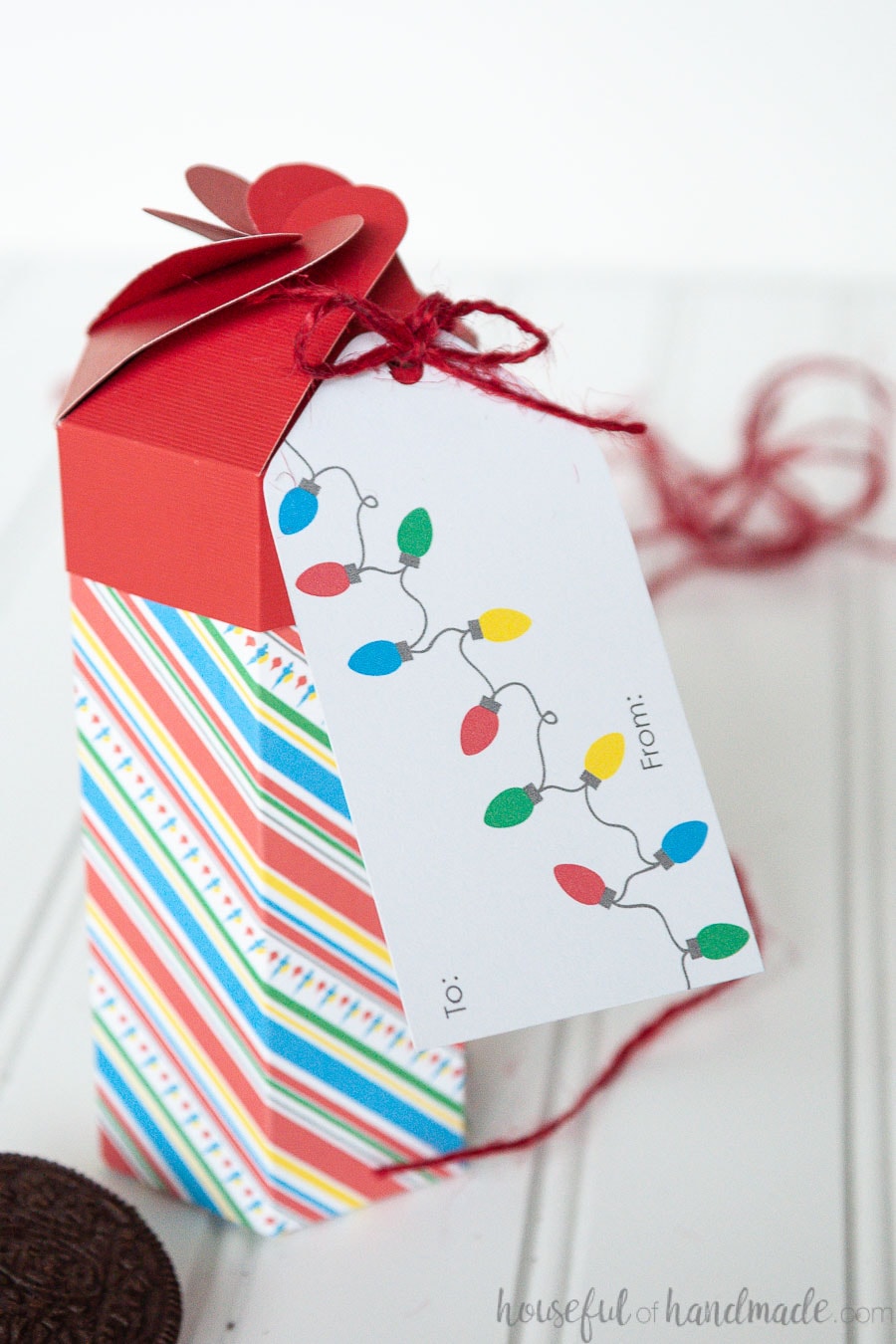 Now you are ready to share the gift of sweet treats!
Personally, these DIY cookie box gifts make me smile and I know they will make anyone who gets them happy too.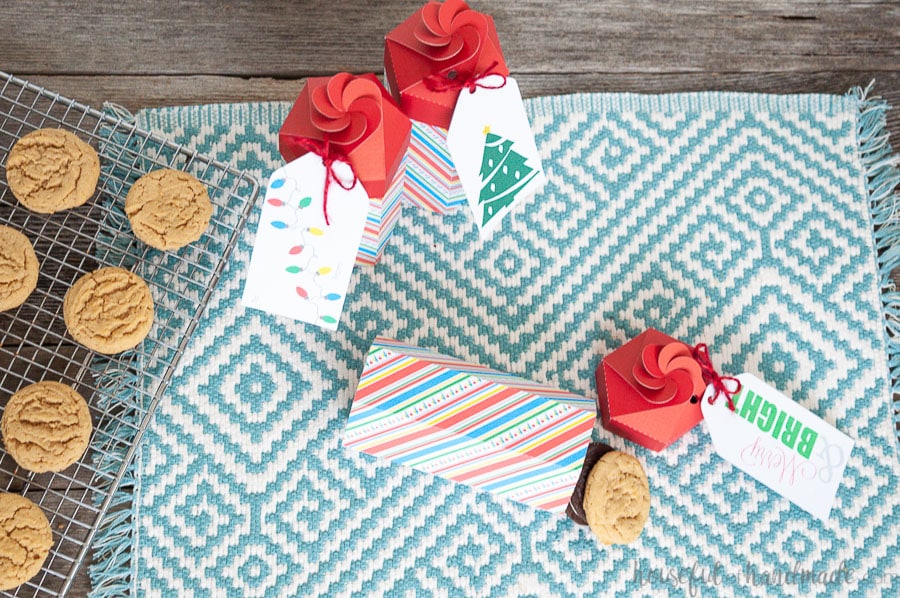 And then after you make your printable cookie boxes, don't forget to try these delicious cookies to fill them up!
Malted Peanut Butter Oatmeal Cookies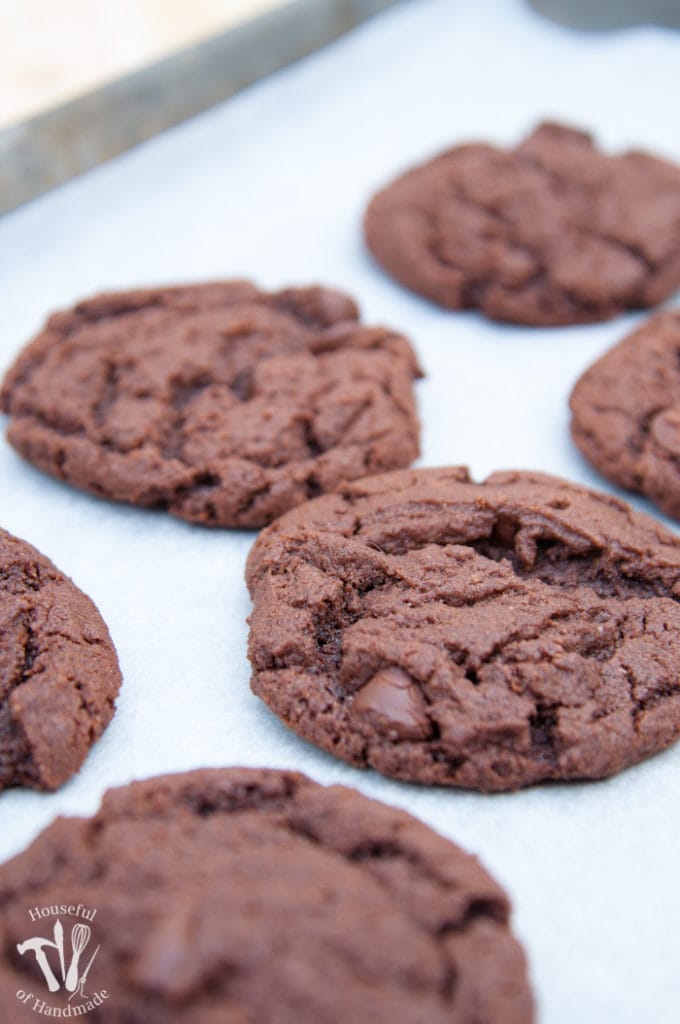 Double Chocolate Nutella Cookies
Have a very Happy Holidays!