Hate running to store for last minute ingredients, this printable baking substitutions chart is perfect for your kitchen.
I've had this printable in my head for way too long. I have a not-so-pretty list of my most used baking substitutions in my kitchen but knew I wanted to get a cute version done before the baking season started.
As soon as the weather cools down, one of my favorite activities is baking! So it was high-time I got around to creating this printable baking substitutions chart!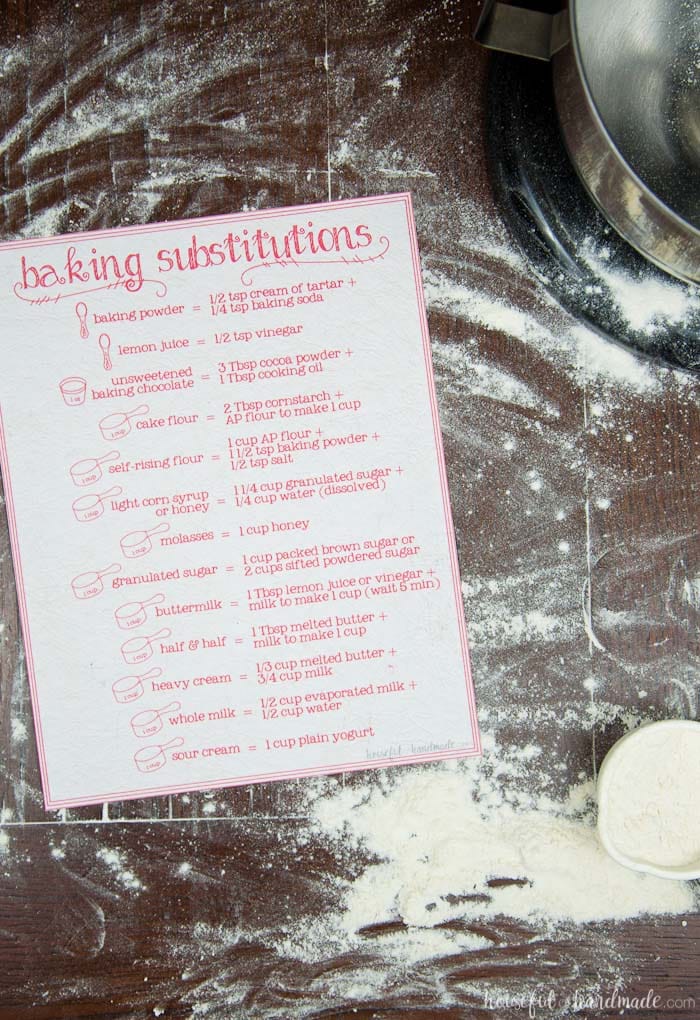 Most people would say I have a really well stocked pantry, maybe it's because I use baking as my therapy (seriously, it totally makes me calm and happy). But that might be my downfall. I never check on ingredients before I start a recipe because I just assume I have it.
When you are 3/4 done with a batch of chocolate peppermint brownies, it really sucks to find out you are out of unsweetened baking chocolate. Or when you've already creamed your butted and sugar then realize you have no cake flour left, it puts a damper on the calming effects of baking.
So I have started really relying on a few key substitutions, heck I never even buy buttermilk anymore because subbing in milk and lemon juice is so much easier.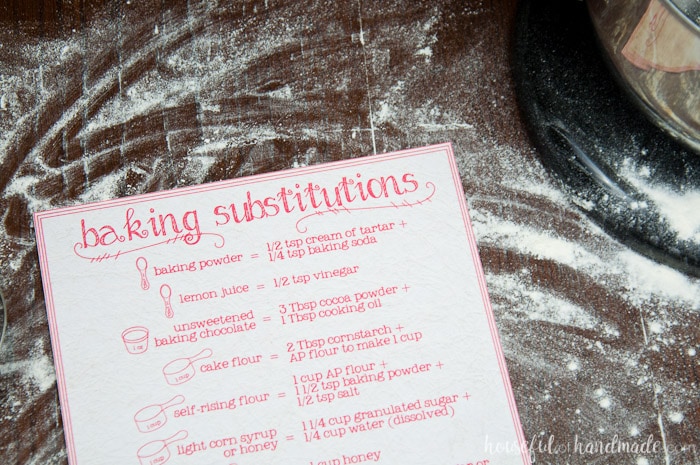 While we were enjoying a weekend in the country (aka, my parents house), I decided to finally design the printable baking substitutions chart I have been meaning too for so long. I wanted it to match the printable kitchen conversion chart I made last year so I used the same symbols, colors and backgrounds. Now you can have the perfect duo of kitchen helpers so you can spend the cold winter baking all kinds of deliciousness!
UPDATE: Now there are 3 kitchen helper charts for a complete set! Check out the printable recipe scaling chart too! Again, it is made to match so you can have a matching set.
There are 4 different color combinations of the baking substitutions chart (just like the kitchen conversions chart) for you to choose from. I still can't decide which one I like the best, maybe I'll have to change them out with the season like all my other decor.
But because the chalkboard one matches my coffee station so well, I decided to start off with that one on my easy beadboard picture frame. This will be perfect for the upcoming holiday season.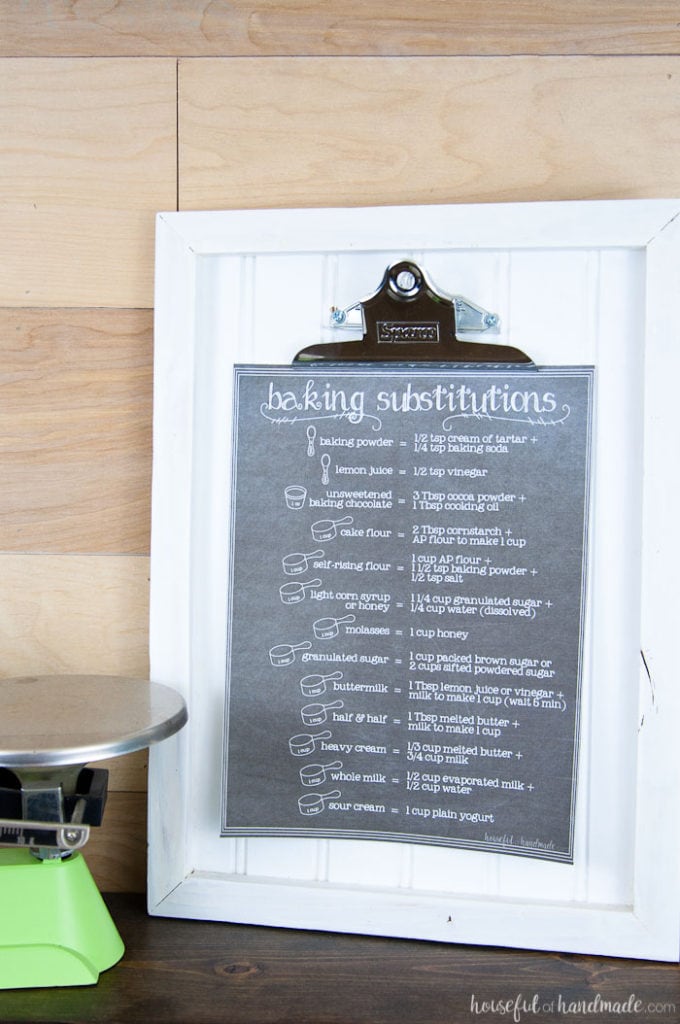 Downloadable Kitchen Charts
The printable kitchen charts were free to my subscribers until 11/18/2018. Now they are available to purchase in the shop. Make sure to subscribe so you will be notified of new freebies!
And now I'm off to make cookies, or brownies, or cinnamon rolls, or heck, anything delicious!