Keep your kids responsible this summer with these printable summer chore charts.
There is no better time to start with these free printable summer chore charts than the first Monday of summer!
Friday was the last day of school for my kiddos. I have to admit, I am super excited for it to be over because there was so much going on over the last couple months I am so ready for summer.
I am looking forward to lots of lazy days, but now that my kids are older, I know that I need to keep them on a bit of a schedule so we don't just ruin all the hard work from the school year.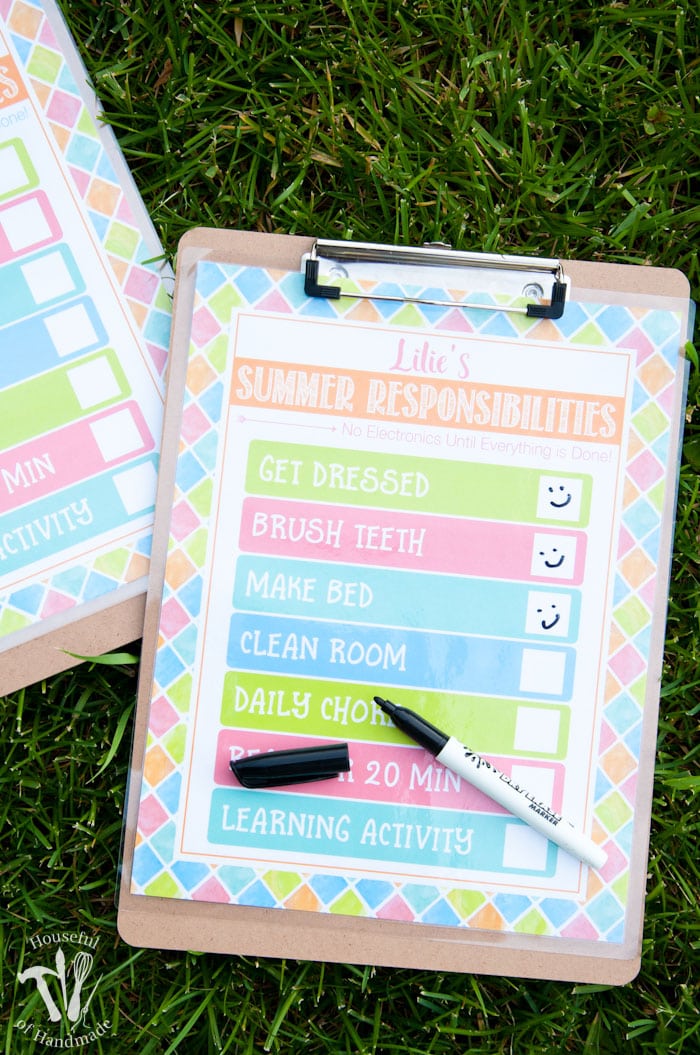 My computer has seriously been giving me headaches this week. I guess I filled it up too much, I almost ran out of storage space. So I have spent hours and hours of time trying to backup and move files and get things running like they should be.
It has been frustrating and I am ready to get my hands dirty with some fun DIY projects instead of boring computer stuff, but at least while moving and backing up files I had time to make up these free printable summer chore charts so even if I'm not feeling productive I can keep my kids productive.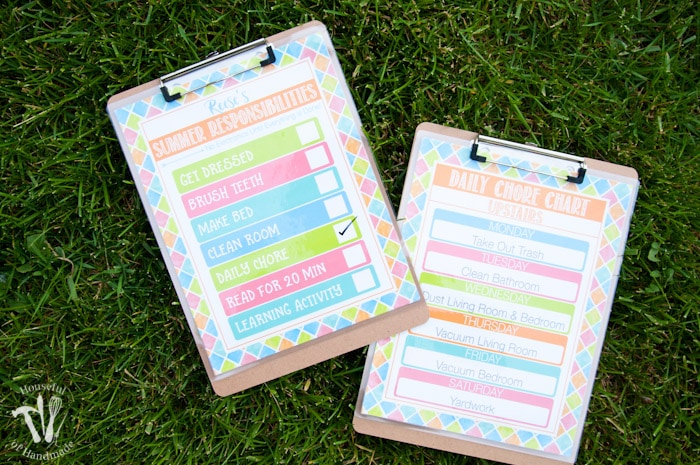 I made two different charts, one called the Summer Responsibilities Chart and the other is the Daily Chore Chart. Each day before the kids are allowed any electronics they must complete everything on the Summer Responsibilities Chart.
We like to use the word Responsibility instead of chore because these are not chores, they are things that the kids are responsible for every day.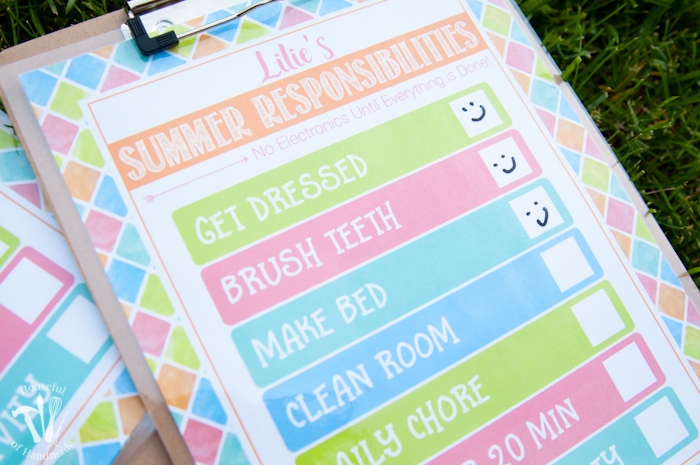 Basic things like getting dressed, brushing teeth, keeping their rooms clean, a household chore, reading and a learning activity are just things the kids need to be responsible for themselves.
Sometimes in the summer we get lazy. I know I like to get lazy, and then the basic responsibilities are not done. Our new rule is absolutely no electronics (including TV, tables, computer time, video games, anything that uses electricity) until they have completed all their daily responsibilities.
So I guess if the kids want to stay in their PJs all day playing in their rooms or reading books, instead of completing their responsibilities, I guess that is there could be worse things.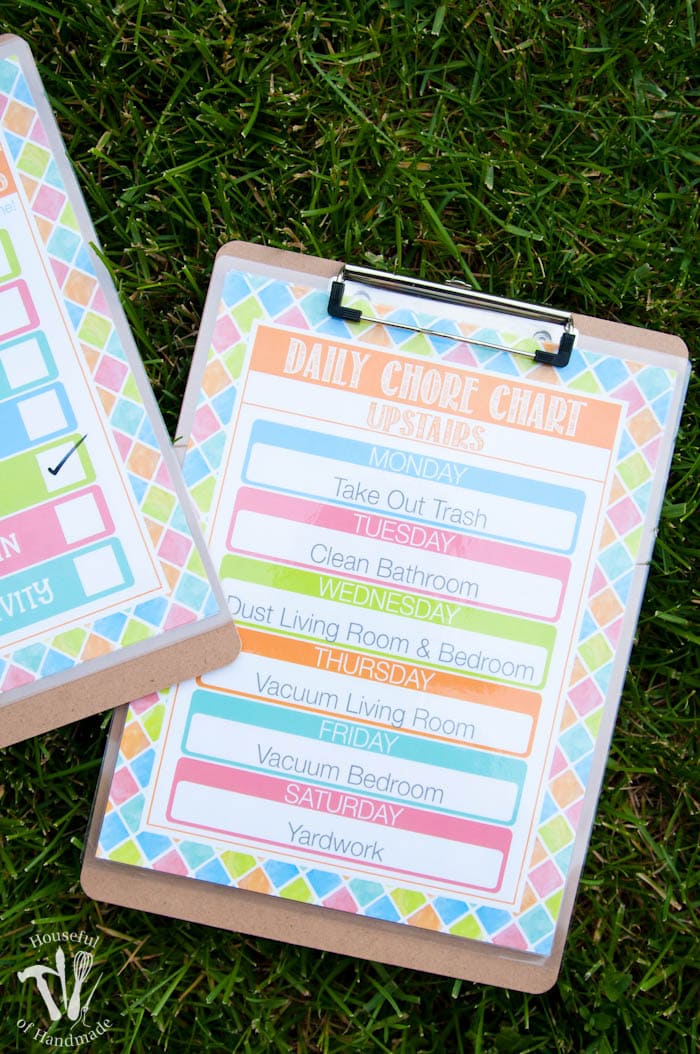 Part of the kids daily responsibilities is to complete a daily chore. We are trying really hard to instill some work ethic into our children. I'm learning that it is really hard to do, but we are not afraid of hard work (thanks to our parents) and so we are making sure they help keep our house clean.
During the school year, the whole family gets after the house and gets it cleaned Saturday morning. But during the summer, we tend to be busier on the weekends so we are trying a daily chore this year.
Each day as part of their summer responsibilities, the kids have one daily chore to complete. Hopefully this will help keep our house somewhat presentable while we have way more hours home to destroy it!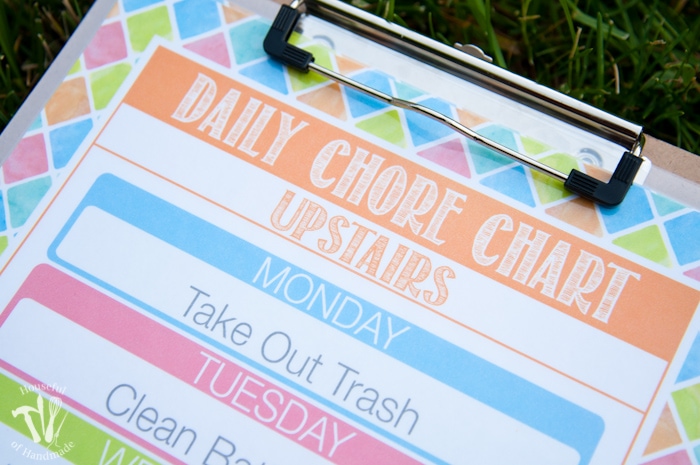 I printed a Summer Responsibilities list and Daily Chore Chart for each of my kids. After adding the different daily chores, I laminated the sheets and will be keeping them on clipboards on our command center (as soon as I get it all done…).
We can use a dry erase marker to check off their daily responsibilities as they complete them and keep us all responsible this summer.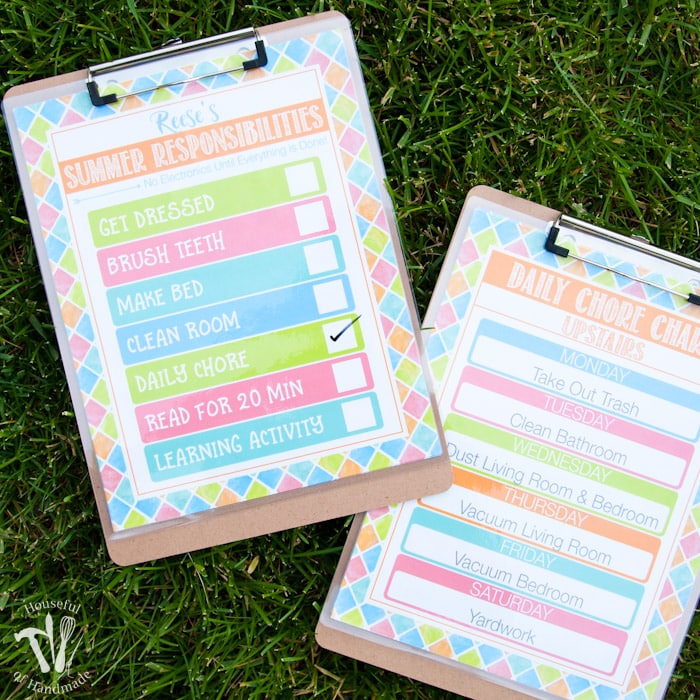 I have also created a Summer Responsibilities Chart and blank Daily Chore Chart to share with you. If you need a little help staying organized this summer, you can download these free printable summer chore charts in my library of free downloads.
Click here to sign up for access to the free library. Inside you can download these charts and lots of other awesome printables! If you already have a password, click here to access the library.
I also created a Daily Responsibilities and Chore Chart for the school year. You can check them out here!
We have updated our chore chart to this amazing Printable Kids Chore System that Works. It's a little more in depth for older kids and teaches them so much responsibility.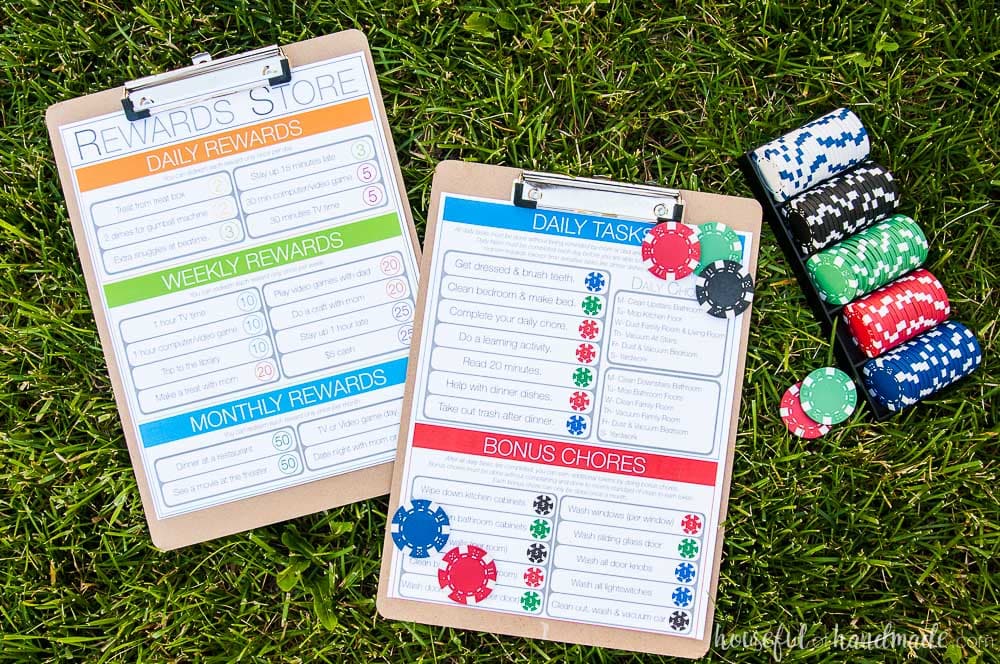 Here's to a fun and productive summer!