14 Days of Popcorn: Chipotle Lime Popcorn
My family loves sweet popcorn, can you tell? That is why I have so many recipes for different flavors of caramel popcorn or kettle corn.
But sometimes you need a snack that is not sweet. Salty is good, but spicy is even better! That is why I love this Chipotle Lime Popcorn.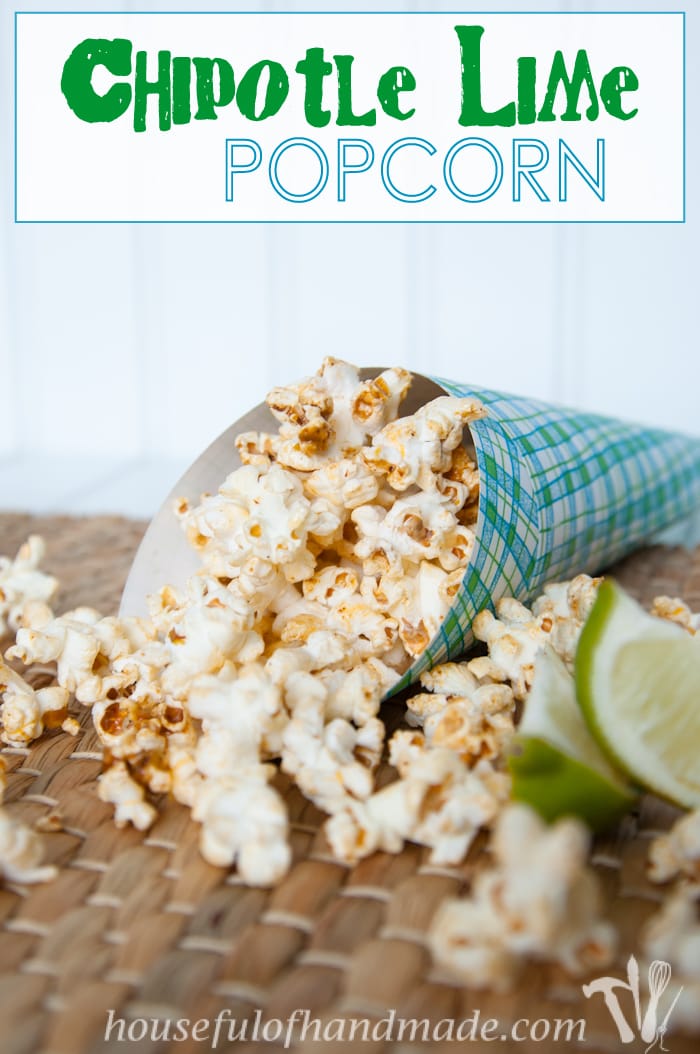 If you are not familiar with the flavor of chipotle peppers, they have a smokey, southwest heat to them. I love the smokey, spicy taste. But when you pair it with lime it's really something amazing! The citrus helps cut a bit of the heat, but not the flavor.
So you end up with all the smokey deliciousness of the chipotle peppers with just enough heat. Of course, if you want lots of heat, you can always add more!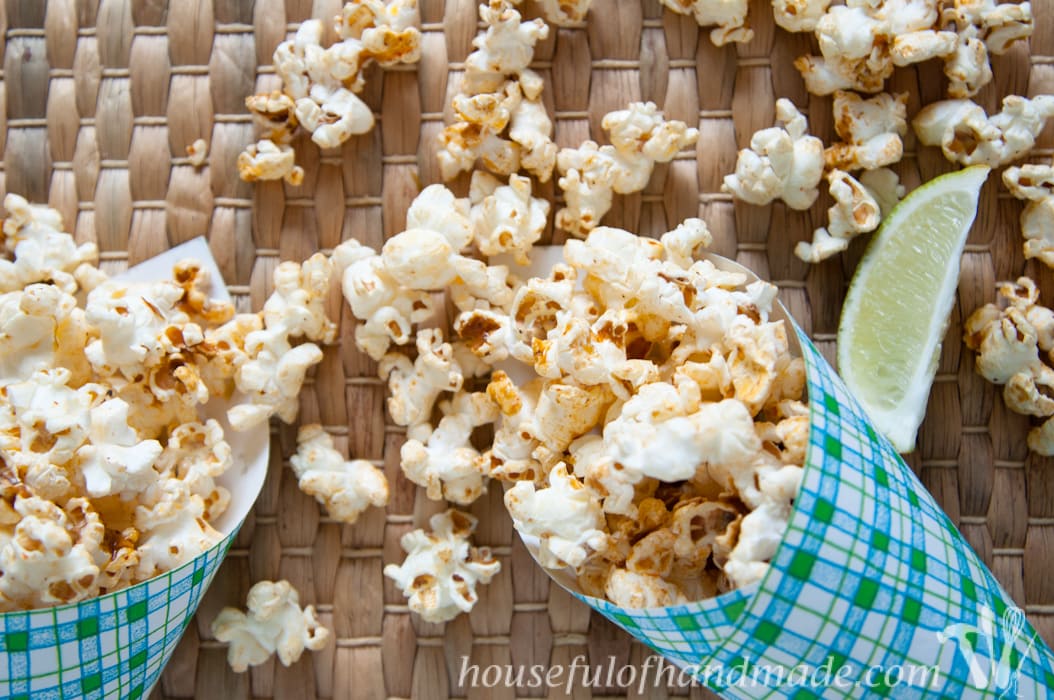 To make this Chipotle Lime Popcorn, I use a chipotle hot sauce. My husband introduced me to El Yucateco Chipotle Hot Sauce a few years back and I love it! It is the perfect chipotle flavor with a good amount of heat.
I love adding it to mayonnaise for a quick chipotle mayo for sandwiches. Yum! You can use any chipotle hot sauce you like, but you definitely want the smokey chipotle flavor for this popcorn.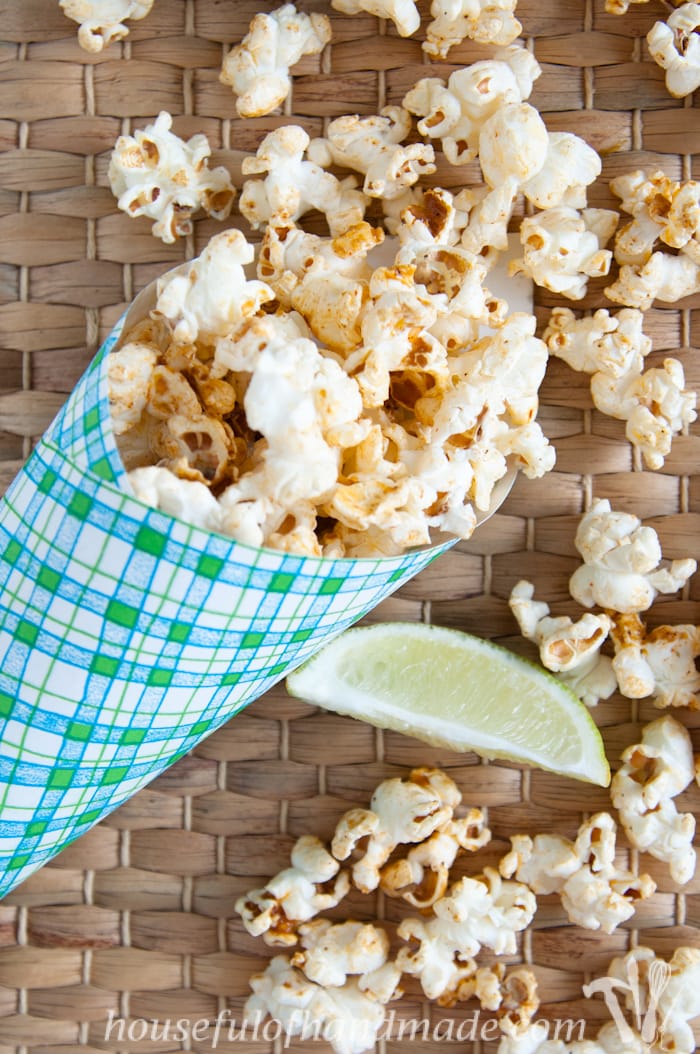 Then you top off the chipotle flavor with a little lime juice, and a whole lot of lime zest. The lime adds a hint of sweet, a little tang, and a really makes the all the flavors pop!
You can serve your Chipotle Lime Popcorn with a side of lime wedges so people who want less heat can add a bit more citrus. Or you can serve it with a pitcher of margaritas. Gotta love the lime 🙂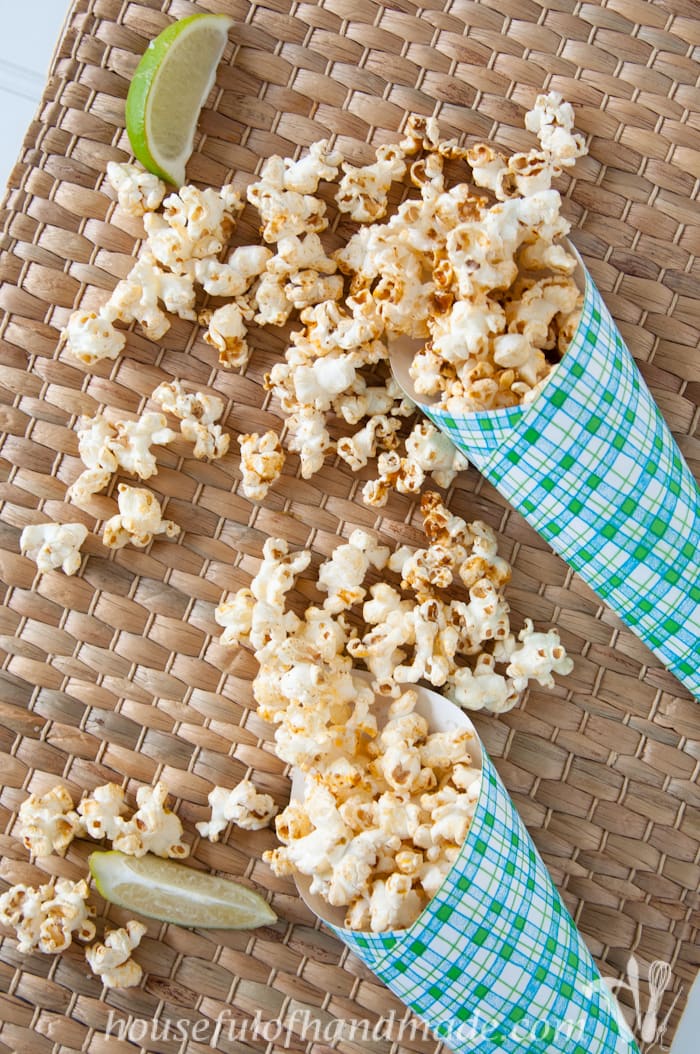 I hope you enjoy this spicy snack, and don't forget to come back for more popcorn recipes (including more savory ones).
Don't forget to check out the popcorn recipes from earlier this week!
14 Days of Popcorn
Have fun snacking!
Chipotle Lime Popcorn
This is the perfect spicy snack! I love the southwest flair of this Chipotle Lime Popcorn. The perfect snack for game time.
Ingredients
1/2 cup popcorn kernels, popped
1/4 cup butter
2 tsp chipotle hot sauce
zest of 1 lime
juice of 1/4-1/2 lime
salt, to taste
lime wedges, for serving
Instructions
In a small saucepan heat butter, hot sauce, and lime zest until bubbly. Do not let the butter boil or burn. Just get it hot enough to let the flavors mix.
Remove from heat and add juice from 1/4 of the lime. Taste, add more lime juice if you want less heat.
Pour chipotle lime butter over popcorn and stir to combine. Add salt to taste.
Serve with lime wedges.
Enjoy!