14 Days of Popcorn: Dark Chocolate Caramel Popcorn
As much as my husband love caramel popcorn, I love chocolate! I will find any excuse I can to put chocolate on or in something so why not in his caramel popcorn. This recipe was a last minute creation.
One night we were preparing for our regular popcorn and movie night. I asked "What flavor of popcorn do you want?" and he answered "Whatever you want to make". That is an open invitation for me to try something new, so I did. And now I love making this Dark Chocolate Caramel Popcorn when he wants popcorn and I want chocolate!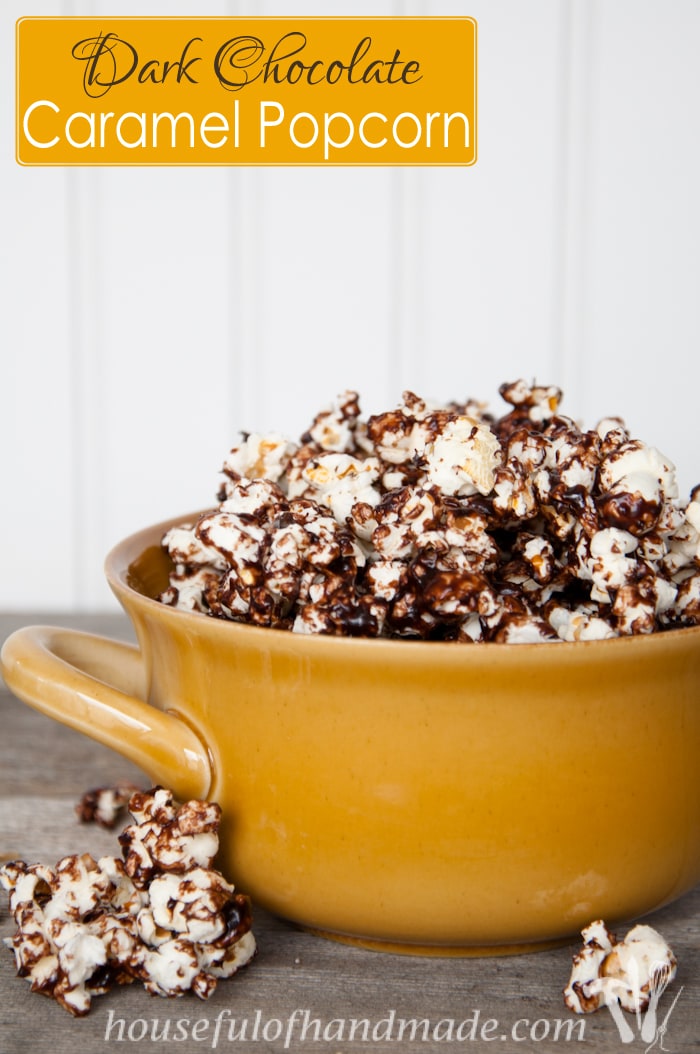 This chocolate caramel is something amazing. Have you ever had an old fashioned chocolate lollipop? You can find them as See's Candies and other old fashioned candy stores.
This popcorn reminds me of them. It has a strong chocolate flavor, really chewy, and an undertone of caramel. It's the perfect marriage between chocolate and caramel.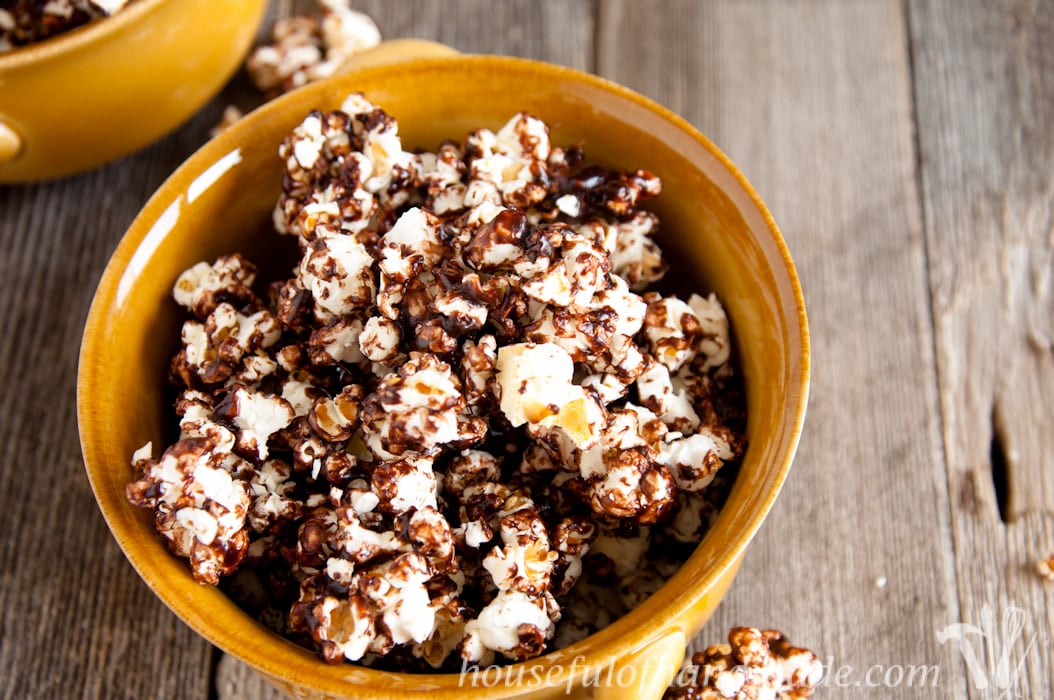 To fill the caramel full of chocolate flavor, I made it with two kinds of chocolate.
The caramel is made with cocoa powder, then after the thick chewy caramel is done, toss in some semi-sweet chocolate chips and stir until melted. Now your caramel will be bursting with the thick, dark chocolate that only a women could love 🙂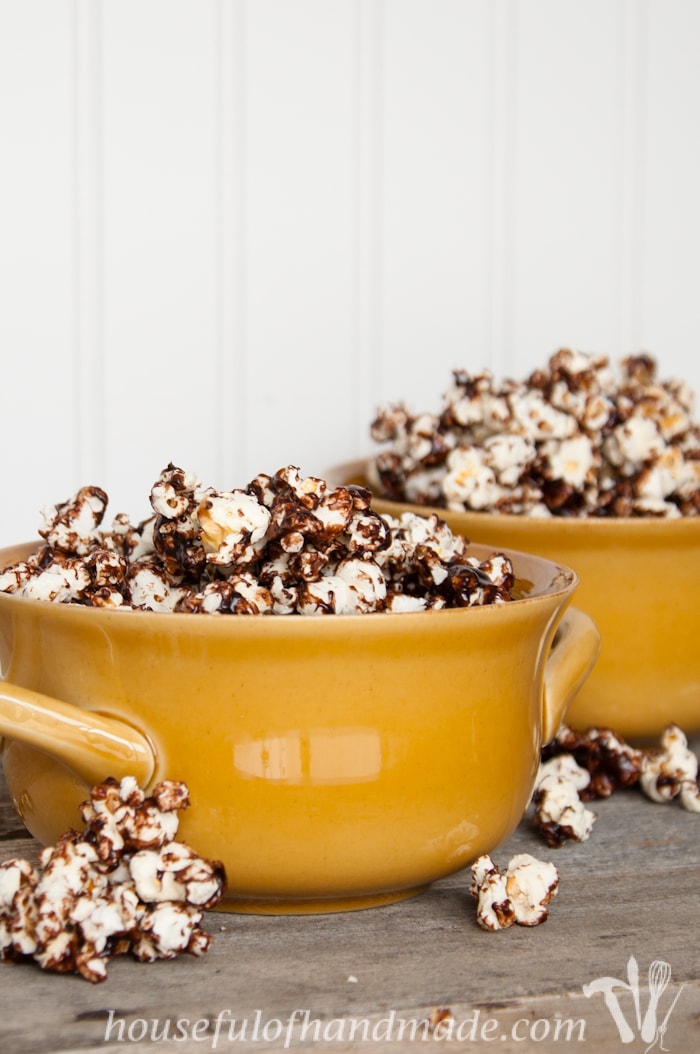 As much as I love sweet, I do prefer my caramel popcorn to be less coated than most caramel popcorns I find. I want the flavor of the popcorn to show through.
If you like your popcorn more caramely, you can use less popcorn so your will have a thicker chocolate caramel layer. Either way, it's delicious!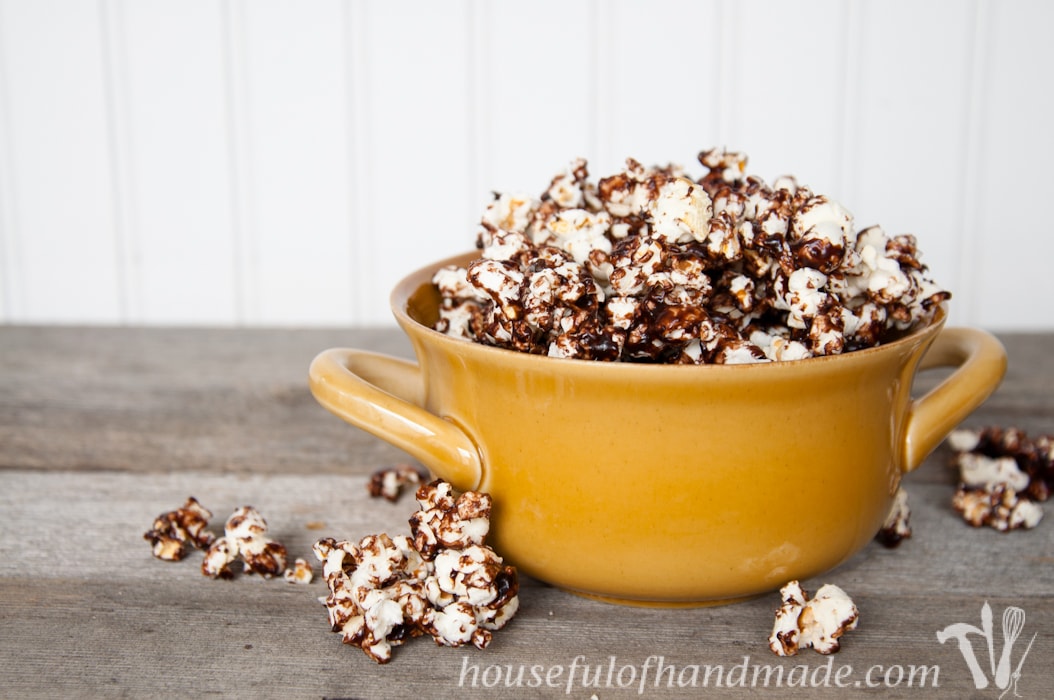 We are halfway through the 14 days of popcorn. Don't forget to check out the other recipes in the series!
Have fun snacking!
Dark Chocolate Caramel Popcorn
Can't decide between chocolate and caramel? You don't have to with this delicious, chewy dark chocolate caramel popcorn.
Ingredients
1/2-1 cup popcorn kernels, popped
1/2 cup butter
2/3 cup brown sugar
2/3 cup corn syrup
1/4 cup cocoa powder
1/4 cup semi-sweet chocolate chips
Instructions
In a small saucepan, combine butter, brown sugar, corn syrup and cocoa powder. Bring to a boil. Boil for 2 minutes, stirring frequently.
Remove from heat and stir in chocolate chips until melted.
Pour hot caramel over popcorn and stir until evenly distributed and cooled.
Enjoy!