14 Days of Popcorn: Chocolate Dipped Marshmallow Popcorn Hearts
Are you ready for Valentine's Day? I can't believe it is this weekend!
Today's popcorn recipe is a super easy one for a last minute Valentine's Day treat, but still something special. If you love Rice Krispie Treats, you are going to love this popcorn version of Chocolate Dipped Marshmallow Popcorn Hearts.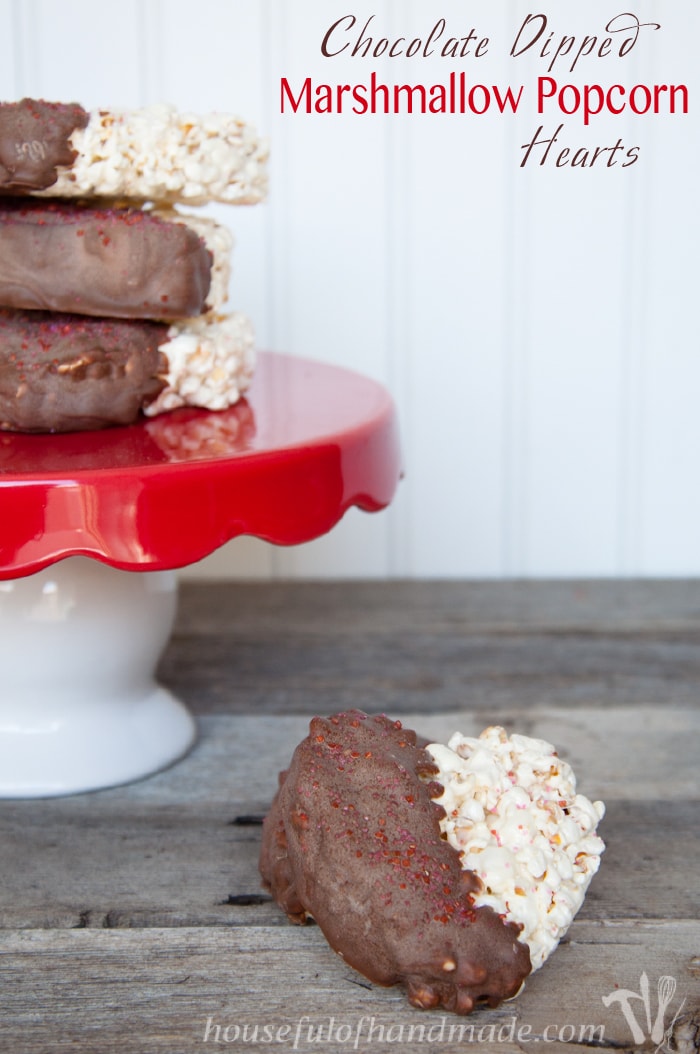 Using popcorn instead of Rice Krispies in these hearts is so fun! They were such a light treat that we couldn't stop eating them.
And incase you are craving a sweet Rice Krispie treat but don't have a box of cereal on hand, you can quickly whip these up after popping up some popcorn!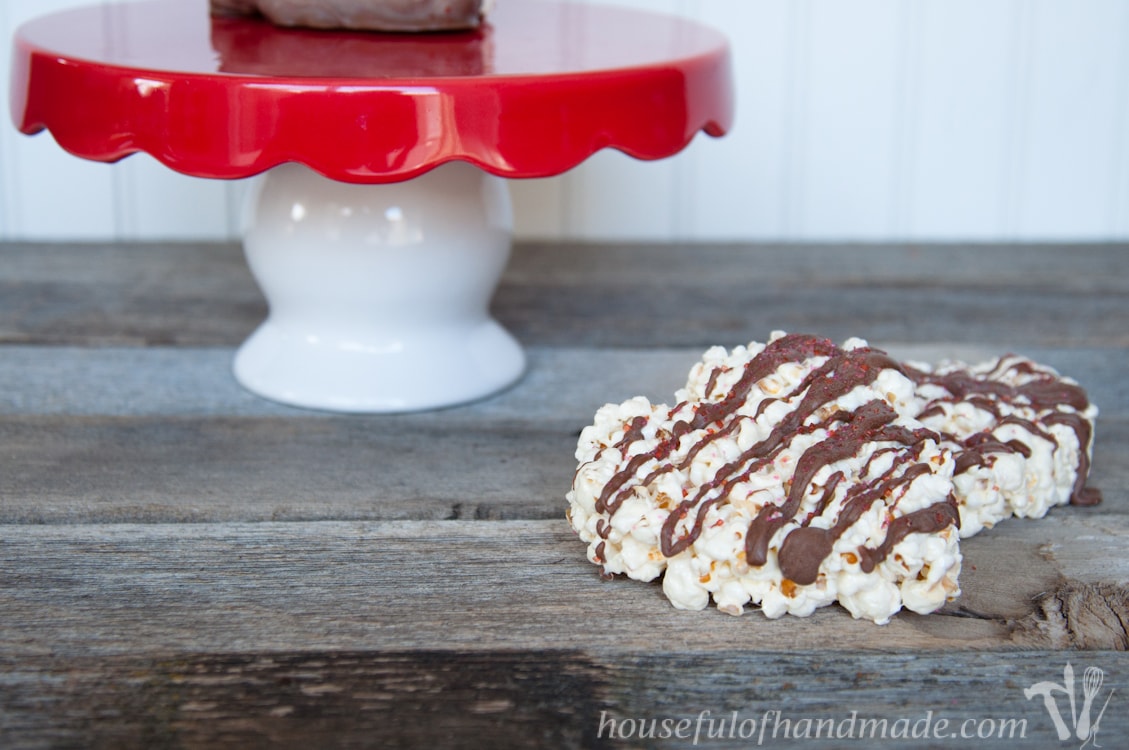 To make these marshmallow popcorn treats perfect for Valentine's Day, I shaped them into hearts. I have tried to cut Rice Krispie treats with cookie cutters before and learned it doesn't work. The marshmallow is too sticky and the cereal just crumbles.
So I tried something new to make my marshmallow popcorn treats into hearts, after you mix the melted marshmallow into the popcorn, press it into greased cookie cutters to shape. It is important to grease the cookie cutters and your hands well so you don't get all gooey.
But after you press one heart you can remove the cookie cutter and do the next one. Easy peasy and my hearts look perfect.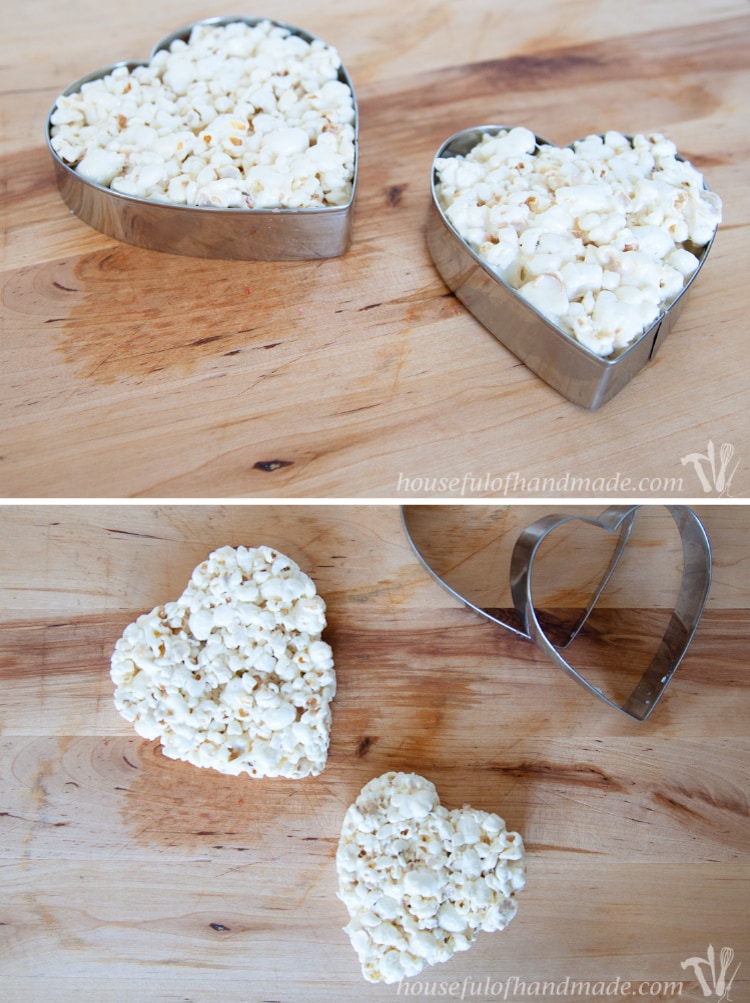 After letting the hearts cool, I dipped the hearts in melted chocolate or drizzled them with melted chocolate then added a bit of sprinkles for Valentine's Day.
Now we are ready to enjoy our new popcorn treats or give them to our Valentine.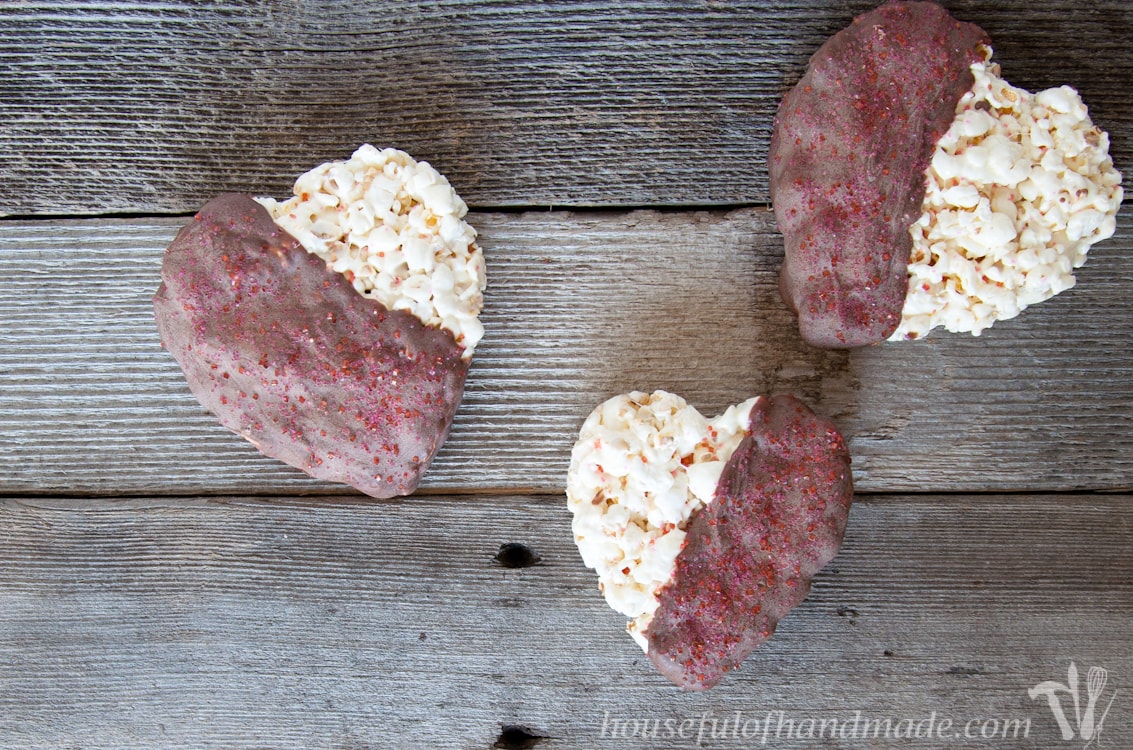 They are perfect. My kids (and me) can't get enough!
And for more popcorn snacks, don't forget to check out the other recipes in the 14 Days of Popcorn series.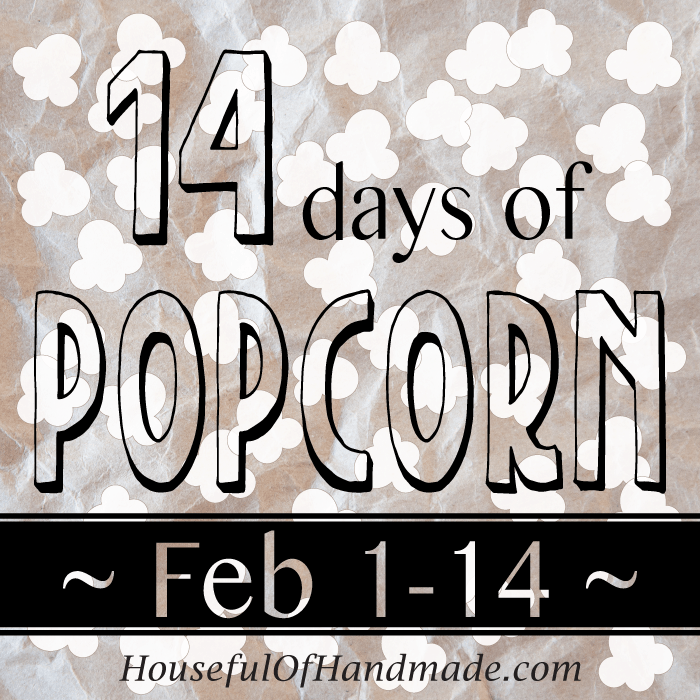 14 Days of Popcorn
Happy Valentine's Day!
Chocolate Dipped Marshmallow Popcorn Hearts
Additional Time:
8 minutes
Rice Krispie Treats made out of Popcorn. A fun and light treat for Valentine's Day (or any day for that matter). Yum!
Ingredients
1/3 cup popcorn kernels, popped
3 Tbsp butter
10 oz bag mini marshmallows
chocolate for dipping
Instructions
Break up popcorn a little bit by rubbing it between your fingers. Set aside.
In a large microwave safe bowl, melt butter. Add marshmallows and stir.
Microwave on high for 1-1 1/2 minutes until marshmallows are puffed and melted. Stir until smooth.
Mix in popcorn and stir until evenly coated.
Press the marshmallow popcorn mixture into greased cookie cutters. Allow to cool completely.
Melt chocolate in a 30 second intervals in the microwave. Once melted, dip the hearts in the popcorn and place on parchment paper. Add sprinkles before chocolate hardens.
Enjoy!