14 Days of Popcorn: Trail Mix Caramel Popcorn Bars
Popcorn is such a great snack, we usually gobble up a bowl while watching a movie together. But today, I made our favorite treat into something a little more portable: a bar!
I made our caramel into something very similar to a granola bar and they were a huge hit. To make these even more like a granola bar, we filled them with nuts, seeds and dried fruit to make the perfect Trail Mix Caramel Popcorn bars.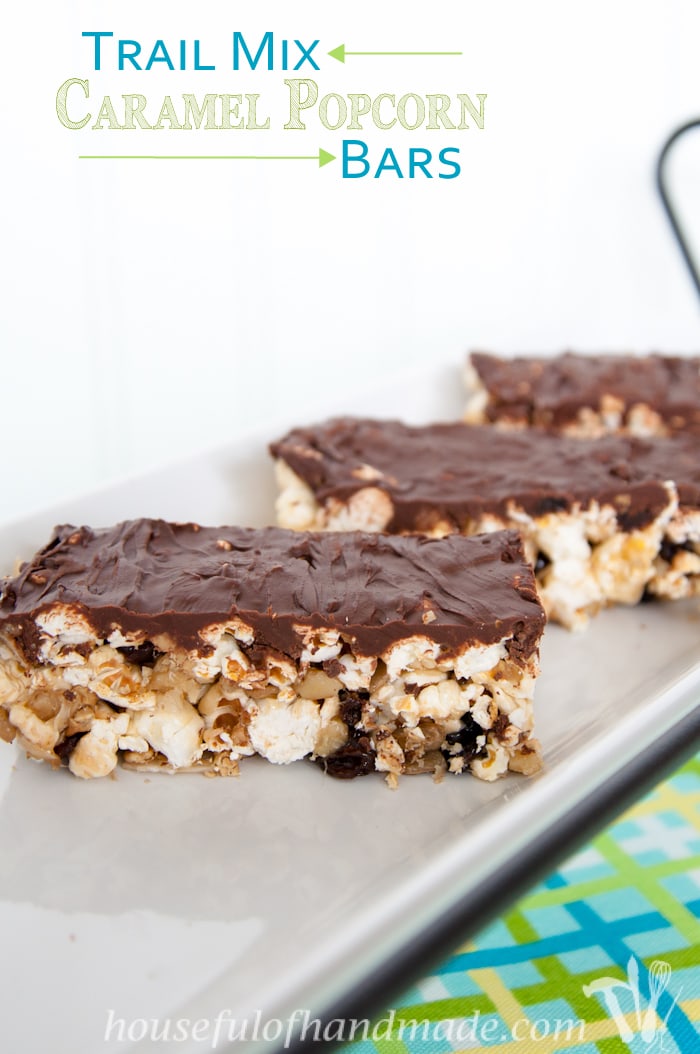 These bars are almost as easy to make as a batch of regular caramel popcorn. The only time consuming part is waiting for the chocolate on top to harden (you can always put it in the fridge if you need to hurry it along).
We made a 9×13 pan and enjoyed them for a couple days. I loved that the bars were already made and cut up so we could just grab a bar when we needed a treat in the afternoon!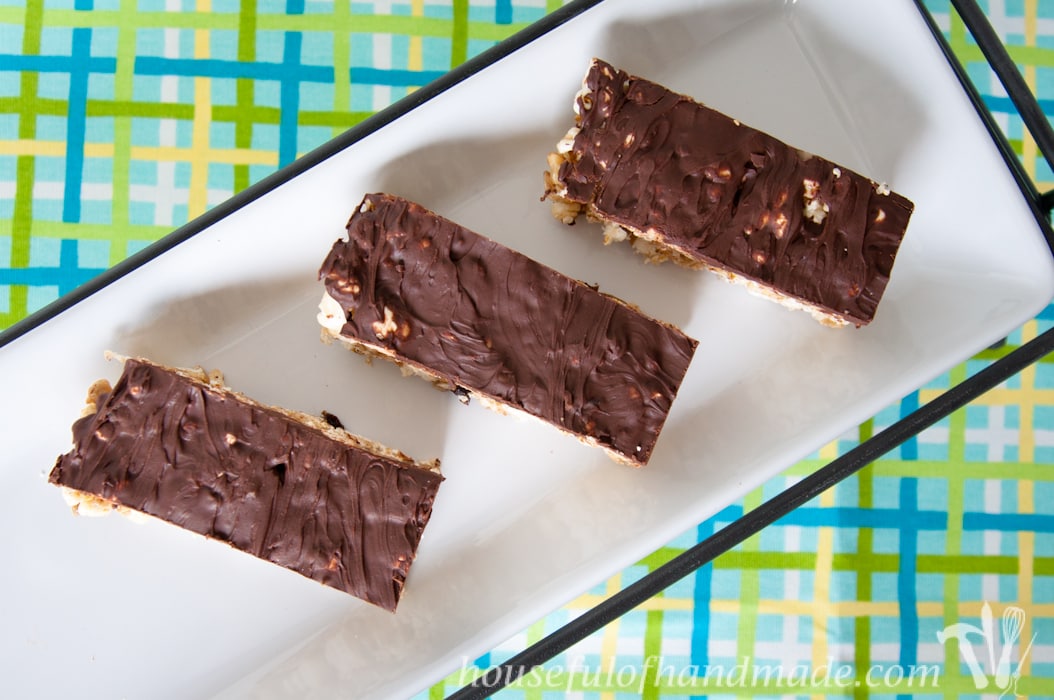 To fill these bars you can use your favorite trail mix ingredients. In this batch I used raisins, sunflower seeds, coconut and walnuts. But you can use whatever you want (or have on hand).
They would be delicious in the fall with dried cranberries, pumpkin seeds, and pecans. Or in the summer with dried apricots, coconut and pine nuts. Or go tropical with banana chips, dried pineapple, and coconut.
The possibilities are endless. So grab your ingredients and get to experimenting.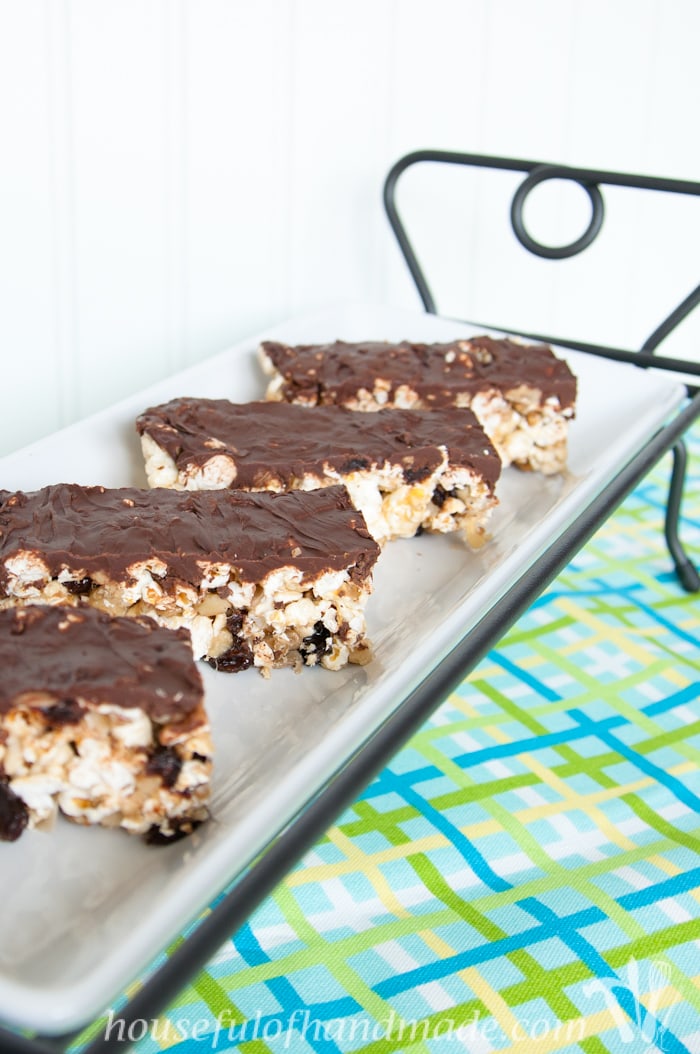 I know we will be utilizing this fun new way to enjoy our popcorn this summer when we are running all over outside. They are going to be the perfect treat for our camping adventures. Or to take on a bike ride picnic!
Oh man, I think I am getting the worse spring fever and the snow isn't even starting to melt.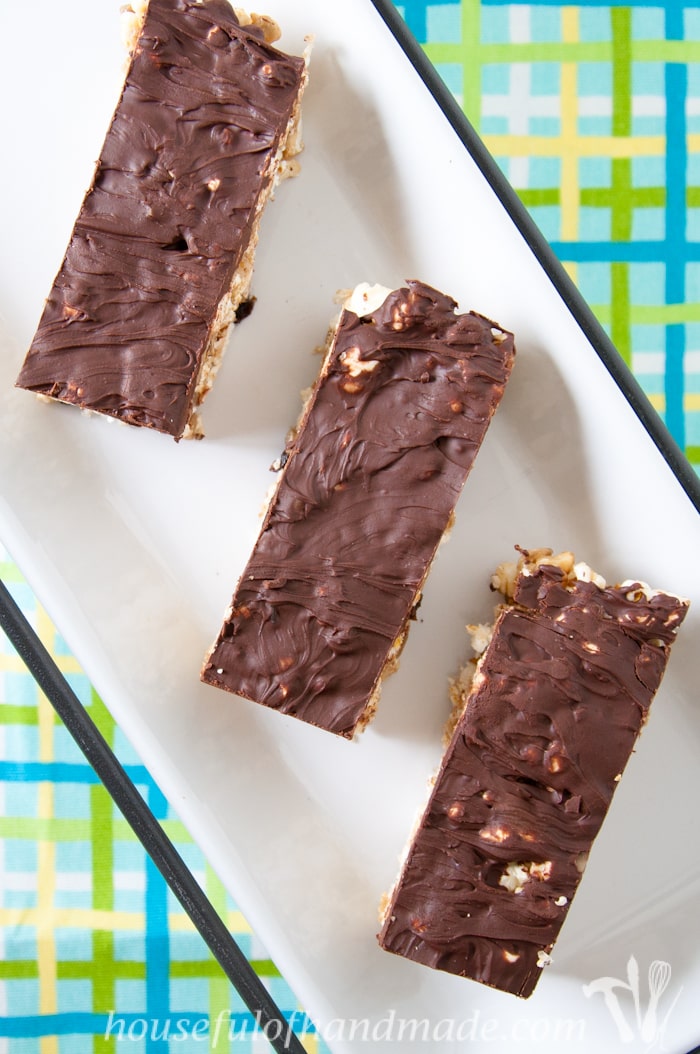 While we are waiting for the snow to melt and the sun to shine, we will just have to enjoy our popcorn bars while playing inside or along side our hot cocoa 🙂
Don't forget to check out the rest of the popcorn recipes I shared this week!
14 Days of Popcorn
Have fun snacking!
Trail Mix Caramel Popcorn Bars
Additional Time:
50 minutes
Make your caramel popcorn portable with these fun and easy trail mix caramel popcorn bars. Perfect for a grab-n-go treat!
Ingredients
1/4 cup popcorn kernels, popped
3/4 cup raisins
3/4 cup roasted sunflower seeds
1/2 cup unsweetened coconut chips
1/2 cup walnuts, chopped
1/4 cup butter
1/3 cup brown sugar, packed
1/3 cup light corn syrup
1 tsp vanilla extract
salt (optional)
1 1/4 cups semi-sweet chocolate chips
Instructions
In a large bowl, combine popped corn, raisins, sunflower seeds, coconut, and walnuts. Set aside.
In a small saucepan, combine butter, sugar and corn syrup. Bring to a boil. Boil for 2 minutes, stirring frequently.
Remove from heat and stir in vanilla.
Pour hot caramel over popcorn mixture. Stir until caramel is evenly distributed and starts to cool. Salt to taste (optional).
Pour caramel popcorn into a greased 9x13 baking dish. Press it into the pan in a even layer.
Melt chocolate chips in a glass bowl in the microwave for 1 minute. Stir well. If not melted, microwave for 30 seconds and stir again. Repeat if needed until chocolate is melted.
Spread chocolate on top of the caramel popcorn. Allow to cool completely before cutting into bars.
Enjoy!