14 Days of Popcorn: Lemon Rosemary Popcorn
We are one week into the 14 days of popcorn. Have you found any recipes you can't wait to try? Or have you tried any yet?
I told my husband today that I am starting to get sick of popcorn!
Not because I don't love eating popcorn all day, but because I've had to floss my teeth every couple hours to keep the popcorn kernels out of them. I'm starting to run out of floss!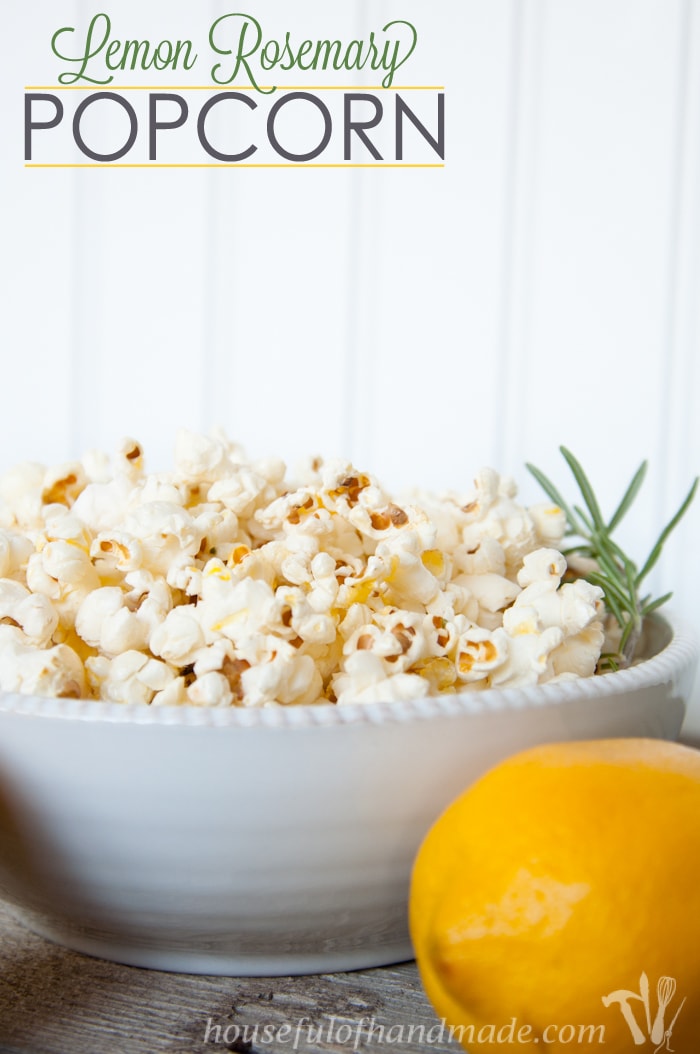 I've been thoroughly enjoying all the caramel and chocolate popcorn recipes we've been making. I am a sucker for something sweet, but I am starting to get a stomach ache from all the sugar.
Today I needed something light and savory. This Lemon Rosemary Popcorn is perfect for a light afternoon snack without all the sweet. And it's made with fresh herbs for a bright savory flavor.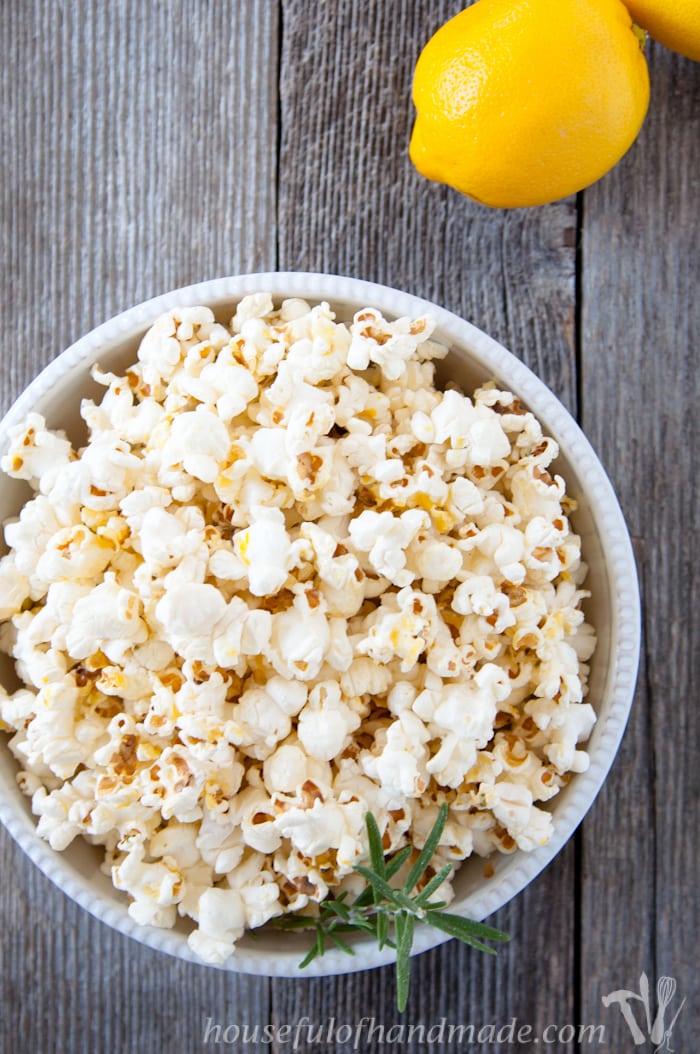 I love gardening outdoors. I grow a huge vegetable garden and tons of herbs in the summer. However, I suck at keeping anything alive indoors.
I don't understand what I am doing wrong, but they keep dying. Even my succulents don't last.
This fall I bought a large rosemary plant for winter cooking. It was only $2 so I figured if it died after I used it in a couple recipes it wouldn't have cost any more than buying precut herbs at the grocery store.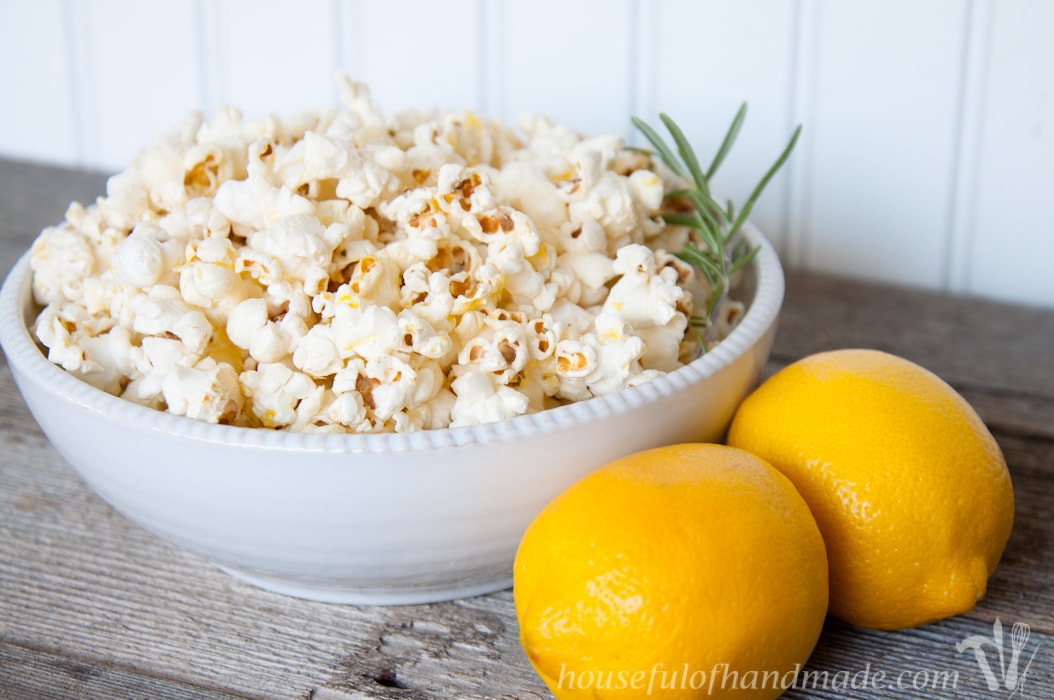 Surprisingly, my rosemary is still alive! It's only been 4 months, but I'm already patting myself on the back for keeping it alive this long.
And since it's the only fresh herb I have available (without buying those expensive grocery store herbs), I knew I needed to use it in some popcorn.
It only made sense to pair my fresh rosemary with lemon. The bright and citrusy lemon is the perfect accompaniment to the earthy rosemary.
To make this popcorn, I mixed the lemon and rosemary into the butter and it made the perfect light and fresh snack. Love it!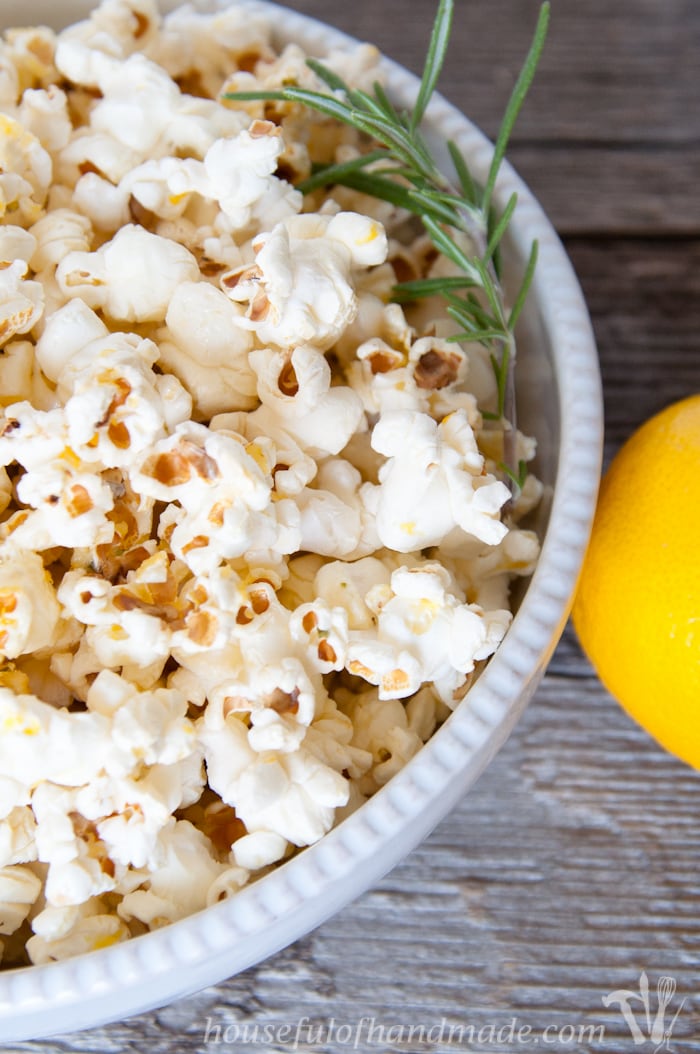 For more popcorn fun, check out the all the recipes from last week!
14 Days of Popcorn
Enjoy your treat!
Lemon Rosemary Popcorn
Brighten up your favorite snack with fresh herbs and citrus. This Lemon Rosemary Popcorn is the perfect combination for a light and airy treat.
Ingredients
1/2 cup popcorn kernels, popped
1/4 cup butter
1/2 Tbsp finely chopped fresh rosemary
zest of 1 lemon
juice of 1/2 lemon (about 1 Tbsp)
salt to taste
Instructions
In a small saucepan, combine butter, chopped rosemary and lemon zest. Heat until butter is melted and flavors start to meld. Do not let butter brown.
Remove from heat and stir in lemon juice.
Pour lemon rosemary butter on popcorn and stir. Add salt to taste.
Enjoy!