14 Days of Popcorn: S'mores Caramel Popcorn
Today is the last day of the 14 days of popcorn. I'm sad to say goodbye to always having a snack to munch on while writing my posts, but my waistline is ready for me to stop eating treats all day, every day!
I've had fun creating recipes from salty to sweet, citrus to chocolate, but of course, the last recipe has to be a caramel popcorn since that is my families absolute favorite! So for the last hurrah, I am sharing this delicious S'mores Caramel Popcorn.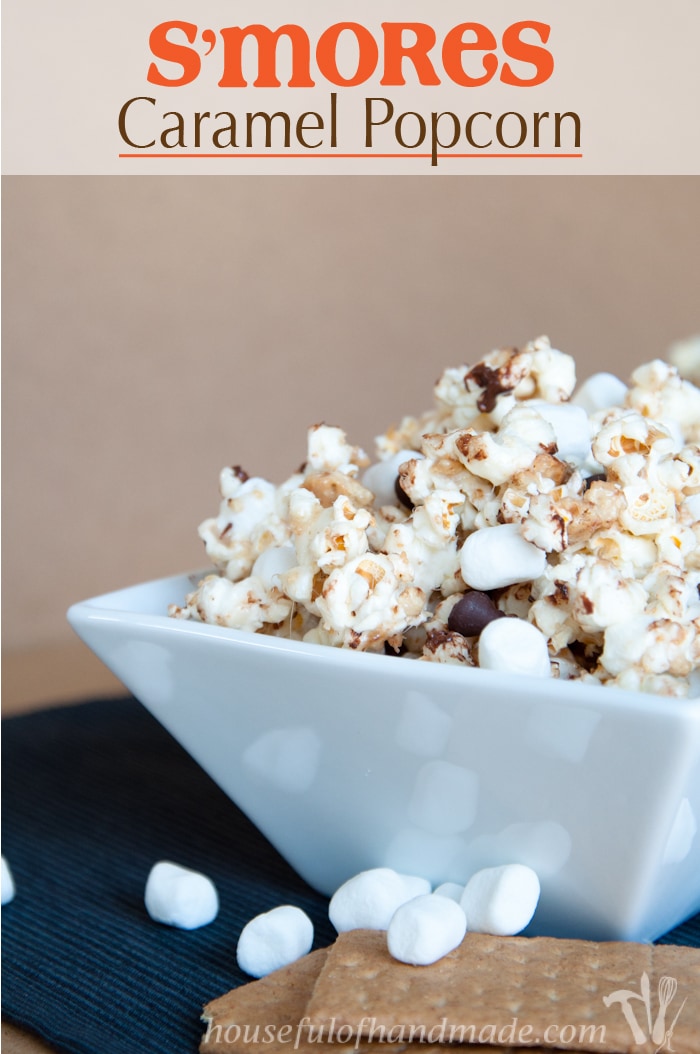 S'mores are usually saved for summer. Roasting mallows over a backyard fire is a requirement for me in the summer. But why can't I have marshmallow, chocolate and graham cracker all year?
Well, this S'mores Caramel Popcorn is the perfect way to enjoy a summer treat when it's not summer outside!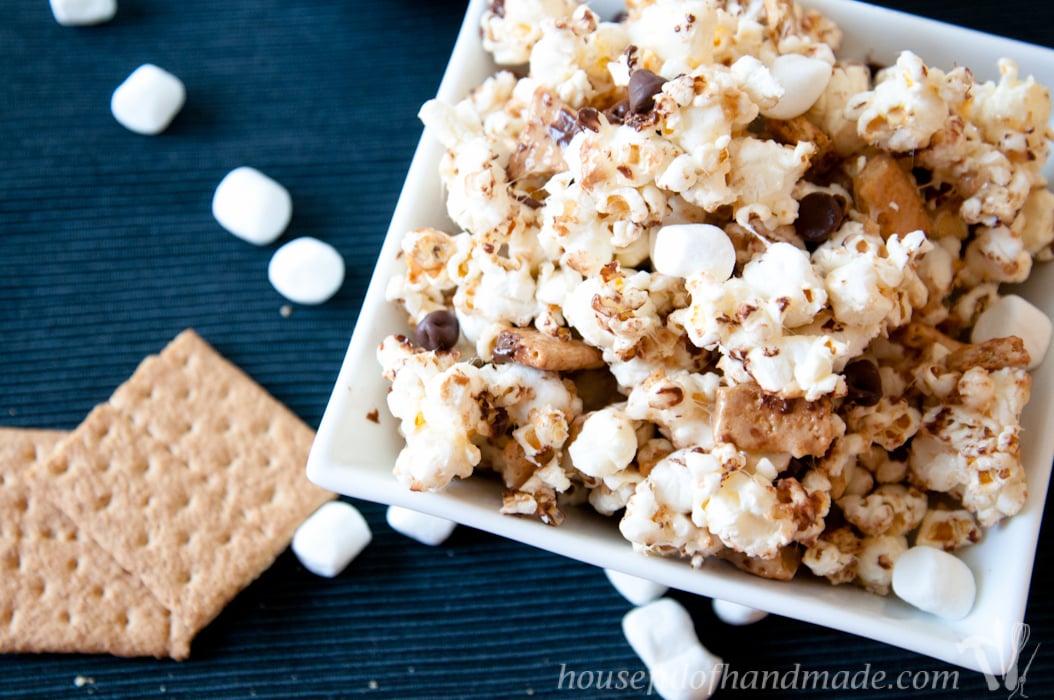 While I was making this popcorn, my daughter asked if we could go camping! Ha ha. I guess I'm not the only one who links s'mores with summer.
Unfortunately, we will not be going camping for a few more months. I am not big on camping in the snow. But the kids were happy with their S'more Caramel Popcorn in place of a good ol' fashion camping trip.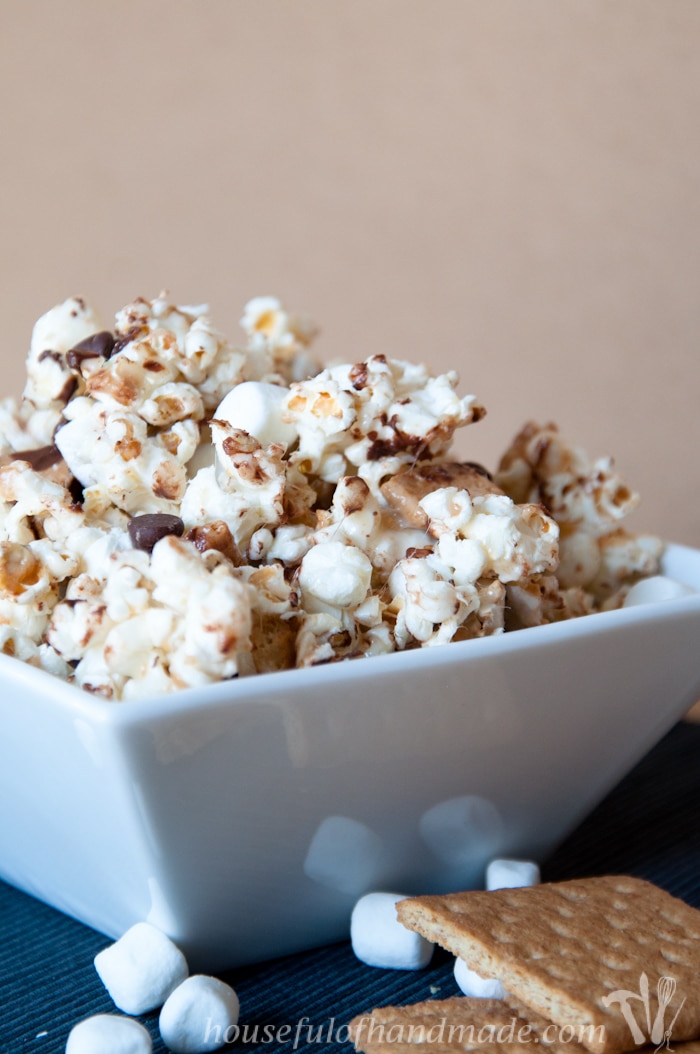 To make this popcorn extra marshmallowy (is that a real word?), I melted marshmallows into the caramel to make it super light and gooey. Then I added marshmallows and chocolate to the caramel popcorn to be slightly melted by the warm caramel.
The end result was a sweet, gooey, chocolatey, marshmallowy mess. But that mess was delicious!
In fact, the hubby and kids ate it all while I was freezing outside making a project I'm going to share next week. Every… last… crumb! I wasn't very happy about that.
Now what am I going to munch on later tonight while crafting 🙂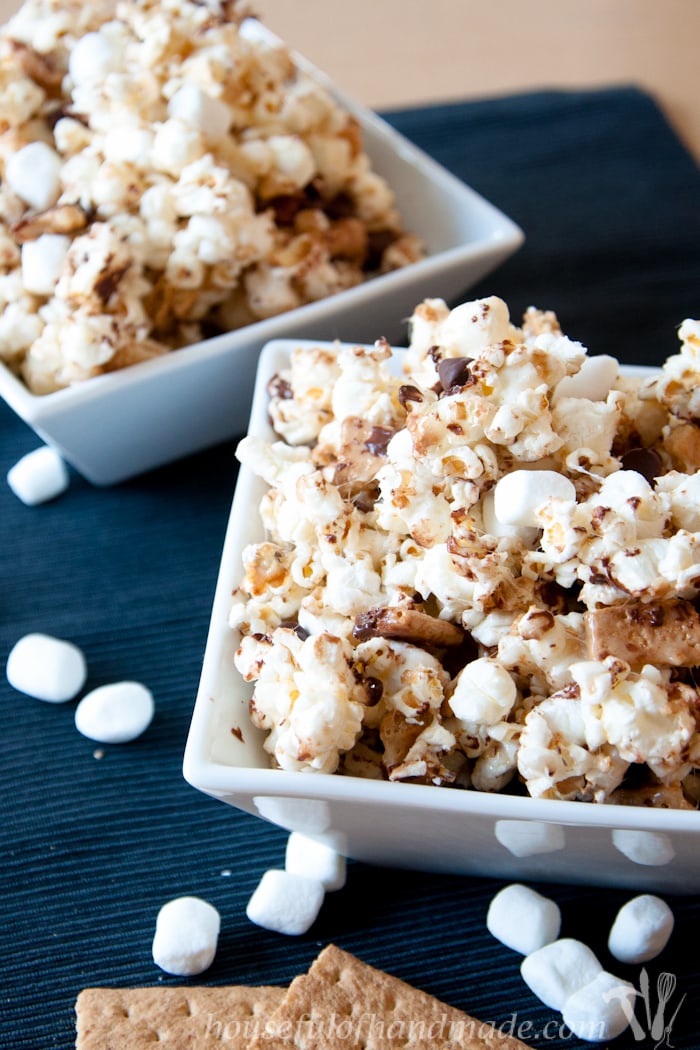 Don't forget to check out the other recipes in the 14 Days of Popcorn series.
14 Days of Popcorn
Happy snacking!
S'mores Caramel Popcorn
This is the best gooey popcorn. A mix of marshmallow, chocolate, and graham cracker make this super delicious S'mores Caramel Popcorn.
Ingredients
1/2 cup popcorn kernels, popped
1/3 cup butter
6 graham crackers
1/3 cup sugar
1/3 cup light corn syrup
1 tsp vanilla extract
1 1/2 cups mini marshmallows (divided)
1/2 cup chocolate chips
Instructions
Put popped corn in a large bowl. Crush/break up graham crackers into bit sized bits. Sprinkle graham cracker pieces and crumbs over the popcorn and set aside.
In a small saucepan over medium-high heat, combine butter, sugar, and corn syrup. Bring to a boil and boil for 2 1/2 minutes.
Remove from heat and stir in vanilla extract and 1/2 cup mini marshmallows until melted.
Pour hot caramel over popcorn/graham cracker. Stir until popcorn is evenly coated, then toss in remainder of mini marshmallows and chocolate chips. Stir to evenly distribute chocolate and marshmallows.
Enjoy!