14 Days of Popcorn: Vanilla Bean Cheesecake Caramel Popcorn
This recipe was created because I bought a brick of cream cheese for a recipe but it didn't need all 8 oz, I had a few ounces left over. What was I to do?
Add it to caramel popcorn of course! And caramel with cream cheese makes a very rich and creamy, slightly tangy, caramel popcorn.
But to make it something really fancy, I added my absolute favorite spice: vanilla bean. And now I get to share this amazing Vanilla Bean Cheesecake Caramel Popcorn with you.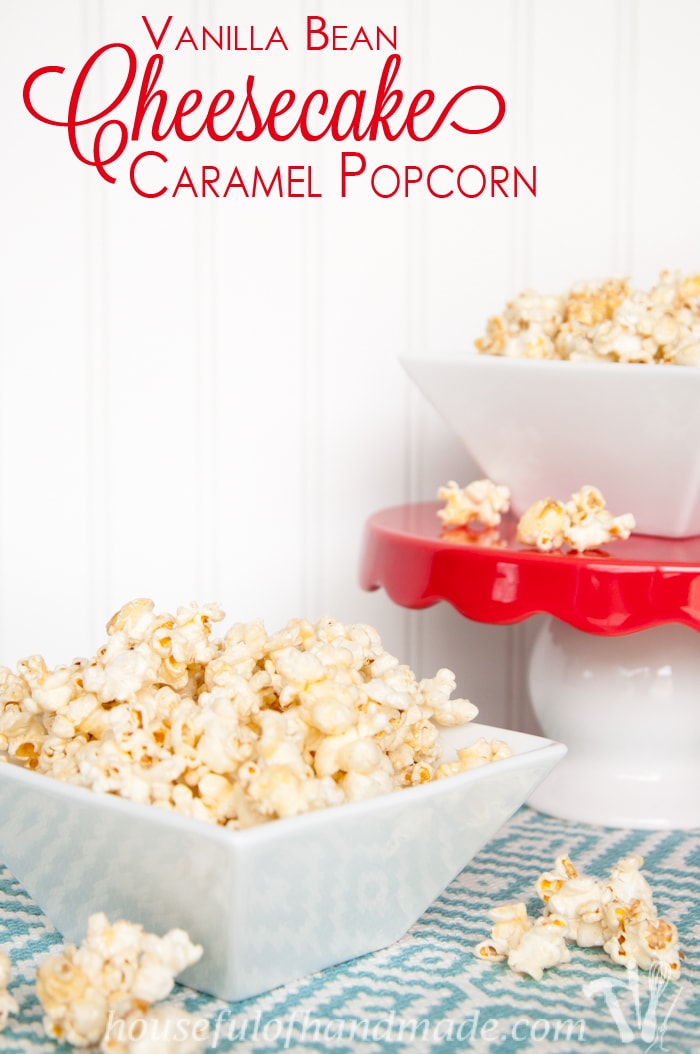 If you are like us, date night consists of watching a "grown up" movie after the kids go to bed. I love being a parent, but we don't always have time to go out anymore.
So we have to make date night's spent in a little fancier. This popcorn is perfect for that.
The cream cheese adds a little something extra. Then to create the perfect flavor profile, top it off with the seeds of a vanilla bean!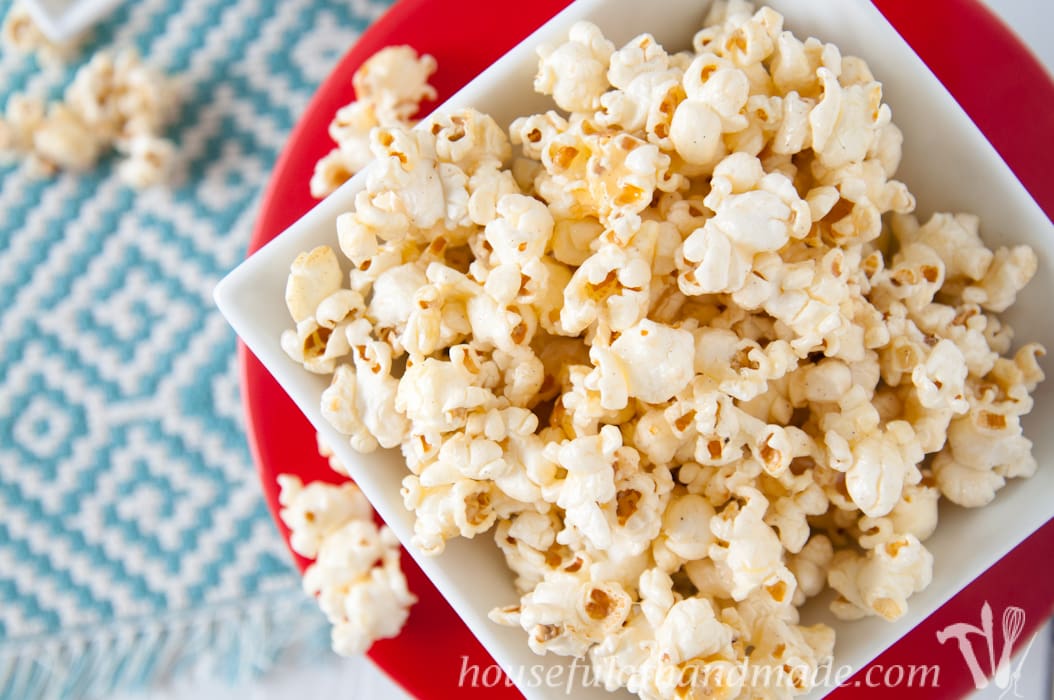 I love vanilla beans. I add them to any baked goods I want to make extra special.
But scraping the vanilla bean can be a bit of a pain, and I am usually baking with "help" so I tend to want something easy. I prefer to use vanilla bean paste! This stuff is awesome.
It is the scraped vanilla bean in a paste that can be scooped out and added to everything! And it still gives the your baked goods the flecks of vanilla bean that make people know there is something extra amazing inside!
I used the vanilla bean paste in this recipe, but if you don't have it, you can always scrape a vanilla bean instead.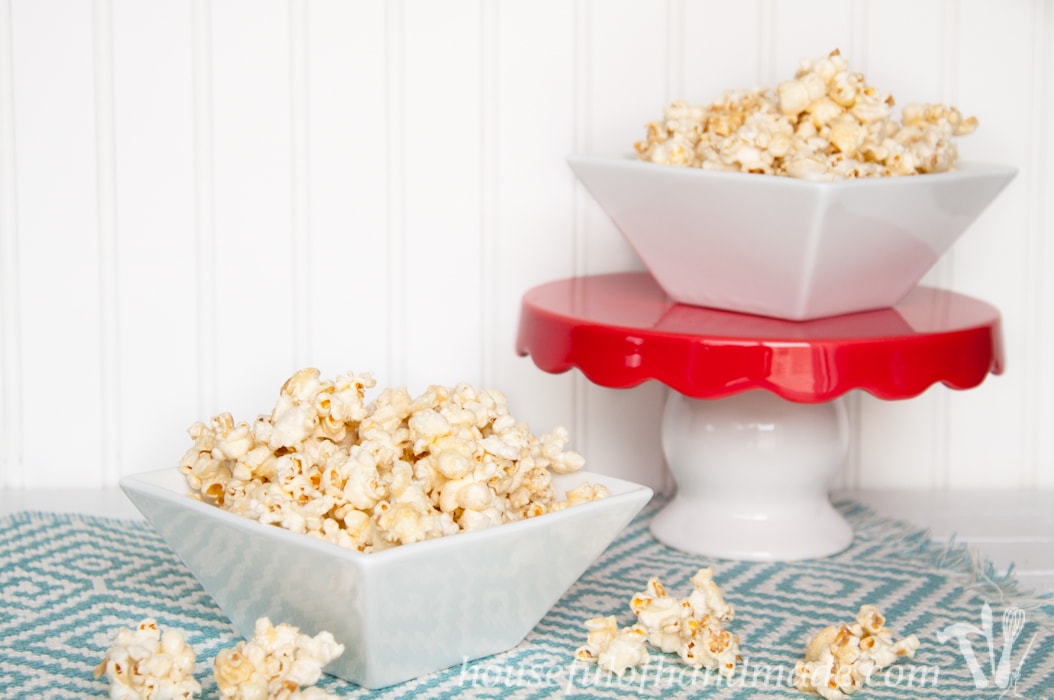 So if you need a simple date night, grab your movie, chill some wine, and mix up a batch of this Vanilla Bean Cheesecake Caramel Popcorn.
You can make the popcorn up in just 15 minutes and then you'll have plenty of time to enjoy the quiet after the kids have gone to bed!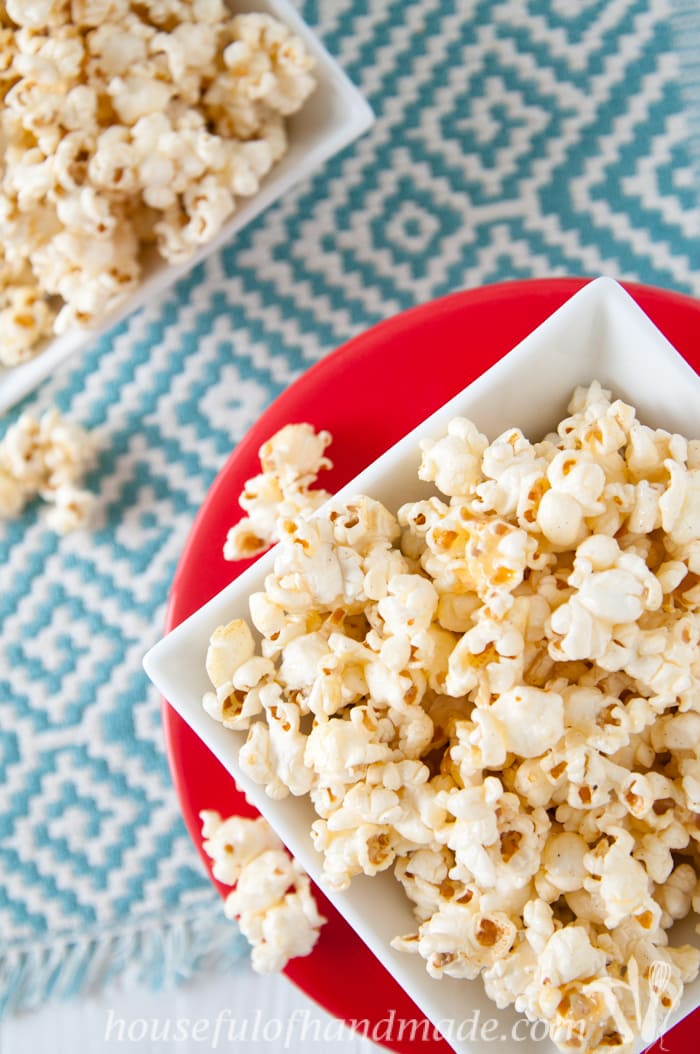 And if you want another flavor for date night, check out the rest of the 14 Days of Popcorn recipes:
Enjoy your date night 🙂
Vanilla Bean Cheesecake Caramel Popcorn
Additional Time:
5 minutes
Want something a little fancier? This Vanilla Bean Cheesecake Caramel Popcorn is the perfect rich and creamy treat. Who knew popcorn could be so elegant?
Ingredients
1 cup popcorn kernels, popped
1/2 cup butter
3/4 cup granulated sugar
3/4 cup light corn syrup
2 1/2 oz cream cheese, at room temperature
1 Tbs vanilla bean paste or seeds scraped from 1 vanilla bean
salt (optional)
Instructions
In a small saucepan, combine butter, sugar and corn syrup. Bring to a boil and boil for 3 minutes while stirring frequently.
Remove from heat and whisk in cream cheese and vanilla bean paste.
Pour hot caramel over popcorn and stir until caramel is evenly distributed and starts to cool onto popcorn. Sprinkle with salt to taste (optional).
Enjoy!