14 Days of Popcorn: German Chocolate Cake Caramel Popcorn
Are you starting to see a trend in my recipes yet? My husband really love caramel popcorn and I really love chocolate. So I love to combine the two.
And one of my absolute favorite ways to combine caramel and chocolate is with this German Chocolate Cake Caramel Popcorn.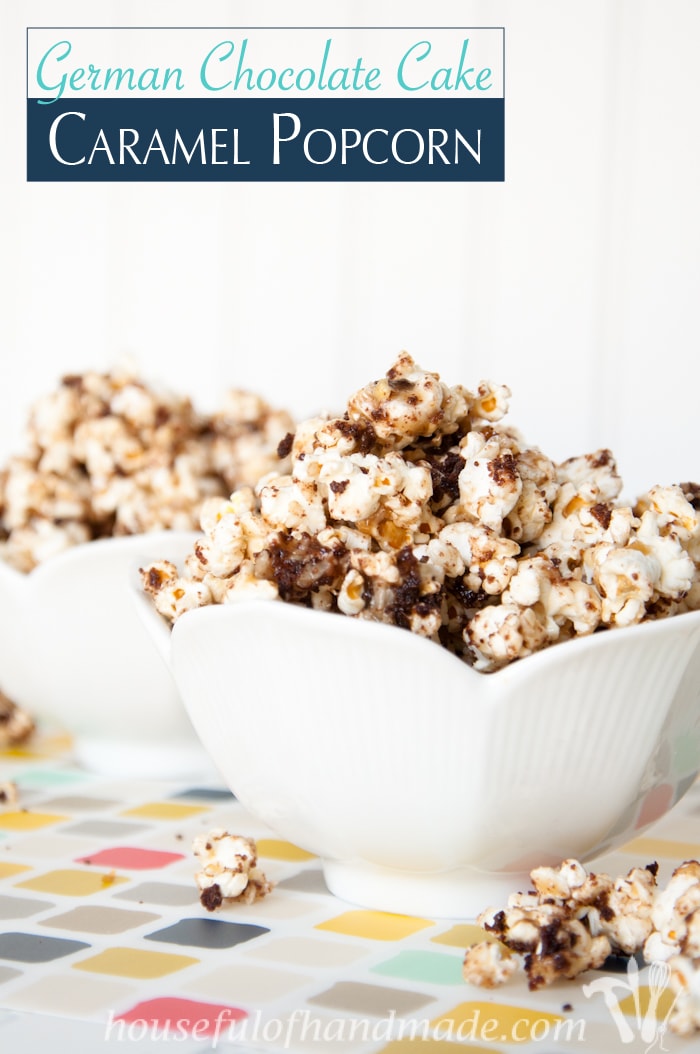 I've always loved German Chocolate Cake, but it wasn't the cake part that was my favorite. I would just eat the frosting with a spoon.
Caramel with coconut and pecans is just so good. Since I already had the caramel part in the popcorn, it just made sense to make it into the German Chocolate Cake frosting.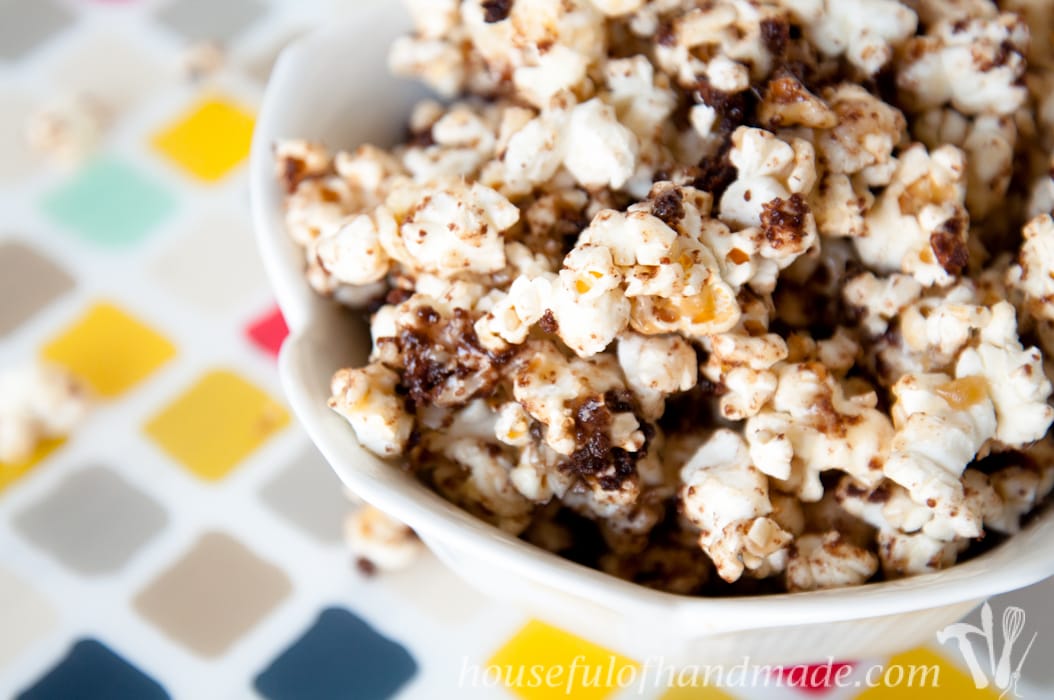 The first time I made this popcorn, I just added the coconut and pecans. It was great! We ate it like that a few times, then one day I had a brownie left over from our dinner out.
I threw it into the popcorn before pouring the hot caramel on it and… oh-my-goodness.. it was amazing.
Who would have guessed that as much as I thought I loved just the German Chocolate Cake frosting, that the chocolate added to it made it so much better.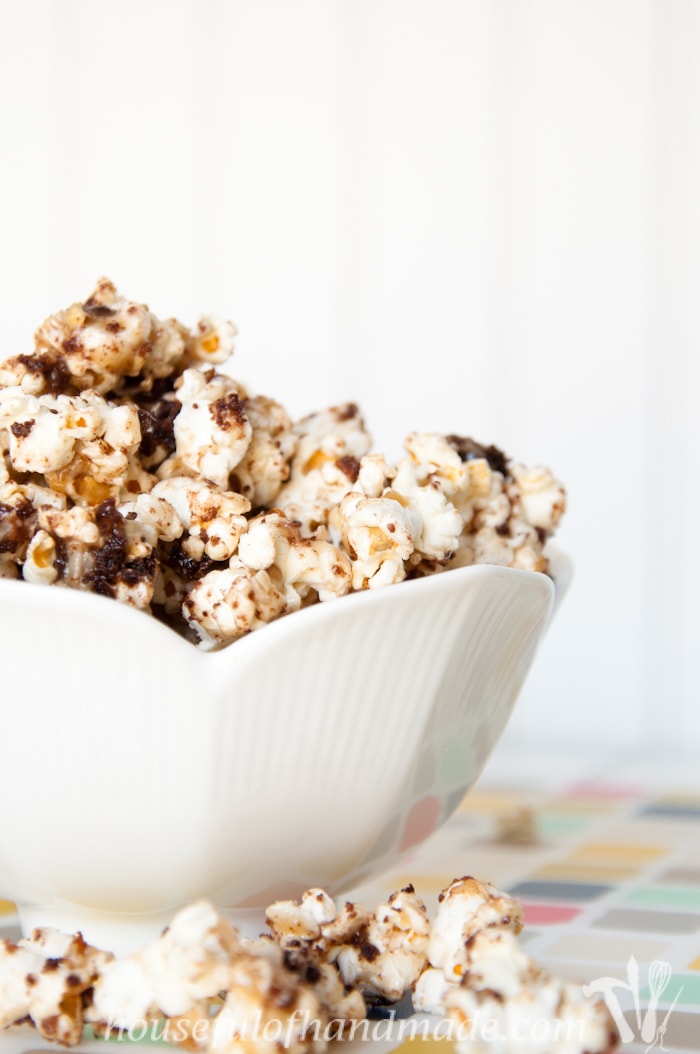 If you want to make this recipe, you probably won't have a left over brownie just lying around. I don't even keep one on hand for emergencies.
But I have a 1 minute answer to your brownie problem. I used this single serve Microwave Brownie in a Cup from No. 2 Pencil.
It's the perfect amount of brownie for this German Chocolate Cake Caramel Popcorn. And it only takes a minute to make in the microwave.
Perfect! I made my brownie with half the sugar her recipe called for since I was adding it to this sweet caramel popcorn. It made a bittersweet chocolate brownie so the popcorn wasn't overly sugary.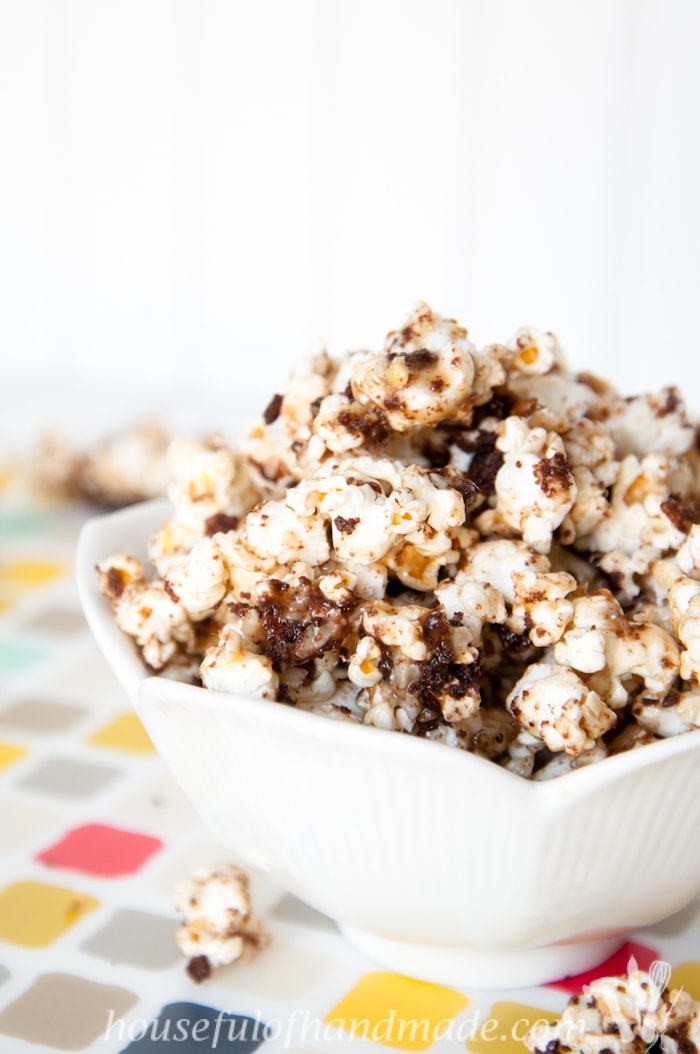 Need more treats? Check out the rest of the recipes in the series.
14 Days of Popcorn
Happy snacking!
German Chocolate Cake Caramel Popcorn
Caramel popcorn with coconut, pecans, and chocolate, what more could you want? This German Chocolate Cake Caramel Popcorn is the perfect fix for your sweet tooth.
Ingredients
1/2 cup popcorn kernels, popped
1 brownie
1/3 cup butter
1/2 cup packed brown sugar
1/2 cup light corn syrup
1 tsp vanilla extract
1/4 cup finely chopped pecans
1/4 cup finely shredded unsweetened coconut
Instructions
Put popped popcorn in a large bowl. Crumble or cut up brownie and sprinkle it over the popcorn. Set aside.
In a small saucepan over medium-high heat, combine butter, brown sugar, and corn syrup. Bring to a boil and boil for 3 minutes.
Remove from heat and stir in vanilla extract, coconut and pecans.
Pour hot caramel over popcorn/brownie. Stir until all popcorn is evenly coated and caramel cools.
Enjoy!